Articles

How Winston Churchill Lost the 1945 British General Election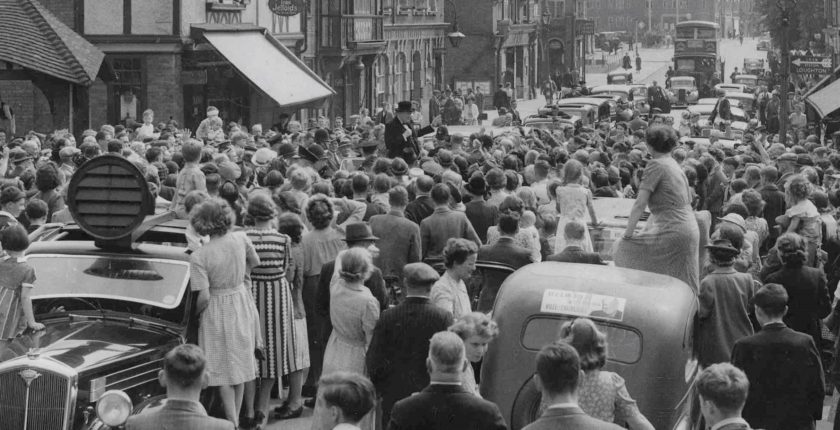 Churchill with his wife on the campaign stump in his constituency, Woodford, Essex, 26 May 1945. (Hillsdale College Press)
---
May 1945
The end of World War II in 1945 turned Winston Churchill into the world's most eminent statesman. He was feted and celebrated everywhere he went and had an approval rating of 83%. Yet three months later, he suffered a humiliating election defeat.
Churchill 's electoral fate demonstrates that democratic elections are not won on past achievements and personal glory and celebrity status. They are mostly won on a persuasive and realizable program for the contested period of office. Victory means addressing the genuine concerns and anxieties of voters. This is why governments in western countries change so frequently—and why autocrats avoid having to hold fair elections.
In 1945 it seemed a foregone conclusion that Churchill and his Conservative Party would win the general election. No election had taken place during the war, the last general election was in 1935. Churchill wanted to maintain the wartime coalition until the defeat of Japan, but, the Labour Party demurred. They left the national government after victory in Europe, sparking an election.
July 1945
Polling day was 5 July 1945, but ballot counting was delayed until the 26th to count votes from soldiers abroad. Churchill courteously invited Labour leader Clement Attlee to the "Big Three" conference in Potsdam. The meeting was interrupted so that they could go home, wait for the outcome, and form a new government. Soviet dictator Stalin assumed that Churchill would "fix" the election result and was astounded when he lost.
Labour won a landslide victory. As soon as the election result was announced, Churchill went to Buckingham Palace to submit his resignation to King George VI. Chauffeured by his wife in their modest little Austin, Clement Attlee arrived at the Palace within minutes of Churchill's departure to be appointed the new Prime Minister.
The King was distressed at the fall of Churchill, whom he had grown to trust and respect. In the audience room, an uncomfortable silence reigned until Attlee finally spoke up: "I've won the election." The King replied, "I know. I heard it on the Six o'Clock News."
A watershed election 
The magnitude of the loss was historic. The Labor Party received 47.7% of the vote compared to the Conservatives' 36.2% and the Liberal Party's 9%. The electoral swing from the Tory to Labour was 10.7% from the previous election. To this day it stands as the largest swing in British postwar politics.
Churchill's immense personal popularity saw him easily reelected in his Woodford constituency, but his party was crushed. Labour held a massive majority of 145 seats out of 640 in the new 1945 Parliament. Personally, Attlee expressed little crowing or exultation. "He struck me as a modest man," President Truman would tell Churchill a few months later. "Indeed," Churchill quipped, "he has much to be modest about."
Yet, this mild-mannered socialist who looked like a neighborhood bank clerk would now set the course of British politics. The Labour government of 1945 would radically change British society. At home it created a new social-economic consensus that lasted until Margaret Thatcher's victory in 1979. Abroad, rapid decolonization quickly led to the dissolution of the British Empire.
How Churchill lost
Until the last few days before the vote was held, Churchill and much of the country had been firmly convinced that he and his party would be returned to power with a decent majority. Although his party had conceived of a National Health Service and a vast housebuilding program, it lacked the sweeping fervor  of the socialist reformers. Churchill's own focus had been international—on "building the peace" as he called it. When the debate shifted to the people's needs at home, he once reflected, "I have no message for them."
There were three reasons for the loss he and his party experienced:
1. The Conservative campaign
The six-week election campaign in May-July 1945 largely focused on the future of the country. The progressive reforms proposed by Labour were highly popular. The Conservative program was much more vague, and focused on Churchill's leadership. But after six devastating years of war, voters were more interested in how to bring about a bright future than to dwell upon the past. Most soldiers in the field were fed up with the war and looked forward to a new age of prosperous normalcy. To many, a Labour government seemed to hold out the best prospects.
The Conservative campaign was ineffective and poorly thought out. Symbolic of that was Churchill's first campaign broadcast on June 4th, in which he accused Attlee of harboring dictatorial ambitions. Outrageously to many, Churchill said Labour "would have to fall back on some sort of a Gestapo" to enforce its program. Attlee quietly replied that the speech showed Churchill ill-suited to be a leader in times of peace.
2. The Labour alternative
The Labour Party's platform for Britain's future had been carefully worked out. It promised government-supported full employment, a free National Health Service. The Labour manifesto included nationalizing key industries: steel, coal, electricity, railways, the Bank of England, civil aviation and road transport. These were new and bright ideas in the eyes of many voters. At least, they thought, Labour had a plan! By comparison, the Tories offered nothing as comprehensive.
Labour also seemed to know how to accomplish all it promised. They were not without experience: Churchill himself had placed many senior Labour leaders in charge of economic ministries during the war. Labour ministers had for the most part done a good job.
British voters agreed with Labour idea of "winning the peace" by creating a visionary welfare state. Housing, full employment, social welfare and the health system stood at the top of the list for most voters. Foreign affairs and national security policy, which Churchill emphasized, ranked much lower.
3. The Tories' poor image
Despite the nation's tremendous affection for him, Churchill was elderly, with an elite background and, Britons thought, a paternalistic Victorian. Many saw him as out of touch with the modern world. His emphatic belief in Empire, and Britain's responsibility thereto, sounded out of sync in the new era. India's almost inevitable independence distressed him. The majority of his countrymen didn't care. Churchill called communism "a religion to some people," but Canadian Prime Minister Mackenzie King, who knew him well, said the Empire-Commonwealth was "a religion to him."
Except for the years 1924 and 1929-31, Britain had been led by Conservative or coalition governments for neary three decades. With an overwhelming majority after 1935,  many Conservatives were viewed as appeasers who had downplayed the Nazi threat. Under Prime Ministers Baldwin and Chamberlain, Britain had weakly given in to Hitler's territorial demands.
Likewise, the Tories could hardly avoid being seen as responsible for the high unemployment and threadbare conditions of prewar years. The war years and rationing were reminders of the prewar Depression. Ironically, it took another Churchill government to end rationing. On 4 July 1954, restrictions on the sale of meat and bacon were lifted—fourteen years after they had first been introduced.
"The bug seems to have caught my truculence"
Churchill took the 1945 defeat badly. He was just short of his 71st birthday, exhausted from the war, in dubious health. Demoralized, he took a long holiday in France, where he consoled himself with memorable oil paintings. At home he painted, laid bricks, and supervised the team helping with his war memoirs. He was sad, but never idle.
When the King offered him the country's highest honor, The Order of the Garter, Churchill declined. He couldn't possibly accept, he remarked, when British voters had just given him the "order of the boot." Critics carped that he had never won an election. He had only become Prime Minister in 1940 when his party had rebelled against his predecessor, Neville Chamberlain.
In the meantime, Churchill was Leader of the Opposition. It took him a few months to recover from his depression and to reengage in politics. When U.S. President Harry S. Truman invited him to speak in Fulton Missouri, his spirits revived. His address, the "Sinews of Peace" or "Iron Curtain" speech, stimulated his political instincts.
His wife and many friends and colleagues tactfully suggested an honorable retirement. The old lion wouldn't have it. He decided to carry on soon after Fulton. On 27 June 1946 he declared to doctor:
A short time ago I was ready to retire and die gracefully. Now I'm going to stay and have them out. I'll tear their bleeding entrails out of them. I'm in pretty good fettle. The Jerome blood…. I saw Alexander Fleming about my eyes. He wasn't interested in me as a patient, but in a very unusual bug in my nose, a staphylococcus, which was very resistant to penicillin. The bug seems to have caught my truculence. This is its finest hour.
Epilogue
Taking these elements into account, it was little wonder that Churchill and the Tories lost the 1945 election. It was equally predictable that winning a general election would be his obsession. Churchill narrowly lost the 1950 contest (Labour's majority was reduced to six), but again he managed to sidestep retirement. Just over a year later, with the Labour government in deep crisis about a number of ill-conceived policies, yet another election was called. This time Churchill was victorious. In October 1951, he became prime minister again and was vindicated.
During his remaining years in power, Churchill did his best to attempt negotiate an end of the Cold War. In fact, he was the only politician at the time with courage and vision to look beyond the East-West conflict. His attempt would prove premature. Neither his own government and his Foreign Office, nor the Eisenhower Administration in Washington, supported his ideas. Europeans, not least the Soviet Union, remained highly suspicious of the "real" motives behind his summit diplomacy. Convinced he could do no more, Sir Winston Churchill retired as prime minister in 1955 at the age of 80.
Thirty years later came the Reagan-Gorbachev negotiations which eventually led to the end of the Cold War. Referring to Churchill, Secretary of State George Shultz approvingly stated that it would be unwise to wait too long before entering into negotiations. Quoting Churchill, Shultz explained, "It would be a mistake to assume that nothing can be settled with Soviet Russia unless or until everything is settled."
Winston Churchill had said that in the House of Commons on 11 May 1953.
The author
Klaus Larres, author of Churchill's Cold War, is the Richard M. Krasno Distinguished Professor of History and International Affairs at the University of North Carolina at Chapel Hill. He is the former holder of the Henry Kissinger Chair in Foreign Policy and International Relations at the Library of Congress in Washington, DC. Dr. Larres is a Distinguished Visiting Professor at the Indian Institute of Technology (IIT) in Mumbai, India. He has just completed a new book entitled Uncertain Allies: Nixon, Kissinger, and the Threat of a United Europe. For further information consult his website.
Churchill Project Articles
Stay In Touch With Us
Subscribe now and receive weekly newsletters with educational materials, new courses, interesting posts, popular books, and much more!