Articles

Charming but Fanciful: The Fleming-Churchill Myth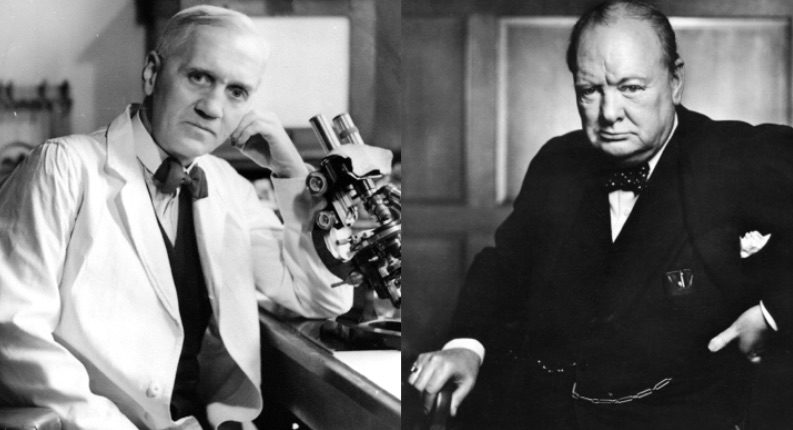 Fleming and Churchill (Karsh, 1941)
---
The story that Alexander Fleming (or Alex and his father Hugh) twice saved Churchill's life, charming as it may be, is certainly fiction. This persistent Churchill legend dates back to World War II. It is still found today on otherwise serious websites, despite abundant evidence against it. We are frequently asked about it, but explanations currently on the web are incomplete or inaccurate. Here for the record is the full story. Let us begin with the latest Internet version.
The Fleming Myth
His name was Fleming, and he was a poor Scottish farmer. One day, while trying to make a living for his family, he heard a cry for help coming from a nearby bog. He dropped his tools and ran to the bog. There, mired to his waist in black muck, was a terrified boy, screaming and struggling to free himself. Farmer Fleming saved the lad from what could have been a slow and terrifying death.
The next day, a fancy carriage pulled up to the Scotsman's sparse surroundings. An elegantly dressed nobleman stepped out and introduced himself as the father of the boy Farmer Fleming had saved. "I want to repay you," said the nobleman. "You saved my son's life."
"No, I can't accept payment for what I did," the Scottish farmer replied, waving off the offer. At that moment, the farmer's own son came to the door of the family hovel. "Is that your son?" the nobleman asked. "Yes," the farmer replied proudly. "I'll make you a deal. Let me provide him with the level of education my own son will enjoy and if the lad is anything like his father, he'll no doubt grow to be a man we both will be proud of." And that he did.
Farmer Fleming's son attended the very best schools and in time, graduated from St. Mary's Hospital Medical School in London, and went on to become known throughout the world as the noted Sir Alexander Fleming, the discoverer of penicillin.
Years afterward, the same nobleman's son who was saved from the bog was stricken with pneumonia. What saved his life this time? Penicillin. The name of the nobleman? Lord Randolph Churchill. His son's name? Sir Winston Churchill.
Origins
For many years it was thought that the story originated in Worship Programs for Juniors, by Alice A. Bays and Elizabeth Jones Oakbery (1950). In a chapter entitled "The Power of Kindness," Churchill is saved from drowning in a Scottish lake by Alexander Fleming himself. A few years later Churchill telephones Alex to say that his parents, in gratitude, will sponsor Alex's medical school education. Alex graduates with honors and in 1928 discovers that certain bacteria cannot grow in certain vegetable molds. In 1943 when Churchill becomes ill, Fleming, through penicillin, saves his life again.
In 2009 Mr. Ken Hirsch trumped this story with a Google Book Search. This traced it back to "Dr. Lifesaver," by Arthur Keeney, in the December 1944 issue of Coronet. Fastidiously, Mr. Hirsch then identified the author. Arthur Gladstone Keeney (1892-1955) was a Florida and Washington D.C. newsman who served during World War II in the Office of War Information. "Since Keeney's story was published only a year after Churchill was stricken with pneumonia," Mr. Hirsch wrote, "I think it may be the first appearance of the myth."
Impossibilities
Churchill's official biographer, Sir Martin Gilbert, first noticed a flaw in the story: the ages of Churchill and Alexander Fleming. The latter was seven years younger than Churchill. Would he have been plowing a field at, say, age 7, when Churchill was 14? Hugh Fleming (1816-1888) was certainly able to save a drowning Churchill up to about age 14 (WSC was born in 1874). But there is no record of Churchill nearly drowning in Scotland at that or any other age. Nor, concluded Sir Martin, is there record of Lord Randolph paying for Alexander's education.
Another fundamental problem involves Churchill's treatment in 1943. Dr. John Mather, an expert on WSC's medical history, writes: "Churchill was treated for a very serious strain of pneumonia not with penicillin but with 'M&B,' a short name for a sulfadiazine produced by May and Baker Pharmaceuticals. Since the M&B was successful, it was probably a bacterial rather than a viral infection." Sir Martin added: "The diaries of Lord Moran [Churchill's doctor], while mentioning M&B, say nothing about penicillin, or the need to fly it out to Churchill in the Near East."
M&B was much appreciated by the prime minister, wrote Kay Halle in The Irrepressible Churchill. The patient "took delight in referring to his doctors, Lord Moran and Dr. Bedford, as M&B." He soon found that the most agreeable way of taking the drug was with whisky or brandy, commenting: "Dear nurse, pray remember that man cannot live by M&B alone."
"But there is no evidence," Dr. Mather continues, "that he received penicillin for any of his wartime pneumonias. He did have infections in later life, and I suspect he was given penicillin or some other antibiotic by then available, such as ampicillin. And in 1946, Churchill did consult with Sir Alexander Fleming about a staphylococcal infection which had apparently resisted penicillin."
Alistair Cooke…
…led with this story in his 15 August 2003 "Letter from America." I was the Churchillian he mentions consulting, although at the time we only tracked the myth to 1949. Alas he died six months later, before we knew of the 1944 appearance. He was a lovely man, and truly irreplaceable. See "Alistair Cooke: An Introduction and an Appreciation."
Churchill Project Articles
Stay In Touch With Us
Subscribe now and receive weekly newsletters with educational materials, new courses, interesting posts, popular books, and much more!