Articles

Churchill and the Presidents: Dwight Eisenhower, Sentiment and Politics
By

WARREN F. KIMBALL

|

July 23, 2020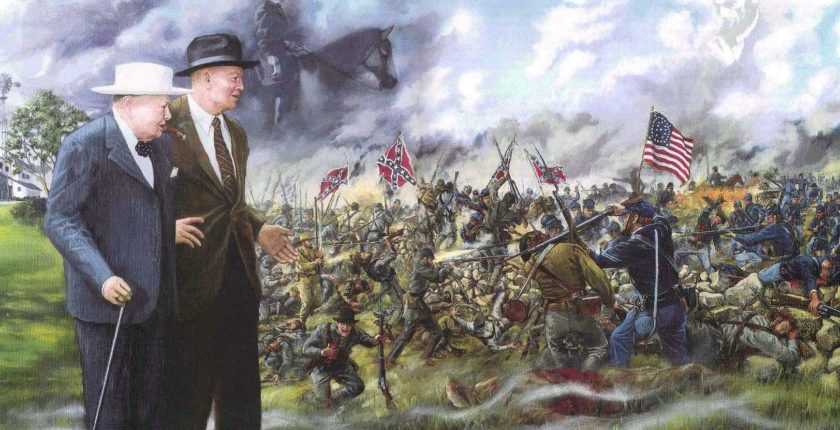 "Churchill and Eisenhower at Gettysburg" asks us to imagine what might have passed through Churchill's mind as he and Eisenhower visited the historic ground he hallowed. (Oil painting by Charlotte Thibault (www.charlottethibault.com), reprinted by kind permission of the artist)
---
From war to peace
From 1942 through 1945, the relationship between Prime Minister Winston S. Churchill and General Dwight D. Eisenhower was that of senior to junior. Eisenhower was the senior on-scene military leader of what, by 1944, was the dominant power in the Anglo-American alliance. Churchill was head of the British government. It was a relationship Eisenhower could not ignore, and Churchill never forgot.
Eight years after the Second World War, Eisenhower became President while Churchill was again Prime Minister. The formal and actual nature of their relationship now shifted. In protocol they were roughly equal, though Ike was head of state as well as of government. Churchill, however, now led a nation that had suffered a serious relative decline in military, economic, and political strength. And with growing age, Churchill had declined himself.
On Churchill's eightieth birthday, Eisenhower listed him among those he thought had achieved greatness. He said Churchill had these qualities: "Vision, integrity, courage, understanding, the power of articulation…and profundity of character." Churchill "came nearest to fulfilling the requirements of greatness in any individual that I have met in my lifetime. I have known finer and greater characters, wiser philosophers, more understanding personalities"—but he could name no greater man." 1 The great man Eisenhower referred to was, of course, Churchill the war leader, not Churchill the postwar premier.
"Union of hearts"
Historian Stephen Ambrose praised Eisenhower's "adroitness in handling Churchill." 2 But short of rudeness or stupidity—and Ike was guilty of neither—"handling" Churchill was not difficult. Given the PM's predilection for argument and for close relations with the United States, "handling" required two things—patience, and being an American.
In war, Churchill and Eisenhower spent much time arguing over military strategy and even tactics. Nowhere were there signs of affection or warmth—just business. When Eisenhower refused, in 1945, to take Berlin before the Russians, the PM groused: "The only times I even quarrel with the Americans are when they fail to give us a fair share of opportunity to win glory…. It has always been my wish to keep equal…. How can you do that against so mighty a nation and a population nearly three times your own?" 3
* * * 
The change in relationship would soon be palpable. Historian Michael Howard ruefully observed that "Churchill's attempt to restore the relationship with Eisenhower was humiliatingly rebuffed." Was Churchill a one-trick pony, as some would have it? Had he no policy beyond a sentimental and exaggerated belief that an Anglo-American entente was the only way Britain could retain any useful shred of its past glory? 4
Certainly he played that theme. In 1946 he took a hard stand favoring an Anglo-American "union of hearts based upon conviction and common ideals." Churchill spoke frequently of "the English-speaking peoples." He told U.S. military leaders, including Eisenhower: "The prevailing sprit of our work together was the intimacy of association. Language is a great bridge." 5
But language was not enough, at least for Eisenhower. He pointedly commented in his diary about his amusement at the presumptuous notion of Churchill and Roosevelt during the war. From their Olympian heights, they had directed world affairs. Eisenhower then saw himself as "one of those in various corners of the world, [who] had to work out the solutions…." In December 1951, Churchill visited Eisenhower, then stationed in Paris as head of Allied forces in Europe (SHAEF). Ike recorded: "my great friend is trying to relive the days of his greatest glory…." 6
Eisenhower as President
The crux of the Churchill-Eisenhower relationship came in 1953-55, when Churchill headed his final ministry, and Ike was president. Their early meetings as their nations' leaders prompted Eisenhower to complain. Churchill was deaf (and stubborn—he refused to use a hearing-aid) so one had to shout to get through. That aggravated Ike (whose short-temper was legendary). It reinforced the perception that Churchill was past his prime. Peter Boyle described Churchill's last letters "like the last drops of vintage wine from a musty old bottle." "My regretful opinion," observed Eisenhower dismissively, "is that the Prime Minister no longer absorbs new ideas." One wonders what Ike would have said if he and Churchill had agreed. 7
Churchill's visit in early January 1953, shortly before Eisenhower's inauguration, featured a two-hour private conversation. Here the Prime Minister focused on his theme of Anglo-American unity. "A protoplasm was sexless," he was reported as saying. "Then it divided into two sexes which, in due course, united again in a different way to their common benefit and gratification. This should be the story of England and America." 8
It was not his cleverest analogy, but the meaning was clear. Later at a dinner party given by Bernard Baruch, Churchill warned against moving too fast on European unity. The United States should not try to control events in too many places. (He cited Korea, Iran and Egypt as examples). Such remarks could not have resonated favorably with Eisenhower. Like many Americans of the Second World War generation, faced with the apparent weakness and disintegration of Europe and the rise of a Communist-led China in East Asia, he increasingly assumed a global leadership role for the United States.
Sentiment and politics
Churchill thought that he had been treated with the respect and deference due his experience and age. Eisenhower was motivated more by sentiment than by agreement with Churchill's views. Not only was Churchill too old, but Ike disliked the effect of British "paternalism" toward "infant nations." Some British historians referred to American anti-colonialism as "sanctimonious," but Eisenhower was genuinely, and accurately, fearful that, in Egypt, the British would find themselves faced "with the very strong nationalist sentiments of the Egyptian government and people." 9
In Iran in 1951, Prime Minister Mohammad Mosaddegh moved to nationalize the Anglo-Persian Oil Company. Churchill's government was anxious to intervene. The United States advocated negotiations that would allow American oil companies to buy out British interests. Dear Winston," Ike wrote, "I like your letters." Then, raising the specter of Soviet control in Iran, he went on to disagree with almost all of Churchill's initiatives. There is both irony and mystery in the fact that the CIA and British covert action personnel actually did cooperate in promoting the overthrow of Mossadeq. 10
Throughout his second ministry, Churchill struggled to reestablish the kind of free association of sovereign states—a coalition—that had characterized the grand alliance of World War II. But Eisenhower and his advisers wanted European unity. They believed this would allow the withdrawal of U.S. troops from the continent. Eager to prevent dreams of German unification from neutralizing West Germany, and sensitive to Britain's postwar troubles—economic near-collapse, gradual withdrawal from east of Suez—the U.S. pushed for the creation of the European Defense Community, something that would leave Britain on the periphery of power.
The Bermuda summit
Accordingly, Ike insisted that the French be represented at what proved an unsuccessful summit meeting in Bermuda. (He proposed bringing their wives, even Mamie Eisenhower's mother and a friend, more like a vacation than a major conference). The Bermuda conference proved a disappointment for Churchill, who blamed both Eisenhower and Secretary of State Dulles. "It appears that the President is no more than a ventriloquist's doll," he told his doctor. 11
At Bermuda, the British recoiled over Eisenhower's casual attitude toward the atomic bomb. Churchill's private secretary Jock Colville recorded this scene.
Eisenhower was in his sitting-room, cross-legged in an arm chair, going through his speech [upcoming, to the United Nations]. He was friendly, but I noticed that he never smiled: a change from the Ike of war days…. He said that whereas Winston looked on the atomic bomb as something entirely new and terrible, he looked upon it as just the latest improvement in military weapons. There was no distinction between conventional weapons and atomic weapons: all weapons in due course became conventional.
* * *
Astonished, Colville "could hardly believe my ears. If this was the well-digested view of the President of the United States, then it reflected a basic difference of opinion between Britain and America. Fortunately the arrangements for the truce in Korea did not break down. 12
Eisenhower also planned to refer at the U.N. to "the obsolete Colonial mould." It was, he told Colville, "part of the American philosophy." Churchill persuaded him to remove this "obnoxious phrase." Churchill also persuaded Eisenhower to revise the United States being "free to use the atomic bomb." The U.S. reserved "the right to use the atomic bomb." 13
Russians and colonies
Eisenhower was in no hurry to meet at the summit either with Stalin or his successors after Stalin's death on 5 March 1953. He did ask Churchill if he had any objections to an Eisenhower-Stalin meeting. The Prime Minister replied that he had resented that during the war when Britain's contribution was "about equal." But "now I don't mind." 14
Churchill tried to recreate with Eisenhower something akin to the "special" relationship he had with Franklin Roosevelt. He peppered Ike with details and quick little chatty notes about daily activities. For the most part, Ike ignored them. The sense of humor Colville thought was lacking did occasionally surface. At Bermuda, Eisenhower playfully offered a cigarette to the goat mascot of the Welch Fusiliers, which he "inspected" during ceremonies. The goat refused, Churchill said, because "he thought he was forbidden to use tobacco on parade." Ike returned the sally, admitting that "the goat's deportment puts me to shame." 15
Perhaps the most revealing set of Churchill-Eisenhower exchanges came in July 1954, shortly before Churchill resigned his office. A series of issues "vexed" (Ike's word) Anglo-American relations, most stemming from Eisenhower's overpowering fear, even hatred, of the Soviet leadership. Even classic American rhetoric about colonialism became a function of the Cold War confrontation.
* * *
Eisenhower to Churchill, 22 July 1954: Colonialism is on the way out as a relationship between peoples. The sole question is one of time and method. I think we should handle so as to win adherents to Western aims. We know that there is…a fierce and growing spirit of nationalism…. [T]he result, far from being disastrous, could redound greatly to our advantage, particularly in our struggle against the Kremlin's power.
A speech on the matter—and no other could so well do it as you—should deal with the need for education…. If you could say that twenty-five years from now, every last one of the colonies (except the military bases) should have been offered a right to self-government and determination, you would electrify the world. I long to find a theme which is dynamic and gripping, and which our two countries can espouse together. In this way, we can exercise the world leadership to which the communists aspire.
Churchill to Eisenhower, 8 August 1954: I have, as you know, since Stalin's death hoped that there could be a talk between you and me on the one hand, and the new Leaders of Russia, on the other. It will seem astonishing to future generations…that with all that is at stake no attempt was made by personal parley…to create a union of consenting minds on broad and simple issues….
I read with great interest all that you have written me about that is called Colonialism, namely: bringing forward backward races and opening up jungles. I was brought up to be proud of much that we had done…. I shall certainly have to choose another topic for my swan song I think I will stick to the old one "The Unity of the English-speaking Peoples." With that all will work out well.
Sentiment again
As Churchill neared retirement, Eisenhower waxed sentimental in a long letter about their wartime experiences. Ike apologized for what he thought was the premature publication of the Yalta Conference documents (politics again). He defended U.S. support for Chiang Kai-shek on Taiwan, what was then termed Formosa. (The name derives from the Portuguese Ilha Formosa or "Beautiful Isle.") A few days later, the President followed with a lengthy written lecture to Churchill about the evils of communism. His penultimate paragraph caught Eisenhower's sense of frustration with their long relationship, as well as his priorities:
You and I have been through many things where our  judgments have not always been as one, but, on my part at  least, my admiration and affection for you were never lessened. In this long experience, my hope is rooted that  the two of us may bring up some thought or idea that could help us achieve a personal concord that could, in turn, help  our two governments act more effectively against  Communists everywhere. 16
Churchill may have aged, but his grasp of the essential persisted. Early on he had early on recognized the appearance on stage of what became called MAD—mutual assured destruction. On 1 March 1955, his final speech to Parliament, he offered an unsettling yet prescient quip about nuclear deterrence. "The worse things get, the better." In a last plea he called for "a top level conference where these matters could be put plainly and bluntly." It may well be, he added, "that we shall by a process of sublime irony have reached a stage in this story where safety will be the study child of terror, and survival the twin brother of annihilation." 17
Suez postscript
No sooner had Churchill left office than Eisenhower, Eden and French Prime Minister Faure met with the Soviets at Geneva. Apparently, Ike was fearful that a Churchill at the summit "might give away the store." 18
A year later the Suez crisis erupted, a major breach in Anglo-American relations. In the United Nations, the U.S. and Russia opposed the Anglo-French-Israeli invasion of the Canal Zone. This is not the place to discuss that unfortunate episode. But it is necessary to note that it marked Churchill's last significant intervention in U.S.-British affairs. On 22 November 1956 he wrote Eisenhower:
There is not much left for me to do in this world and I have neither the wish nor the strength to involve myself in the present political stress and turmoil. But I do believe, with unfaltering conviction, that the theme of the Anglo-American alliance is more important today than at any time since the war. You and I had some part in raising it to the plane on which it has stood. Whatever the arguments adduced here and in the United States for or against Anthony's action in Egypt, it will now be an act of folly, on which our whole civilisation may founder, to let events in the Middle East come between us. 19
This letter was not known until Prime Minister Harold Macmillan, Eden's successor, revealed it in his memoirs. It was a plaintive remonstrance, and had no effect at all. Eisenhower (probably in words drafted by his State Department), sent a mollifying and desultory reply. Nothing changed and American resolve blunted Britain's last imperial venture.
Last act
Churchill and Eisenhower would meet once more, in May 1959, strictly a social call by Sir Winston, now 85. In Washington he visited "old comrades ," including his famous nemesis Dulles, dying of cancer at Walter Reed Hospital. He occupied his old White House suite, where he and Ike had first met in 1942. Their first dinner was en famile with the Eisenhowers. It was, Robert Pilpel wrote:
…a simple affair, simple and rather sad, for it was well past midnight London time and Churchill was feeling the effects both of his years and of the as yet undiagnosed malaise of jet-lag. The change in him since 1954, moreover, was starkly dramatic, and during the meal Eisenhower observed sorrowfully to his daughter-in-law, Barbara, "I only wish you had known him in his prime." 20
Eisenhower then flew his guest to his Gettysburg farm, and they visited the Civil War battlefield. Churchill's memory was stirred, for he had written of it: "The greatest and bloodiest battle in the noblest and least avoidable of all the great mass-conflicts which until then there was record." 21
Retrospective
Where does that leave us with Eisenhower's designation of Churchill as having come closest to greatness? Was Churchill too old? Too committed to an Anglo-American special relationship? Was he too sensitive to Britain's past and lost glories? Too skeptical of the concept of a stateless or a super-state in Europe? Or was Churchill too much a historian to fear the Soviet Union to the point of creating confrontation and conflict?
Forceful, focused leadership is easier to exercise in times of crisis—as during the Second World War. Obviously Eisenhower viewed the Cold War as just as critical a struggle, perhaps more so. Just as obviously, Churchill did not—however much he shared Ike's concerns about Soviet crudeness and aggressiveness.
The difference was history. Eisenhower studied history, but his "sense" of America's past was his sense of its never-ending expansion and victory. Churchill, on the other hand, had a palpable sense of history. Giving confrontation precedence over conversation was appropriate with Hitler in 1940. But that, as he often declared, was a very special case.
Before the war, Churchill had constantly wobbled between talking of "Bolsheviks" and talking of "Russians." There were reasons for this. The first was an ideological perspective, the second, geopolitical. As he left office for the last time, Britain's greatest war leader firmly opted for geopolitical peace over ideological war.
Endnotes
1 Eisenhower to Hazlett, 8 December 1954, in Stephen E. Ambrose, Eisenhower: The President (New York: Simon and Schuster, 1984), 222.
2 Stephen E. Ambrose, "Churchill and Eisenhower in the Second World War," in Robert Blake & Wm. Roger Louis (eds.), Churchill: A Major New Assessment of His Life in Peace and War (Oxford & New York: Oxford University Press, 1993), 403.
3 Mary Soames (ed.), Winston and Clementine: The Personal Letters of the Churchills (New York: Houghton Mifflin, 1999), 487, 501, 523; Martin Gilbert, Winston S. Churchill, vol. 7, Road to Victory 1941-1945 (Hillsdale, Mich.: Hillsdale College Press, 2013), 1283.
4 The historian John Charmley used to be blamed for picturing Churchill as fixated on the Anglo-American relationship to Britain's disadvantage. That image became increasingly popular in Great Britain in the 21st century. Peter G. Boyle quotes Michael Howard in, The Churchill-Eisenhower Correspondence, 1953-1955 (Chapel Hill: University of North Carolina, 1990), 210.
5 Martin Gilbert, Winston S. Churchill, vol. 8, Never Despair 1945-1965 (Hillsdale, Mich.: Hillsdale College Press, 2013), 207.
6 Ambrose, "Churchill and Eisenhower," 398. John Ramsden, Man of the Century: Winston Churchill and His Legend Since 1945 (London: HarperCollins, 2003), 344.
7 Boyle, Churchill-Eisenhower Correspondence, 213; Dwight D. Eisenhower, 21 December 1951 in Robert Ferrell, ed., The Eisenhower Diaries (New York: Norton, 1981).
8 Gilbert, Never Despair, 789-91.
9 Boyle, Churchill-Eisenhower Correspondence, 4-5, 8; Eisenhower Diaries, 6 January 1953; Wm. Roger Louis, "Churchill and Egypt 1946-1956," in Blake & Louis, Churchill, 483.
* * *
10 Boyle, Churchill-Eisenhower Correspondence, 52-53. A documentary record of U.S. policy and actions in Iran is Foreign Relations of the United States, 1952–1954, vol. X, Iran, 1951–1954 (Washington: USGPO, 1989, rev. 2017). The British have not disclosed their role in events, but journalists and memoirs have provided the basic outline. See Stephen Kinzer, All the Shah's Men (New York: Wiley, 2003).  For recent documentation, including British involvement, see "Iran," in the National Security Archive, https://nsarchive.gwu.edu/
11 Boyle, Churchill-Eisenhower Correspondence, 57 ff.; Klaus Larres quotes Churchill in Churchill's Cold War (New Haven: Yale University Press, 2002), 310. Larres's study is comprehensive.
12 John Colville, The Churchillians (London: Weidenfeld & Nicolson, 1981), 106-07.
13 Gilbert, Never Despair, 929.
14 Ibid., 791.
15 Boyle, Churchill-Eisenhower Correspondence, 112.
16 All quotations are from Boyle, Churchill-Eisenhower Correspondence, 163-206.
17 Robert Rhodes James, ed., Winston S. Churchill, His Complete Speeches, 1897-1963, 8 vols. (New York: Bowker, 1974), VIII, 8629.
18 Larres, Churchill's Cold War, 371.
19 Harold Macmillan, Riding the Storm 1956-1959 (New York: HarperCollins, 1971, 175.
20 Robert Pilpel, Churchill In America, 1895-1961: An Affectionate Portrait (New York: Harcourt, Brace, Jovanovich, 1976), 267.
21 Winston S. Churchill, A History of the English-Speaking Peoples (vol. 4), The Great Democracies (New York: Dodd, Mead, 1958), 266.
Author's note
Dr. Kimball is Robert Treat Professor (emeritus) at Rutgers University. The author of Forged in War and The Juggler, he edited the three-volume collection of Churchill-Roosevelt correspondence (with commentaries). He has published over fifty essays on Churchill, Roosevelt and the Second World War. See also herein his "Churchill and the Presidents: Franklin Roosevelt."
This article updates and revises Dr. Kimball's lecture, "Churchill and Eisenhower: Sentiment and Politics," at the Gettysburg Churchill Conference in September, 1999. The author thanks Richard Langworth for kind assistance in research. For more paintings by artist Charlotte Thibault, click here.
Churchill Project Articles
Stay In Touch With Us
Subscribe now and receive weekly newsletters with educational materials, new courses, interesting posts, popular books, and much more!