Articles

The Rhetoric of Cold War: Churchill's 1946 Fulton Speech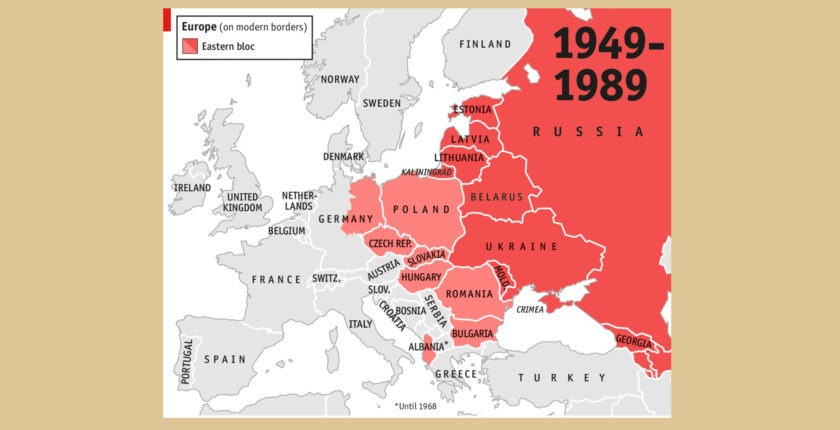 ---
Featured Image: The Iron Curtain as Churchill described it at Fulton lasted forty years. At the time he also considered it to include states of former Yugoslavia, as well as Austria, which gained full independence by treaty in 1955. (The Economist)
---
Introduction
Jacob Weaver is a Hillsdale College senior and a Churchill Fellow, part of the team completing the final Document Volumes of Winston S. Churchill, the official biography. He was ideally positioned to research press, public and official reaction to Churchill's key speech at Fulton in March 1946, commonly held to have rung down the Cold War. This paper received an "A" from History Professor Dr. Tom Conner, who recommends it to the attention of Churchill Project readers.
This article is replete with references from The Churchill Documents, vol. 22, covering 1946-51, to be published around the end of 2018. Among many revelations, the volume will reveal how closely Churchill liaised over his Fulton remarks with Clement Attlee, the opponent who had ousted him in July 1945. This little-known aspect of the speech illustrates not only Churchill's collegiality, but his efforts to foster unity on foreign affairs between Britain's two great rival parties. For a guide to reading on Churchill after World War II, click here.
Gathering Storms
Winston S. Churchill stood at the forefront of world politics throughout the first half of the 20th century. He served in the high office in Britain for most of twenty years from 1908 to 1929, but found himself out of power throughout the 1930s.1 It was during this latter period that he warned of the rise of Nazism.2 Churchill's predictions were borne out in 1939 with the onset of World War II. Eight months later he became prime minister, heading a coalition government until a few months after the end of the war in Europe. In the days leading up to the victory, Churchill believed he, with the help of America and the Soviet Union, could transform the postwar world.3 But Britain's general election of July 1945 put his party out of power.4
As the postwar world began to take shape, Churchill, as in the 1930s, predicted danger ahead. Initially, his cries fell on deaf ears. Out of power, he watched as the United States' and his country's foreign policy drifted towards what he perceived as another disaster—communism's ascendancy. Then a letter arrived from President Harry Truman, inviting him to speak at Westminster College in Fulton, Missouri in March 1946. It was an opportunity for Churchill to shape history once again. Though what came to be known as his "Iron Curtain Speech" received mixed reactions at the time, today, scholars recognize that it laid the foundation of public opinion needed for the West to pursue a vigorous challenge to Soviet hegemony.
When Churchill spoke on 5 March 1946, Soviet aggression was on the increase. In Moscow a month earlier, Joseph Stalin had predicted an inevitable clash between the communist and capitalist powers.5 Unresolved questions and failed commitments festered at the boundaries of American, British, and Russian spheres of influence. In the Middle East, defying Anglo-American protests, Russia refused to withdraw its troops from Iran within the agreed period and demanded territory in the north.6 The Soviets also attempted to replace the Turkish government with one friendlier to the USSR, hoping to control access to the Dardanelles.7 This act fostered concerns in London, mindful particularly of British interests in Greece.8 Russia also tested the patience of the United States in the Far East, refusing to leave Manchuria despite U.S. opposition.
Climacteric at Fulton
For Churchill, the speech at Westminster College was the climax of a three-month stay in America, where he rested, recuperated, and thought deeply about the world situation. Though he held no power within the British government, he remained in touch with it. Moreover, he was highly respected among American officials and the public.9 He spoke several times before Fulton, including a graduation ceremony at University of Miami, but refused comment about what he intended to say in Missouri.10 This resulted in a high level of speculation, especially since President Truman would be there to introduce him.11
American eyes and ears thus focused on the small campus of Westminster—a name Churchill joked was "somehow familiar to me….Indeed it was at Westminster that I received a very large part of my education in politics, dialectic, rhetoric, and one or two other things."12
Quickly, Churchill moved to the threat to world peace. He gave his talk the title "Sinews of Peace" as the answer to the threat of war, specifically calling for western solidarity. He began by reminding listeners of the western world's defense against the "two gaunt marauders, war and tyranny."13 To defend against war, he called for a fraternal association of the English-speaking peoples. This meant a "special relationship between the British Commonwealth and Empire and the United States of America."14 He envisioned a very intimate relationship, calling for unity in defense, even going so far as to suggest shared military bases and a permanent defense agreement. His next subject was tyranny, and from this passage his speech gained its best-known name:
From Stettin in the Baltic to Trieste in the Adriatic an iron curtain has descended across the continent. Behind that line lie all the capitals of central and eastern Europe. Warsaw, Berlin, Prague, Vienna, Budapest, Belgrade, Bucharest, and Sofia, all these famous cities and the populations around them lie in what I must call the Soviet sphere, and all are subject, in one form or another, not only to Soviet influence but to a very high and in some cases increasing measure of control from Moscow.15
The Soviets did not desire war, he continued. What they wanted was "the fruits of war and the indefinite expansion of their power and doctrines."16 Moreover, the communist threat "constitute[d] a growing challenge and peril to Christian civilization."17 The only way to end it was through forceful, unified opposition by the West.
American reaction
In the U.S., Churchill's depiction of the Soviet threat was broadly accepted. The Wall Street Journal stated that "behind [Churchill's] appeal lies a hard core of indisputable facts" and predicted, "the principal effect of Churchill's speech will be found not in the immediate adoption of its concrete proposals, but in its education influence. Important facts which have long been known to informed students of international affairs have now been dramatized for popular understanding."18
In London, The Times's American correspondent suggested that Churchill had uttered "the thoughts of the American man in the street, to say nothing of the executive and legislative representatives of the United States Government."19 U.S. senators took note. For example, The New York Times reported that, in response to Churchill's speech, Senator Burnet Maybank (D.-S.C.) "agreed in the main with Mr. Churchill's assertion that Russia seemed bent on 'indefinite expansion' of its 'power and doctrines.'" 20 Even the left-leaning Chicago Sun, which mainly opposed the speech, agreed with Churchill that "Russian acts of expansion indeed cause great alarm."21
Nevertheless, many American leaders and news outlets criticized Churchill's call for what they saw as an Anglo-American alliance. Despite having fought a war with Britain, much prejudice still existed against the British Empire.22 Some news outlets and politicians saw Churchill as attempting to entangle America in the "heritage of British imperialism."23 The Wall Street Journal and The Times wondered if American opinion was ready for an alliance. The Washington Post compared the idea to British reaction to French suggestions for alliance in the appeasement years before the war, when Britain, like America now, hoped to take a neutral position.24 The Chicago Sun went so far as to suggest that Churchill sought British world domination through American arms.25
The question of alliance reverberated across the American political realm. When the press asked if President Truman's presence at Fulton lent American endorsement to Churchill's message, Truman told the press that he had no foreknowledge of the speech's content. Secretary of State James Byrnes denied any coordination between the U.S. State Department and the British statesman.26 Truman even instructed Dean Acheson, his Undersecretary of State, not to attend a post-Fulton reception for Churchill in New York.27 Additionally, many Senators voiced their opposition to American entanglement with British interests abroad. Senator Owen Brewster (R.-Me.) spoke for many when he stated, "we cannot assume the heritage of British colonial policy." Even Senators who agreed with Churchill's depictions of Russian aggression, such as Maybank, doubted the feasibility of his plan.28
Reverberations at home
In contrast to the United States, The New York Times reported that Britons "applauded [the speech] with some reservations." A primary objection in the UK was Churchill's portrayal of communists.29 The Times, for example, criticized the speech as an "assumption of despair" that would pit western capitalists against eastern communists in a zero-sum ideological struggle.30 Both sides, The Times argued, had much to learn from each other. Yet The Times agreed that the Fulton speech recognized the fundamental reality that the Great Powers must reach a settlement.31 The Daily Telegraph and the News Chronicle, though uneasy about Churchill's rhetoric, wrote that his speech might do good by alerting the world to communist actions and by sending a strong signal of opposition to Soviet leaders.32
Many British leaders were also hostile to Churchill's comments on Russia. Prime Minister Attlee maintained that neither he nor any ambassador had approved the speech. Yet he refused to repudiate it on the grounds that Churchill had spoken only as a private citizen. Many Labour Members of Parliament wanted stronger action.33 On March 11, Tom Driberg (Lab.-Maldon) and William Warbey (Lab.-Luton) tabled a motion of censure which bore the signatures of 105 Labour Members.34 Churchill's speech, it declared, was "calculated to do injury to good relations between Great Britain, USA, and the USSR, and [was] inimical to the cause of world peace."35 Attlee prevented the motion from passing, but the hostility within the government remained.
Despite his anti-communist rhetoric, other British politicians and journals embraced Churchill's call for Anglo-American unity. The Times stated that American friendship was an essential element of British foreign policy: "…to most of his fellow countrymen there will seem to be logic and good sense in Mr. Churchill's plan" for a relationship with the Americans.36 The New York Times, reporting on a story in the Daily Telegraph, said "'everybody in his senses' in Britain was eager to have the closest relations with the United States."37 However, both Times and Telegraph worried that public opinion within the U.S. was not ready for such an intimate relationship, and both affirmed that Britain could not base its foreign policy exclusively on U.S. intervention.38
The Russians respond
Unsurprisingly, the Russians objected both to Churchill's allegations and his call for a closer partnership with America. A New York Times Moscow correspondent reported that the Fulton speech caused "hysteria" among Russians.39 On March 11th the Soviet government responded with a full-page article in Pravda, entitled "Churchill Rattles the Sabre."40 Churchill was out-of-step with history, it declared, and was inciting nations to war in an attempt to gain Anglo-American domination. A day later, Izvestia, another government sponsored newspaper, interviewed Yevgeny Tarle, a Russian historian. "The Soviet Union," Tarle said, "will not submit to threats of military preparations or verbal attacks."41 Churchill "was trying to destroy traditional Russian-American friendship and trying to threaten Russia with the latest forms of military weapons."42
Stalin soon weighed in. During an interview with Pravda on March 14th, he called Churchill a warmonger and compared his actions and rhetoric to Hitler's before the war.43 Churchill's charges against the Soviets were full of "slander," "discourtesy," and "tactlessness." All the Soviets wanted, said the master of Eastern Europe, was simple safety.44
Fulton in retrospect
Historians still argue over the effect of Churchill's Fulton speech. Could the Cold War have been avoided without his intervention? John Blum argued that "at least until the time of Fulton, the possibility existed of a practical accommodation between the United States and the Soviet Union."45 But Paul Rahe contends that Churchill infused resolve into an American administration already leaning toward resistance.46 Despite these differences, almost all historians acknowledge that it shaped the rhetoric of the postwar powers, instituting important changes in British and American foreign policy.
Historical scholarship has slowly shifted in its perception of U.S. attitudes in the months preceding Fulton. Though many in Washington were conflicted over what policies the administration should follow, it is now known that George Kennan's "Long Telegram" of February 1946 stood apart as a dominant factor.
Kennan, the American Ambassador to the Soviet Union, reported that the Soviets sought to advance the limits of communist power wherever possible.47 Soviet power, "unlike that of Hitlerite Germany, is neither schematic nor adventuristic," he warned. "It does not work by fixed plans. It does not take unnecessary risks. Impervious to logic or reason, it is highly sensitive to logic of force."48 If the West showed resistance against the Soviets, they would recoil.49 A Joint Chiefs of Staff meeting the week before the Fulton speech echoed this warning. Soviet aggression and consolidation, the Chiefs concluded, was the single greatest military threat to world peace.50
What Truman thought
Truman's cabinet had begun discussing resistance to the Soviets well before Churchill's speech. In fact, as Churchill later reported to Attlee, the administration had already decided to send the Soviets a message. They planned respectfully to return the body of a recently deceased Turkish ambassador to Turkey—aboard the USS Missouri.51 A large naval force would accompany the battleship, and establish itself in the Sea of Marmara.52
While high American opinion favored a policy of resistance, Truman believed he needed to prepare public opinion within the United States. Consequently, he used Churchill's speech as an opportunity to warn the world of Soviet aggression and to help set a vision for the future.53 Churchill's reputation among Americans for his service during World War II allowed him to convey this not particularly happy message, capturing the attention of an audience eager to hear him.54 And, because he spoke in an unofficial capacity, he could make public the ideas of Kennan's Long Telegram without gainsaying either the American or British governments.55
Though Truman denied it publicly, recent scholarship suggests that his administration had full knowledge of what Churchill would say at Fulton. Some of them even advised Churchill on content. Secretary of State Byrnes and Chief of Staff Admiral Leahy both read the speech and provided their input, and both overwhelmingly approved it.56 White House counsel Clark Clifford also read the speech and was "deeply impressed by [its] sweep and sense of history."57
Most significantly, Truman himself had read it. Churchill had promised him "that nothing should be said by me on this occasion which would cause you embarrassment. I do not however think this is likely to happen, as we are so much agreed in our general outlook." Truman resisted reading early drafts for the sake of deniability, but he read the final version on the train to Fulton. He told Churchill it was "admirable and would do nothing but good, though it would make quite a stir."58
Keep the home fires burning
Despite his intimate involvement with Truman and the American government, Churchill maintained contact with the Labour government that had defeated him nine months before. One of the more interesting aspects of The Churchill Documents Volume 22 is how often, after the 1945 election, Churchill coordinated his foreign policy initiatives with Prime Minister Attlee.
Attlee's administration was in a precarious position. Like George Kennan, Britain's own ambassador to Moscow, Frank Roberts, had written the Labour government, calling for a more forceful policy towards Russia.59 Attlee's cabinet had contemplated it, but Labour's favorable disposition to the USSR and desire for peace limited the government's ability to act. Churchill had cleared his Fulton trip with Attlee and the Labour Foreign Secretary, Ernest Bevin, and told them the line he would take. His words are indicative of the close touch he was keeping with the Labour government, a tribute both to his collegiality and to his quest for British unanimity in foreign affairs:
I am thinking now about my speech at Fulton, which will be in the same direction as the one I made at Harvard two years ago, namely fraternal association in the build-up and maintenance of UNO, and intermingling of necessary arrangements for mutual safety in case of danger, in full loyalty to the Charter. I tried this on both the President and Byrnes, who seemed to like it very well. Byrnes said that he could not object to a special friendship within the Organization, as the United States had already made similar friendships with the South American States. There is much fear of Russia here [USA] as a cause of future trouble and Bevin's general attitude at UNO has done us a great deal of good.60
The only member of Attlee's government who actually saw the speech in advance was Lord Halifax, whom Attlee had held over as Ambassador to the U.S. At the Embassy in Washington, Churchill and Halifax went over the draft line by line. Halifax approved, but suggested that Churchill use softer language when referring to the Soviet Union.61
Churchill also received British government assistance courtesy of the Americans. The White House asked the British Information Service to help distribute the Fulton speech.62 Though they did not normally publish speeches of non-government officials, they complied, sending advance copies to the press and to British embassies abroad.
The lens of Fulton
While historians agree that the Churchill's call for an intimate Anglo-American relationship fell by the wayside, the world soon accepted his powerful imagery of the "Iron Curtain." He presented the situation in terms of a diametrically opposed world—freedom versus tyranny, the English-speaking peoples versus the USSR—and he outlined the long-term policies needed to preserve peace.63 This opposition and the idea of an expansionist Soviet empire set the tone for all future foreign policy decisions in America and Britain.64 Though the public responded with mixed reactions at first, it quickly turned to support.65 In fact, despite bleak reports from Lord Halifax immediately after the speech, he noted in April a shift in U.S. opinion.66 Writing in October, Truman noted the shift and suggested that Churchill's address "[became] more nearly a prophecy every day."67
The lens of Fulton caused American and British leaders to visualize a stronger policy towards the USSR. Even as Churchill spoke, Secretary of State Byrnes was sending three telegrams to Moscow.68 The first asked the Kremlin for the economic agreements between the USSR and its satellite states. The second opposed Russia's financial demands on China. The third objected to violations of the Iran treaty.69 Even without knowledge of coordination between the White House and Churchill, the Wall Street Journal recognized that Churchill's speech provided greater force to the telegrams: "…it may have been accidental and yet was perhaps not without importance that the day of Mr. Churchill's speech Mr. Byrnes directed…notes of protest to Moscow."70 Several weeks later, when the USS Missouri and its naval escort embarked upon the journey to Turkey, The New York Times credited America's new show of force to Churchill's speech.71 Moreover, as the rhetoric became increasingly accepted, it laid the foundation of public opinion for the Truman Doctrine of economic and military assistance to any threatened democratic nation, announced just a year later.72
The rhetoric of Fulton outlived Churchill and shaped the future. The "Iron Curtain" came to define the Cold War divide until the fall of the Berlin Wall on 9 November 1989. Just two years after the speech, Stalin's Berlin Blockade sought to "Shut the 'Open Window' in the Iron Curtain."73 Churchill's speech influenced an entire generation of politicians on both sides of the Atlantic. President John F. Kennedy reused portions of what became known as the "Iron Curtain Speech" and granted Churchill honorary citizenship in 1963. President Richard Nixon stated, "It was Churchill's Iron Curtain speech…that profoundly affected my attitude to Communism in general and the Soviet Union in particular." Prime Minister Margaret Thatcher and President Ronald Reagan followed Churchill's program in finally ending the Cold War.74 Even today, the press still hails the collapse of the Soviet Union as the fall of the Iron Curtain.75
Endnotes
1 Felix Gilbert & David Clay Large, The End of the European Era: 1890 to Present, 6th Edition (New York: W.W. Norton, 2009) 53, 279.
2 Ibid., 279.
3 Ibid., 333.
4 Ibid., 351.
5 Martin Gilbert, Winston S. Churchill, vol. 8, Never Despair, 1945-1965 (Hillsdale, Mich.: Hillsdale College Press, 2013), 194.
6 R. Crosby Kemper III, "Introduction: The Rhetoric of Civilization," in R.C. Kemper III, ed., Winston Churchill: Resolution, Defiance, Magnanimity, Goodwill (Columbia, Mo.: University of Missouri Press, 1996), 22.
7 Gilbert, Never Despair, 195.
8 Kemper, "Rhetoric," 21.
9 Lynn Boyd Hinds & Theodore Otto Windt Jr., "Churchill's 'Iron Curtain' Divides the Cold War World," in Derek C. Maus, ed., The Cold War (Farmington Hills, Michigan: Greenhaven Press, 2003), 59. Churchill did remain in touch with Labour Prime Minister Clement Attlee, hoping to instill a common resolve between their parties over foreign policy. See Martin Gilbert and Larry P. Arnn, eds., The Churchill Documents, vol. 22, 1946-1951 (Hillsdale, Mich.: Hillsdale College Press, forthcoming).
10 John Ramsden, "Mr. Churchill Goes to Fulton," in James W. Muller, ed., Churchill's "Iron Curtain Speech" Fifty Years Later (Columbia, Mo.: University of Missouri Press, 1999), 20.
11 "Eager American Audience: Interest in Two Allies," The Times (London), 6 March 1946.
12 Winston S. Churchill, "The Sinews of Peace," speech in Fulton, 5 March 1946, in Speech Vault. http://speeches-usa.com/Transcripts/winston_churchill-ironcurtain.html.
13 Ibid.
14 Ibid.
15 Ibid.
16 Ibid.
17 Ibid.
18 Ibid.
19 "Eager American Audience," The Times (London), 6 March 1946.
20 "Churchill Speech Hailed in London: Call for Anglo-US Tie is Applauded, But Remarks on Russia Bring Division," The New York Times, 6 March 1946.
21 "Churchill's Call For World Domination," Chicago Sun, 6 March 1946, in Churchill Documents, vol. 22
22 Chamberlin, William Henry, "Churchill's Appeal: Dramatized World Political Trends to the Understanding of All; Some Action by the US Seems Likely," Wall Street Journal (New York), 8 March, 1946.
23 "Churchill Speech Hailed," New York Times, 6 March 1946.
24 "Union Instead of Alliance," Washington Post, 13 March 1946, in The Churchill Documents, vol. 22.
25 Gilbert, Never Despair, 205; "Britain's Call," Chicago Sun, Churchill later declared that the Sun's remarks were "stock communist output." See Churchill Documents, vol. 22.
26 Gilbert, Never Despair, 206; Phillip White, Our Supreme Task: How Winston Churchill's Iron Curtain Speech Defined the Cold War Alliance (New York: Public Affairs, 2012), 205.
27 Gilbert, Never Despair, 206.
28 "Churchill Speech Hailed," New York Times, 6 March 1946.
29 Ibid.
30 "Mr. Churchill's Speech," The Times (London), 6 March 1946, in The Churchill Documents, vol. 22.
31 Ibid.
32 "Churchill Speech Hailed," New York Times, 6 March 1946.
33 Henry B. Ryan, "A New Look at Churchill's 'Iron Curtain' Speech," in The Historical Journal, vol. 22, no. 4, Cambridge University Press, December 1979, 911.
34 "Leader of Opposition Office: note," 11 March 1946 in The Churchill Documents, vol. 22.
35 Ibid.
36 "Mr. Churchill's Speech," The Times (London), 6 March 1946.
37 "Churchill Speech Hailed," New York Times, 6 March 1946.
38 "Churchill Speech Hailed," New York Times; "Mr. Churchill's Speech," The Times (London), 6 March 1946.Bouillabaisse
39 Kemper, "Rhetoric," 30.
40 "Mr. Churchill and USSR: Moscow Attack on Fulton Speech," The Times (London), 12 March 1946.
41 "Moscow Scorns Foreign 'Threats,'" New York Times, 13 March 1946.
42 "Moscow Charges Anti-Soviet Drive: Says Case is being Distorted—Alleges China Asked Russia to Stay in Manchuria," New York Times, 11 March 1946.
43 "Joseph Stalin: interview," 14 March 1946, in The Churchill Documents, vol. 22.
44 Churchill stated that Stalin's charges were "flattering," since Hitler had attacked him in the very same manner. See Gilbert, Never Despair, 213.
45 Hinds & Windt, "Churchill's 'Iron Curtain,'" 57.
46 Paul A. Rahe, "The Beginning of the Cold War," in Churchill's "Iron Curtain Speech" Fifty Years Later, 49.
47 Ibid., 63.
48 Ibid.
49 Ibid.
50 Kemper, "Rhetoric," 26.
51 Gilbert, Never Despair, 219.
52 Truman shared these plans with Churchill on the train to Fulton. See Gilbert, Never Despair, 208.
53 Rahe, "The Beginning," 64.
54 Ibid., 50.
55 Hinds & Windt, "Churchill's 'Iron Curtain,'" 59.
56 White, Our Supreme Task, 152.
57 Kemper "Rhetoric," 27; White, Our Supreme Task, 156.
58 Gilbert, Never Despair, 197; White, Our Supreme Task, 156; WSC to President Truman, 29 November 1945, in the Churchill Documents, vol. 22.
59 Ramsden, "Mr. Churchill Goes to Fulton," 30.
60 Ibid., 26; WSC to Attlee and Bevin, 17 February 1945, in The Churchill Documents, vol. 22.
61 White, Our Supreme Task, 142.
62 Ryan, "A New Look," in The Historical Journal, December 1979, 908-10.
63 Hinds & Windt, "Churchill's 'Iron Curtain,'" 57, 60; Gilbert, Never Despair, 217.
64 Hinds & Windt, "Churchill's 'Iron Curtain,'" 63.
65 Ramsden, "Mr. Churchill Goes to Fulton," 44.
66 Ibid., 45.
67 Ibid.
68 White, Our Supreme Task, 205.
69 White, Our Supreme Task, 205; Kemper. "Rhetoric," 27; WSC to Attlee, 7 April 1946, in The Churchill Documents, vol. 22.
70 Chamberlin, "Churchill's Appeal."
71 Gilbert, Never Despair, 219.
72 WSC to Clement Attlee and Ernest Bevin, 7 March 1946, in The Churchill Documents, vol. 22; Hinds & Windt, "Churchill's 'Iron Curtain,'" 61.
73 William Henry Chamberlin, "Berlin Blockade: Russia Hopes to Shut the 'Open Window' in the Iron Curtain, But Will Avoid Armed Clash with US," New York Times, 6 April 1948.
74 White, Our Supreme Task, 219-20.
75 Jonathan Mann, "How the Iron Curtain Collapsed," on CNN, 3 January 2014.
Churchill Project Articles
Stay In Touch With Us
Subscribe now and receive weekly newsletters with educational materials, new courses, interesting posts, popular books, and much more!