Articles

Sir Winston Churchill's Three Outstanding War Books
---
We are asked to recommend Churchill's best books on war. Sir Winston might be disappointed by the frequency of this request. It was his lament late in life that his greatest fame was achieved as a war leader, when what he most sought was peace. He was indeed a great peacemaker, but his work there is eclipsed by the climacterics of war. Herewith some thoughts on his leading war books. They comprise three titles spanning thirteen volumes.
These works marked Churchill as military historian as well as a statesman. Scholars have compared some of his passages to the works of Thucydides. The books remain highly insightful to our own time. They offer passages of deep reflection about how civilized nations should govern in times of strife.
The River War
In 1885 the Sudan had been overrun by Dervish tribesman under their religious leader, the Mahdi (Muhammad Ahmad). Fourteen years later, London sent Lord Kitchener and an Anglo-Egyptian force (including Churchill) to reestablish sovereignty. Notwithstanding the superiority of British weapons and tactics, the obstacles presented by the Nile, the desert, the climate, cholera and a brave, fanatical Dervish army were formidable.
Churchill excitingly describes the British victory, culminating in the Battle of Omdurman in 1898. Yet he doesn't hesitate to criticize the actions of his own side. He is particularly critical of Kitchener, whose treatment of the dead Mahdi was shameful, even barbaric. Far from accepting uncritically the superiority of British civilization, Churchill appreciates the longing for liberty among the indigenous Sudanese. But he finds their native regime defective in its disdain for the human rights of its inhabitants.
In 1902 for an abridged edition, Churchill excised one-fourth of the narrative, including his criticisms of Kitchener. By then he had entered Parliament, and was wary of burning bridges. He also added some material, so there are two texts: 1899 and 1902. A new and complete edition, prepared by Professor James Muller, containing both the original and 1902 texts has long been developing. It will be linked here when available. (For Dr. Muller's video presentation at Hillsdale College, "Lessons from The River War, " click here.)
A caveat about quotations
A passage excised in the abridgement describes Churchill's view of Islam, much quoted in the years following 9/11. While there are elements of striking relevancy to Muslim "votaries," it would be a mistake to ascribe them to all. Nevertheless, the quality of writing was remarkable for an author then scarcely twenty-five years old.
How dreadful are the curses which Mohammedanism lays on its votaries! Besides the fanatical frenzy, which is as dangerous in a man as hydrophobia in a dog, there is this fearful fatalistic apathy…. A degraded sensualism deprives this life of its grace and refinement; the next of its dignity and sanctity. The fact that in Mohammedan law every woman must belong to some man as his absolute property—either as a child, a wife, or a concubine—must delay the final extinction of slavery until the faith of Islam has ceased to be a great power among men.
Individual Moslems may show splendid qualities. Thousands become the brave and loyal soldiers of the Queen; all know how to die; but the influence of the religion paralyses the social development. No stronger retrograde force exists in the world.
It would be inappropriate to quote these words out of context because they refer to warriors of 120 years ago. Their worst atrocities, Churchill also explains, were against fellow Muslims. There are as well many examples of Churchill praising Muslims. He wrote with deep feeling of Muslim and Hindu soldiers of the Indian Army in the Second World War. Even in 1899, he considered his Dervish enemies "as brave men as ever walked the earth." Context matters.
For further reflections see Dr. Paul Rahe's essay, "The Timeless Value of Winston Churchill's The River War."
The World Crisis
In 1905 Churchill hired a polymath who was to remain his literary assistant for thirty years. Edward Marsh was a classical scholar, a civil servant and a brilliant litterateur. From that time, Churchill stopped writing his books in longhand and began dictating to teams of secretaries. Marsh vetted the drafts for Churchill's final approval. They made a marvelous team and have left us with some captivating exchanges,
WSC: Eddie. You are very free with your commas. I always reduce them to a minimum: and use "and" or an "or" as a substitute not as an addition. Let us argue it out. W.
Marsh: "I look on myself as a bitter enemy of superfluous commas, and I think I could make a good case for any I have put in—but I won't do it any more!"
WSC: Eddie, No, do continue. Am adopting provisionally. But I want to argue with you. W."
I don't mean to trivialize, but Marsh appears frequently in Churchill's life. When he died in 1953 Churchill, who seemed to outlive everybody, waxed eloquent: "He was a master of literature and scholarship and a deeply instructed champion of the arts. All his long life was serene, and he left this world, I trust, without a pang, and I am sure without a fear."
Marsh helped Churchill write The World Crisis, his memoir of World War I. Here Churchill began as First Lord of the Admiralty, fell disastrously from power and volunteered for the front. Then he returned to office as Minister of Munitions. He became Secretary of State for War ironically, just as the war ended. Perhaps not ironically, for the appointment was made by Prime Minister Lloyd George, who nursed a wry sense of humor.
"All about himself"
Whenever I'm asked to recommend a big book by Churchill, I always name The World Crisis. Like all of his war books it is highly personal. One of his friends called it, "Winston's brilliant autobiography, disguised as a history of the Universe." One of his enemies said, "Winston has written an enormous book all about himself and calls it The World Crisis."
One of his critics, Sir Robert Rhodes James, regarded The World Crisis as Churchill's masterpiece. But he correctly noted that "one can never quite separate Churchill the orator from Churchill the writer."
Even if you do not read war books you will be entranced by Churchill's account of the awful, unfolding scene of the First World War. Readers learn of the great power rivalries that caused the war. We observe Churchill's failed effort to break the deadlock on the Western Front by forcing the Dardanelles, knocking Turkey out of the war. We revisit the carnage of the Somme and Passchendaele. Finally we see Germany almost win and then lost the war in 1918. A fifth and final volume, The Eastern Front, relates the lesser-known horrors of the war in Russia and Austria-Hungary.
In his fourth volume, The Aftermath, Churchill covers the decade after victory. He limns the treaties ending the war, the Irish Treaty, and the Cairo Conference of 1921. That was the year Churchill lost his mother, a 2-1/2-year old daughter and his brother-in-law. Yet he managed also to go to Cairo and draw up the boundaries of the modern Middle East. Incidentally, Churchill pushed hard for a Kurdish homeland "to protect the Kurds against some future bully in Iraq." London overruled him, saying that of course Iraq would never be a problem.
"Are you quite sure? It would be a pity to be wrong"
Two brief excerpts from The World Crisis. The first is a favorite of Colin Powell, who asked me to look it up when he was chairman of the Joint Chiefs. It tells us a lot about Powell, said to be the voice of caution before the 2003 invasion of Iraq.
In 1911, the Germans sent a gunboat to Agadir, Morocco, and almost went to war with France over it. Churchill here describes the exchange of diplomatic telegrams between Berlin, Paris and London as the Agadir Crisis deepened.
They sound so very cautious and correct, these deadly words. Soft, quiet voices purring, courteous, grave, exactly measured phrases in large peaceful rooms. But with less warning cannons had opened fire and nations had been struck down by this same Germany. So now the Admiralty wireless whispers through the ether to the tall masts of ships, and captains pace their decks absorbed in thought. It is nothing…less than nothing. It is too foolish, too fantastic to be thought of in the twentieth century….
No one would do such things. Civilization has climbed above such perils. The interdependence of nations in trade and traffic, the sense of public law, the Hague Convention, Liberal principles, the Labour Party, high finance, Christian charity, common sense have rendered such nightmares impossible. Are you quite sure? It would be a pity to be wrong. Such a mistake could only be made once—once for all.
"The King's ships were at sea…"
Of course, the mistakes were made, and the world plunged into war, with Churchill running the Royal Navy. In August 1914 he did a prescient thing. In July Britain's Grand Fleet had assembled for a Naval Review. Almost simultaneously was delivered the Austrian note to Serbia which would precipitate war. On his own authority, Churchill ordered the Fleet not to disperse. Instead, it sailed in darkness through the English Channel to its war station at Scapa Flow in the Orkneys. Here is Churchill's description of the passage of the armada:
We may now picture this great Fleet, with its flotillas and cruisers, steaming slowly out of Portland Harbour, squadron by squadron, scores of gigantic castles of steel wending their way across the misty, shining sea, like giants bowed in anxious thought. We may picture them again as darkness fell, eighteen miles of warships running at high speed and in absolute blackness through the narrow Straits, bearing with them into the broad waters of the North the safeguard of considerable affairs….
If war should come no one would know where to look for the British Fleet. Somewhere in that enormous waste of waters to the north of our islands, cruising now this way, now that, shrouded in storms and mists, dwelt this mighty organization. Yet from the Admiralty building we could speak to them at any moment if need arose. The King's ships were at sea.
One has to look far and wide for writing like that. When he wrote it, our author was 49. 
 The Second World War
The first book New York Mayor Giuliani read after 9/11 was Churchill's The Second World War. Anyone who wonders whether Winston Churchill remains relevant today need only consider it.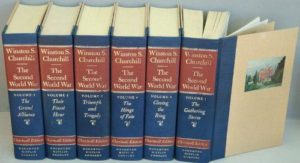 Consider the major criticisms of Churchill's most famous work: It is not history. It is filled with grandiose prose, inflicted on an apathetic postwar public who only wanted peace and a quiet life. It is highly biased—the author never puts a foot wrong. He publishes hundreds of his own memoranda and directives, but few replies to them. It moralizes incessantly about dictators and their empires, but not the British Empire. It is vague on the impact of the war on Britain, or the details of Cabinet meetings. Churchill alone seems to confront the French, Hitler, the Soviets, the Americans.
In the words of Arthur Balfour, these complaints contain much that is trite and much that is true. But what's true is trite, and what's not trite is not true.
Professor J. H. Plumb, in 1969, referred to this work as a "history" and then said it was not history. The contretemps is often repeated. Churchill himself insisted: "This is not history—this is my case…my life effort, on which I am content to be judged."
His admirers would say Churchill was too modest. Professor John Keegan, in an introduction to a recent new edition, calls The Second World War "a great history of monumental quality…extraordinary in its sweep and comprehensiveness, balance and literary effect."
If that seems too positive, consider Manfred Weidhorn's summary: "a record of history made rather than written….No other wartime leader in history has given us a work of two million words written only a few years after the events and filled with messages among world potentates which had so recently been heated and secret."
Legend and reality
Wishing to build up his "legend," goes another argument, our author ignored unpleasant facts, or twisted them to his purpose. Have we ever read a memoir that did not? Yet few memoirs are so magnanimous, as illustrated by a principle Churchill adopts in his preface. He never criticizes "any measure of war or policy after the event unless I had before expressed publicly or formally my opinion or warning about it."
Another recent critic writes that by the time the books appeared, "the world had moved on into an exhausted flatness." People had no time for "the high-flown attitudes and language of Churchillian rhetoric." If that is so, why was The Second World War able to sell over 300,000 copies of each volume as published, millions since, eighteen foreign translations, three major serializations, five or six film documentaries, and several million abridgements? The other criticisms are true, but trite. The Second World War is indeed personal. It ponders the war from Churchill's view. It moralizes because the writer was a moral man.
Humor: his secret of survival
The Second World War  is conducted like a symphony, Manfred Weidhorn writes—or a first class novel:
Such is the eerie sense of déjà vu and ubi sunt upon his return in 1939, as First Lord [of the Admiralty], to Scapa Flow, exactly a quarter of a century after having, at the start of the other world war, paid the same visit during the same season in the same capacity…. The collapse of the venerable and once mighty France and Churchill's agony are beautifully rendered by the sensuous detail of the old gentlemen industriously carrying French archives on wheelbarrows to bonfires.
The end finds our hero in Berlin amid its "chaos of ruins." Churchill walks Hitler's shattered chancellery for "quite a long time." The great duel is over; the victor stands where so much evil originated. "We were given the best first-hand accounts available at that time of what had happened in these final scenes."
"Amid the pathos, humour bubbles," writes Robert Pilpel. It is "as if Puck had escaped from A Midsummer Night's Dream and infiltrated Paradise Lost." There is Churchill's desert conference with his Generals, "in a tent full of flies and important personages." There is lunch with King Saud, whose religion forbids tobacco and alcohol—which Churchill says are mandated by his religion. In 1941 he sends a courtly letter to the Japanese Ambassador, signed "Your Obedient Servant." He announces "with high consideration" that a state of war exists between their countries. ("When you have to kill a man, it costs nothing to be polite.") At parties with Stalin, Churchill pooh-poohs the storied drinking bouts. ("I had been properly brought up.") Such a tone, Weidhorn concludes, "may well be a secret of survival. As Bernard Shaw said, he who laughs lasts."
Prudence in statesmanship
What was it, I've wondered, that Mayor Giuliani paused over? I'm told he read Volume 2, Their Finest Hour, about Britain in the Blitz. I can only wish today's leaders, who squabble over inconsequentia as danger mounts, read from Volume 1, The Gathering Storm:
When the situation was manageable it was neglected, and now that it is thoroughly out of hand we apply too late the remedies which might have effected a cure. There is nothing new in the story…. It falls into that long, dismal catalogue of the fruitlessness of experience and the confirmed unteachability of mankind. Want of foresight, unwillingness to act when action would be simple and effective, lack of clear thinking, confusion of counsel until the emergency comes, until self-preservation strikes its jarring gong. These are the features which constitute the endless repetition of history.
How often must we slide slowly down from invincibility, only to be reminded by sudden calamity that we have neglected the primary mission of the state: to provide for the common defense? Churchill wondered. In an unpublished passage for The Gathering Storm he wrote:
Some historians will urge that admiration should be given to a Government of honourable high minded men who bore provocation with exemplary forbearance…. I hope it will also be written how hard all this was upon the ordinary common folk who fill the casualty lists. Under-represented in Government and Parliamentary institutions, they confide their safety to the Ministers of the day. They have just cause of complaint if their guides or rulers so mismanage their affairs that in the end they are thrust into the worst of wars with the worst of chances.
"The Great Republic"
Churchill was in the end an optimist. "Never give in" was his motto, and in Volume 3, The Grand Alliance, he recalls his thoughts on 7 December 1941. We can only hope they still apply.
Silly people—and there were many, not only in enemy countries—might discount the force of the United States. Some said they were soft, others that they would never be united. They would fool around at a distance. They would never come to grips…never stand blood-letting. Their democracy and system of recurrent elections would paralyze their war effort. They would be just a vague blur on the horizon to friend or foe….
But I had studied the American Civil War, fought out to the last desperate inch. American blood flowed in my veins. I thought of a remark which Edward Grey had made to me more than thirty years before…. The United States is like "a gigantic boiler. Once the fire is lighted under it there is no limit to the power it can generate."
The Second World War, a prose epic like The River War and The World Crisis, is in the first rank of Churchill's books. Flaws and all, it is indispensable reading for anyone who seeks a true understanding. Not only of that war, but the one we are engaged in today.
Last thoughts
In the last few years of his life Churchill gave in to the pessimism he had always dodged before. (And despite reports, he was never long bothered by depression.) In the late Fifties he told his private secretary, Anthony Montague Browne: "Yes, I have worked very hard and accomplished a great many things—only to accomplish nothing in the end."
I ventured that Churchill was thinking of the "special relationship" with America, which never reached the closeness he sought. Then too, there was his failure to reach a "settlement" with Russia, although in 1949 he predicted communism would expire. "Yes," said Sir Anthony, "I think those were the reasons he felt the way he did. It was very sad."
Sir Martin Gilbert spoke along the same lines when asked if he could summarize his subject in one sentence. He thought for just a moment: "He was a great humanitarian who was himself distressed that the accidents of history gave him his greatest power at a time when everything had to be focused on defending the country from destruction, rather than achieving his goals of a fairer society."
Here anyway are three Churchill books that are must reading, for the connoisseur, or the casual: The River War, The World Crisis and The Second World War. They represent an understanding of statesmanship in times of duress. They are also, as Manfred Weidhorn wrote, "fascinating products of the human spirit." They are all "epic tales filled with the depravities, miseries, and glories of man."
Churchill Project Articles
Stay In Touch With Us
Subscribe now and receive weekly newsletters with educational materials, new courses, interesting posts, popular books, and much more!