Articles

Omdurman: The Fallen Foe – An Illustration of Churchill's Lifelong Magnanimity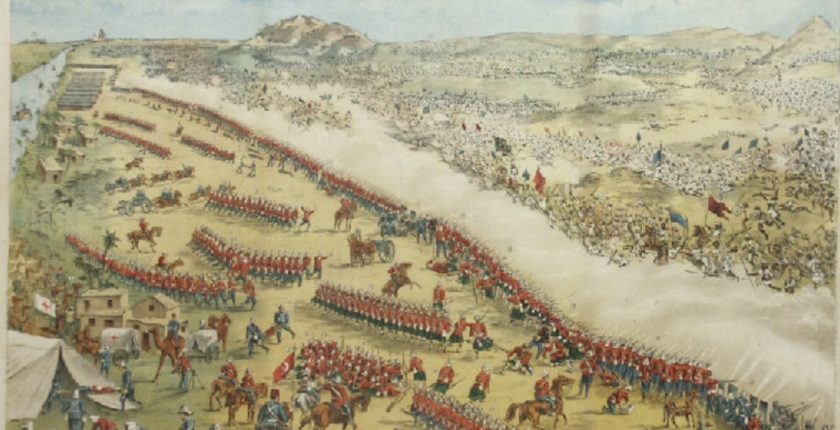 Winston Churchill was only 25 when he filed a dispatch after the Battle of Omdurman in the Sudan, where the Dervish Army of 52,000 was obliterated by the power of modern artillery. It was September 2, 1898, when Anglo-Egyptian-Sudanese forces of 26,000, including Churchill, killed, wounded or captured half of the enemy, and reconquered the Sudan.
Reprinted in his 1899 book, The River War, (See Why Read The River War?) Churchill's account offers us an early insight into his appreciation for a valiant foe, and the magnanimity this noble spirit expressed throughout his life.
On the 5th of September 1898, three days after the Battle of Omdurman, I rode with Lord Tullibardine of the Egyptian cavalry to examine the scene of battle…. The bodies were swollen to almost gigantic proportions….The sight was appalling. The smell redoubled the horror….

We approached [the wounded] cautiously and, pistol in hand, examined their condition. Lord Tullibardine had a large water-bottle. He dismounted, and gave a few drops to each till it was all gone….Some of the wounded were very thirsty. It would have been a grateful sight to see a large bucket of clear, cool water placed before each shaking, feverish figure. [One of them] was shot through both legs. The bullet—a Martini-Henry bullet—had lodged in the right knee-cap. The whole limb was stiffened. We gave him a drink. You would not think such joy could come from a small cup of water. Tullibardine examined his injury. Presently he pulled out his knife, and after much probing and cutting extracting the bullet—with a button-hook. I have seen, and shall see perchance again, a man with a famous name worse employed.
Churchill's merciful companion was John George Stewart-Murray (1871-1942), Marquess of Tullibardine, who in 1917 became the Eighth Duke of Atholl. A distinguished soldier, he later fought in the Boer War, and in 1915 commanded a Yeomanry Regiment fighting in the Gallipoli campaign against the Turks. In World War II, despite being 70 years old, Churchill's old companion joined the Home Guard, and reportedly stood duty as sentry officer in Whitehall, the heart of government offices. He was instrumental in establishing the Scottish National War Memorial at Edinburgh Castle, and served as Conservative Member of Parliament from 1910 to until his peerage.
For a young Victorian with a ducal background, Churchill's attitude toward the fallen enemy was decidedly progressive compared to his peers. Further along in his book, he reflected thoughtfully on the whole business of war, and the valor of both sides.
I have tried to gild war, and to solace myself for the loss of dear and gallant friends, with the thought that a soldier's death for a cause that he believes in will count for much, whatever may be beyond this world…. But there was nothing dulce et decorum about the Dervish dead; nothing of the dignity of unconquerable manhood; all was filthy corruption. Yet these were as brave men as ever walked the earth. The conviction was borne in on me that their claim beyond the grave in respect of a valiant death was not less good than that which any of our countrymen could make. The thought may not be original; it may happily be untrue; it seemed certainly most unwelcome….
Churchill Project Articles
Stay In Touch With Us
Subscribe now and receive weekly newsletters with educational materials, new courses, interesting posts, popular books, and much more!