Articles

Churchill, Eden, America and the Suez Crisis of 1956
By

ANDREW ROBERTS

|

May 23, 2021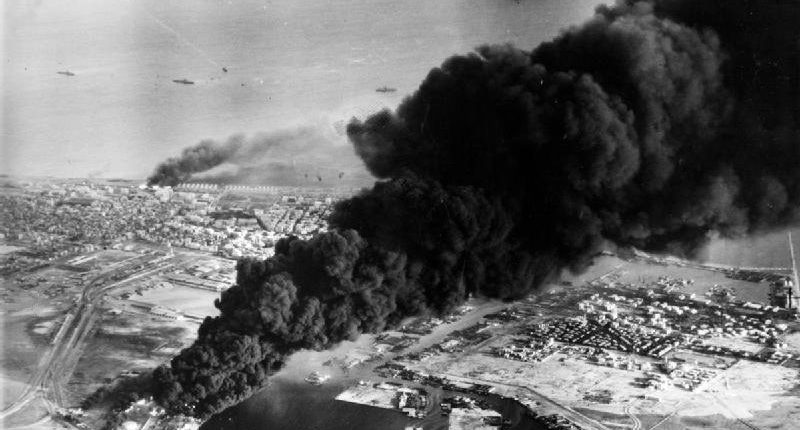 ---
The 2021 blockage of the Suez Canal reminds us that this strategic waterway carries 10% of the world's shipping. A reader asks about Churchill's involvement 65 years ago, when the canal was also blocked, but for different reasons.
 The Second Arab-Israeli War ("Tripartite Aggression" in Egypt, "Sinai War" in Israel), broke out in late 1956. Israel, Britain and France invaded Egypt to regain control of the Suez Canal and remove Egyptian President Gamal Abdel Nasser. The conflict found the United States and Soviet Union united in opposing the invaders. They ultimately withdrew in humiliation. Nasser placed blockships in the canal, and Suez did not reopen until March 1957.
 The Suez affair was a watershed which marked the end of Britain as an imperial power. It is seen by many as Churchill's last involvement in foreign affairs. He was, of course, by then retired, having left Downing Street on 6 April 1955. His successor, Anthony Eden, retained the premiership following the May 1955 general election.
 To answer our reader question we turned to the Andrew Roberts' account in Churchill: Walking with Destiny. With the author's permission, we have added fuller quotations based on the sources referenced. Most notable are the Churchill-Eisenhower letters of November 1956, reproduced in entirety.
"If necessary with arms"
On 3 June 1956, British troops left the Suez Canal Zone under a 1954 agreement by Churchill's Foreign Minister Anthony Eden. Three weeks later Colonel Nasser was elected President of Egypt, whereupon events moved very quickly. On 26 July, Nasser suddenly and without warning nationalized the Anglo-French-owned Canal, plunging its owners and users into crisis. Winston Churchill initially favoured decisive action, writing his wife July 30th:
I am on my way to the Royal luncheon, and afterwards am going to the House [of Commons]. Eden says he wants to see me, as he has much to tell. Personally, I think that France and England ought to act together with vigour, and if necessary with arms, while America watches Russia vigilantly. I do not think the Russians have any intention of being involved in a major war. We could secure our rights in the Arab world, and France has every reason to resent Nasser's attitude and action in regard to Algeria.1
"Never be separated from the Americans"
In America, President Eisenhower was facing a reelection campaign, which Clementine Churchill thought might affect his reaction. "I fear that A.E. [Anthony Eden] will wait for America, who for the 3rd time will arrive on the scene very late," she wrote her husband. "I hope you may be able to influence him."2
Lord Moran records another comment by WSC, on August 8th. If reported accurately, is hard not to perceive a sense of Schadenfreude in Churchill's attitude towards Eden over Suez:
I said to Winston that Suez seemed in a bit of a mess. [WSC:] "It serves Anthony right. He has inherited what he let me in for." I saw he did not want to talk about Nasser. As I was leaving I met Montague Browne; he took me into the library. "You probably think Winston is apathetic about Suez. He saw Eden on Tuesday, and he has put him right in the picture. And that inhibits Winston. He does not feel he can talk about it."3
Consulting closely with Eisenhower would have been the sensible thing for Eden to have done, and would also have been in accordance with Churchill's own final advice to his Ministers not in the Cabinet, when he'd retired: "He wished to make two points," Lord De L'Isle and Dudley later recalled: 'Man is spirit,' and 'Never be separated from the Americans.'"4
"I would certainly never have dared stop"
On 20 October, Churchill suffered another small stroke and was flown home from the Reves's Villa La Pausa on October 28th. Three days later British and French troops seized the Suez Canal. Eisenhower was re-elected on November 6th, but his hostile stance towards the Anglo-French military action did not perceptibly soften once he was safely back in the White House.
That same day, without consulting the Israelis or the French, Eden called a cease-fire, and the invasion was over. Ill and exhausted, Eden left for Jamaica. Churchill's reaction was recalled by Sir John Colville:
On Thursday, November 29th, Winston had told me in reply to a direct question that he thought the whole operation the most ill-conceived and ill-executed imaginable. It was at luncheon at 28 Hyde Park Gate. I had begun by asking him if he would have acted as Eden had if he had still been Prime Minister. He replied, "I would never have dared; and if I had dared, I would certainly never have dared stop."
He also said that if Eden resigned he thought Harold Macmillan would be a better successor than R.A. Butler. The departure of Eden, taken suddenly ill, to Jamaica seemed to many people a disastrous decision from the point of view of his own political future. It was an island much patronised by tax evaders and affluent idlers, and with petrol and oil rationed again in England, the retreat of the Prime Minister to a parasite's paradise seemed to rank prominently in the annals of ministerial follies.5
Appeal to Eisenhower
Even before the last British troops quit Suez in humiliation—victims of a perceived American threat to Sterling if they persevered in the occupation of the Canal—Churchill tried to rebuild the Special Relationship. His letter to Eisenhower, not revealed until publication of Macmillan's memoirs in 1968, was wrenching:
My Dear Ike, There is not much left for me to do in this world and I have neither the wish nor the strength to involve myself in the present political stress and turmoil. But I do believe, with unfaltering conviction, that the theme of Anglo-American alliance is more important today at any time since the war. You and I had some part in raising it to the plane on which it has stood. Whatever the arguments adduced here and in the United States for or against Anthony's action in Egypt, it will now be an act of folly, on which our whole civilization may founder, to let events in the Middle East come between us…and it is the Soviet Union that will ride the storm.
[They are] attempting to move into this dangerous vacuum, for you must have no doubt that a triumph for Nasser would be an even greater triumph for them. I know where your heart lies. You are now the only one who can so influence events both in UNO [United Nations Organization] and the free world as to ensure that the great essentials are not lost in bickerings and pettiness among the nations. Yours is indeed a heavy responsibility and there is no greater believer in your capacity to bear it or well-wisher in your task than your old friend, Winston S. Churchill.6
Eisenhower's reply…
…may be left to the judgement or clemency of the reader:
Dear Winston, I agree fully with the implication of your letter that Nasser is a tool, possibly unwitting, of the Soviets, and back of the difficulties that the free world is now experiencing lies one principal fact that none of us can afford to forget. The Soviets are the real enemy of the Western World, implacably hostile and seeking our destruction.
When Nasser took his high handed action with respect to the Canal, I tried earnestly to keep Anthony informed of public opinion in this country and of the course that we would feel compelled to follow if there was any attempt to solve by force the problem presented to the free world through Nasser's action. I told him that we were committed to the United Nations and I particularly urged him, in a letter of July thirty-first, to avoid the use of force, at least until it had been proved to the world that the United Nations was incapable of handling the problem.
Sometime in the early part of October, all communication between ourselves on the one hand and the British and the French on the other suddenly ceased. Our intelligence showed the gradual buildup of Israeli military strength, finally reaching such a state of completion that I felt compelled on two successive days to warn that country that the United States would honor its part in the Tri-Partite Declaration of May, 1950—in short, that we would oppose clear aggression by any power in the Mid-East. But so far as Britain and France were concerned, we felt that they had deliberately excluded us from their thinking; we had no choice but to do our best to be prepared for whatever might happen.
The first news we had of the attack and of British-French plans was gained from the newspapers and we had no recourse except to assert our readiness to support the United Nations, before which body, incidentally, the British Government had itself placed the whole Suez controversy.
Nothing would please this country more nor, in fact, could help us more, than to see British prestige and strength renewed and rejuvenated in the Mid-East. All we have asked in order to come out openly has been a British statement that it would conform to the resolutions of the United Nations. The United Nations troops do not, in our opinion, have to be as strong as those of an invading force because any attack upon them will be an attack upon the whole United Nations and if such an act of folly were committed, I think that we could quickly settle the whole affair.
This message does not purport to say that we have set up our judgment against that of our friends in England. I am merely trying to show that in this country there is a very strong public opinion upon these matters that has, I believe, paralleled my own thinking. I continue to believe that the safety of the western world depends in the final analysis upon the closest possible ties between Western Europe, the American hemisphere, and as many allies as we can induce to stand with us. If this incident has proved nothing else, it must have forcefully brought this truth home to us again. A chief factor in the union of the free world must be indestructible ties between the British Commonwealth and ourselves. . .
So I hope that this one may be washed off the slate as soon as possible and that we can then together adopt other means of achieving our legitimate objectives in the Mid-East. Nothing saddens me more than the thought that I and my old friends of years have met a problem concerning which we do not see eye to eye. I shall never be happy until our old time closeness has been restored. With warm regard and best wishes for your continued health, Ike.7
Gloomy finis
Churchill's private feelings towards Eisenhower were as negative as ever, however. The following September, staying at La Capponcina, Beaverbrook's villa on the Cap d'Ail in the South of France, Churchill spoke about Nevil Shute's newly-published apocalyptic novel On the Beach, which was about the effect of a nuclear war.
"I think the earth will soon be destroyed," he said. "And if I were the Almighty I would not recreate it in case they destroyed Him too the next time."8 He thought he might send a copy to Nikita Khrushchev, the new Soviet leader. But when asked about Eisenhower he said it would be "a waste of money." To his private secretary Churchill said in 1958:
The Middle East is one of the hardest-hearted areas in the world. It has always been fought over, and peace has only reigned when a major power has established firm influence and shown that it would maintain its will. Your friends must be supported with every vigour and if necessary they must be avenged. Force, or perhaps force and bribery, are the only things that will be respected. It is very sad, but we had all better recognise it. At present our friendship is not valued, and our enmity is not feared.9
Anthony Eden's resignation on 9 January 1957, was a tragedy involving family as much as politics, because his wife Clarissa was Churchill's niece. "They bear their lot with courage," Churchill told Clementine.10 Eden was succeeded by Harold Macmillan, who had been a sturdy anti-appeaser whom Churchill had always liked and promoted.
Endnotes
1 Mary Soames, Speaking for Themselves: The Personal Letters of Winston and Clementine Churchill (London: Transworld, 1998), 610. At the Bandung, Indonesia Conference of April 1955, Nasser voiced support there for independence of Tunisia, Morocco and Algeria from French rule. The first two secured independence before Suez in 1956, Algeria in 1962.
2 Soames, 612. Lady Churchill was referring to American entry into the First and Second World Wars, three and two years respectively after they had started.
3 Lord Moran, Winston Churchill: The Struggle for Survival, 1940-1965 (London: Constable, 1966), 748.
4 Martin Gilbert, Winston S. Churchill, vol. 8, Never Despair 1945-1965 (Hillsdale, Mich.: Hillsdale College Press, 2013), 1123.
5 John Colville, The Fringes of Power: Downing Street Diaries 1940–1955, 2 vols. (Sevenoaks, Kent: Sceptre Publishing, 1986–87) II, 392.
6 Harold Macmillan, Riding the Storm 1956-1959 (New York: Harper & Row, 1968), 175-76.
7 Martin Gilbert & Larry P. Arnn, eds., The Churchill Documents, vol. 23, Never Flinch, Never Weary, November 1951 to February 1965 (Hillsdale, Mich.: Hillsdale College Press, 2019), 2146-47.
8 James Lees-Milne, A Mingled Measure: Diaries, 1953-1975 (London: John Murray, 1994), 68.
9 Anthony Montague Browne, Long Sunset: Memoirs of Winston Churchill's Last Private Secretary (London: Cassell, 1995), 166-67
10 Soames, 619.
The author
Andrew Roberts is Visiting Professor at the Department of War Studies at King's College, London, the Mertz Visiting Research Fellow at the Hoover Institution, and a regular contributor to the Hillsdale College Churchill Project. His books include The Storm of War (winner of the British Army Book Prize) and Napoleon the Great (winner of the Grand Prix Fondation Napoléon). His Churchill: Walking with Destiny (2018) is the only biography to merit two reviews by the Churchill Project. His biography of George III, The Last King of America, is to be published in the U.S. by Viking in November.
Churchill Project Articles
Stay In Touch With Us
Subscribe now and receive weekly newsletters with educational materials, new courses, interesting posts, popular books, and much more!