Articles

Great Contemporaries: Max Aitken, Lord Beaverbrook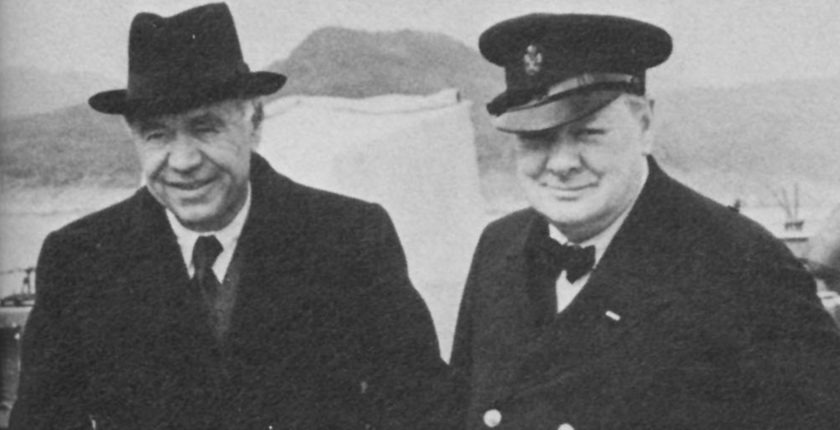 On 14 May 1940, four days after he had become prime minister and the Germans had launched their invasion of western Europe, Winston Churchill announced his cabinet appointments. One of the most important was his selection of Lord Beaverbrook to head the Ministry of Aircraft Production. The appointment was made despite the hostility, if not outright hatred, that Beaverbrook provoked in many quarters, not least from Churchill's wife Clementine.
But Churchill had known Beaverbrook for three decades. He recognized that this newly created, all-vital ministry required a chief of Beaverbrook's qualities. With Britain's survival in the balance, Beaverbrook would have the energy, determination, and "dynamism" to break all the rules as he sought rapidly to increase fighter and bomber manufacture. The appointment was the culmination of a long, turbulent relationship between the two, which, over the past three decades, had seen ups and downs, disagreements and arguments, and even "social coolness."
Early Encounters
William Maxwell Aitken, named to the peerage as Lord Beaverbrook (known by friends and enemies alike as "the Beaver"), enjoyed gambling, drinking and politics from the inside. He had a great facility with words, loved to create mischief, and almost always wore a grin. He was born in 1879 in Canada, the son of a Presbyterian minister. After a childhood in New Brunswick, he held a variety of jobs, including newspaper reporter  and debt collector, before succeeding in insurance and other business ventures.
Early on, Beaverbrook demonstrated the ability to make money. With his "powers of flattery and persuasion, and also a certain lack of scruple," he had by 1910 moved permanently to Britain, a wealthy "new world millionaire." The move was made in the wake of his involvement in a controversial merger of Canada's cement industry.
Elected to the House of Commons in 1910, Beaverbrook met Churchill in early 1911 after being introduced by F.E. Smith, later Lord Birkenhead. They did not become immediate friends and Churchill's signature does not appear in the visitors book at Cherkley Court, Beaverbrook's grand country house, until 1916. During the First World War, the Beaver held positions with the Canadian forces in Britain, wrote his first book, received a peerage, and invested in the Daily Express. No supporter of Prime Minister H.H. Asquith, he claimed to have played a "key" role in Asquith's overthrow in December 1916. In February 1918, Beaverbrook became Minister of Information, responsible for the propaganda effort—a cabinet position under David Lloyd George. He was successful, but resigned after only eight months.
Between the Wars
After the 1918 armistice, Beaverbrook developed the failing Daily Express into the largest circulation newspaper in Britain, reaching a circulation of 2.7 million in 1937. The Beaver enjoyed using this "optimistic" newspaper, aimed at "Middle England," to attack his enemies, support his friends, and crusade for his own causes. In the early Twenties the Daily Express bitterly opposed the Lloyd George coalition government, which Churchill served at senior levels. Beaverbrook said he had aided its downfall in 1922—which left Churchill for two years "without an office, without a seat, without a party, and without an appendix."
Churchill never held Beaverbrook's machinations against him, but took an equable view of his comrade. In 1944 he told his doctor, "Max is a good friend in foul weather [commonly misquoted as 'foul-weather friend']. Then, when things are going well, he will have a bloody row with you over nothing." Beaverbrook's opinion was also qualified: "Winston Up" was frightening, he said; "Winston Down" was magnificent. In the early 1920s, with Winston down, the two became closer and socialized frequently.
They often showed each other drafts of their books. Reading the manuscript for Beaverbrook's Politicians and the War in 1928, Churchill delivered a famous aside: "Think of all these people—decent, educated, the story of the past laid out before them—What to avoid—what to do etc.—patriotic, loyal, clean—trying their utmost—What a ghastly muddle they made of it! Unteachable from infancy to tomb—There is the first and main characteristic of mankind." He added: "No more war!"
In that same book Beaverbrook wrote what may have been his truest evaluation of his friend. Comparing Churchill to Andrew Bonar Law, the 1923-24 prime minister whom Churchill genially despised, Beaverbrook mentioned "character—by which I mean the power of holding resolutely to those things in politics which one believes to be true. Both had entered the House of Commons at the same time, but they had never been intimate. Bonar Law got office before Churchill, but the latter would never regard him as an equal, and always treated him in a patronising way up to the outbreak of war [World War I]."
Unlike the other two members of Clementine Churchill's "three dreadful Bs"—Bracken and Birkenhead—or Churchill's close scientific advisor Frederick Lindemann, Beaverbrook was always his own figure in politics, and was never predictably loyal to Churchill. With Birkenhead, Churchill could remain close despite politics; with Beaverbrook, political differences strained their friendship.
For example, Churchill's decision as Chancellor of the Exchequer to return to the Gold Standard, a policy Beaverbrook staunchly opposed, temporarily ruptured their relationship. Criticisms in the Daily Express were so intense that some thought it was "a personal vendetta against Churchill." The coolness passed, however, and by the late 1920s they were again close friends.
An inevitable "down" always seemed always to follow the "up." Political differences on India and trade policy led to them being "polite" to each other in the early 1930s. While briefly allied in support of Edward VIII in the 1936 Abdication crisis—"our cock won't fight," Beaverbrook lamented to Churchill—they were soon at loggerheads over appeasement and rearmament. Beaverbrook supported the Chamberlain government over Munich, denied that Chamberlain had made a real commitment to Poland in 1939, and was open to a compromise peace early in the Second World War.
A Friendship Forged by War
Beaverbrook's appointment to head aircraft production demonstrated how much value the new prime minister placed in talent over past political quarrels. The Canadian threw himself into the task, fulfilling all Churchill's expectations. Aggressive, argumentative and brusque, he clashed repeatedly with the Air Ministry and the Air Marshals as he single-mindedly cleared bottlenecks and rapidly raised aircraft output.
Beaverbrook recalled his aircraft work as "the most glittering, glorious, glamorous era of my whole life." Churchill had his back, supporting him in every dispute, especially with other ministries, or against stiff opposition from the air force. "What a relief," the PM cracked in a dispute with the Duke of Norfolk, "to be confronted by an Earl Marshal instead of an Air Marshal."
Despite the enmity the Beaver generated, Churchill needed and relied on his friendship and support. On 2 August 1940 Beaverbrook was elevated to the war cabinet, where he could provide counsel on broad issues while retaining his ministerial office. Churchill wrote of his "personal buoyancy and vigour," which he was able to "lean on." The prime minister liked to relax with the Canadian. During the first half of the war they spent a great deal of time together at Downing Street and at Chequers, the PM's country residences. "Some people take drugs," Churchill quipped: "I take Max."
But the Beaver did not like working in harness with the civil service or the cabinet. He had left the Ministry of Information in World War I very quickly; in WW2, he submitted a resignation months after being appointed. The PM ignored his resignations until April 1941, when he allowed Beaverbrook to leave the aircraft job, while insisting he stay in the cabinet as Minister of State without a department. In June, a reluctant Beaverbrook became Minister of Supply, and in February 1942, Minister of Production—only to resign after twelve days following a dispute with Ernest Bevin, Churchill's Minister of Labour. Churchill felt his friend's absence "acutely."
Free from cabinet responsibilities, Beaverbrook campaigned for greater support for the Soviet Union and for the early launch of a Second Front. There were some who suspected he was again scheming to oust a sitting prime minister, perhaps to seize the office for himself. There is, however, scant evidence of this. In September 1943 Beaverbrook rejoined the cabinet as Lord Privy Seal. He was one of Churchill's advisors during the 1945 general election, which expelled Churchill as prime minister.
Many observers could not understand Churchill's friendship with a man Lloyd George had said no one in any party trusted. Another prime minister, Clement Attlee, thought Beaverbrook evil; the writer Evelyn Waugh described his "deep malevolence." Clementine Churchill often objected to Beaverbrook's political advice. In February 1942, as Churchill reconstructed his government, Clementine took the opportunity to warn him against keeping Beaverbrook, whom she thought of as a treacherous intriguer: "…try ridding yourself of this microbe which some people fear is in your blood."
What was the true explanation of their affinity? Here is Churchill's, from his war memoir, The Hinge of Fate: "People who did not know the services he had rendered during his tenure of office or his force, driving power, and judgment as I did often wondered why his influence with me stood so high. They overlooked our long association in the events of the First World War and its aftermath.…We belonged to an older political generation. Often we had been on different sides in the crises and quarrels of those former days; sometimes we had even been fiercely opposed; yet on the whole a relationship had been maintained which was a part of the continuity of my public life, and this was cemented by warm personal friendship."
One observer thought they shared "a buccaneering spirit" and that Churchill admired Beaverbrook's "agile brain." There was no doubt that the Prime Minister enjoyed the company of such a "vivid, genial, loyal, and dominating personality." They clearly had rapport; there were always gales of laughter when they were together. Churchill had always had a liking for swashbucklers and mavericks, self-made one-man shows. Beaverbrook was all of these.
The Churchill-Beaverbrook relationship persisted after the war, although for long periods they saw each other only infrequently. After a political quarrel in 1949, they again became close, and largely remained so for the rest of their lives. Churchill regularly stayed with Beaverbrook at his villa La Capponcina, at Cap d'Ail in the south of France. There, in August 1949, Churchill experienced his first stroke; his friend cooperated in keeping it secret.
Beaverbrook died on 9 June 1964, scarcely six months before Churchill's own death.
Late in life he reflected, rather revealingly: "Churchill was always a better friend to his friends than they were to him." He applied this observation, according to A.J.P. Taylor, even to himself.
Featured Image: Beaverbrook and Churchill aboard HMS Prince of Wales during the Atlantic Charter meeting with Roosevelt, Argentia Bay, August 1941.
Further reading:
By the author: "Great Contemporaries: F.E. Smith, Lord Birkenhead"
Kenneth Young, Churchill & Beaverbrook: A Study of Friendship in Politics (1966)
A.J.P. Taylor, Beaverbrook (1972)
David Adams Richards: Extraordinary Canadians: Lord Beaverbrook (2011)
---
Bradley Tolppanen is a professor at Booth Library, Eastern Illinois University and is the author of Churchill in North America, 1929: A Three Month Tour of Canada and the United States. He maintains a blog on Winston Churchill at: winstonchurchillblog.wordpress.com.
Churchill quotations are from Richard M. Langworth, Churchill in His Own Words.
Churchill Project Articles
Stay In Touch With Us
Subscribe now and receive weekly newsletters with educational materials, new courses, interesting posts, popular books, and much more!