Articles

Great Contemporaries: Claude Auchinleck, Soldier of the Raj (Part 2)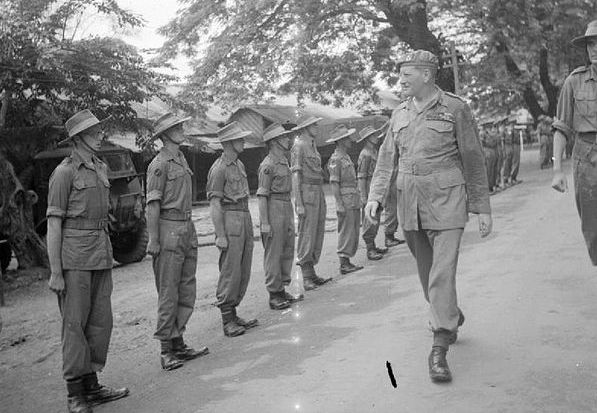 ---
Auchinleck redux 
(Concluded from Part 1). The Auchinleck victory in Operation Crusader was nearing its end when history repeated itself. Suddenly, air and ground units were diverted to the Far East, where disaster impended. The Royal Navy had suffered major losses at the end of 1941; pressure on Rommel's supply line relaxed, allowing him to strengthen his depleted formations. True to character, Rommel immediately took the offensive. The formations that had fought through and won "Crusader" had been pulled back to rest and recuperate. By January 1942 Rommel was facing new, inexperienced units. Once again, he rolled them back—but the front stabilized west of Tobruk, a position known as the Gazala line. There the battle lines would remain until May.
Auchinleck's unfamiliarity with the British Army had shown in his appointment of Alan Cunningham to command the 8th Army. True, Cunningham had commanded one prong of the offensive that wiped out the Italians in East Africa. But distance and terrain, not the demoralized Italians, had been his real enemies there. And Auchinleck was about to make a second poor choice.
Cunningham was sacked, but needed to be replaced quickly. The middle of a complex, and, at the moment losing, battle was no time for a leisurely change of command. Auchinleck named Major General Neil Ritchie, his deputy chief of staff in Cairo, acting commander of the 8th Army. Ritchie was a capable staff officer but had had a meteoric rise (four years before he was a major). He had not commanded in the field since heading a battalion in the First World War.
None of this mattered at that moment. Auchinleck remained at 8th Army headquarters to "hold his hand." In fact, Auchinleck ran the rest of the Crusader battle; Ritchie was basically a staff officer again.
Cross purposes
With "Crusader" over, Auchinleck confirmed Ritchie (who was much junior to both his corps commanders) as 8th Army commander. Auchinleck then returned to Cairo to confront demands of the rest of his sprawling theater, especially the lightly held but increasingly threatened Northern Front. The weakness of this arrangement would become obvious when active operations began again in May.
Cairo and London tussled throughout the late winter and spring of 1942 over the 8th Army's next offensive. Auchinleck, conscious of the shortcomings revealed in Crusader, wanted time for training—and retraining. Churchill was conscious of the impending German Spring offensive in Russia (and its renewed threat to Auchinleck's Northern Front). The position of Malta, Britain's thumb on Rommel's logistical windpipe, was increasingly precarious. The Prime Minister wanted forward movement as soon as possible. If Auchinleck could drive Rommel back, airfields would be secured to cover resupply convoys to the beleaguered island.
Churchill was also in the first stages of what would be a prolonged argument with the Americans about future strategy in Europe: Should the Allies launch a cross-channel invasion as soon as possible? (This was U.S. Army Chief of Staff George Marshall's favorite, perhaps only, concept.) Or should they strike at Vichy-controlled North Africa, open the Mediterranean and pressure Germany's tottering Italian ally? A victorious British army pushing westward would greatly strengthen Churchill's hand in that argument. In the end, Malta's dire predicament led Churchill to give Auchinleck the choice he had given Wavell: attack or be replaced.
"I'm a damn bad loser"
But Rommel was also planning, and he struck first. The Gazala line ended in the open desert, anchored by a strong position, Bir Hacheim held by the Free French. Swinging wide around it, the Afrika Korps drove deep into Ritchie's rear. The French were besieged and by-passed. Rommel's target was Ritchie's armor, which in another confusing battle he shattered.
Rommel was relentlessly aggressive. The 8th Army gave a classic example of what a British general called a "slow, reactive" style of command. Indeed it was almost command by committee on the British side: Ritchie and his two corps commanders conferred, but acted largely on their own. Its armor was comprehensively beaten, the 8th Army began to retreat. The French, after an epic defense of Bir Hacheim, fought their way out. So did the British 50th Division, which had earlier in the war fought its way back to Dunkirk. The 1st South African Division pulled back, its independent-minded commander not stopping until he reached El Alamein, deep inside Egypt.
The retreat became chaotic. The new 2nd South African Division held Tobruk for only a day, after Rommel turned the Afrika Korps at it. It looked as if the Germans would roll on to Cairo, where Egyptian nationalists were preparing to rise. Confidential documents were being burned on open bonfires, a classic example of rear area panic.
Then Auchinleck flew up from Cairo, sacked Ritchie, and retook command of 8th Army on 25 June. He remarked to his chief of staff: "The British pride themselves on being good losers. I'm a damn bad loser. I'm going to win."
First Alamein and Tobruk
And over the ensuing weeks that is what Auchinleck did. The first battle of El Alamein was Auchinleck's decisive victory. It saved the British position in the Middle East.
The Auk won by taking advantage of geography. There was no desert flank for Rommel to turn. Anchored north and south by the sea and the impassible Qattara Depression, Rommel lacked his prized maneuvering room. The Germans had to attack frontally, taking on Auchinleck's army, which was dug in. Holding a defensive position backed by massed artillery was something the British were very good at.
Auchinleck threw one counterattack after another at Rommel's army. The Afrika Korps was tired and now, after a month of intense fighting, depleted in strength. The counterattacks were often clumsy—tank and infantry cooperation was still not very good. (After several failures to support New Zealand infantry, the New Zealand Division decided British armor was undependable.) Costly misfires those counterattacks might have been, but they punished the tired Germans and Italians heavily. Finally, Rommel realized that the 8th Army could not be budged and ordered his forces to assume a defensive posture. Auchinleck had beaten him (for the second time). But it was too late.
Winston Churchill had learned of Tobruk's fall (with 32,000 taken prisoners) in the most embarrassing way. He was in a conference with Roosevelt at the White House. He was heard to remark: "I am the most miserable Englishman in America—since Burgoyne." (That was the British general who surrendered Saratoga to the Americans in 1777.)
Although the president and George Marshall were very supportive, arranging for an immediate shipment of American armor to the Middle East, the Prime Minister flew home to face the most serious parliamentary challenge of the war.
"Win or get out"
Churchill won the ensuing vote of confidence with a thumping majority, but in this case numbers lied. Unrest was widespread. His confidant Brendan Bracken told Churchill's doctor that the PM must win the next desert battle or "get out." To ensure that victory, Churchill decided to go to Cairo, accompanied by the Chief of the Imperial General Staff, Sir Alan Brooke.
That August 1942 visit has become the stuff of legend. The PM strode up and down his bedroom at the British Embassy in Cairo: "Rommel, Rommel, Rommel. What else matters but beating him?"
Initially at least he was not set on removing Auchinleck, who had after all stopped Rommel. But Auchinleck wanted a six-week delay before mounting a counterattack. The mood among many senior officers (mostly British not Indian Army) was for new blood. Churchill's first choice for a new 8th Army commander was Lieutenant General W.H.E. "Strafer" Gott, an old "desert hand." Alas Gott was killed flying back from the front to Cairo. Brooke lobbied for Lieutenant General Bernard Montgomery, his protégé and personal choice even before Cairo.
Auchinleck was replaced as Middle East Commander-in-Chief by the man who would end the war as Churchill's favorite general, Lieutenant General Harold Alexander. The Auk was offered the new Persia and Iraq Command created—finally—to relieve Middle East Command of the responsibility for the Northern Front. Auchinleck's response was that he did not believe in consolation prizes for defeated generals. He elected to fly back to India, temporarily unemployed.
C-in-C, India
He did not stay that way very long. Churchill came to the end of his patience with Wavell and India Command after the disastrous Arakan campaign of 1942-43. He chose Auchinleck to replace him as Commander-in-Chief, India. Thus Auchinleck returned to the position he left in June 1941. He was destined to be the last British occupant of that post.
During the remainder of the war, Claude Auchinleck supervised the rebuilding of the Indian Army. The Arakan debacle was its low point. He summoned Major General Reginald Savory from divisional command in Burma to be his director of Infantry. He rebuilt the training machinery of the Army, a dull-sounding but absolutely critical task. Bill Slim led the overwhelmingly Indian XIV Army to victory in Burma in 1944-45. Auchinleck and Savory produced the troops that made up that army.
Soldier of the Raj
The epilogue to victory was the end of the Raj, a bitter draught for Auchinleck. When partition was accepted, it was necessary to divide the army between the new Dominions of India and Pakistan. He strongly opposed partition (which, by 1946, was inevitable). Dividing the army, his real home, to which he had given his life, was repellent to him. Nonetheless he did it, as smoothly as anyone could have. Amid the chaos and communal frenzy of 1947, the army remained a disciplined force. It was responsive to its chain of command to the bitter end. The perils of partition would have been even worse had the army collapsed. Claude Auchinleck's final contribution to the army he loved was far from his least.
Auchinleck was promoted to Field Marshal in 1946. He left the army in November 1947, though Field Marshals never technically leave and he remained on half-salary. Back in London and Suffolk, he pursued business and charitable interests and became a skilled watercolor artist. In 1967 he relocated to Morocco where he died in Marrakesh in 1981, aged 97. The man who stopped Rommel, the last commander of the Indian Army of the Raj, is buried in the Commonwealth War Graves Commission's cemetery in Casablanca. In a London full of statues to Britain's generals, there is none to Claude Auchinleck. Perhaps there should be.
The author
Dr. Callahan is Professor Emeritus of History at the University of Delaware and a leading scholar of the Indian Army in the two World Wars. He taught at the University for 38 years and was director of the Master of Arts in Liberal Studies program, where an annual student prize bears his name. He is the author of Churchill and His Generals (2007) and Churchill: Retreat from Empire (1997). He thanks his daughter Sarah "who has made it possible for me to write this, while recovering from back surgery, by turning my scrawl into usable copy."
Churchill Project Articles
Stay In Touch With Us
Subscribe now and receive weekly newsletters with educational materials, new courses, interesting posts, popular books, and much more!