Articles

Great Contemporaries: Sir Harold Alexander, Churchill's Favorite General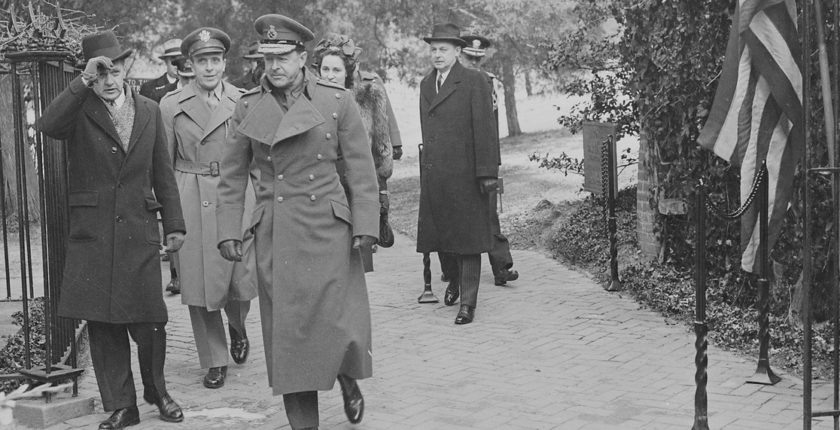 Alexander and his wife at Mount Vernon, where he laid a wreath on the grave of George Washington, 4 February 1947. (Photograph by Abbie Rowe, Truman Library and National Archives, public domain)
---
Field Marshal Alexander KG, GCB, OM, GCMG, DSO, MC, CD, PC*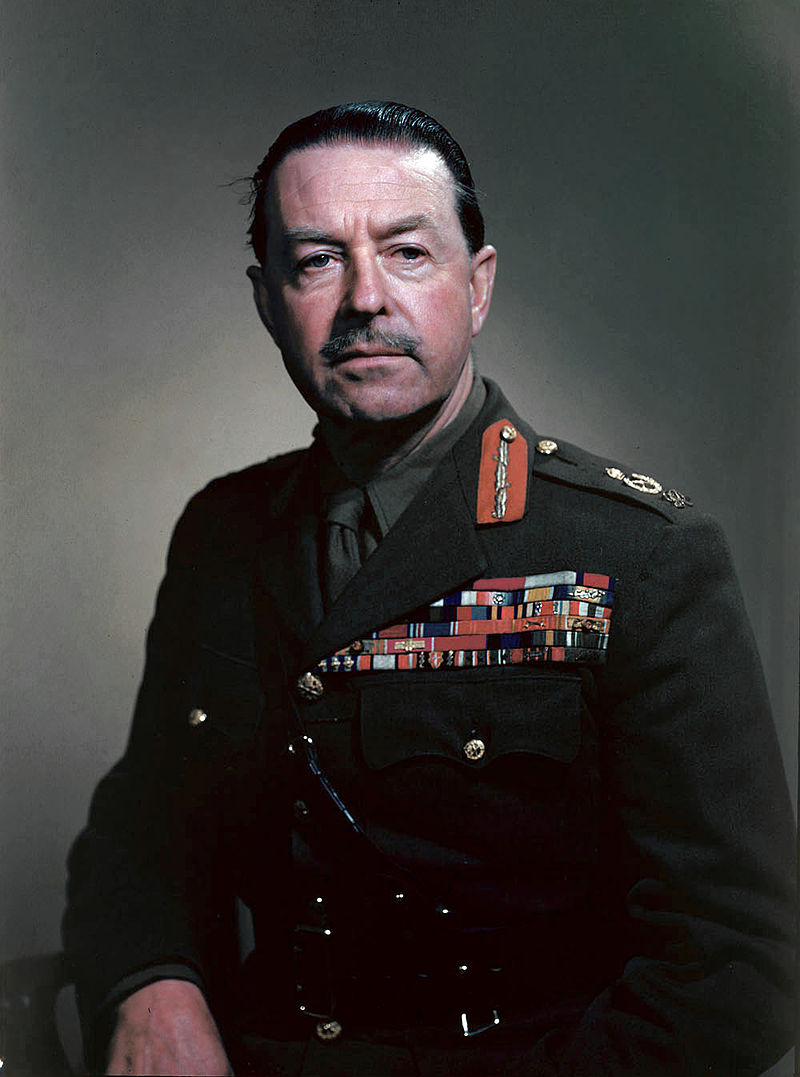 Harold R.L.G. Alexander, First Earl Alexander of Tunis, was with little doubt Churchill's favorite Second World War general. Alexander possessed qualities Churchill highly admired, and thought ideal in a leader. Possessed of personal bravery, he was handsome, charming, reserved and modest. After the war, Churchill declared Alexander "the best we had; better than Monty."
Like Churchill, "Alex" was an Old Harrovian. Born in 1891, he of course attended the school years after Churchill. A great athlete and runner, he won fame for nearly saving a famous 1910 cricket match against more powerful Eton. Beyond athletics, he had a great passion for painting—an interest he shared with Churchill. (See "Painting à deux: Churchill and Alexander's Portraits of Lake Como, 1945," by Paul Rafferty.)
Joining the army from Sandhurst, Alexander served with great distinction with the Irish Guards throughout the First World War. He developed a reputation for fearlessness, fighting in major battles on the Western Front: Mons, Ypres, the Somme and Passchendaele. From leading a platoon, he advanced to commanding a battalion. Twice wounded, he was awarded the Military Cross and the Distinguished Service Order. In 1917 he became one of the youngest majors in the army. Thereafter, throughout his career, he would always be the youngest or among the youngest to be promoted to each rank.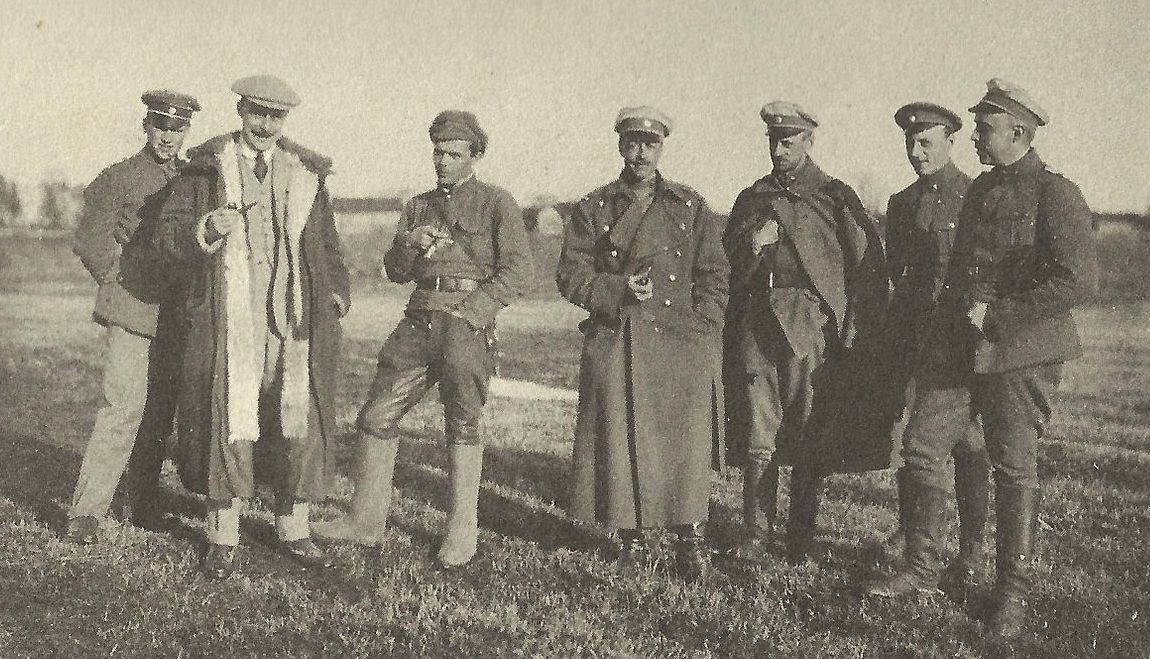 Between wars
Alexander briefly led the Baltische Landeswehr, a brigade-sized formation that helped secure Latvian independence. Taking command in July 1919, he purged it of German natives, who favored regaining their prewar overlordship. In 1934, he led the Nowshera Brigade in India's Peshawar District. He fought in two frontier wars including a Mohmand campaign, where Churchill had once been engaged.
"I don't understand long words"
Promoted to Major-General in 1937, Alexander commanded the First Division in France in the opening stages of the Second World War. After the retreat to Dunkirk, he replaced Lord Gort, commanding the final rearguard, on 31 May 1940. Gort, commander-in-chief of the British Expeditionary Force, had been ordered home to avoid having him taken prisoner. There was little expectation that Alexander's soldiers would get away. Displaying characteristic calm, over three days he directed the evacuation of all remaining troops and 98,000 French soldiers. At one point an officer excitedly reported that "our position is catastrophic." Alexander replied, "I'm sorry, I don't understand long words." Departing by motor launch on the evening of 4 June, he was the last British soldier to leave the beaches.
In 1942 Alexander was handed another hopeless situation. When Japan invaded Burma, he was hastily send to command British forces. Before he left he was encouraged by Churchill and his wife Clementine in a private dinner at Downing Street. The campaign, however, was lost before he arrived. Only good fortune allowed Alexander and his army to escape being encircled and captured at Rangoon. He was left to conduct a desperate 800-mile retreat across difficult terrain to India.
Although Alexander presided in the retreats from both Dunkirk and Burma, Churchill did not hold them against him. Unlike other defeated generals, he retained the Prime Minister's confidence. In August 1942, Churchill ordered him to Cairo to become Commander-in-Chief Middle East. The front had stabilized around Alamein, but Rommel and the Italo-German army were only fifty miles from Alexandria. Still, "Alex" was always optimistic and cheerful. No matter the difficulties, Churchill noted, he would inspire "quiet, deep confidence in every quarter."
"I now await your further instructions"
Churchill's orders to Alexander in North Africa were crisp but not limited:
(1) Your prime and main duty will be to take or destroy at the earliest opportunity the German-Italian army commanded by Field-Marshal Rommel, together with all its supplies and establishments in Egypt and Libya. (2) You will discharge, or cause to be discharged, such other duties as pertain to your Command without prejudice to the task described in paragraph 1, which must be considered paramount in His Majesty's interests.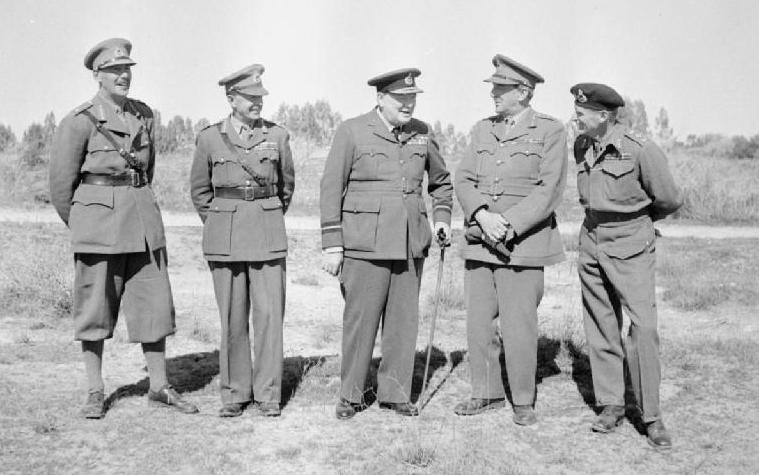 Under Alexander's command, Montgomery's Eighth Army defeated Rommel at the Second Battle of El Alamein and advanced across North Africa. In February 1943 Alexander sent this famous, inspiring reply to the Prime Minister:
Sir. The Orders you gave me on August 15, 1942, have been fulfilled. His Majesty's enemies, together with their impedimenta, have been completely eliminated from Egypt, Cyrenaica, Libya and Tripolitania. I now await your further instructions.
Churchill responded on the floor of the House of Commons: "Well, obviously, we shall have to think of something else…"
"Soft underbelly"
The Casablanca Conference in January 1943 reorganized the Allied command structure. American Dwight Eisenhower became Commander-in-Chief with Alexander as his deputy and commander of the 18th Army Group. He soon overran Tunisia, capturing 248,000 prisoners during the final days of the campaign. Then he conducted the amphibious invasion of Sicily, taking the island in a 38-day campaign. Finally, with landings at Reggio Calabria and Salerno, he invaded the Italian mainland.
The Italian campaign, Churchill's "soft underbelly," proved to be a protracted and brutal affair fought over mountainous terrain. Advancing up the peninsula was made more difficult when the Americans relegated Italy to a secondary theatre. Alexander and his Army Group were stripped of divisions and equipment in favor of the Normandy landings and North-West Europe campaigns. Nevertheless, Alexander slowly advanced in Italy, fighting the four battles of Monte Cassino and conducting an amphibious assault at Anzio. Rome was liberated on 4 June 1944.
"The trappings of high command"
Alexander has been called "one of the most modest and unassuming generals ever to hold high command in the war." Unlike Montgomery or Mark Clark, Alexander avoided the limelight and disliked publicity or the "trappings of high command." He did not travel around the Allied lines with an entourage; often he was accompanied only by his driver. On one occasion he dismissed a team of motorcycle outriders assigned to clear the way: "I have a marked objection to clearing my own troops off the road for me."
Alexander was a hero to average soldiers, who knew he had their best interests at heart. Even as a senior commander he maintained a highly visible presence at the front. The troops knew him by sight. Throughout the war he insisted on taking the same risks as they, demonstrating the shared dangers of war. At the front he wore his cap with its red band rather than a helmet. He wanted soldiers "to see that their commander went right up to the front line."
It was not surprising that Churchill came closest to the enemy during the war in the company of Alexander. In August 1944, Churchill toured the Mediterranean, meeting Tito and being granted an audience with the Pope. Then he flew to Alexander's headquarters to observe the start of the offensive against Germany's Gothic Line in Italy.
"Nearest I got to the enemy"
Winston Churchill found Alexander smiling and debonair as usual. On 26 August, six hours after the attack started, Alexander took Churchill and a small party forward. Any thought of keeping the 69-year old prime minister away from danger was apparently discounted. They motored to "a high outstanding rock pinnacle, upon the top of which a church and village were perched." Wreckage littered the village's single street; enemy shelling only stopped fifteen minutes before they arrived. The rock provided a "magnificent view" of the whole Eighth Army front. After a few minutes, Alexander suggested they move, since German shelling might start up again.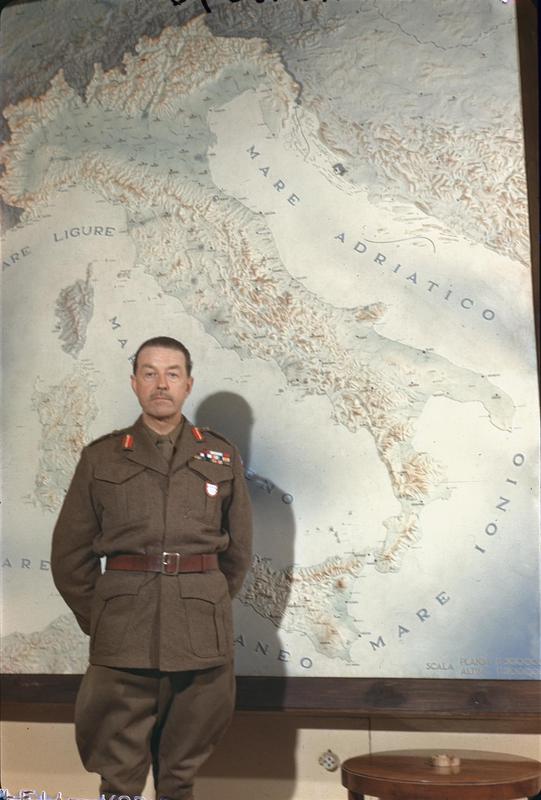 The party motored on. They had stopped for a picnic when they heard that British troops had crossed the River Metauro. Alexander readily agreed with Churchill's suggestion that they go and see the progress. They drove across the river and pushed on until they heard the sound of gunfire. They were close to the enemy lines, with minefields all around.
Alexander and an aide went ahead and found an old chateau where Churchill could observe the battle. They approached on foot so the PM could see the enemy lines. About 500 yards across the valley, Germans were firing rifles and machine guns. An aide thought Churchill "absolutely loved it. It fascinated him—the real warrior at heart." Churchill later wrote that the "desultory and intermittent firing" was "the nearest I got to the enemy and the time I heard most bullets in the Second World War." After half an hour the party withdrew, returning to the cars, going back across the river.
"Unfathomable enigma"
In November 1944 Alexander was promoted to field marshal and Supreme Allied Commander Mediterranean. Churchill antedated his promotion to June 1944 to maintain seniority over Montgomery, who had made field marshal in September. Soon after, a crisis erupted in Athens as communist partisans attempted to seize power. He went there with Churchill, and was in his element amid the street fighting. The situation was stabilized, and in spring 1945 Alexander directed the final Italian offensive. It destroyed the German army group under General Heinrich Von Vietinghoff. More than a million enemy forces in Italy surrendered.
Despite his successes, the Field Marshal was called "an unfathomable enigma." He was admired by Harold Macmillan and Eisenhower, but had detractors, including General Alan Brooke, Admiral Andrew Cunningham and Montgomery. His extremely private and reserved nature led some to question his abilities. The acerbic Brooke complained that he had "no brains," no original ideas, and was out of his depth on higher tactics and strategy.
Alexander's diplomatic nature was his greatest strength and worst failing. In the Allied command structure, he avoided exercising tight control of British and American generals. Instead he used his polished charm to get the most out of subordinates, preferring to command by suggestion rather than intervention. With difficult generals, especially Montgomery, Clark, and George Patton, he used his immense tact to establish excellent relationships. This was at the cost of exercising a strong grip on his armies. With the inherent political dimensions of an Allied command, his diplomacy was the best course. But failing to impose his will on subordinates led to occasional confusion and missed opportunities, most especially in Clark's driving on Rome rather than cutting off the retreating Germans.
"Soothing reassurances"
Churchill was well aware of Alexander's limitations, if for no other reason than Brooke, no doubt, recited them in detail. Nonetheless, he trusted Alexander and thought him a great commander. He certainly spared Alexander the criticism and pressure he heaped on other generals. In the PM's eyes, Alexander could little wrong. Only very rarely did the Field Marshal incur his wrath.
Alexander never intrigued for the Prime Minister's support and did not try to curry favor. He did, however, display his diplomatic nature in their dealings. While always candid, he never confronted or challenged Churchill. He would often quietly listen, and then offer "soothing reassurances" that "affected the PM like a tonic."
Churchill's doctor, Lord Moran believed Churchill had near hero-worship for Alexander, a reflection of his romantic nature. To Churchill, Moran wrote, war was "a game for gentlemen, which had to be played according to the rules. What he loved in Alex was that he had justified his own feelings about war, tried them out in the field and made sense of them. Alex had redeemed what was brutal in war, touching the grim business lightly with his glove. In his hands it was still a game for people of quality. He had shown that war could still be made respectable."
"I simply can't refuse Winston"
From 1946 to 1952 Alexander served as Governor-General of Canada. The last British Governor-General, he was a great success in the ceremonial position. In February 1952, he was summoned by Churchill to become Minister of Defence in Churchill's government. He accepted despite a dislike for politics and thinking himself ill-suited to the job. But as he put it, "I simply can't refuse Winston." He stayed for two and a half years being stepping down with relief in October 1954.
In 1952 Her Majesty the Queen successively appointed Alexander to the peerage as Earl Alexander of Tunis and Baron Rideau of Ottawa and Castle Derg. He carried the Sovereign's Orb in her 1953 Coronation and received the Order of Merit in 1959. From 1960 to 1965 he served as Constable of the Tower of London. He and his wife Margaret returned often to Canada, which they thought of as their second home. One of the most honored generals of his time, he died at 78 on 16 July 1969.
The Author
Bradley Tolppanen is Professor of Library Services, History Librarian and head of Circulation Services at Eastern Illinois University. He is the author of a definitive study, Churchill in North America, 1929.
*Titles
Alexander had enough letters after his name to qualify for the waggish "Order of Etcetera." They stood for Knight of the Garter, Knight Grand Cross of the Most Honourable Order of the Bath, Order of Merit, Knight Grand Cross of the Most Distinguished Order of Saint Michael and Saint George, Distinguished Service Order, Military Cross, Canadian Forces Decoration and Privy Councillor. The qualifications for each may be referenced on Wikipedia.
Churchill Project Articles
Stay In Touch With Us
Subscribe now and receive weekly newsletters with educational materials, new courses, interesting posts, popular books, and much more!