Articles

Great Contemporaries: Alan Brooke, the Thoroughbred Professional
---
Alan Francis Brooke
…was born in Fermanagh, Northern Ireland in 1883. He served the British Empire and Commonwealth throughout a long and arduous military life. As Chief of the Imperial General Staff, Brooke held high responsibilities in the Second World War. Rarely one to look for limelight, he worked more on the inside of events than the outside.
On the glorious 8th of May, 1945, Victory in the Europe was finally declared. Brooke was among top military figures receiving tribute from King George VI at Buckingham Palace. He then went on Whitehall where a vast crowd assembled to see the Prime Minister, the Cabinet and the Chiefs of Staff. In a hallway he was encountered by Lady Grigg, wife of the Secretary of State for War. "I watched you getting into your car this morning…with a crowd looking at you," she said. None realized that here was the man who had "probably done most to win the war against Germany. [But] I do, and lots of people do."1
Brooke's prime partner in the making of war and strategy shone more in the spotlight. Churchill enjoyed huge popularity during the war, despite horrible events like the fall of Singapore, or defeat in the desert. Brooke had stature and respect and gravity, but little celebrity. The Field Marshal was given many titles near war's end, especially Baron and Viscount. Yet he was financially poor when he retired. This improved only in the late 1950s, when popular historian Arthur Bryant published a two-volume biography based upon Brooke's wartime diaries and memories.2
Wartime coordination
Like more than two dozen of his family, Alan Brook served in the military during the First World War. An artillery officer, he fought for the "Lowlands," which Britain always toiled to keep free of any continental power's hegemony.3 Later he worked with infantry, anti-aircraft artillery, and units defending the ground in Britain. Air and naval units were admittedly less familiar to this Ulsterman.
Later on, Brooke was often deferential to other chiefs of staff  in these martial areas—and to their civilian authorities. One such minister was Winston Churchill, whose martial work had early on embraced air and naval affairs. One can underestimate the challenge of coordinating different branches of military service. Lack of coordination was a major reason for the failure of the Gallipoli campaign in 1915. In the Second World War as Chief of the Imperial General Staff, Brooke wrestled with such challenges by the hour.
Britain managed coordination of the war through three channels. First were the daily meetings of the Chiefs of Staff Committee, which Brooke often chaired. Other chairs might be Churchill, Admiral Sir Andrew Cunningham, or Air Marshal Charles Portal. Second came Churchill, in his unique role as Minister of Defence. Third was the Secretary of State for War, a bureaucratic (rather than strategic) office. For most of the war this fell to Sir James Grigg, with whom Brooke got on well. Necessarily, of course, all such meetings and planning sessions were affected by what the Dominions and other allies were doing.
The Brooke Test
Not everyone passed Brooke's severe test of competence. He sometimes vented disapproval at meetings, but more often in late-night diaries. Here, after an 18- or 20-hour work day, his observations were by degree spicy, brutal, humble, petulant or insightful. Occasionally after expressing low estimates of someone, he made apologies. For others, like George Marshall, Dwight Eisenhower and Chiang Kai-shek, his stiff demeanor never relaxed. Churchill, a big target, received many of Brooke's rhetorical arrows—and one or two javelins. For others there could be evidence of real respect. Brooke respected Stalin, for example—even though the Soviet dictator made several serious blunders in the war. From as thoroughly professional a soldier as Brooke, his views carried weight, and are worthy of close attention by historians.
Brooke also soberly favored several British commanders. He almost never criticized Bernard Montgomery—whose ego was as large as his talent. Brooke had an avuncular spirit for him, having been his superior officer before.  He admired Field Marshal Sir John Dill, writing of him only in the best terms.  During and after the war, it irritated Brooke that Churchill was equivocal about Dill's virtues.
Alan Brooke was warmed internally by loves of some whom he knew on personal, non-professional terms. A devoted husband, he lost his spouse to an auto accident in 1925.  Brooke showed deepest fondness for his second wife Benita Lees, to whom he dedicated his diaries, and for their children. A general who often told colleagues "I disagree" had a ready ear for birds. Birding absorbed many of the spare moments he had overseas and at home.  He collected books about birds and photographed them on wartime weekends. Once, at a meeting of notables,  he confessed (only to his diary) being distracted by gazing out the window.
Blitzkrieg in France
General Brooke commenced the Second World War in command of II Corps in France, just behind the Belgian border. He is widely regarded as having handled duties well: army training, erection of defenses, liaison with allied forces. He possessed a great asset: fluency in French, acquired as a lad living in France.
The "Phony war" ended with the Nazi juggernaut of May 1940. French and Belgian forces fell back. Brooke had to detach and preserve his four British divisions, and get them out in boats from Dunkirk. He did so with an art that impressed superiors. Home only briefly, he was knighted by the King. Mid-June found him commanding 150,000 British and Canadians remaining in France's northern and western reaches. His duty—which disturbed him greatly—was to reorganize a morass. In a quiet and manly way, Brooke was facing responsibility for an impending second withdrawal before German forces. And that is indeed what happened.
The weeks with British Expeditionary Force brought Brooke into contact with Churchill, whom he had not known personally before. Among their earliest relations was a telephone call that is an archetype of the difficulties of civil-military relations.4 It illustrates the "micro-management" Churchill exercised on many occasions, for which he was often criticized.
Ulsterman meets bulldog
In the field near Le Mans on 14 June 1940, Brooke received a telephone call from London.  It was Dill, the man he richly admired, then Chief of the Imperial General Staff. Dill asked what he was doing with the 52nd Division. Brooke answered, only to be told, "the Prime Minister does not want you to do that."
Taken aback, Brooke had yet more coming. He listened stunned as the British Bulldog himself came onto the telephone line. Again he was asked to explain why he was using the 52nd as he was. Churchill "told me that was not what he wanted," a phrase Brooke easily remembered and recorded after the war.5
If the moment is a classic, so is its conclusion. Having nervously exhausted himself in explanations, he won his point about the division. Churchill said, "All right, I agree with you."  Such a case study is one in a line that supports a now-familiar generalization: Churchill could be tireless and even sarcastic or brutal in arguing with senior officers. But when they stood their ground, or voiced a collective "No," he almost never overruled them—despite his powers to do so.
Home defense
After Dunkirk, Brooke took command of Home Forces, the self-defense units in the United Kingdom. Now he had to worry over how and where to marshal physical and human defenses.  Today, analysts loosely make statements suggesting the German invasion threat was overblown. Perhaps, some suggest, it was emphasized to better attract American support. This is an easy line to take, and cheap, since invasion did not come. But in mid-1940 most indices were unambiguous, Hitler intended to invade, once the Royal Air Force was subdued. German preparations were extensive and self-evident. In a post-war addition to his diaries, Brooke wrote of how German invasion prospects were "tearing me to pieces daily!….
I do not think I can remember any time in the whole of my career when my responsibilities weighed heavier…. [The burden] was almost unbearable at times.  Added to it all was the necessity to maintain outward confident appearance, there was not a soul to whom one could disclose one's inward anxieties without…demoralization [and] undermin[ing] the power of resistance.6
Agreement and argument
Churchill and Brooke agreed on the unsatisfactory character of British measures against a German amphibious assault. Defenses, they judged, must be elastic, and characterized by mobile reserves. Here was one of a score of fundamental decisions during war on which Brooke and the Prime Minister were in accord, and readily cooperated. Another was the "Germany First" strategy after Japan entered the war. Brooke and Churchill were as one on the need to sweep Axis force out of North Africa before expanding Mediterranean operations. They also jointly favored invading Sicily rather than Sardinia as the Allies drove north.
Disagreements have received far more publicity. Among the most important were Churchill's hopes to invade northern Norway in 1942. This, he believed, would start rolling up the map Hitler had unrolled in Norway in April 1940. Brooke considered this a diversion and waste of resources. Brooke also stood (with the Americans) across Churchill's talk of a big landing in the northern Adriatic. Marching through the Ljubljana Gap to Vienna, arriving before the Red Army would do Austria and the west a favor. The Prime Minister lost this argument, again and again. General Eisenhower joined Alan Brooke in opposing Churchill's concept.
After 1941, Brooke did not again hold a field command. Churchill pleased him by offering him North Africa. Brooke politely deferred, citing his inexperience in that harsh and unique milieu.  Churchill later displeased him by offering—and then withdrawing—command the 1944 invasion of France. This reversal struck some who knew of it as rude, but it was not fickle: Churchill was merely being attentive to coalition warfare. He knew American forces would be the more numerous in the onslaught. Thus an American should be in command, with a British officer as the second.
The granite formed of prudence
In part Brooke learned from his mentor John Dill, the Field Marshal who was Britain's senior representative on the Combined Chiefs of Staff. Some called Dill the best ambassador London ever sent to Washington.  Dill died there in harness in November 1944, and is buried at Arlington. He pulled forward the most important bilateral alliance ever made in the 20th century.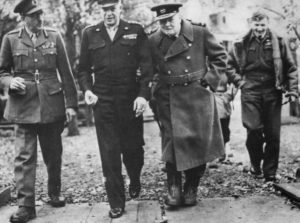 All who assess this remarkable Ulsterman's war record must give attention to a virtue Aristotle praised the most highly: prudence. Alan Brooke's diary excesses are in the balance feather-weight, compared to the granite formed of prudence.  It should be humbling for any analyst to consider the judgment, intellectual talent, and military skill with which Brooke approached so many difficult decisions—options compressed fiercely in time, which most men were unqualified to make. Notable too are the energy and patience he put into planning and organizing sessions with other service chiefs. Those teammates, remember, came from Britain and the Dominions, such as South Africa's Prime Minister Jan Smuts. They were also from allies as diverse as the Americans and Russians.
Minutes taken at meetings such as Yalta show the care and skill Brooke deployed to guide, shape, advise and encourage. While he altogether lacked the flair of his famous civilian boss, he altogether impressed those he labored with. In The Churchill Documents for 1942-45, Brooke appears steadily and minimally. He is there in print in scores of places; he is not the "star" of any page. He carried on as Chief of the Imperial General Staff until 1946.
Brooke and Churchill
We armchair strategists might think it fine to coordinate the invincible coalition known after 1942 as the "United Nations." We would do well, however, to contrast the Allied performance with that of the Axis opposition. Richard DiNardo and Williamson Murray (scholars at Marine Corps University) have documented serious Axis lapses and blunders in this respect. There is nothing easy about war with allies—but Brooke and Churchill did it very well.
To them, and Dill, and many others, we owe the survival of Britain—and all that meant for the world. Still visible on secure plinths above all swirls of pettiness, our heroes remain. Alan Brooke was a first-class general, probably the best Chief of Imperial General Staff Britain ever knew. Above him, looming even larger, is a soldier-turned-statesman who saved liberty.
The author
Christopher C. Harmon is Bren Chair of Great Power Competition at Marine Corps University, Quantico, Virginia, where he began teaching in 1993. His course on Churchill as war leader is based on WSC's six-volume memoir, The Second World War. Dr. Harmon also serves on the board of academic advisors for the International Churchill Society.
Endnotes
1 Alex Danchev & Daniel Todman, eds., Field Marshal Lord Alanbrooke, War Diaries: 1939-1945 (London: Weidenfeld & Nicolson, 2001), entry for 8 May 1945.
2 Arthur Bryant, with Alanbrooke, The Turn of the Tide [1957] and Triumph in the West [1959] (New York: Doubleday & Co.).
3 This principle of British geopolitics is illuminated in varied works of Winston S. Churchill. British concerns about the Lowlands are also noted by Chester Wilmot, The Struggle for Europe (New York: Harper & Row, 1952, repr. 1963), 24-25.
4 Civil-military relations is a vital dimension of strategy and war-making in democracies.  Authorities in this field start with Samuel Huntington, and more recently, the important essayists include Mackubin Owens.
5 War Diaries, 81.
6 War Diaries, 106.
Churchill Project Articles
Stay In Touch With Us
Subscribe now and receive weekly newsletters with educational materials, new courses, interesting posts, popular books, and much more!