Articles

"Churchill & Eisenhower: Together Again" – by Brian A. Dementi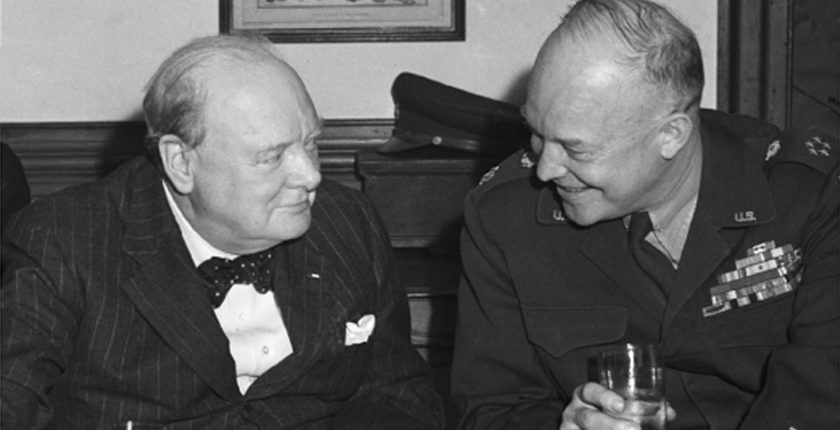 Churchill & Eisenhower: Together Again: A Virginia Visit,  by Brian A. Dementi, illustrations by Frank A. Dementi. Dementi Milestone Publications, 2015, 200 pp., $40.
---
Many deep studies have been published on Churchill and the military—Fisher, Alanbrooke, de Gaulle, Montgomery, the Admirals, the Generals—yet there is still none on Churchill and the supreme Allied commander. Peter Boyle published The Churchill-Eisenhower Correspondence (1991) and James Humes a tribute to the two (2001). But we still await a study of the great issues that separated Churchill and Eisenhower—invasion routes to Germany, a postwar "summit" with the Russians, the 1956 Suez crisis—or the rapprochement between them in the years after Suez. These subjects offer a rich trove for mining by a fastidious historian.
What we have here is an elegant, landscape-format collection of photographs by Frank Dementi, of the Eisenhower-Churchill Virginia visit in March 1946, after Churchill's famous "Iron Curtain" speech in Fulton, Missouri. Dementi, a distinguished press photographer, also snapped the 1943 Williamsburg visit of Clementine and Mary Churchill, and some of those photos are included. Dementi's son Brian, who published the book as a tribute to his father, who would be proud.
Frank Dementi's studio was in Williamsburg during 1943-45, before he moved it to Richmond. A good friend of Virginia governors, with close knowledge of the restored colonial capital, he was the ideal choice to photograph the Churchill visits.
That such a brief period of time could occupy 200 pages of a large, 12×9-inch book seems extraordinary. But thanks to large-format photographs (all black and white, though Dementi was also a fine color photographer) and imaginative contents, the book succeeds handsomely.
A prologue tells us how Churchill and Eisenhower met, in June 1942, after Ike arrived in England to command U.S. forces, and how they were frequently in touch after Eisenhower was selected to command the invasion of Europe. We also read the circumstances of Churchill's 1946 visit to USA, and his controversial speech at Fulton, later proven all too accurate.
Dementi provides exhaustive lists of everyone in the photos—Clementine and Sarah Churchill, Mamie Eisenhower, British and Virginia officials and Colonial Williamsburg leadership, including John D. Rockefeller III, son of John Jr., who funded the restoration. No detail is left out. Every single name is identified, including the reception committee and audience in Richmond. There is an hourly timeline, maps of parade and tour routes, menus, and extensive documentation of the Churchill-Eisenhower tête-à-tête at Williamsburg's Raleigh Tavern—the only time we have ever seen Churchill smoking a pipe, albeit a long-stemmed colonial clay model.
All this takes us only to page 115: Brian Dementi then offers the recollections of locals, many just children at the time, his brother and, of course, his dad, who obtained two signed Churchill photos for his sons. On the back of each he wrote:
This is one of the originals I made at the time . . . signed by Mr. Churchill and his wife Clementine . . . this is something very nice to keep to remember two of the world's greatest men, and your dad who made the picture.
The Epilogue covers Churchill's March 1946 speeches: Fulton, Richmond, the Pentagon, the Waldorf Astoria and Columbia University in New York, but the only full text is that of Richmond. The rest are paraphrased, probably for copyright reasons. Intriguingly, Brian Dementi includes Stalin's "interview" in Pravda, reacting to the Fulton speech: ". . . the nations have shed their blood during five years of cruel war for the sake of liberty and the independence of their countries, and not for the sake of exchanging the lordship of Hitler for the lordship of Churchill." Stalin might have said six years in the case of Britain, which stood alone while Stalin was supporting the Third Reich.
A day-by-day itinerary of Churchill's nearly three months in America, 9 January to 21 March 1946, closes this impressive volume. We could hardly have a more comprehensive account of a short but vital period in Winston Churchill's life. Brian Dementi is to be congratulated for his devoted effort to preserve so beautifully the work of his inspired photographer-father.
Churchill Project Articles
Stay In Touch With Us
Subscribe now and receive weekly newsletters with educational materials, new courses, interesting posts, popular books, and much more!