Articles

Great Contemporaries: Jan Christian Smuts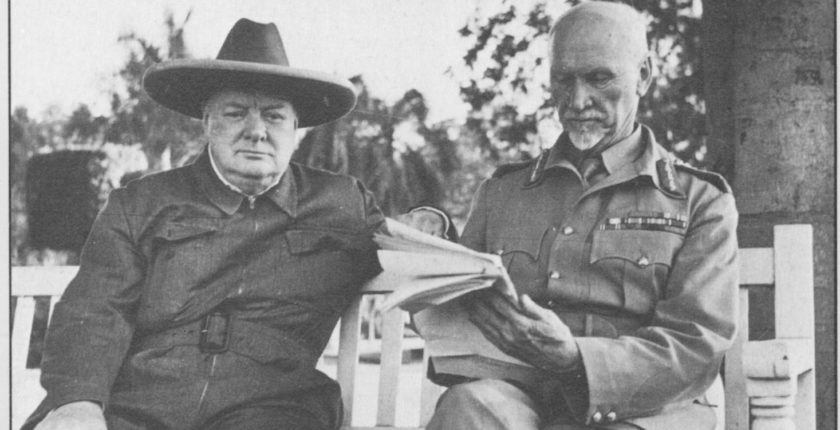 Featured Image: Churchill and Smuts in North Africa, 1942. The latter was a "fortifying influence" to Churchill in the pivotal changes he made there to the British military command. (Reuters)
---
Winston Churchill had met Jan Christian Smuts when he returned from the Boer War in 1900. Elected to Parliament at the end of that year, he never again visited South Africa. Yet that country was to play an important part in his life for the next fifty years.
Churchill had a powerful personality, with unbounded confidence and faith in his own star. It is difficult to imagine him considering anyone his equal. He had high regard for Franklin Roosevelt, though by early 1945 his esteem had slipped, except on the personal level. Churchill also had his intimates, such as Lords Beaverbrook, Birkenhead, Bracken and Cherwell. But they were in a somewhat different category; most would not have thought of themselves on the same elevated plane.
Smuts was a man whom Churchill regarded not only as an equal, but in many ways superior to himself. To understand how this came about, we need to know something about the great South African.
Early encounters
Smuts was an Afrikaner whose ancestors came from Holland in the mid-17th century, at the very start of Dutch settlement. He was born in 1870, four and one-half years before Churchill. He grew up on a farm and developed into a natural countryman, botany being his expertise. Growing up in a Boer region of Cape Colony, he heard no English until went to school.
A clever young man, Smuts came to England to read Law at Christ's College Cambridge. He came in first in both parts of the Law tripos (final honours examinations)—an unprecedented achievement. He then briefly practised as a barrister at the Middle Temple in London. Returning to South Africa, he became State Attorney of the Transvaal at 28. In the years preceding the Anglo-Boer War he was a closer advisor to President Paul Kruger.
The war began in 1899, and Churchill's capture and escape from prison later that year are familiar. Less known is that Smuts, as State Attorney, interrogated the prisoner. Half a century later, at a dinner of The Other Club shortly after Smuts's death, Churchill recalled: "I remember when we met. I was wet and draggle-tailed. He was examining me on the part I had played in the affair of the armoured train—a difficult moment."
At one of their meetings during World War II, Smuts told Churchill something he did not previously know. Smuts at first opposed young Winston's release. Later he considered Churchill (a presumed non-combatant) only technically guilty and favored his release. Meanwhile, the prisoner decided to release himself.
Settlement
For the last two years of the Boer War, Smuts was a general, leading commandos through brutal terrain in many a skirmish against the British. By 1902, however, he saw that the war was lost. He thought it sensible for the Boers to obtain the best terms they could get. He helped persuade Boer leaders to this point of view, in order to rebuild their country. For this he was seen by many hard-line Boers, who wanted to fight to the bitter end, as having betrayed them. It caused him political difficulties right up to his death nearly half a century later—though, very fortunately, he was able to overcome these at critical times.
In 1906 Smuts came to London to discuss his country's future. The British minister with whom he negotiated was Winston Churchill, Under Secretary of State for the Colonies in the new Liberal government. Smuts told Churchill it was in Britain's interest to grant responsible self-government to the Transvaal and Orange River Colony. Churchill was sympathetic to this view and did his best to make a fresh start by urging a new policy of impartiality by the British administration between the Boers and the British settlers in South Africa (in contrast to the outgoing Conservatives, who had been seen by the Boers as anything but impartial).
The British Cabinet accepted this view, partly due to Churchill's advocacy and partly to the favourable impression Smuts made on the Prime Minister, Sir Henry Campbell-Bannerman. Internal self-government of the two Boer states was granted within a year. This paved the way for the establishment in 1910 of the Union of South Africa, a Dominion like Canada. In 1910, Smuts was elected to the South African Parliament and became a government minister.
World War I
When the Great War began in 1914, many Boers wanted Germany to win, taking revenge on the British. A rebellion broke out in South Africa. Prime Minister Louis Botha and Smuts, now Commandant-General of the Forces, defeated it. They used pro-government Boers, not British elements, to restore the situation. While not abandoning his Afrikaner identity, Smuts strongly favoured imperial solidarity, and South Africa joined the Allied side. Later promoted to Major General, Smuts partnered with Botha in seizing the neighbouring German colony of South West Africa (now Namibia). He was responsible for clearing the southern half of that vast territory.
Promoted to Lieutenant General, Smuts became commander of all Britsh, South African, Rhodesian, Indian and African troops fighting the Germans on the border of British East Africa (now Kenya) and German East Africa (now Tanzania). For the next year he drove the foe several hundred miles deep into the hinterland, overcoming the cruel climate and disease.
In early 1917 Smuts withdrew from his command to lead the South African delegation to an Imperial Conference in London. He made such an impression that Prime Minister Lloyd George asked him to stay and join the British war cabinet. He then chaired the War Priorities Committee—one of whose members was the Minister of Munitions Winston Churchill.
Not long returned from commanding 6th Battalion, The Royal Scots Fusiliers, on the western front, Churchill was back in government. Although they had met earlier, they now saw each other very frequently. Over the next eighteen months their mutual admiration and close friendship began.
Friendship forged
Churchill later wrote of an "altogether extraordinary man" from "the outer marches of the Empire." Smuts's story "would fill all the acts and scenes of a drama. He has warred against us—well we know it. [Smuts] has quelled rebellion against our own flag with unswerving loyalty and unfailing shrewdness. He has led raids at desperate odds and conquered provinces by scientific strategy…. His astonishing career and his versatile achievements are only the index of a profound sagacity and a cool, far-reaching comprehension."
When the war ended, Smuts played a prominent part at the Peace Conference. He was a lonely voice in denouncing the conditions imposed on Germany. He said they were too harsh. They would lead to further trouble.
Smuts also conceived the major portion of ideas subsequently incorporated into the constitution of the League of Nations. He then went home, two-and-a-half years behind schedule. On the death of Botha in 1919, he became South Africa's prime minister, and held this post for five years.
When World War II began in 1939, history tried to repeat itself. South Africa's pro-German Prime Minister James Hertzog moved in Parliament that the country remain neutral. Smuts put forward an amendment to sever relations with Germany and to meet Commonwealth obligations. The amendment carried, 80-67; Hertzog consequently resigned and Smuts became prime minister again.
Absent Smuts, the Allies would not have had use of the Cape route when Mediterranean shores were in hostile hands. The ability to reinforce and resupply British armies in North Africa, the Middle East, India and the Far East would have been seriously curtailed, and the strategic consequences would have been profound. Not enough recognition has been given by historians to the major importance of this parliamentary victory by Smuts.
World War II
In 1941 Churchill suggested to the King that Smuts should be appointed an honorary Field Marshal in the British Army. The King agreed, although the South African always preferred to be known as "General Smuts." The King also appointed him to the Order of Merit in 1947.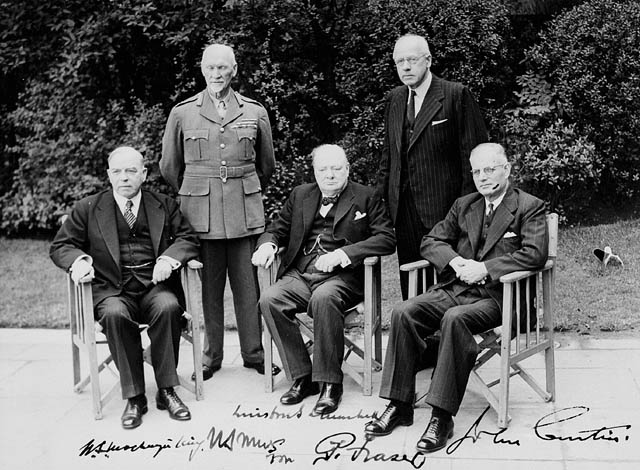 Readers of Churchill's The Second World War will notice how time and again he consults Smuts at critical periods. There is a stream of lengthy two-way messages, with Churchill rehearsing his thoughts and keeping the South African fully informed. Smuts always attended meetings of the war cabinet during his regular visits to Britain. Leaving for the Teheran Conference in 1943, Churchill even toyed with the idea of leaving Smuts in charge at Westminster. This could have led to considerable political or constitutional difficulties, but no doubt a formula could have been devised. As early as 1940, John Colville, the PM's assistant private secretary, thought Smuts should replace Churchill if he were to die. Colville even passed this idea to his mother, a lady-in-waiting to Queen Mary likely to filter it to the King.
In August 1942, with Rommel nearing Alexandria, Churchill flew to Cairo and replaced General Auchinleck with General Alexander as Commander-in-Chief in the Middle East. Under Alexander, General Montgomery became Commander of Eighth Army, which proved a winning combination. Churchill told Parliament he was fortified in his conclusions by "the massive judgment of Field Marshal Smuts, who flew from Cape Town to Cairo to meet me."
The two spent much time together throughout the week of this visit, making pivotal and far-reaching decisions. Writing from Cairo to his wife Churchill said: "Smuts was magnificent in counsel. We could work together with the utmost ease. He fortified me where I am inclined to be tender-hearted, namely in using severe measures against people I like."
Influence at all levels
Churchill's doctor, later Lord Moran, wrote in his diary: "Smuts is the only man who has any influence with the PM; indeed, he is the only ally I have in pressing counsels of common sense on the PM. Smuts sees so clearly that Winston is irreplaceable, that he may make an effort to persuade him to be sensible."
Many insiders witnessed Smuts's influence in amusing ways. Recalling the long staff conferences at Chequers to the Churchill Society of Edmonton, Alberta in 1966, Lord Mountbatten remembered the only night he ever got to bed early. After describing a typical evening—drinks at 8:30, dinner at 9:00, brandy and cigars at 10:15, join the ladies at 10:40, film at 11:00, then finally work from 1:00 to 3:00 am—Mountbatten recalled:
"Churchill was beaten at this game once—the only time I ever saw him defeated…At about 1 o'clock Winston said, 'Well, now we will start work.' 'No,' said Smuts, 'I am not going to be a party to your murdering the British Chiefs of Staff. Here they are, they have to be back in the office by 9 o'clock in the morning, ready for meetings at 9:30. You will still be lying in bed with a fat cigar, dictating to your secretary.
"'They have to work all morning and all afternoon. In the afternoon you have a siesta. You bring them down here and make them work all night as well. You will kill them and I am not going to be a party to that.' He then got up and went to bed. There was absolute silence for a minute or two—nobody spoke. Suddenly Winston got up and said: 'Well, perhaps we'd better go to bed.' It was the only time we were let off!'"
Smuts on Churchill
This was very much a situation in which each great man held an exceptionally high opinion of the other, as their remarks make clear. Here are five examples of Smuts's esteem:
"That is why Winston is indispensable. He has ideas. If he goes, there is no one to take his place." -To Lord Moran, Cairo, 1942.
"Your courageous attitude has my complete sympathy." -To WSC, approving cooperation over moves against Vichy reinforcement of Madagascar, 1942.
"The British people are united to a man behind the greatest leader they have ever had." -Speech at Guildhall, London, 1943.
"Take great care of Mr. Churchill; he is one of the greatest men the world has ever known." -To Detective Inspector Walter Thompson, Cairo, 1943.
"My thoughts are much with you, my friend; the one in all the world to whom so many owe so much. May God continue to bless you with strength of body as he has blessed you with strength of soul." -Birthday message, 1944. WSC replied: "Of all the messages which reached me on my birthday, none was more movingly phrased or gave me more encouragement than yours, my old and trusted friend."
In 1942 Smuts addressed both Houses of Parliament. Churchill had persuaded him to come: "I felt that his arrival in this country at a time when the war hangs heavily upon us and is tense in many respects, would be a great reinforcement to our councils and our spirits. The wisdom which he brings, the knowledge which he has of all those matters which he has touched in his broad survey, are invaluable to those of us who are charged with executive responsibility, and is a comfort and an inspiration. All that he has said arises from profound reflection…resolute, unflinching, inflexible conviction and courage."
Churchill on Smuts
On VE Day in 1945, Smuts attended the United Nations conference in San Francisco. (There he drafted the preamble to the UN charter.) He sent Churchill a cable and this was the PM's reply… "Nothing in these past stirring days has brought me greater pleasure than your most kind message. Your presence beside me in the councils of the Empire and at the fronts in those long hard years has been to me a constant source of strength and inspiration for which I am most sincerely grateful. I pray that you may long remain with us, a trusty friend and guide in war and peace."
During and after the war, Churchill offered many more fine words on his friend:
"Smuts, with all his wisdom, and from his separate angle of thought and fresh eye, concurred." -Referring to the decision to aid Greece, 1941.
"His mind moved majestically amid the vagaries of Fortune." -On the loss of a South African division at Tobruk, 1942.
"He is as I imagine Socrates might have been." -To Anthony Eden, 1942.
"Smuts and I are like two old love-birds moulting together on a perch, but still able to peck."  -To the South African High Commissioner, 1945.
"My faith in Smuts is unbreakable; he is a great man."  -To Brendan Bracken, 1946.
"Impoverishment and irreparable loss"
Smuts's party lost the 1948 election to the Nationalists, who ushered in Apartheid. Smuts had campaigned in favour of the Fagin Commission, which advocated easing separations between the races. For Smuts's eightieth birthday in 1950, Churchill recorded a message for a banquet in his honour:
"I can hardly recall any occasion where we did not reach the same conclusions by simultaneous and independent travail of thought. And now here we have him in our midst, an august octogenarian. Here is the man who raised the name of South Africa in peace and war to the highest rank of respect among the freedom-loving nations of the world. Let us pray that this may not be swept or cast away in the demoralisation which so often follows the greatest human triumphs. Such a melancholy stroke will certainly not fall on South Africa if Smuts's life and strength are prolonged, and that is why we rejoice in his presence here tonight…"
Alas, there were to be no happy returns: Smuts died a few months later. Paying tribute in the House of Commons, Churchill saluted his "qualities of unswerving fidelity to honourable engagements, the power to see each other's point of view and, above all, that resolve not to be outdone in generosity, which ranks among the noblest and most helpful impulses in the human breast… This prolonged harmony of mind and body was the foundation of a luminous, normal, healthy practical common sense, which guided him in daily action but in no way limited the depth of his vision or his far-ranging outlook over the world scene…. Those of his friends who are left behind to face the unending problems and perils of human existence feel an overpowering sense of impoverishment and of irreparable loss."
Last Words
Churchill shut himself away in his bedroom for half a day to compose a letter to Mrs. Isie Smuts (whom, incidentally, he had never met). To an unversed reader it may seem a little overdone. Knowing Churchill as we do, we can be in no doubt that it was a genuine, heartfelt expression:
"Please accept my deepest sympathy in your sorrow and deprivation. I know how vain are words in such sadness, and how much worse it is for those who stay than for those who go. But there must be comfort in the proofs of admiration and gratitude that have been evoked all over the world for a warrior-statesman and philosopher who was probably more fitted to guide struggling and blundering humanity through its sufferings and perils towards a better day than anyone who lived in any country during his epoch."
What an accolade from such a source.
About the Author
Paul H. Courtenay, a faithful Churchill historian and researcher, served for many years as secretary of the International Churchill Society (UK). He is co-editor of new ISI editions of Churchill's Thoughts and Adventures and Great Contemporaries. We recommend these editions with their up-to-date endnotes.
Churchill Project Articles
Stay In Touch With Us
Subscribe now and receive weekly newsletters with educational materials, new courses, interesting posts, popular books, and much more!