Articles

Great Contemporaries: Montgomery, Right Man at the Right Time (Part 1)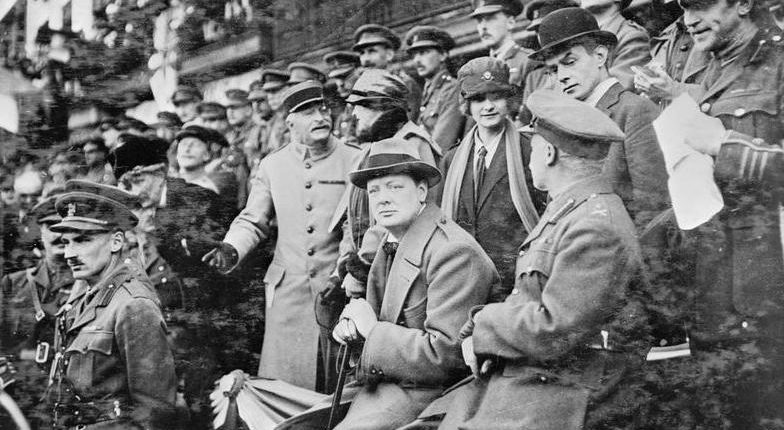 ---
"A 1918 general"
The Second World War ended for Britain 76 years ago. The name of its great leader lingers powerfully. The memory of its generals, admirals, and air marshals has faded (although their statues still dot central London's landscape). Bernard Law Montgomery, field marshal and victor of El Alamein, is a partial exception—he inspired admiration at the time but also controversy.
American generals came to detest him (as did RAF air marshals and, quietly, not a few British army officers). His memoirs, published in retirement, ignited a firestorm of recriminations. His massive, three volume official biography. written by a staunch defender and published after his death, kept all these World War II issues alive for a new generation of readers and historians.
Hollywood weighed in. The 1970 biopic Patton presented a nasty parody of the man—a cinematic payback for the slights, real and imagined, that he inflicted on the U.S. Army during the war. Even the 1977 British film A Bridge Too Far, in which Montgomery is a shadowy, offscreen presence, is none too kind to the operation for which he bore responsibility.
Who was "Monty" and how should we now assess him?
First and foremost, Montgomery was a dedicated professional soldier, and on his record any fair historical judgment should rest. Lieutenant General Sir Francis Tuker, an Indian Army officer and a brilliant trainer of soldiers, commanded the crack 4th Indian Division under Montgomery. To the military historian Ronald Lewin after the war, he wrote: "Monty was a 1918 general…" Given the reputation of Britain's World War I generals this sounds dismissive, but that was not Tuker's point (although he was no Monty admirer). He did not say "a 1914 general"—a Sir John French or a Sir Douglas Haig.
Combined arms tactics
By 1918 the British Army had, after massive casualties for minimal results, finally "cracked the code": It had learned how to break German defenses on the Western Front and to exploit those breaches. This in turn points us to the Army's experiences which directly shaped the Second World War Army, and its generals.
In 1914 Montgomery was an infantry subaltern in the Royal Warwickshire Regiment. He was shot through the lung in one of the war's first engagements. (Close to 90% of the 1914 British Expeditionary Force, the bulk of the regular army, became casualties by Christmas.) Once recovered, he spent the rest of the war as a staff officer on the Western Front as the British Army, slowly and at high cost, developed the tactics that brought victory in 1918.
These were, at their most basic, combined arms tactics—the integration of infantry; steadily more sophisticated and deadly artillerymen (gunners); and, by 1917, the new arms, air, and armor. This was also the combination that at Amiens on 8 August 1918 ripped the German front apart. On that "black day" for the German Army, the Kaiser's generals realized the war was irrevocably lost. Combined arms tactics were the British Army's doctrinal legacy from the First World War, and it was Montgomery's formative experience. He departed from its lessons only once, disastrously, at Arnhem in 1944. This is what Tuker was highlighting.
The debate over armor
This basic fact about Montgomery has been overshadowed by an interesting but fundamentally irrelevant argument over British armor and its future. The British developed the tank and used it in the first massed tank attack in history, at Cambrai in 1917. Tanks played a crucial role at Amiens. The tank's evangelists—J.F.C. Fuller and B.H. Liddell Hart being the most prominent—argued that tank-led mobility was the answer to the bloody stasis of the Western Front. But they were up against a formidable barrier: British governments between the World Wars were simply not prepared to accept another "Continental commitment."
In August 1919, Lloyd George's government ruled that no expeditionary force would be needed in the foreseeable future—"Never Again" a Western Front. That being the case a large, armored forces would not be needed. Large orders for tanks would not be placed. Design and development atrophied. Only in 1939 did the British government, under intense French pressure, again commit to an expeditionary force: two divisions. The country that pioneered the tank and armored warfare had trouble assembling a single armored division in 1940. Its tank design would barely catch up by war's end.
The mainstream of the interwar British Army was represented by cautious infantryman like Montgomery and gunners (artillerymen). One of the latter, Alan Brooke (professional head of the British Army, 1941-46) was Monty's mentor and protector. Brooke had served with the Royal Artillery, the arm of the British Army most feared by the Germans in 1918.
Brooke and Montgomery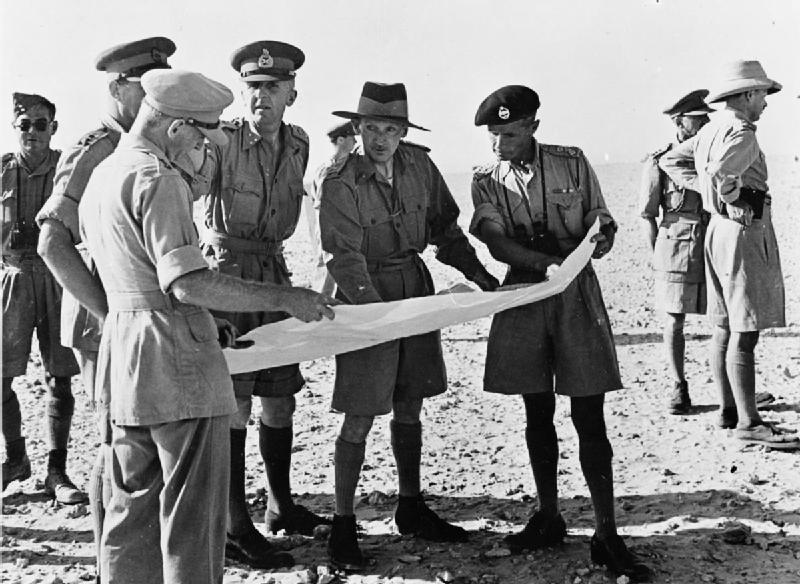 The legacy of 1918 was embodied in the army's World War I "lessons learned" study (the Kirke Report) which only appeared in 1931. The combined arms approach visible in 1918 was not exactly forgotten. but it was not practiced. Budget restraints in the interwar years precluded large-scale maneuvers for most of the period. By 1939 there was a pronounced tendency for the different Army branches to think about "separate wars." This is was particularly pronounced in armored units. All this would play out to devastating effect in the desert war against Rommel in 1941-42.
Which is where Montgomery comes in. His interwar career had seen a steady progression up the ranks. Perhaps the key moment in his career came when, as an instructor at the Army Staff College at Camberley, he met Alan Brooke. The bond formed between the two men made Montgomery's career.
Brooke thought Montgomery had a brilliant military mind and would be the outstanding officer of his generation. Montgomery had unstinting admiration for Brooke—the only superior he never disobeyed or criticized. One other crucial moment in Montgomery's life in those years was his brief happy marriage and his wife's early death. Many who knew him felt that she had humanized her very difficult husband. With her death his sharp edges reemerged, especially his intolerance (of all save "Brookie"). This trait that would become ever more marked, and do so much to mar his reputation.
Rising to command: Churchill
Montgomery commanded a division in Brooke's II Corps of the British Expeditionary Force that went to France in 1939. He handled his division well (and in his Memoirs was, almost predictably, critical of the BEF's commander, Lord Gort. who got the BEF to Dunkirk and salvation).
Thereafter, the army grew exponentially. Brooke rose to command Britain's Home Forces, and then to Chief of the Imperial General Staff. Montgomery rose steadily in Brooke's wake. The crucial moment came in August 1942.
In North Africa, Rommel had inflicted a devastating, humiliating defeat on the British 8th:  Army. He captured the "fortress" of Tobruk with 32,000 prisoners, an event Churchill learned of while conferring with Franklin Roosevelt at the White House. Churchill then had to face a vote of no confidence in the House of Commons. He won, but the deep uneasiness about the management of the war remained. One of the prime minister's closest associates was sure one more lost battle and Churchill would have to step down as Minister of Defense. And Churchill had made it plain that he would not retain the prime minister's office without it.
To ensure victory in the next battle, Churchill, accompanied by Brooke, flew to Cairo. There he restructured the command of what had become the war against Rommel. Brooke knew exactly who he wanted in command of the 8th Army—Montgomery. Churchill however chose one of the legendary desert warriors, Lieutenant General W.E.H. "Strafer" Gott. Outstandingly brave, Gott was however very tired, and had not shone as a corps commander. Returning from the front, his plane was shot down by a German fighter, changing the course of many Army careers. Brooke seized his chance and Montgomery took over the 8th Army.
Hopeful prospects
Since Montgomery and his apologists later muddied the waters quite thoroughly, it is important to know the true situation when Monty landed in Cairo. After the fall of Tobruk, General Sir Claude Auchinleck, the Commander in Chief, Middle East, left Cairo for the front. He sacked 8th Army's commander, Lieutenant General Neil Ritchie (earlier Brooke's corps chief of staff during the retreat to Dunkirk). Taking personal command, Auchinleck rallied the 8th army on the Alamein line.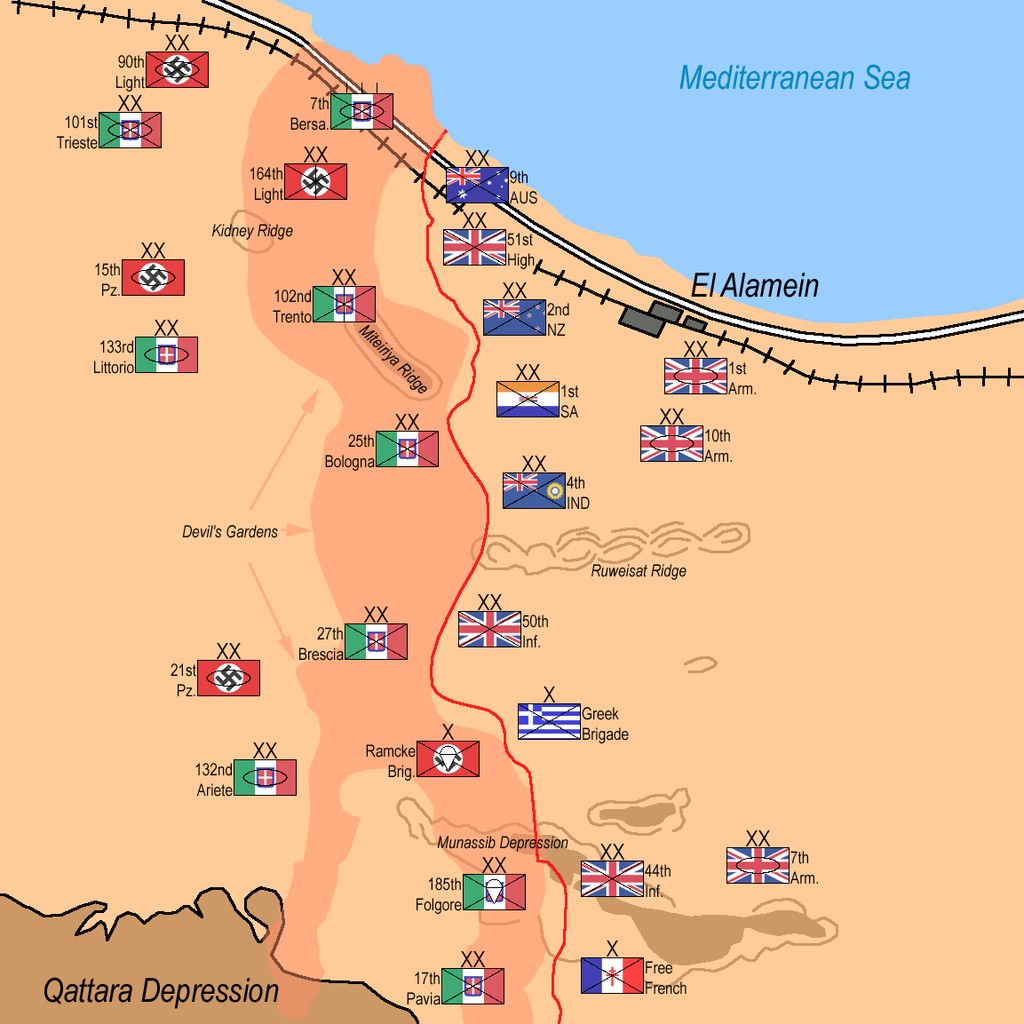 Rommel's logistics were now badly overstrained and his troops were very tired. He was brought to an abrupt halt and then pounded relentlessly with counterattacks that forced him onto the defensive. Cairo and the Suez Canal were no longer in danger. The decisive First Battle of Alamein was fought and won before Monty left Britain. By the time his plane touched down in Egypt, the tide was visibly turning. New units and equipment were steadily arriving. New American tanks were increasing the punch of British armored units. The RAF had asserted a control of the air it would never again lose.
Rommel's units were understrength, and his supply line was being remorselessly choked by British air and naval action. The question was not could 8th Army hold on, but how quickly could it counterattack? Auchinleck had asked for six weeks—a request that helped bring about his removal. The new team—theatre commander Lieutenant General Harold Alexander and Monty at 8th Army—would take twice that to get ready. But Montgomery had Brooke guarding his back and Churchill needed a sure victory. Now Monty had to deliver it.
Victory at Alamein
No victory is ever, of course, guaranteed. "No plan of operations extends with any certainty beyond the first contact with the main hostile force." This maxim of Helmuth von Moltke (founder of the German General Staff) was never more true than of El Alamein.
Montgomery liked to claim his battles went according to plan, but of course they did not. His initial design for "Operation Lightfoot" quickly broke in the face of German resistance and its own clumsiness. So Monty did what competent generals do—he adjusted. In the ensuing week of ferocious fighting, Rommel's German-Italian units were systematically "crumbled" (in Monty speak) until they broke. El Alamein was neither neat nor low-casualty. But it produced the result  that Churchill, the British Army, and, above all, the British public needed: a clear-cut victory.
The church bells, long silent, rang out across Britain. The Prime Minister's critics retreated. "Monty" became a household name. The formula that, after a false start, produced victory was perhaps lost in the general jubilation: The battle opened with the heaviest barrage fired by British gunners since 1918—nearly a thousand guns. German veterans of the Western Front recognized immediately the "drum fire" signature tune of the Royal Artillery in 1918. The Amiens model was back. It would be Montgomery's for the rest of the war.
Continued in Part 2: Montgomery Post-Alamein
The author
Dr. Callahan is Professor Emeritus of History at the University of Delaware and a leading scholar of the Indian Army in the two World Wars. He taught at the University for 38 years and was director of the Master of Arts in Liberal Studies program, where an annual student prize bears his name. He is the author of Churchill and His Generals (2007) and Churchill: Retreat from Empire (1997). He thanks his daughter Sarah, "who made it possible for me to write, while recovering from back surgery, by turning my scrawl into usable copy."
Churchill Project Articles
Stay In Touch With Us
Subscribe now and receive weekly newsletters with educational materials, new courses, interesting posts, popular books, and much more!