Articles

Great Contemporaries: Montgomery, Right Man at the Right Time (Part 2)
---
After Alamein (continued from Part 1)
Victory is consolidated by an unrelenting pursuit of a beaten foe—an oft-cited maxim in criticism of Montgomery and his slow westward advance after El Alamein. Monty pursued Rommel at a pace that allowed his battered army to pull itself together. The Afrika Korps thus conducted a long, effective rear-guard action.
The criticisms are accurate. Monty was cautious, partly because of Rommel's proven skill in launching devastating counterattacks. Also there were logistics: Rommel was falling back on his supply base. The 8th Army was trailing an ever-lengthening line of communications behind it. Montgomery's advance has been labelled "ponderous," and so it was. It was also certain—and that is what, in 1943, was important. Why? The war was entering a new phase. It is worth pausing this narrative to note what the determinants of this phase would be.
The dominant partner
The most important fact was that British dominance in the alliance was giving way to American. This made Monty's inability to get on terms with American officers an increasing problem. The difficulty was evident from the time the two armies came into contact, in Tunisia in early 1943.
Some of it was not Monty's fault. The U.S. Army's debut against Rommel was marked by an embarrassing tactical debacle at Kasserine Pass. The Americans met a rather touchy Montgomery. His tactless criticism and condescension left a bitter legacy, never thereafter overcome. Then there was the fact that by 1943, Britain was running out of men. At just under 45 million, the UK had the smallest demographic base of any major belligerent. Churchill's government probably wrung more maximum effort out of its courageous people than any other. But by 1943 it was not enough, and replacements dwindled. By 1944 the army would begin to shrink. Yet to maintain alliance parity with the Americans, as Churchill wished, it had to produce victories at a sustainable cost. This would be Monty's job.
When the German and Italian armies in Tunisia surrendered in May 1943, Montgomery was clearly Britain's premier general. Commander of the victory-laden 8th Army, he retained Churchill's and Brooke's support and, far from least, the confidence of the ever-wearier British public. But he had accumulated important debits as well. After his tactlessness in Tunisia, and the brief Sicilian campaign, important American generals loathed him. (The American press soon picked this up.) The RAF commanders, Air Chief Marshal Sir Arthur Tedder and Air Marshal Sir Arthur Coningham, had come to feel that Monty had engrossed credit for victory in the desert that should have been shared with the Air Force.
Planning for D-Day
Montgomery left the stalled Italian campaign at the end of 1943. Back in Britain, he became allied ground forces commander for the impeding cross channel invasion. He brought with him a record of careful professional accomplishment and a mountain of not entirely undeserved animosity. This was doubly unfortunate because much of the Mediterranean command team moved to London to carry out "Overlord."
General Dwight Eisenhower, history's most successful coalition commander, would be Supreme Commander. Coningham would oversee tactical air support. Two American generals, Omar Bradley and George Patton, who had clashed with Monty in Tunisia and Sicily, would command, respectively, an army group and an army. Montgomery would initially command both the Anglo-Canadian 21st Army Group and allied ground forces until Ike arrived in London. Eisenhower would have preferred the elegant, aristocratic, emollient and tactful Harold Alexander, but Brooke and Churchill were adamant for Monty. Brooke (and Monty) were not impressed with Alexander's military skills (which have been underestimated to this day). Churchill knew that "Monty" spelled "victory" to a very weary nation.
Montgomery began his new job by radically overhauling the plan for D-day. He wanted a much wider landing frontage and a heavier initial assault—and was almost certainly correct. His second assault on the arrangements had less happy results. By 1944 Monty believed his ideas and 8th Army's approach to battle were the gold standard for the rest of the British Army. When he took over D-day preparation, he imposed his views on the training of army units in the UK. Subsequent careful study has shown that this was not an unmixed blessing. No one but Brooke could have reined him in—and Brooke did not.
Normandy
There are numerous studies of the Normandy fighting and only a few things need to be said about Montgomery's role. His overall scheme was sound—to draw German formations, especially their mobile formations, onto his Anglo-Canadian eastern front and "write them down" while the Americans broke out from the beachheads' western front. As at El Alamein, Monty had some assistance from Hitler. The Führer refused Rommel a timely retreat, depriving his commanders in France of operational and tactical flexibility.
But "crumbling" the Wehrmacht was slow work, and high casualty work as well. Monty's infantry battalions often took First World War-level casualties. In June-July he mounted "colossal cracks"—repeated attacks which never quite attained their announced objectives.
Impatience with his generalship mounted. Air Marshals Tedder and Coningham, desperate for airfield construction through an enlarged beachhead, would have happily seen Monty sacked. But he was never remotely likely to be. Eisenhower understood that sacking Monty was simply not an option. Brooke stood behind his man. Churchill, whatever his reservations, knew that Montgomery stood high with the great British public.
In the end, 1918-style controlled attrition and Hitler's mistakes gave the Allies the victory. The German front collapsed, allowing British and American armor to surge across France and into the Low Countries. By early September American tanks were on Germany's border while British armor seemed within striking distance of the Rhine. There was a sudden surge of euphoria about the possibility of victory in 1944.
Worst mistake
In this heady moment, Montgomery suffered a personal reverse that may well have affected his judgement. Anxious to press on, he made the most uncharacteristic decision of his entire career. He green-lighted Operation Market Garden. The object was a Rhine bridgehead, opening a northern route into Germany.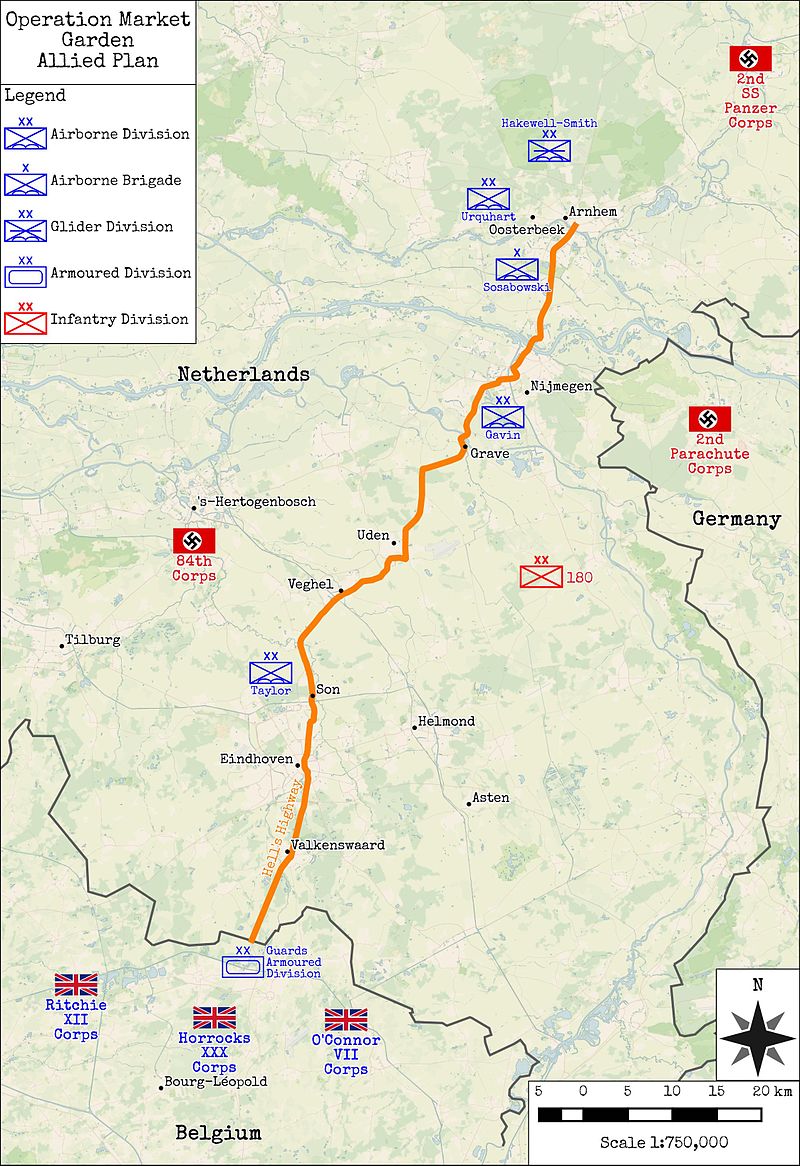 In early September Eisenhower, now in France, assumed direct control of his armies. Monty's role shrank to commanding the Anglo-Canadian 21st Army Group (a demotion, he thought, cushioned by a field marshal's baton). The change was inevitable; Monty's refusal to accept its finality, perhaps equally so.
Brooke, as usual, backed Monty's argument that Eisenhower needed a land forces commander to coordinate the army groups. (Neither Monty nor Brooke had much respect for Eisenhower as a military commander.) They would persist in this argument until early 1945, to the ever-mounting annoyance of the Americans. Montgomery's blindness on this point is not surprising. Brooke's is. The American forces were steadily growing while the British Army shrank. Even if the Americans accepted a coordinator, he would almost certainly not have been British. Absolutely he would not have been Montgomery.
At this fraught juncture, Monty authorized the gamble that was Market Garden. One bold thrust across the Rhine would leave the road to Berlin open. The war might end with British strength sufficient for a major role in the endgame. This, as Churchill clearly understood, had major political implications. For once turning his back on caution—"balance" in Monty-speak—he launched Market Garden, but the advance was halted at Arnhem. Its failure also deprived Montgomery of a chance to open the Scheldt estuary. That would have freed Antwerp, avoiding logistic complications that hamstrung the Allies as much as Germans.
Fading star
Post Arnhem, Montgomery continued as before. He quarreled with the Americans after the Battle of the Bulge—not over what he did, but what he said about what he did. He continued to nag Eisenhower about a land forces commander. His armies cleared the approaches to the Rhine in another series of attrition battles. They crossed it finally in Operation Plunder—the last of Monty's "colossal cracks." In the ensuing drive across north Germany, his weakening armies were elbowed out of the main thrust by the Americans. Monty was left to drive for the Baltic, sealing off Denmark from the advancing Red Army. He and his troops did have the satisfaction of taking the surrender of the German Army in Northwest Europe.
Afterwards, he succeeded Brooke as Chief of the Imperial General Staff, but left after two years. The politics of Whitehall—the need to negotiate and compromise—were not in his skill set. In 1951 he moved to the headquarters of the then-new NATO alliance deputy allied supreme commander—under Eisenhower. This position had much of the ornamental about it.
Monty finally retired in 1958 at age 71. Then he published his notorious memoirs, which did his reputation more damage than anything he did or said during the war. The book brought threats of legal action and provoked a devastating retaliatory chapter on him in Corelli Barnett's classic The Desert Generals (1960).
"He'd never get us killed, stupid like…"
How should we think about him now? General Tuker came very close to putting his finger on his essence as a soldier: "Monty was a 1918 general…" But there is another view to be considered.
Nearly 50 years ago I was sitting in a train compartment at London's Liverpool Street Station. The only other occupant was a grey-haired man, staring at the jacket my book, a newly-published volume on the Desert War. He caught my eye and said, "I was out there." The ensuing conversation with this 8th Army veteran was fascinating. Not least interesting was his answer when I asked about Montgomery. I wrote it down immediately afterwards:
"My old dad was in the first lot [World War I]. Our generals had no use for people like us—got us killed by the thousand. But Monty was different. We knew he'd never get us killed, stupid like…"
Tuker's professional judgment is powerful. but so was that former NCO's. Britain's Second World War citizen soldiers were heirs to the bitter memories of the Great War. They needed a general who they believed would not squander their lives. In Montgomery they found one.
The author
Dr. Callahan is Professor Emeritus of History at the University of Delaware and a leading scholar of the Indian Army in the two World Wars. He taught at the University for 38 years and was director of the Master of Arts in Liberal Studies program, where an annual student prize bears his name. Among his books are Churchill and His Generals (2007) and Churchill: Retreat from Empire (1997). He thanks his daughter Sarah, "who made it possible for me to write, while recovering from back surgery, by turning my scrawl into usable copy."
Churchill Project Articles
Stay In Touch With Us
Subscribe now and receive weekly newsletters with educational materials, new courses, interesting posts, popular books, and much more!