Articles

History as Prologue: Winston Churchill and the Historian as Statesman
The dramatic drawing from the first French edition of Churchill's "Reflexions et Aventures" (Thoughts and Adventures) captures his appreciation for the grand sweep of history, which made him indispensable in the great crises of his time.
---
"What men now gone once believed…"
"So I defend my loyalty to the old ways of history I read and taught thirty years ago, to which I now return…not in order to derive from any or all of these a science of society or answer current problems, but to try to convey to men of today some sense of what men now gone once believed in, did or failed to do, won or surrendered, loved or hated, felt to be right or wrong." — Sir David Lindsay Keir
Late in his political career, Winston Churchill quipped, "…I consider that it will be found much better by all Parties to leave the past to history, especially as I propose to write that history myself."1 It cannot be denied that Churchill wrote history in a literal sense. The majority of his books were historical works, including multiple volumes on the two World Wars, the First Duke of Marlborough, Lord Randolph Churchill, and his seminal A History of the English-Speaking Peoples. Sir Winston genuinely loved history, as many do. His appreciation for it often enabled him to see what his contemporaries, through their historical myopia, failed to see.
An early aptitude
Churchill's fascination with history manifested itself at a young age while he studied at Harrow School outside London. In September 1887 he wrote his mother: "We had an examination in Ancient History on Monday, and not withstanding that the results are not yet known, I do not think that I am very far from the top. We have only had two exams this term, viz. History 50 marks and Algebra 18, in both I was top."2 His report card that term indicated top grades for all three of his history subjects—English, Ancient, Biblical.3
In nearly every letter to his parents, Churchill referenced some fact of history or his grades in history. Tutors hailed his studies in the subject as "exceedingly good."4 One assistant master even took time to praise young Winston in a personal letter to Lord and Lady Randolph.5 For two terms in a row, he swept Harrow's history awards.6
History for the love of it
Churchill's passion for and excellence in history continued as he studied at Sandhurst and served in India. Stationed in Bangalore, he appealed for books to his mother, Lady Randolph. She sent him Macaulay's History of England and Gibbon's The Decline and Fall of the Roman Empire.7 In thanking her, he admitted to reading "50 pages of Macaulay and 25 of Gibbon every day." Simultaneously, he read Henry Hallam's massive Constitutional History.8
Churchill even speculated that, when he left the army, he might earn a history degree.9 While this dream never materialized, he encouraged his brother Jack to pursue it: "When you get into the University—you should I think study history and economics—two of the most valuable and interesting branches of human enquiry…. Read the English Classics—Addison particularly is fine reading."10
An affinity for English history was evident throughout his career. "History for Churchill was not a subject like geography or mathematics," wrote Cambridge historian J.H. Plumb. "It was a part of his temperament, as much a part of his being as his social class and, indeed, closely allied to it."11 Like many, Churchill studied history first and foremost because he enjoyed it. While his historical knowledge might have impressed his fellow officers, it advantaged him little in any concrete sense. He did not study it as a schoolboy might, memorizing names and dates simply to regurgitate them on an exam and then forget them. Rather, Churchill studied history because it was a subject worthy of study.
History in politics
Beginning his parliamentary career, Churchill had little time for his accustomed deep immersion in history. His previous study, however, profoundly shaped his political reasoning. This proved evident in one of his first Parliamentary addresses, on the subject of army reform. "The whole course of our history, the geography of the country, all the evidences of the present situation," he said, "proclaim beyond a doubt that our power and prosperity alike and together depend on the economic command of markets and the naval command of the sea."12
The Royal Navy defended not only Britain and its Empire but the British way of life. This was apparent to even those with a cursory knowledge of history. Naval commanders from Drake to Nelson had long vindicated a point made in a beloved British patriotic hymn. So long as Britannia ruled the waves, Britons never would be slaves.
Churchill believed the Army Reform Bill foolishly ignored British actions, basing itself overmuch on those of continental powers. The UK military was organized primarily for peacekeeping throughout a global empire. It was not contrived for pitched battles with hundreds of thousands of men on the European continent. For much of the 19th and early 20th centuries, Britain maintained a small, professional expeditionary force. Its combined naval forces, however, followed the "Two Power standard": sufficient to overcome the next two leading powers.13 Churchill adamantly opposed any diminishment of the navy. Great Britain was still an island—a seafaring power. It could not afford to be carried about with every wind of political fashion. Britain's future would be secured as it had been in the past.
History in Churchill's writing
During his early years in politics, Churchill published a two-volume biography of his father, Lord Randolph Churchill. In the preface Churchill wrote, "It is not by the soft touches of a picture, but in hard mosaic or tessellated pavement, that a man's life and fortunes must be presented in all their reality and romance. I have thought it my duty, so far as possible, to assemble once and for all the whole body of historical evidence required for the understanding of Lord Randolph Churchill's career."14
At its core, Churchill felt his father's story worth writing for two simple reasons. First, Churchill believed his father shaped Britain in important ways. Second, his father's story was a great story. No one—neither Churchill's publishers nor his readers—needed any further justification.
Similar themes emerge in his preface to A History of the English Speaking Peoples. Here he offers his mature thoughts upon these ideas at length: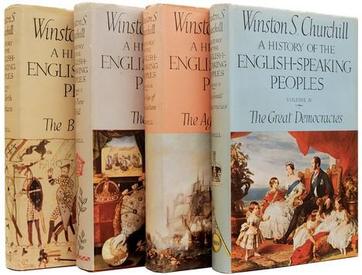 If there was need for [this work], that has certainly not passed away. For the second time in the present century the British Empire and the United States have stood together facing the perils of war on the largest scale known among men, and since the cannons ceased to fie and the bombs to burst we have become more conscious of our common duty to the human race… I thought when I began that such a unity might well notably influence the destiny of the world.15
The hope of free peoples
Churchill later explained the History was his "personal view" on how the English-speaking peoples "achieved their distinctive position and character."16 Toward the end of the preface, he concludes:
Every nation or group of nations has its own tale to tell. Knowledge of the trials and struggles is necessary to all who would comprehend the problems, perils, challenges, and opportunities which confront us today. It is not intended to stir a new spirit of mastery, or create a mode in the study of history which would favour national ambition at the expense of world peace. It may be indeed that an inner selective power may lead to the continuous broadening of our thought. It is in the hope that contemplation of the trials and tribulation of our forefathers may not only fortify the English-speaking peoples of today, but also play some small part in uniting whole world, that I present this account.17
For Churchill, the story of the English-speaking peoples was a compelling one, which mattered for all the world. Their tale, he believed, deserved to be told. Like all other great stories, however, its value went beyond mere entertainment. Great epics ought properly to order people's affections and orient their soul to things that truly matter in life. Churchill hoped this great story would do just that.
"The past should give us hope"
A History of the English-speaking Peoples not only edifies the soul. It also restores the present to its proper relationship with the past. It reveals how the things that are came to be, from things that were. History interprets current reality in light of previous circumstances. Each generation gives birth to another within the unbroken covenant of the dead, living, and yet unborn. A people's past is their present possession, one distinct from all others'. The story ought to inspire gratitude and hope in all those who can claim it as their own. In short, Churchill believed that the English-speaking Peoples ought know their history precisely because they were English.
Yet, whereas Churchill begins this work by reflecting on the past, he concludes it by gazing ahead to the future:
Here is set out a long story of the English-Speaking peoples. They are now to become Allies in terrible but victorious wars. And that is not the end. Another phase looms before us, in which alliance will once more be tested and in which its formidable virtues may be to preserve Peace and Freedom. The future is unknowable, but the past should give us hope.18
So great a trust
Over centuries, the English-speaking Peoples had brought good to the world. Early on they determined that mankind flourished best under liberty and the rule of law. So great a trust, its riches calculated only with historical reflection, must not be squandered through cowardice or apathy. They must preserve it, as their forefathers had before them. Churchill was an optimist: "Through many dangers, toils and snares" they had already come. They would come through many more.
Churchill understood the weight of the task. During the First World War, he urged everyone to remember that "every minute…is history."19 They must try to make people "like to read about it in the years that will follow."20 So much hung in the balance that good statesmen had to grasp the gravity. What mattered was "what is best for the country and for the brave men who are fighting. Anything which does injury to those interests will be very harshly judged by history, on whose stage we now are."21
Churchill made the identical appeal to history in the Second World War. Britons, he said, must "so bear ourselves" that years hence "men will still say, 'This was their finest hour.'"22 He knew those who sensed the gravity of the moment would perform with honor. He could identify that gravity because saw parallels with the past. None may divine the future, but a knowledge of history at least allows one to make an educated guess.
Historical parallels in the Great War
Churchill understood that the First World War was a new kind of battle. Even so, he recognized that similarities in war over time outweighed the differences. Just as history provided context for the present, he advised, it also provided responses:
Adequate preparations for war is the only guarantee for the preservation of the wealth, natural resources, and territory of a State, and it can only be based upon an understanding, firstly, of the probably dangers that may arise; secondly, of the best general method of meeting them as taught by the principles to be deduced from the events of history; and, thirdly, of the most efficient application of the war material of the era."23
History did not supply a step-by-step manual to solve problems, for no two moments in history are alike. Churchill believed however that there was nothing fully new, only new forms of old things. Mark Twain once remarked that history does not repeat itself, but it often rhymes. For that rhyme Churchill might well be said to have a poet's ear. Few leaders in August 1914 understood they had begun the most devastating war in history up to then. Churchill did. He saw the coming destruction, because like the Tribe of Issachar, he had understanding of the past.
"The standard of history"
Through constant practice, Churchill attuned his historical senses to discern the nature of events. As he wrote in The People's Rights: "Everyone can recognize history when it has happened, but the wise man knows at the moment what is vital and permanent, what is lasting and memorable, and can pick it out from the ordinary ebb and flow of political affairs. "24 It was by accident that he insisted statesmen study history: "In history lies all the secrets of statecraft."25
Studying history also produced Sir Winston's accurate and early recognition of enemies. One such was Bolshevism, which he condemned in an election appeal in Edinburgh:
Judged by every standard which history has applied to Governments, the Soviet Government of Russia is one of worst tyrannies that has ever existed in the world. It accords no political rights. It rules by terror. It punishes political opinions. It suppresses free speech. It tolerates no newspapers but its own. It persecutes Christianity with a zeal and a cunning never equalled since the times of Roman Emperors.26
This "standard of history" was one of highest excellence, reached through the English (and Western) tradition. The Bolshevik government spurned it in favor of an abusive despotism. Churchill grounded his reproof not so much on philosophical abstracts, but on historical particulars. People in every age have judged governments by some standard or another. Despite their differences they tend to have much in common. Churchill, bolstered by his long study of history, thus could condemn the Soviet regime by that standard.
"History with its flickering lamp…"
Above all, Churchill believed that history offered the surest guide by which to judge his values. Confronted with the acts and thoughts of the past, one cannot help but feel the weight they bore on his understanding. History, he believed, offers one the closest thing possible to foresight. As he said in his eulogy for Neville Chamberlain:
It is not given to human beings, happily for them, for otherwise life would be intolerable, to foresee or to predict to any large extent the unfolding course of events. In one phase men seem to have been right, in another they seem to have been wrong. Then again, a few years later, when the perspective of time has lengthened, all stands in a different setting. There is a new proportion. There is another scale of values. History with its flickering lamp stumbles along the trail of the past, trying to reconstruct its scenes, to revive its echoes, and kindle with pale gleams the passion of former days.27
The true value of history   
Amidst the chaos inherent in life itself, mankind craves certainty—something that will illumine its forward steps. Knowing where we have walked gives us an idea of what is to come. For all its ambiguities, one thing beyond all doubt may be said of history: it happened.
George Santayana mused that those who cannot learn from the past are condemned to repeat it. The annals of history, however, prove that the only thing we might learn from history is that we never learn from it. In part this failure is due to our forgetfulness, but as Churchill said, we will not make the same mistakes. Instead we will make new ones.
Churchill affirmed that history produced a keener prudential focus in people. This was not the purpose of historical study—only a valuable consequence of it. Pursued for practical benefits, history becomes the dead subject every schoolchild feels it is: names and dates to be learned for no purpose other than to pass an exam. Pursued as an immanently human activity, enjoyable for its own sake, history not only becomes alive but gives life. "People will not look forward to posterity who never look backward to their ancestors," wrote Edmund Burke. Churchill looked back upon his ancestors with reverence and with regularity—thankfully so, for we owe him the same debt we owe our history: gratitude.
The author
Josiah Leinbach is Winston Churchill Fellow and 2020 graduate of Hillsdale College, where he majored in History. He is passionate about early and modern European and British imperial history, the fields in which his research currently focuses. He plans to pursue an M.Phil. in Early Modern History at Cambridge University.
Endnotes
1 Winston S. Churchill (hereinafter WSC), House of Commons, 23 January 1948, in Richard M. Langworth, ed., Churchill by Himself  (New York, Rosetta Books, 2015), 64.
2 WSC to Lady Randolph, 25 September 1887, in Randolph S. Churchill, ed., The Churchill Documents, vol. 1, Youth, 1874-1896 (Hillsdale, Mich.: Hillsdale College Press, 1967), 141.
3 Randolph S. Churchill, Youth, 146.
4 Ibid.,93.
5 Ibid., 169.
6 Ibid., 175.
7 Randolph S. Churchill, ed., The Churchill Documents, vol. 2, Young Soldier, 1896-1901 (Hillsdale College Press, 1967), 724.
8 Ibid., 730.
9 Ibid., 725.
10 WSC to Jack Churchill, 2 December 1897, ibid., 825.
11 R. Crosby Kemper III, ed., Winston Churchill: Resolution, Defiance, Magnanimity, and Good Will (Columbia, Mo.: University of Missouri Press, 1996), 65.
12 WSC, House of Commons, 13 May 1901, in Hansard (Parliamentary Debates). Accessed 28 April 2020.
13 Thomas Sowell, Conquests and Cultures (New York: Perseus Books, 1998), 84.
* * *
14 WSC, Lord Randolph Churchill, 2 vols. (London: Macmillan, 1906), I, x.
15 WSC, A History of the English Speaking Peoples, 4 vols., Volume I: The Birth of Britain (London: Bloomsbury Academic, 2015), I, i.
16 Ibid., I, ii.
17 Ibid., I, xiv.
18 WSC, A History of the English Speaking Peoples, Volume IV: The Great Democracies (London: Bloomsbury Academic, 2015), 253.
19 Martin Gilbert, ed., The Churchill Documents, vol. 6, At The Admiralty, July 1914—April 1915, (Hillsdale College Press, 1972), 817.
20 WSC to Jack Churchill, 24 August 1914, ibid., 52.
21 WSC to Lord Fisher, 15 May 1915, in Martin Gilbert, ed., The Churchill Documents, vol. 7, The Escaped Scapegoat, May 1915—December 1916, (Hillsdale College Press, 1972), 888.
22 WSC, House of Commons, 18 June 1940, in Langworth, Churchill by Himself, 5.
23 Gilbert, The Churchill Documents, vol. 4, 1304.
24 WSC, The People's Rights, 1910. (Second edition, London: Jonathan Cape, 1970, 137.)
25 WSC to James Humes, 27 May 1953, in Langworth, Churchill by Himself. 18.
26 WSC, Edinburgh, 25 September 1924, in Robert Rhodes James, ed., Winston S. Churchill: His Complete Speeches 1897-1963, 8 vols. (New York: Bowker, 1974), IV 3472.
27 WSC, House of Commons, 12 November 1940, in "Hansard," Accessed 28 April 2020.
Churchill Project Articles
Stay In Touch With Us
Subscribe now and receive weekly newsletters with educational materials, new courses, interesting posts, popular books, and much more!