Articles

Great Contemporaries: Jennie, Lady Randolph Churchill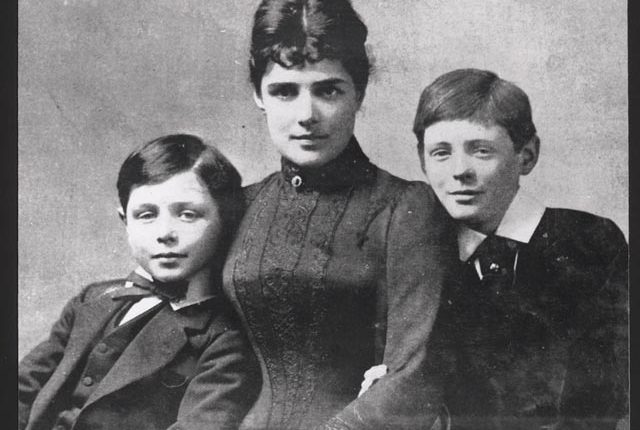 Above: Lady Randolph with her sons Jack (left) and Winston, mid-1880s.
---
"Are all Mothers the Same?"
Winston Churchill put this question to his mother Jennie1 in a postscript to a letter he wrote her in 1901. Twenty-five-years old, he had just finished reading An English Woman's Love Letters, in which the young heroine's mother stifles her daughter's first love affair.2 At the time, Winston and Pamela Plowden had just broken off their relationship.
History does not reveal whether Winston felt his mother had obstructed his wooing of Pamela, or whether he was referring obliquely to Jennie's new mother-in-law, Patsy Cornwallis-West. Patsy had opposed the relationship between her son George and Jennie because Jennie was almost twice George's age.
Whatever prompted the light-hearted postscript to Winston's letter, he must have known that Jennie was an unusual mother by British standards. Five biographers have tackled her life. Each attested to her abilities as a musician, linguist, writer, playwright, magazine publisher, political hostess, election campaigner, interior designer and fund-raiser. Yet there has been surprisingly little focus on how she shaped her son's outlook in the first twenty-five years of his life. In the second half of those years, she was effectively a single parent.
How Close Were They?
Winston himself may be responsible, because he wrote in his autobiography, My Early Life, that he loved his mother "dearly but at a distance."3 His verdict is too readily adopted by many Churchill historians.  Closer reading of My Early Life reveals that the "distance" did not last beyond his father's death in January 1895. Thereafter, Winston writes, Jennie became an "ardent ally, furthering my plans and guarding my interests with all her influence and boundless energy." Their relationship, he claims, was "more like brother and sister than mother and son. At least so it seemed to me."4 How close were mother and son and how typical was this of their time?
When Winston was born in 1874, the social elites of Britain and America took a different approach to parenthood.  America's founding fathers had deliberately established a less patriarchal society than the one they left behind.  There was no place in their laws for primogeniture or male entail, the twin pillars of the English aristocratic system.  Such inheritance laws as existed in the American states treated sons and daughters alike. Rapid economic growth required children to help their parents as soon as they could, and gave parents reasons to encourage initiative in their offspring.  Relationships between parents and children were more relaxed in America than in Britain, and mothers played a more influential role in bringing up their sons.
In 1874 Britain, by contrast, fathers not mothers were still legally responsible for a child's welfare.  The received wisdom amongst Victorian parents was that their children started life as "defective adults" and needed to acquire rules of behaviour to iron out their imperfections.
Jennie as Unusual Mother
Wealthier English parents delegated offspring training to a "nanny" who administered in a nursery, usually on the top floor of the house. From here the children descended once a day to meet their parents. For sons, there followed a secondary phase of training when they were despatched at the age of eight to a "preparatory" school. There they would spend eight months a year away from home. Thus liberated from the daily concerns of childcare, British mothers could support their husbands in the busy round of social entertaining that went hand in hand with public life for the leaders of Victorian Britain.
The American-born Jennie veered backwards and forwards between these two contrasting approaches to parenthood. After a childhood in New York, Trieste and Paris, she had found herself catapulted at the age of twenty into the British aristocracy. She was excited by the political ambitions of her husband, Lord Randolph Churchill, younger son of the 7th Duke of Marlborough. So when their first child, Winston, arrived within months of her joining this new caste, she readily adopted its habit of employing a nanny, "Mrs." Everest,  to look after the child.
Jennie and Everest
We know little about how Jennie and Everest combined their care of Winston but surviving evidence suggests that mother and nanny may have formed a rare partnership. Everest stayed with the Churchill family for seventeen years, longer than normal for  nannies. A surviving diary entry by Jennie (written in 1882 when Winston was seven) records her reading to him and giving him lessons, unusual for a Victorian mother.5
Nonetheless, Jennie acquiesced later that year to the British custom of sending her son to boarding school as soon as he was eight years old. It is in the decade that follows, while Winston attended three boarding schools, that Jennie is most vulnerable to the often-made charge of neglecting her son.  She wrote regularly, but seldom visited him at the schools despite his entreaties to do so. The demands of her husband's political career can only explain the first five years, because Lord Randolph suddenly resigned from the cabinet at the close of 1886 and never regained ministerial office. Thereafter his health declined rapidly.
Watershed
As Winston entered his teenage years, Lord Randolph became a shadow of his former self, often absent on long trips abroad, just when his son needed a strong father figure.  Jennie was caught between the two and found Winston difficult to manage on her own. She left much of the task to his school and his nanny, while she carved out her own distinctive social life. There was no shortage of male suitors willing to fill the gap left in Jennie's life by Lord Randolph's long absences. Faced with a choice between escorting Winston to the dentist to have a tooth extracted, or a day at the races with a party of friends, Jennie usually chose the latter.
A sea-change in the relationship between mother and son came when Lord Randolph's illness entered its final stage in 1894. By now the nineteen-year-old Winston studied in Sandhurst at the Royal Military College for young army officers. Jennie had taken Lord Randolph away on a long trip around the world to spare their sons from witnessing the final stages of his illness. After an absence of three months, she started writing to her nineteen-year-old son in a new vein of intimacy: "Mind you keep straight in every way. I count on you. Bless you darling I can't tell you how miserable I am often—so far away from you."
Winston persuaded the family doctor to tell him more about his father's condition and learned that it was terminal. He wrote to Jennie, unusually solicitous of her feelings. "Darling Mummy I do hope that…the fatigues of travelling as well as the anxiety you must feel about Papa—are not telling on you. I can't tell you how I long to see you again."6
Single Parent
When Lord Randolph died three months later, the new closeness between mother and son entrenched itself. It could not have done so unless Jennie had laid strong foundations of maternal love before Winston's school years. The relationship between mother and son was at its closest during the five years between 1895-1900. It is best seen through the weekly letters they exchanged while Winston served with his cavalry regiment in India.
Jennie proved better at keeping Winston's letters than he was at holding on to hers. But sufficient survive to show how she coached him and opened important doors for him in his military, literary and political careers, while all the time instilling a strong sense of belief in his ability and destiny. "All my political ambitions shall be centred on you," she promised after Lord Randolph's death. She was as good as her word.7
Sometimes her advice could be abrupt. "I must confess I am quite disheartened about you," she wrote early in 1897. "You seem to have no real purpose in life & won't realise at the age of 22 that for a man life means work, & hard work if you mean to succeed."8  Her tone had softened by the end of the year, after Winston had shown his mettle when he joined the fighting on India's north-west frontier: "You have done more than well my darling boy & I am always proud of you. Forgive a piece of advice—which may not be needed—but be modest.… One must be tempted to talk of oneself in such a case—but resist. Let them drag things out."9
Literary Ally
It was Jennie who arranged with the owner of the Daily Telegraph for Winston to write despatches about the fighting for the newspaper. She also found a literary agent to sell Winston's first book about the campaign to a publisher. It was she again who acted as the publicist for The Story of the Malakand Field Force with her many friends in the press, politics and armed forces when the book was published early in 1898.
It was Jennie who lobbied the prime minister, Lord Salisbury, and the Army commander-in-chief, Sir Herbert Kitchener, for Winston's transfer from India to the Egyptian army in Sudan.  She also arranged for his first political meetings in Bradford and London on his spells home on leave from India.
Many of Winston's letters from India contain long lists of instructions to his mother. Others sadly acknowledge that she didn't write him regularly. "When the mail comes in with no letter from you," he wrote, "I get in such a state of despondency & anger that I am not approachable by anyone and fly to my inkpot to let off steam."10
Mother and Mentor
The relationship between mother and son changed in 1900 when she finally caved in to repeated marriage proposals from George Cornwallis-West, a young army officer who was barely older than Winston.  "I understand you as no other woman will," she had written to Winston, with some justification, while agonising over whether to take the step.11
At twenty-five, Winston left the army and achieved a new status of his own as a Member of Parliament. Preparing to take his seat for the first time in February 1901, he sent his mother a cheque for £300 and a note that was almost valedictory in tone: "I could never have earned it if you had not transmitted to me the wit and energy which are necessary."12
Continued Advice
Winston still asked his mother to help in practical matters. She helped to furnish his rooms and find a secretary. She helped him to campaign at elections while he remained unmarried. But he saw less of her, and no longer sought her approval for the bigger decisions (such as switching from the Tories to the Liberal Party or marrying). "No my dear, I do not forget you," he reassured Jennie at the end of 1901. "But we are both busy people, absorbed in our own affairs, and at present independent. Naturally we see little of each other. Naturally that makes no difference to our feelings."13
Jennie's second marriage did not last. Within a few years, both her sons had to help her deal with its slow, humiliating breakdown. She emerged with a divorce in 1914, a still proud but diminished figure. "You lead busy lives & have yr own families to be absorbed in," she wrote sadly to Winston and Jack. "What am I? Only an old 5th wheel—I am not complaining, only stating facts."14
"A Great Believer in Your Star"
The outbreak of war across Europe provoked a final flurry of intimacy between Jennie and Winston. When the failure of the Dardanelles campaign led to his dismissal from the Admiralty in 1915, Winston left to fight in the trenches of the Western Front. Jennie's maternal instincts reawakened. Again she wrote regularly to her son in Flanders, her letters full of political gossip garnered in her attempts to redeem his political reputation among her ageing contacts, or enclosing special socks to keep his feet dry in the mud. Over and over again she repeated her faith in his destiny: "I am a great believer in your star," she told him in November 1915.15 "Dear boy I am sure that the bon Dieu has great use for you in the future," she wrote again in February 1916.16
Finis
Jennie married again in 1918, to Montagu Porch, three years younger than Winston. He was devoted but distant, often away on business in Africa. Jennie died on 29 June 1921, when a domestic accident required one of her lower legs to be amputated; ten days later a sudden haemorrhage led to a fatal loss of blood. As in the best of tragic operas, her son arrived at her bedside just too late to say goodbye to the woman he knew had done more than any other to shape his early life. He wrote a friend:
I wish you could have seen her as she lay at rest—after all the sunshine and storm of life was over. Very beautiful and splendid she looked. Since the morning with its pangs, thirty years had fallen from her brow. She recalled to me the countenance I had admired as a child when she was in her heyday and the old brilliant world of the eighties and nineties seemed to come back.17
The Author
Mr. Lough is editor of My Darling Winston: The Letters of Winston Churchill and His Mother (2018) and author of No More Champagne: Churchill and His Money (2015).
Endnotes
1 Born Jennie Jerome in Brooklyn,  9 January 1854, she became known as Lady Randolph Churchill on marriage in 1874; then as Mrs. George Cornwallis-West on remarriage in 1900; and finally once again as Lady Randolph Churchill on the dissolution of her second marriage in 1914.
2 The book's author was later revealed to have been a man, Laurence Housman, rather than a woman.
3 Winston Churchill My Early Life  (London: Thornton Butterworth, 1930), 5.
4 Idem., 76.
5 Peregrine Churchill and Julian Mitchell, Jennie, Lady Randolph Churchill (London: Collins, 1974), 108-09.
6 WSC to Jennie (JSC), 2 November 1894, Churchill Archives Centre (CAC), CHAR 28/20/45-46.
7 JSC to WSC, 24 December, CAC, CHAR 1/8/81–82.
8 JSC to WSC, 26 February 1897, CAC, CHAR 1/8/91–93.
9 JSC to WSC,  4 November 1897, CAC, CHAR 1/8/115–16.
10 WSC to JSC, 16 May 1898, CAC, CHAR 28/25/6–8.
11 JSC letter to WSC, 26 May 1900, Henry Winston ("Peregrine") Churchill Papers, 1/6
12 WSC to JSC,  14 February 1901, CAC, CHAR 28/26/94.
13 WSC letter to JSC, 13 December 1901, CAC, CHAR 28/26/103.
14 JSC to Jack Churchill, March 1914, cited in John and Celia Lee, Winston & Jack (self-published, 2007), 245.
15 JSC to WSC, 27 November 1915, CAC, CHAR 28/120/1-2.
16 JSC to WSC, 3 February 1916, CAC, WCHL 14/1/28-30.
17 WSC to Lady Islington, 1 July 1921, The Churchill Documents, Vol. 10, 1532.
Churchill Project Articles
Stay In Touch With Us
Subscribe now and receive weekly newsletters with educational materials, new courses, interesting posts, popular books, and much more!