Articles

"There was Once a Man": A Visit to Chartwell, 1955
Chartwell, Monday, 11 July 1955: the Oxford historian A.L. Rowse arrived in Kent to talk history with Sir Winston Churchill. In this memoir written years later, Rowse describes the experience with feeling and insight, giving us a unique insider view of Chartwell, its master and his personal reflections, ten years after the end of the greatest war in history.
 Rowse's account is worth reading for his unique situation: a professional historian, he was visiting a declared amateur. But the amateur had written Marlborough—a biography the scholar Leo Strauss called "the greatest historical work written in our century, an inexhaustible mine of political wisdom and understanding." And yet Churchill treated Rowse with all the deference of a pupil toward his teacher.
 Here is a vivid portrait of Winston Churchill, not without pathos and sadness, for even now he was beginning to reflect that he had "achieved a great deal, only to achieve nothing in the end": a thought however inconceivable in his case, but worth pondering by us all. – Richard M. Langworth
---
It was quite the most wonderful day I have spent in my life, alone with Churchill at his beloved country home in Kent.
I had missed my opportunity of a weekend in his company at All Souls College in the dreadful Thirties. I was away, but I heard about his inveighing against Prime Minister Stanley Baldwin, still the leading figure in government, as just a "corpse." (Baldwin's excuse later to a friend at All Souls was, "I was holding down a job of which I was physically incapable.")
What a transformation in those twenty years! Britain had fought the last great  war in her history, had gone out as a great power in the most heroic five years in her long record—and Churchill, disconsidered in the appalling Thirties, had emerged as the hero of the conflict, at eighty the most famous man in the world.
I was in the midst of writing my family-history of the Churchills, and needed his help for the second volume, The Later Churchills, particularly to get me into the Blenheim archives. If it had not been for Sir Winston I do not suppose I should have penetrated, and my second volume could hardly have been written.
However, he wanted to see the typescript of The Early Churchills, and to me was generosity itself—over both my book, and his own History of the English-Speaking Peoples, in which he wanted me to vet the Tudor period.
So he arranged for me to spend a whole day with him in fine style, sending his large car flying his pennon as Lord Warden of the Cinque Ports to pick me up in London. I had only the night before at Oxford finished writing The Early Churchills, just before midnight.
Next morning, with half an hour in hand, I spent it at Lancaster House appropriately looking at the portraits of Marlborough's daughters there, including Henrietta, second duke in her own right, who married a Godolphin—if her son had had children the dukedom would have come down through the Godolphins, instead of the Spencers.
I was surprised by the beauty of Chartwell—I should have realized that Sir Winston was essentially an artist, one side of him. He had improved the lovely valley with a lake and pool in the hollow, there was a sickle-shaped wood on the opposite side, the house well added on to the terraces looking away to a distant view of the South Downs. "The way the planes came," he said, as we looked down together later.
For me the day was filled to the brim with memories, of history and the historic experiences we had been through not so long before, himself a living monument to them. It was all very poignant; fortunately I wrote down every thing he said to me. Looking back over it, I rather think he meant me to, himself so historically minded.
One thing impressed itself on me at once: he was not a bit like the ordinary politician, cagey and reserved, who won't tell you a thing. Sir Winston, I reflected, was by training a soldier, by nature a writer and artist; that sums him up: he was not a good party politician.
The house was busy. In the sense of upstairs and downstairs, clearing out and charging about rooms, a pretty young secretary came in and out, along with a lady housekeeper quite besotted on Lady Churchill's Siamese, "Gabriel." There was an ex-guardsman of a butler, a Scot of ferocious aspect and whisky complexion; a private detective with fine eyes that took in everything. There was a regular hum of activity: evidently there was a dynamo at work somewhere.
I looked around the library, always a fair indication of the man. Above the chimney-piece was the Frank Salisbury portrait of the wartime Prime Minister, in the famous zip-suit of RAF grey. On the opposite wall hung the original plan of Port Arromanches, D-Day +109, with all the ships, quays and tracks marked.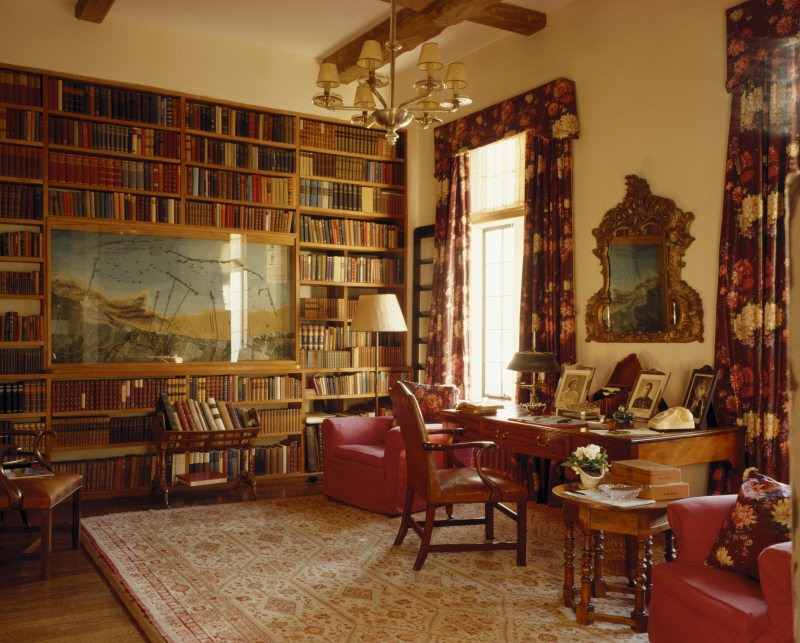 On the table, a recent biography of Anthony Eden was uppermost. Other books revealed the man: history, biography, political memoirs; complete sets of English classics, Scott, Macaulay, Dr. Johnson. There were eight or ten volumes of Marlborough's manuscript correspondence, no doubt from Blenheim; in one corner was the original correspondence of Lord Randolph Churchill, from which Sir Winston wrote his father's biography.
I remember that in the Kaiser's study in the Schloss in Berlin I had noticed the copy of that book which Churchill had presented to the Allerhochste after the German military manoeuvres in 1909. (The Kaiser's library, too, offered a portrait of the man: half-German, half-English; half-political biography and memoirs, half-Lutheran theology, with Bishop Boyd-Carpenter on Prayer in evidence—a friend of the family.)
Before lunch I was bidden up to the great man's bedroom: there was the so familiar baby-face, the strange rolled-up eyes of a cloudy blue (he turned after his grandfather, the Victorian Seventh Duke), spectacles on snub nose, a large cigar rolling in his mouth. He was going through the long galley-proofs of his History of the English-Speaking Peoples spread before him on a tray-desk right across the bed.
He welcomed me with old-fashioned Victorian courtesy, bade me sit down, and we at once embarked on history, paying me the compliment of taking me for the professional, himself the amateur. I returned his shot by describing his Marlborough as an historical masterpiece along with the professional's—A.C. Wood's The Age of Queen Anne.
He said he now had some time, and was re-reading the history. He had written it before World War II, but was not satisfied with it. There were people, however, who would read it on account of "my notoriety." He paused. Evidently something was expected, so I came up with a mot in his own style: "Just as in the emotion of love there is an element of violation, so in great fame there is an element of merit."
He smiled—evidently we understood each other. I knew that he didn't like making new acquaintances and that something special was required. After that, we got on like a house on fire. Shortly I was sent off with his chapters on Henry VII and Henry VIII to read in proof, while he got up and dressed.
On the way down I noticed the passages and staircases filled with his paintings, and was struck by the quite different side to his personality they reveal. Of course his public personality was aggressively masculine; here was a softer, more feminine side—such as Lord Birkenhead specifically described in his defense of his friend at the nadir of Churchill's fortunes and popularity.
The best-known figure in the world now entered: stripey blue zip-suit, blue velvet slippers with "WSC" worked in gold outwards—in case anyone didn't recognize who it was. At lunch he talked politics, politicians, the war. Several things I had never heard of: for one, if the Germans had invaded the country and the government had had to scatter, he had it in mind to form a triumvirate with Beaverbrook and Ernest Bevin. For another: he had thought of a slogan to broadcast in case of invasion—"You can always take one with you."
But "there was no danger in 1940. The Germans hadn't thought of ways and means of crossing the water, had nothing prepared. If they attempted it, we should have put everything into it—the whole of the Navy and Air Force. It would have been fearful…" and he made the gesture of swimming in the Channel, with which the defeated peoples in Europe used to taunt the herrenvolk in 1940.
I registered at that point that his had been a reasoned confidence in 1940, not a mere gamble; and that, on that basis, he could assure Roosevelt that he was not backing a lost cause. I asked if he thought that Hitler's idea was that we would surrender; he said that it was in Hitler's mind. I then dared to put the question: what did he think Hitler thought of him?
He replied that Hitler considered him representative of only a small minority in the country, that Britain was anti-communist and should therefore march with him; and that if he pushed hard enough "he could knock me over." I said it was fortunate that Hitler had little understanding of England—he had a profound understanding of the forces of evil, none of the forces of good.
Churchill was evidently keen to tell me about his own contribution to the technique of war in the field of combined operations. He talked to me at length about the plan he had worked out during the first German war—while Lloyd George was working to reduce Tory prejudice against him, before his return to office. It was to seize the island of Borkum, as a base to bring the blockade nearer to Germany and lessen the strain of maintaining it hundreds of miles out at sea.
He went into all this in detail in a private paper which, "by the mercy of Providence," he hadn't published in The World Crisis. For the German General Staff scrutinized everything he wrote; when the Second World War came, they had nothing of the sort: they hadn't thought of it. He had put forward in embryo form the idea of landing tanks, the later methods of landing craft. He himself gave orders for building landing craft immediately after Dunkirk—yet it was three years before we had enough to invade.
We talked of the sinking of the Bismarck. He spoke affectingly of how bad it was to wake up in the morning and hear the news of the sinking of a great British ship. "What was the name of that ship?"—I said "You mean the Hood: she was manned from Devonport." "Yes, the Hood," he said, tears in his eyes.
Then: "We had to get the Bismarck: the nation expected it. One admiral said his ship hadn't enough oil to get to the spot and back again. I sent the telegram, "You get there and we'll tow you back." This reminded me of Hawke's reply to the pilot warning him of the rocks and reefs of Quiberon Bay: "Master pilot, you have done your duty—now lay me alongside of the enemy."
Churchill turned to the end of the war, and said with great feeling he wished he could have had more time, a couple more years. He evidently thought he could have settled things better—just as he held on to his second premiership (1951-55), hoping against hope that he could end the Cold War with Russia and make peace in the world, close his career as the man who made peace. With Stalin there never was any such hope.
On the subject of Prime Minister Neville Chamberlain, he wouldn't say anything unkind, but didn't approve. It wasn't straight, that interview with his own Foreign Secretary [Eden] in the presence of Grandi [Mussolini's ambassador], and saying one thing to one and another to another. And he knew another thing.
At the end of Mr. Baldwin's premiership, when he wanted to go and various people said he couldn't, there was a by-election in a safe Tory seat—couldn't remember the name—near Westminster, completely Blue. The Conservative Member of Parliament Sir Alfred Duff Cooper "was prepared to fight it, and went to Chamberlain, who was head of the Party Office." But Duff Cooper was anti-appeasement. Chamberlain "told Duff that there would be no funds for him to fight the seat," commented Churchill. "Not straight—Take your chance."
He offset this with a gallant tribute to Mrs. Chamberlain: "wonderful woman—twenty years, and she's quite unchanged."
It was revealing to an historian how he spoke of party politics—he didn't speak as a party-man at all: above all that. He spoke of the Conservative Party as "they"; it brought home how many years he had been a Liberal, and how loosely he sat to mere party, really a man of the centre, in many ways, who never saw things through party blinkers. Chamberlain was the good party-man.
Churchill spoke with no feeling whatever against the Labour Party; all that had drossed away. He wondered what would happen to them now they were finding out that nationalisation wasn't a solution. "You don't create wealth by just taking it away from other people. There should be minimum standards for people, and beyond that—free run."
Lunch proceeded, rather burdensome for a teetotaller—I didn't dare to be one, alone with Churchill. There had been Bristol Cream before lunch, a very good hock [German white wine] during lunch. When it came to cheese, I drew the line at port—port, at lunch! "What? No port? Then you must have some brandy." (I can't bear brandy.) "What? No brandy? Then you must have some liqueur with your coffee. Have some Cointreau: it's very soothing." I had some Cointreau: it was very soothing.
Slightly sozzled, I tottered upstairs after him to the big study next to his bedroom—over the fireplace a large landscape of Blenheim—and we devoted ourselves to history. Luckily I had brought the typescript of the first half of my book, which he wanted to see. He went through it, making after-lunch noises—I thought he was going to fall asleep. Not a bit of it: attentively he pounced on points of detail, and then made an unexpected historical observation.
This was about King Charles I, on whom I had been rather hard. More generous, Churchill said, "We don't consider how much more difficult things were for them in the past—so much easier for us. We have all the ground prepared for us, civil servants to hand up the materials for us to make the decisions. Earlier, people had to cope with everything themselves, where we have specialists, a machine upon which things move for us." It was salutary to have this original comment from a great man of action, who knew well from experience the difficulties of getting things done; I registered it—and reserved my own opinion of Charles I.
He was particularly attentive to words. He didn't like my describing the days of the Restoration as "snobbish"; so, in deference to him, I altered it in the book to "in the grand days of the Restoration"—with a shade of irony, for of course they were snobbish. He didn't see the point of my describing the English Civil War as "degenerating" towards the end. I tried to describe what I had in mind by the phrase; it was brushed aside. "Why don't you say 'became spiteful'? I like the word 'spiteful.'" (I don't like the word "spiteful," so I didn't alter it.) When I said that someone "pooh-poohed" something, he said archly, "I hope you don't say that." He was amused: it was like taking one's essay up to the headmaster.
He sat in an armchair, authoritatively, back to his bedroom; a chair placed for the pupil in front of him. A photograph of President Roosevelt faced me and, high up on the wall behind, the black-and-white caricature of the bulldog Winston. I noticed the gift for intense concentration: while he worked away, everything else ceased to exist for him. "I like working," he said with satisfaction.
The session ended, he showed me all round with old-fashioned courtesy: the fine George I card-table some section of Conservatives had given him, a curious upright desk given him by his children to work at. (Disraeli always worked at an upright desk—was that the model?) There all the proofs of his history were laid out—of which later I was to vet the second volume.
I tried to take my leave. No notice was taken. There was to be a further session on my book: he was clearly interested in my history of his family. Gingerly we descended the stairs into the broiling rose-garden, settling on a deep seat together.
He settled down to read my chapter on his ancestor, the original Sir Winston, the Cavalier Colonel. "So they called him the Colonel, did they? I never knew that." When we came to his namesake's history (Divi Britannici) he was much taken with the phrase about the bounds of Britain "extending to those far distant regions—now become a part of us and growing apace to be the bigger part—in the sunburnt America."
"Would you mind if I quoted that—your copyright?" he inquired. "But of course," I laughed, "it's your ancestor's." I do not know, however, whether he remembered to use it in his History of the English-Speaking Peoples. [N.B.: He did, in vol. II, 381, Dodd Mead edition.]
I could not believe that he would be so interested, and once I chipped in with an explanatory comment, but was at once firmly ticked off—"I can't read," he said. After that, I kept quiet while he commented: "Very good," he chirped. Or, "Quite right….Quite right about James I's execution of Raleigh: I have always thought that one of the worst blots against that—extravagant—sodomite" (this with relish at getting out the phrase).
But there was a better one shortly about handsome John Churchill's affair with Lady Castlemaine: "To have been seduced at sixteen by the King's mistress must have been an interesting and—[reflectively] valuable experience."
Reading my typescript reawakened his interest in his own Marlborough. He read a passage or two with feeling and approach. There was a certain poignancy in it—a little of the aging Swift, "What a genius had I then"; or Marlborough himself, when old, catching sight of his portrait by Kneller: "There was once a man."
Winston told me he had been to see all Marlborough's battlefields—Blenheim, Ramillies, Oudenarde, Malplaquet. It was Lord Rosebery, his friend and onetime prime minister, who suggested that he should write the life of the great soldier. He himself had never liked the Camaret Bay affair (Marlborough was accused of giving information to the enemy). Rosebery said, "But you have never read Paget's New Examen." Indeed, Churchill had never heard of Paget. Rosebery lent him the book, and that settled him. Paget had, in fact, effectively answered Macaulay, whom Churchill dismissed roundly as "a liar." [Churchill wrote a new foreword when The New Examen was republished in 1934.]
The afternoon wore on, and at last the old gentleman broke off to feed the goldfish. I have never seen such fat, spoiled fishes: they were addressed as "darlings"—as Rufus the poodle had been—and came to the rattle of his cane. He showed me all round his creation, the little ponds, the stream with the cascade, looking down upon the swimming pool, inviting in the heat. The hay was all cut, lying in bundles pretty thick in the upper half of the valley. The Cinque Ports flag flew from the masthead over all.
Turning round, I was taken by a fine combination of colour, a crescent of white foxgloves against a background of blue anchusa. "Yes—that's Clemmie—now with regard to the Battle of Blenheim …" I had a glimpse of what Clemmie had had to put up with, and was led away to the Marlborough Pavilion, decorated for him by a nephew with a frieze in relief of Blenheim, with roundels of Queen Anne, John Churchill and Sarah.
We went in. In my last moments he took me into yet another study, plainer and simpler, dominated by the oval portrait of Leonard Jerome of New York, whose eldest grandson Winston Churchill was. This room was given up to mementoes of his career, signed photographs of leaders in the First War—Foch, Petain, President Wilson and Company. I could not but reflect that, already a world-name in the age of President Wilson, the Kaiser, Lloyd George, here he was, having outlived them all.
Above them were his colleagues in the Second War—Eisenhower, Montgomery, Tedder and the rest. He drew my attention to the Boer poster during the South African war advertising a £25 reward for the escaped prisoner, Churchill, dead or alive. [N.B. Since proven a fake.] "Twenty-five pounds: that is all I am worth," he said, seating himself like a weary Titan at the desk for me to observe—a charming histrionic turn.
In the entrance hall he took off his shoes, and had some difficulty in putting on slippers. I ventured to help, but my gesture was rejected. He would not be  helped, the same self-willed, self-sufficient spirit he had always had from childhood, still recognizable. Beaverbrook was coming down to dine and spend the evening, till then he was going off to bed. Evening sun poured from the west into the front door, upon the flowers, the head of Roosevelt sculpted in wood, the aged bulky figure waving goodbye.
I sank back exhausted in the lordly car, thrilled by it all, a last glimpse of the flag over Chartwell—and went back to Oxford to write it all down. It is only today, very many years after, that it occurs to me that he thought I would, and meant me to.
A.L. Rowse, fellow of All Souls College, Oxford, wrote the family histories The Early Churchills (1956) and The Later Churchills (1958).
---
Further reading
 Stefan Buczacki, Churchill and Chartwell: The Untold Story of Churchill's Houses and Gardens (2007), http://amzn.to/1SEk3kI
A.L. Rowse, The Early Churchills and The Later Churchills (1956 and 1958).
Churchill Project Articles
Stay In Touch With Us
Subscribe now and receive weekly newsletters with educational materials, new courses, interesting posts, popular books, and much more!