Articles

Winston Churchill and Julius Caesar: Parallels and Inspirations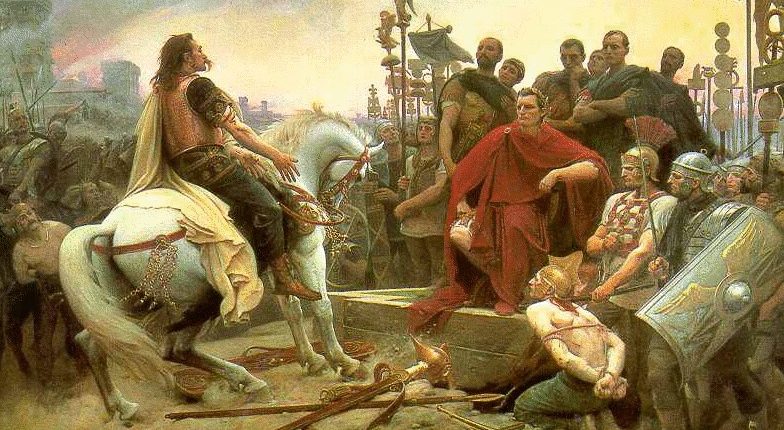 The Gallic chieftain Vercingetorix surrenders to Julius Caesar after the Battle of Alesia (52 BC): oil on canvas, by Lionel Royer (1852-1926). Painted in 1899 with certain historical discrepancies: Gauls with long hair and mustaches; one captive bears a neck torque, then reserved for gods and royals; a Percheron horse not known in Gaul is saddled and harnessed, but Gauls rode bareback; a rectangular instead of oval shield; and a burning castle. (Musée Crozatier du Puy-en-Velay, Wikimedia Commons)
---
The name of Julius Caesar is immortal in the memory of man. His name is both a byword for audacity and genius—and for political corruption and autocracy. Much of his fame traces to Shakespeare, whose play brilliantly walks the indistinct path of Caesar's ambiguous character and purposes. Winston Churchill stands among many who have recalled Caesar and the magic of his name. But Churchill is one of the few who have been compared to Caesar in a meaningful way.
Churchill's Julius Caesar
Young Winston translated Caesar's works in school.1 Given his schoolboy opinion of Latin, this probably imparted no enthusiasm. But Shakespeare fired his interest. In 1886, he wrote his mother: "…a certain Mr. Beaumont [gave] a lecture on Shakespeare's play of Julius Caesar. He was an old man, but read magnificently."2 During a 1900 lecture tour he wrote: "I am going to-night to see Julius Caesar which I have looked forward to for a very long time, never having seen it given on the stage."3 In 1933 he accepted an offer from The Strand Magazine to retell a Shakespeare play, choosing Julius Caesar because he knew it so well.4
Caesar quotes occasionally inspired Churchill's. "They came, they saw, they ran away," he wrote of Egyptian forces in Sudan.5 (Caesar proclaimed "Veni, Vidi, Vici" after his victory at Zela.) Describing a Gallipoli commander he wrote: "General Munro was an officer of swift decision. He came, he saw, he capitulated."6
Caesar also occasionally showed up in an offhand manner. Discussing housing needs in 1944, he referenced the Roman's description of Gaul: "The subject is divided, like ancient Gaul, into three parts…"7 But Churchill also delved deeper. The first chapter of his Birth of Britain relies heavily on Caesar's Conquest of Gaul. His literary agent Emery Reves was impressed: "Reading the description of events one would swear that you had been a war correspondent at the time of Julius Caesar."8
Earlier, Churchill had used Caesar's work to acclaim T.E. Lawrence's The Seven Pillars of Wisdom. Lawrence, he wrote, "was also the commander. Caesar's Commentaries deal with larger numbers, but in Lawrence's story nothing that has ever happened in the sphere of war and empire is lacking."9
* * * 
Churchill's thought about Caesar went beyond a good story or serviceable quotation. On a return to Harrow School he was asked who was the greatest man who ever lived. "Julius Caesar," he told the boys, "because he was the most magnanimous of all the conquerors."10 Churchill's doctor, recalls his 1955 musings about Napoleon: "He a very wonderful man. I put him after Julius Caesar. Yes, he is at the top. I suppose there might be half a dozen competitors, including Marlborough, for second place."11 Caesar and Napoleon were two biographies Churchill would have liked to write.12
Yet Churchill's view of Caesar was not naive. In a 1931 essay he admits being misled by political cartoons comparing Gladstone to the famous Roman. From this, Churchill understood Caesar as "a man of virtue, correctitude, and impeccability." Reading Edward Gibbon's Decline and Fall of the Roman Empire, he saw an alternate view. "It was quite a surprise to me in later years to learn that Julius Caesar was the caucus manager of a political party in Rome, that his private life was a scandal, printable only in a learned tongue; that he was a wicked adventurer; that he had absolutely nothing in him that any respectable Victorian could tolerate. This was a shock!"13
Churchill came to understand the darker side of Caesar's career. Writing of H.G. Wells's predictions of destructive air power, he noted that past ages also had their brutalities. Wells's vision, he wrote, would lead to "barbarities of which Marius and Julius Caesar would have been ashamed, and which even Genghis Khan would have thought unbecoming."14
Churchill on Caesar's generalship
Nonetheless, Churchill considered Caesar a great general. His 1938 reflection on wars of the future lamented the lack of original thinking of modern generals. Instead he looked to commanders of the past: "Hannibal, Caesar, Belisarius, Frederick, Marlborough, Napoleon," he wrote, "all these were adepts at stratagem and surprise.15 His account Caesar's invasion of Britain in The Birth of Britain underscores qualities Churchill admired in a commander. Undaunted by danger, adversity or setbacks, Caesar pursued his plans with confidence and tenacity. Churchill's account echoes the need for boldness, confidence, determination, perseverance, as well strategic and tactical flexibility. Those qualities lay behind Churchill's own uneasy relationships. Thus his pointed exchanges with field and naval commanders in the world wars, such as Wavell, Auchinleck, and de Robeck.
In war, Churchill always pushed forward, and constantly prodded his commanders to go on the offensive. His enthusiasm for attack in the Mediterranean is a prime example. Only a few days after the Allies landed on Sicily, Churchill was pushing his plan for an invasion of Italy proper. "Let the planners immediately prepare the best scheme possible for landing on the Italian coast with the objective the port of Naples and the march on to Rome," he wrote to the Chiefs of Staff on 13 July 1943. Churchill believed he saw an opening, a moment of opportunity that must be seized—and he chose lines from Shakespeare's Julius Caesar to express his vision:
There is a tide in the affairs of men
Which taken at the flood leads on to fortune;
Omitted, all the voyage of their life
Is bound in shallows and in miseries.
On such a full sea are we now afloat
And we must take the current when it serves
Or lose our ventures. 16
Churchill as Caesar?
More surprising than Churchill's mentions of Caesar are the number and nature of comparisons of Churchill to Caesar. Plutarch portrays Caesar as a master of the spoken word who inspired fierce loyalty in his troops. Churchill's oratory brought something of that ancient magic into the modern world. In his great speech of 13 May 1940, Churchill said he had nothing to offer but "blood, toil, tears, and sweat." In fact he offered much more: direction, purpose, hope, encouragement, and above all, unyielding determination. One who heard that speech said: "I understood then why the men of the Tenth Legion loved Caesar."17
Plutarch further states that "[Caesar] was so much master of the good-will and hearty service of his soldiers that those who in other expeditions were but ordinary men displayed a courage past defeating or withstanding when they went upon any danger where Caesar's glory was concerned."18 A modern echo of that was heard after Churchill's magnificent "fight on the beaches" speech of 4 June 1940. Said Lord Willis, a Home Guard commander: "I can tell you every man there rose in spirits. You could almost measure it. We would have gone down to the beach at the Germans and beat them with broom handles. Such was the magic effect of Churchill. It was thrilling. It was absolutely thrilling…the effect on morale was unbelievable"19
The biographer Lewis Broad pushed the Churchill-Caesar comparison very far indeed: "Even the burdens of a world war seemed not to exhaust Churchill's capacity for leadership. Imagination roving free, I see him as one of the antique Romans whose qualities he shared. In my mind's eye I invest him with the robes of Caesar."
"Churchillius"
Broad goes on to describe how his "Churchillius" would have conducted the Gallic Wars with "dash and spirit." He would also have piled the triumphs of the orator onto the honors of battle. But a difference emerges: "Thereafter, perhaps, history might have been improved upon….  Churchillius would have been magnanimous in his dictatorship, conducting affairs so far as was permitted him according to the best traditions of the House of Commons." Yet an Ides of March would claim Churchill too, Broad muses, alluding to his disastrous electoral defeat in 1945.
Broad ends this extraordinary accolade by sealing it for future generations. "Caesar and Churchill—the likeness in their qualities is no idle imagining. My fancy ends with the verdict of Plutarch: 'Each is in manner the flower and epitome of a great nation.' The lives of the great are an inspiration to their posterity…. Even as he lived, Winston Churchill took his place among the immortals of our history."20
Nor was such a tribute isolated. The philosopher Gilbert Murray applied Cicero's view: Compared to Julius Caesar, other statesmen were just ordinary human beings, "but this portent, this prodigy?" To Caesar Cicero attributed "unimaginable celerity, vigilance, and industry"—all characteristics at least equally applicable to Churchill.21
Clement Attlee, marking Churchill's eightieth birthday, could not forgo saying he came not to bury Caesar, but to praise him. He then added: "Caesar indeed—for you have not only carried on war but have written your own commentary."22 Attlee's statement reveals something interesting. The best comparisons of Churchill to Caesar primarily involve his role as an author, not a statesman or warrior.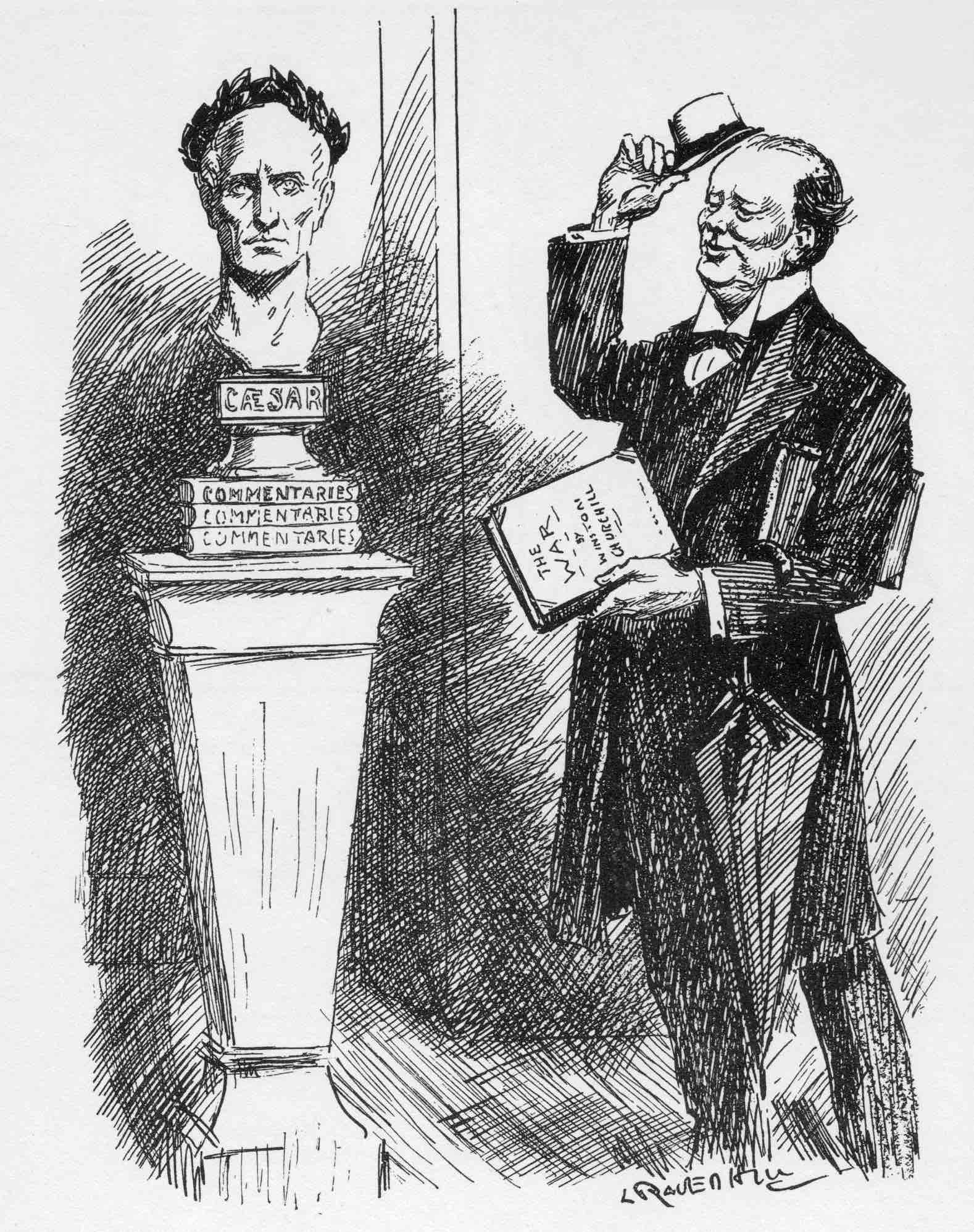 Writers and Makers of History
For one of Churchill's proficiency at both writing and making history, "one must go back to Julius Caesar."23 Robert Pilpel's judgment encapsulates the most recognized and enduring comparison between the two. It also frames a controversy that comparison engenders. Do the writing and making of history properly go together?
Many of Churchill's contemporaries saw the similarity. Like Caesar, Churchill "refused to choose between a life of action and being a man of letters."24 "Mr. Churchill and Friend," a 1923 cartoon in Punch, shows Churchill offering his hat for Caesar's laurel wreath. "We have both made history and we have both written it," says WSC. "Let us exchange headgear." It is an early expression of his view.25 The parallel would only grow as Churchill's life and historical contributions continued.
Yet the comparison does not necessarily imply approval. The combination of maker and writer of history involves complications. An author personally involved in events may be too personally invested to produce an unbiased, balanced account:
His exceptional endowment for the task he set himself in his two sets of war-histories involved, as in every record by an historian of work in which he had taken a great personal share (from Julius Caesar's De Bello Gallico to Lloyd George's War Memoirs), the disqualification of one who could not expect to be taken as unbiased. Reflection on the limits to all such authorship may fitly precede discussion of how far Sir Winston overcame them, and of the value of his history despite the handicap.26
"The account…which you alone can write"
Not everyone thought Churchill overcame the limits of such authorship. A reviewer of The World Crisis commented: "…an apologia may be first-class material for history but cannot be history itself."27 Similar views were expressed about The Second World War: "They are historic more than historical, glow with the making, rather than the writing, of history."28
On the other hand, some thought that Churchill had avoided the historiographical pitfalls, creating an unsurpassed war record. "Mr. Churchill has finished his task," wrote John Maynard Keynes—"by far and away the greatest contribution to the history of the war, the only one which combines the gifts of the historian and born writer with the profound experiences and direct knowledge of one of the prime movers of events."29
Not that he needed the encouragement, but Churchill had been urged to write this way about the war. It was only 1943 when his principal private secretary, Eric Seal, urged him to write and invoke Caesar:
I do trust…that you will have full vigour not only to finish off this war, but to write the account of it which you alone can write…. Caesar is so far the only great leader in war I can think of who possessed sufficient literary ability to produce a classic – and to be honest, I didn't find him as interesting as perhaps I should.30
"Churchill's Commentaries"
When it emerged (six volumes, 1948–54), Churchill's The Second World War was monumental. Like Caesar's Commentaries, it would come under its share of reproach from historians. But the deliverance of victory, and Churchill's role in securing it, would for some time soften such criticisms. In 1955, Stephen Graubard reminded his readers of the 1920s gibe "that Churchill had written his autobiography and called it The World Crisis."
But by 1948, Graubard added, "such witticism would have been meaningless and impossible. Churchill's position in the Second World war made his history and that of the nation indivisible The presentation of the one," he wrote, "was the representation of the other."31 An important shift in Churchill's reputation had occurred, John Ramsden notes, referring to the 1923 Punch cartoon. "Churchill's hat being offered in exchange for Caesar's laurel wreath was clearly not seen then as a fair exchange, but it would have been after 1945."32
Concluded in Part 2: "What Purpose History?" An Analysis of the Churchill-Caesar method. (forthcoming)
The author
Justin D. Lyons is Associate Professor of Political Science at Cedarville University in Ohio, and author of "Churchill on Statesmanship: Pope Innocent XI," "Churchill, Shakespeare, and Agincourt." In 2015 he published Alexander the Great and Hernán Cortés: Ambiguous Legacies of Leadership. His previous essay for the Churchill Project was "On War: Churchill, Thucydides and the Teachable Moment."
Endnotes
1 Martin Gilbert, Winston S. Churchill, vol. 1, Youth 1874–1900 (Hillsdale, Mich.: Hillsdale College Press, 2006), 108.
2 Gilbert, Youth, 60.
3 WSC to Lady Randolph Churchill, 8 September 1900, in Martin Gilbert, ed., The Churchill Documents, vol. 2, Young Statesman 1896–1901 (Hillsdale, Mich.: Hillsdale College Press, 2007), 1198.
4 David Lough, No More Champagne: Churchill and His Money (London: Picador, 2015), 200.
5 Winston S. Churchill, The River War, abridged edition (New York: Skyhorse Publishing, 2013), 16.
6 Winston S. Churchill, The World Crisis, 1911-1918. abridged and revised edition (New York: Free Press, 2005), 526.
7 "The Tasks which Lie Before Us," 29 November 1944, in Robert Rhodes James, ed., Winston Churchill: His Complete Speeches 1897-1963. 8 vols. (New York: Bowker, 1974), VII 7044.
8 Jonathan Rose, The Literary Churchill (New Haven: Yale University Press, 2014), 420.
9 Winston S. Churchill, Great Contemporaries (Wilmington, Del.: ISI Books, 2012,) 161-62.
10 Virginia Cowles, Winston Churchill: The Era and the Man (New York: Grosset & Dunlap, 1956), 8.
11 Lord Moran, Churchill: Taken from the Diaries of Lord Moran (Boston: Houghton Mifflin, 1966), 716.
12 Cowles, Winston Churchill, 4-5.
13 Winston S. Churchill, "Cartoons and Cartoonists," in Thoughts and Adventures (Wilmington, Del., ISI Books, 2009), 18.
14 Churchill, Great Contemporaries, 377.
15 Winston S. Churchill, "How Wars of the Future will be Waged" in Michael Wolff, ed. The Collected Essays of Sir Winston Churchill, vol. 1, Churchill at War (London: Library of Imperial History, 1976), 396.
* * *
16 William Shakespeare, Julius Cesar, Act IV, scene 3, quoted by WSC to General Sir Hastings Ismay, 13 July 1943 in Martin Gilbert & Larry P. Arnn, eds., The Churchill Documents, vol. 18, (Hillsdale, Mich., Hillsdale College Press, 2015), 1891-92.
17 Carlo D'Este, Warlord: A Life of Winston Churchill at War, 1874-1945 (New York: Harper, 2008), 398.
18 "Caesar" in in Plutarch's Lives, vol. 2, Dryden translation, edited and revised by Arthur Hugh Clough (New York: The Modern Library, 1992), 209.
19 D'Este, Warlord, 445-46.
20 Lewis Broad, Winston Churchill: The Years of Preparation (New York: Hawthorn, 1958), 35-36.
21 Gilbert Murray, "Prologue" in James Marchant, ed., Winston Spencer Churchill: Servant of Crown and Commonwealth (London: Cassell, 1954), 1-2.
22 Martin Gilbert, Winston S. Churchill, vol. 8, Never Despair, 1945-1965 (Hillsdale, Mich.: Hillsdale College Press, 2013), 1073.
23 Robert Pilpel, Churchill in America: 1895-1961 (New York: Harcourt Brace Jovanovich, 1976), 231.
24 John Ramsden, Man of the Century: Winston Churchill and His Legend Since 1945 (New York: Columbia University Press, 2002), 221.
25 Fred Urquhart, ed., W.S.C.: A Cartoon Biography (London: Cassell, 1955), 57.
26 Herbert Leslie Stewart, Sir Winston Churchill as Writer and Speaker (London: Sidgwick & Jackson, 1954), 101.
27 Professor Pollard, "Apologia for the Admiralty," review of The World Crisis vols. 1 and 2, in The Times, London, 10 April 1923, quoted in Cowles, Winston Churchill, 246.
28 Malcolm Muggeridge, "Churchill the Biographer and Historian" in Charles Eade, ed., Churchill by His Contemporaries (London: Reprint Society, 1953), 239.
29 John Maynard Keynes in Stewart, Churchill as Writer and Speaker, 153.
30 Eric Seal to WSC, 21 March 1943 in The Churchill Documents vol. 18, 737.
31 Ramsden, Man of the Century, 189.
31 Ibid., 151.
Churchill Project Articles
Stay In Touch With Us
Subscribe now and receive weekly newsletters with educational materials, new courses, interesting posts, popular books, and much more!