Articles

Churchill, Shakespeare, and Agincourt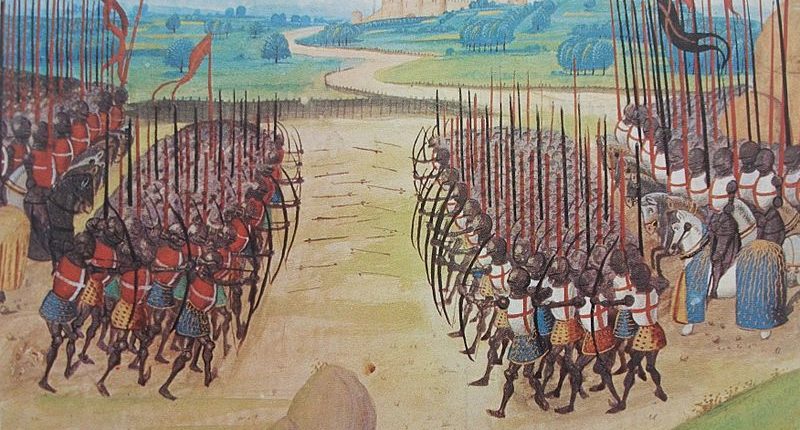 Reflections on the 600th Anniversary of the Battle of Agincourt
Along with numerous Churchill anniversaries—1915, 1940, 1945, 1965—2015 marks the 600th anniversary of King Henry V's remarkable victory at Agincourt (25 October 1415), which Winston Churchill described as "the most heroic of all the land battles England has ever fought."1
On VE-Day, 1945, in a speech to the people of London, Churchill proclaimed: "In all our long history we have never seen a greater day than this."2 There is more to this juxtaposition than a simple concurrence of anniversaries. The search for inspirational benchmarks was typical of Churchill; he was always seeking, in past and present events, sources of encouragement and spurs to continued effort and determination.
The Prime Minister was not the only one seeking encouragement in those stern days: The British Ministry of Information, asked to present "the national case to the public at home and abroad," was responsible for "the preparation and issue of national propaganda."3 A large part of that effort was carried out by the Ministry's Films Division, which, among other activities, produced films that, like the war itself, brought into focus the meaning of England and Englishness. Productions such as The Prime Minister (1941) and The Young Mr. Pitt (1942) provided histories of national heroes, celebrating political freedom and parliamentary government.4
One of the feature films made during the war with the Ministry's encouragement was Henry V (1944), starring and directed by Laurence Olivier. In his autobiography, Olivier describes being summoned to the Ministry and asked to undertake film projects "intended to enhance the British cause."5 One of these was Henry V, the popular propaganda potency of which he well understood: "Looking back," he said later, "I don't think we could have won the war without 'Once more unto the breach…' somewhere in our soldiers' hearts."6
The film was originally dedicated "To the Commandos and Airborne Troops of Great Britain, the spirit of whose ancestors it has been humbly attempted to recapture."7 Premiering in England shortly after the D-Day landings, the parallels were especially poignant. A great lover of cinema, Churchill himself was among the film's admirers—in part, as Max Hastings noted dryly, "because he was in no doubt about who was playing the king's part in England's comparable mid-twentieth-century-epic."8
Anyone familiar with Churchill's expansive personality and relentless drive to be at the center of the action will smile at the truth in Hastings' remark, but of course there was more to it than that. If Churchill had cast himself in the lead role in this new, unfolding drama, so had the British people—and so had the flow of events. Like Henry at Agincourt, Churchill had the task of inspiring his people on the threshold of battle, of holding them to the grim task despite fear and despite difficulty. History had cast him in the lead role, and he possessed the talent and vitality to fill it.
Churchill's appreciation of Henry V was, of course, that as a connoisseur and wellspring of immortal words, he knew them when he heard them. The Prime Minister had a lifelong admiration for Shakespeare. As a schoolboy, he narrowly missed a prize at Harrow for reciting a thousand of the Bard's lines.9 His mastery of the plays would only improve with age. Richard Burton related an experience playing Hamlet with Churchill in the audience. Hearing a rumble from the first row, he realized "it was Churchill speaking the lines with me, and I could not shake him off. I tried going fast; I tried going slow; we did cuts. Every time there was a cut, an explosion occurred. He knew the play absolutely backward; he knows perhaps a dozen Shakespeare plays intimately."10
Churchill invoked Shakespeare in speech and writing. Darrell Holley, in Churchill's Literary Allusions, notes that there "is no English author whom Churchill alludes to as often as to William Shakespeare. Both by formal quotations, some quite lengthy, and by well-known phrases almost hidden in his text, Churchill makes allusion to many of Shakespeare's plays."11
Of all the plays, the historical context, martial spirit, and inspirational rhetoric of Henry V most closely parallel the circumstances of the Second World War. In Churchill's wartime speeches one most often finds, not direct quotation, but resonances of the mood and vigor—full, rich, and vibrant—that kindled fire in British hearts. The line, "Once more unto the breach," that Olivier had recognized as so necessary, was amply supplied by Churchill's heroic language and majestic cadences—which have more than once been called Shakespearean.
In the play, King Henry claims that the memory of British deeds at Agincourt will never fade:
This day is called the feast of Crispian:
He that outlives this day, and comes safe home,
Will stand a tip-toe when the day is named,
And rouse him at the name of Crispian.
He that shall live this day, and see old age,
Will yearly on the vigil feast his neighbours,
And say "To-morrow is Saint Crispian:"
Then will he strip his sleeve and show his scars.
And say "These wounds I had on Crispin's day."
Old men forget: yet all shall be forgot,
But he'll remember with advantages
What feats he did that day: then shall our names.
Familiar in his mouth as household words
Harry the king, Bedford and Exeter,
Warwick and Talbot, Salisbury and Gloucester,
Be in their flowing cups freshly remember'd.
This story shall the good man teach his son;
And Crispin Crispian shall ne'er go by,
From this day to the ending of the world,
But we in it shall be remember'd;
We few, we happy few, we band of brothers;
For he to-day that sheds his blood with me
Shall be my brother; be he ne'er so vile,
This day shall gentle his condition:
And gentlemen in England now a-bed
Shall think themselves accursed they were not here,
And hold their manhoods cheap whiles any speaks
That fought with us upon Saint Crispin's day. (4.3. 40-67)
Immortal words like these are a necessary element of effective rhetoric in times of trial. People who are asked to stand when they might run, fight when they might bargain, die when they might live need assurance that the sacrifices of individuals, or at least the cause for which they strove, will never be forgotten.
Although Churchill's understanding of the fragility of human endeavor did not allow for a promise of undying remembrance, one of his most famous speeches suggests that human action could be recorded, if not in immortal, then at least in lasting memory: "Let us therefore brace ourselves to our duties and so bear ourselves that, if the British Empire and its Commonwealth last for a thousand years, men will still say, 'This was their finest hour.'"12
Among the most famous lines in Henry V is surely "We few, we happy few, we band of brothers." There is an echo of this in Churchill's tribute to the pilots waging aerial combat in the Battle of Britain: "Never in the field of human conflict was so much owed by so many to so few."13 But there is more here than the recurrence of a word. In both cases, what first singles out a minority for exclusive honor in fact bestows honor more widely. The St. Crispin's Day Speech is prompted when Westmorland wishes for more troops. Henry's response is built around honor:
If we are mark'd to die, we are enow
To do our country loss; and if to live,
The fewer men, the greater share of honour. (4.3.20-22)
But who are these few? Historically, the nature of warfare was already changing by the time of Agincourt: away from the preeminence of a noble and narrow military caste toward a much broader participation. This movement is noted in Churchill's own historical treatment of the period and reflected in the play itself, which gives significant time to commoners.14 At Harfleur, King Henry speaks both to the "noble English" and to the "good yeomen," bidding them to be worthy of their breeding. He has few enough of the former at his command, and he demonstrates his awareness of the great importance of the latter before Agincourt:
For he today that sheds his blood with me
Shall be my brother; be he ne'er so vile
This day shall gentle his condition. (4.3.61-63)
In short, Henry realizes he is leading, though in microcosm, a whole nation. Though they be few, they represent a people, and must prove the valor of their homeland.
By Churchill's time, these emerging trends were forcefully present. "This is no war of chieftains or of princes, of dynasties or national ambition; it is a war of peoples and of causes," he said shortly after the commencement of the Battle of Britain.15 In the very speech most remembered for his praise of "The Few," he reminds that the "whole of the warring nations are engaged, not only soldiers, but the entire population, men, women, and children. The fronts are everywhere."16 Indeed, apart from its most famous passage, that speech is about the dangers and hopes shared by all Britons.
This is a consistent feature of Churchill's rhetoric. He always strove to shine the light of heroism, not on himself alone but upon all his countrymen: "This is a struggle for life, a struggle in which every man and woman, old and young, can play a hero's part. The chance of glory and honour comes now here, now there, to each and every one. However hard the task may be I know you will all be ready for that high moment. God bless you all."17 Everyone played their part, and earned their place in the memory of mankind.
Like Shakespeare's Henry, Churchill never hid the unpleasant truth that few must stand against many. But he was able to give voice to their own indomitable spirits, convince them that victories are not determined by counting spears, and clothe them in heroic mantles:
"And now it has come to us to stand alone in the breach, and face the worst that the tyrant's might and enmity can do….be the ordeal sharp or long, or both, we shall seek no terms, we shall tolerate no parley; we may show mercy—we shall ask for none."18
---
1 Winston S. Churchill, A History of the English-Speaking Peoples. 4 vols. (New York: Dodd, Mead & Company, 1956), I 404.
2 "This is Your Victory" 8 May 1945, in Robert Rhodes James, ed. Winston Churchill: His Complete Speeches 1897-1963. 8 vols. (New York: Bowker, 1974) VII 7154.
3 Quoted in Anthony Aldgate and Jeffrey Richards, Britain Can Take It: British Cinema in the Second World War (London: Tauris, 2007), 4.
4 Ibid., 141.
5 Laurence Olivier, Confessions of an Actor: An Autobiography (New York: Simon and Schuster, 1982), 123.
6 Quoted in Kevin Ewert, Henry V: A Guide to the Text and its Theatrical Life (London: Palgrave Macmillan, 2006), 118.
7 Ibid., 117.
8 Max Hastings, Winston's War: Churchill 1940-1945 (New York: Knopf, 2010), 403.
9 Martin Gilbert, Churchill: A Life (New York: Holt, 1991), 21.
10 Kay Halle, Irrepressible Churchill (Cleveland: World, 1966), 96.
11 Darrell Holley, Churchill's Literary Allusions (London: McFarland, 1987), 74.
12 "Their Finest Hour," 18 June 1940, in Complete Speeches, VI 6238.
13 "The Few," 20 August 1940 in Complete Speeches, VI 6266.
14 Churchill, English-Speaking Peoples, I 332-333.
15 "The War of the Unknown Warriors," 14 July 1940, in Complete Speeches, VI, 6250.
16 "The Few," 20 August 1940 in Complete Speeches VI, 6261.
17 "The Chance of Glory and Honour," 8 November 1941, in Complete Speeches VI, 6502.
18 "The War of the Unknown Warriors," 14 July 1940 in Complete Speeches, VI, 6248.
Churchill Project Articles
Stay In Touch With Us
Subscribe now and receive weekly newsletters with educational materials, new courses, interesting posts, popular books, and much more!