Articles

Winston Churchill's Statesmanship before the First World War, 1912-14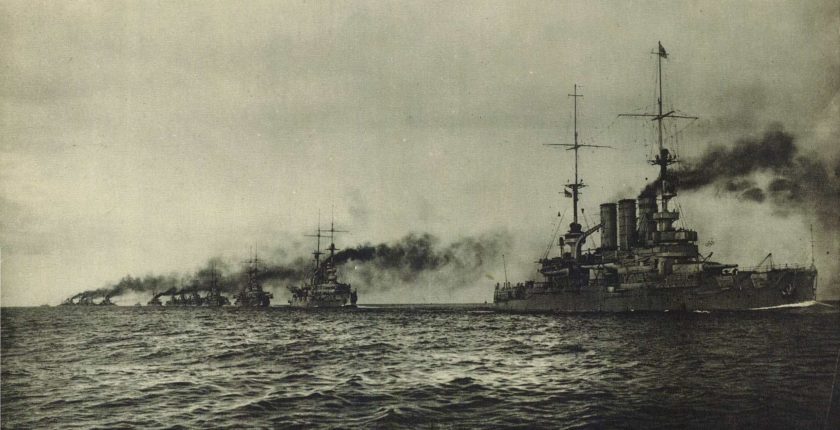 Battleships of the German High Seas Fleet. Germany's challenge to the Royal Navy was Churchill's greatest concern at the outbreak of the First World War. (Wikimedia Commons, public domain)
---
"That Splendid Condottiere at the Admiralty"1
The study of politics—understood as the common activity in pursuit of the Good—must involve a study of statesmanship. Properly understood, statesmanship is not a static quality, but rather an activity. The activity of statesmanship itself comprises several activities, the most important of which is prudence. Aristotle says, "concerning practical judgment, the way we might get hold of it is by considering whom we speak of as people with practical judgement."2 Winston Churchill demonstrated Aristotelian prudence in the years leading up to the First World War.
Aristotle calls prudence the chief virtue: "a truth-disclosing active condition involving reason about human goods that govern action."3 To act prudently is to choose well, and the right choice differs depending upon the circumstances. Prudence should not be confused with pragmatism. Pragmatism merely seeks what is politically expedient or useful from a utilitarian perspective. Prudence is about responding to circumstances while always seeking the statesman's fixed, unchanging principles.
From October 1911 through outbreak of the First World War in August 1914, Churchill was First Lord of the Admiralty. As its condottiere, he sought to end an Anglo-German naval race he feared would bring both nations to disaster. However, Churchill was no pacific idealist. He earnestly sought peace, but he also ensured Great Britain was prepared to meet German expansionism. He cultivated a strong navy and, as war approached, took the initiative to deploy it. As a result, "the war to end all wars" did not catch Britain unprepared.
Warmonger or peace-seeker?
Churchill's detractors charge that his actions prior to the outbreak of the First World War prove he was warmonger. Selectively quoting Prime Minister Asquith and Chancellor of the Exchequer Lloyd George, Patrick Buchanan has Churchill on the warpath, against the wishes of Parliament and people. By "secretly committing" Britain to support France, he and Asquith left the Germans unaware that war with France meant war with the Britain. Had he known, Kaiser Wilhelm would tried "to abort a war far sooner and more successfully."4
Once the war began, Buchanan continues, Churchill ordered cutting undersea cables between the Central Powers and the United States. His action "made certain the British would decide how the Americans viewed their war."5 Manipulating the U.S. to join Britain's side set the postwar stage for the rise of Hitler. Of Churchill and Foreign Secretary Sir Edward Grey, Buchanan concludes: "the declaration of war was their triumph."6
Buchanan's arguments defy the facts. For most of Germany's first three decades of independence, there was no rivalry with Britain. Prime Minister Gladstone was more interested in Irish Home Rule and social reforms than Continental power politics. Prime Minister Disraeli saw Germany as a useful counterweight to Russia, Britain's rival in Asia. Prime Minister Lord Salisbury pursued "splendid isolation." Anglo-German amity ended in 1898, when Kaiser Wilhelm II began building a navy equal to his massive and feared army.
Roots of conflict
Ten years into the 20th century, Great Power friction continued to increase. Asquith's Liberal government now became concerned about a European war. On 23 August 1911, Asquith held a secret meeting of the Committee of Imperial Defence. What would Britain do in event of war between the Central Powers (Germany and Austria) versus the Triple Entente of Britain, France and Russia? Present was the Home Secretary, whom Barbara Tuchman described as
a young man of thirty-seven, impossible to ignore, who, from his inappropriate post, had pelted the Prime Minister during the crisis with ideas on naval and military strategy, all of them quite sound, had produced an astonishingly accurate prediction of the future course of the fighting, and who had no doubts whatever about what needed to be done. The Home Secretary was Winston Churchill.7
Churchill's perceptiveness "had a decisive by-product. A shake-up in the policy-making posts of the navy being decreed, the eager Home Secretary was happily translated into First Lord of the Admiralty where, in 1914, he was to prove indispensable."8 Churchill had thought about a world war before long before he came into a position where he could affect it. The Cabinet took notice, and he ended up in a position where he could put his ideas into effect.
The Kaiser planned vastly to increase battleship production and the size of the German High Seas Fleet. Churchill offered a twofold response. "If Germany had definitely made up her mind to antagonize Great Britain, we must take up the challenge," he declared. But perhaps "friendly, sincere, and intimate conversation" might yet avert trouble.9
"Existence to us…expansion to them"
Churchill helped organize a mission to Berlin to dissuade the Kaiser. When the effort failed, he began expanding the Royal Navy. His willingness to continue the naval race was not born out of a desire to fight. He simply recognized what naval supremacy meant for Britain as an empire. As he explained in a speech at Glasgow on 9 November 1912:
The purposes of British naval power are essentially defensive. We have no thoughts, and we never had any thoughts of aggression…. The British Navy is to us a necessity and, from some points of view, the German Navy is to them more in the nature of a luxury. Our naval power involves British existence. It is existence to us; it is expansion to them. We cannot menace the peace of a single Continental hamlet, no matter how great and supreme our navy may become. But, on the other hand, the whole fortunes of our race and empire, the whole treasure accumulated during so many centuries of sacrifice and achievement, would perish and be swept away utterly if our naval supremacy were to be impaired.10
Churchill starkly explained why Britain's participation in the naval race was a prudential act. Germany was not threatening Britain's pride; she was threatening Britain's existence. Wilhelm's expansion of the High Seas Fleet could only be interpreted as an offensive gesture. Britain, conversely, could hardly use her navy in an offensive capacity against Germany.
Churchill's "Naval Holiday"
After the German Navy Law was announced in May 1913, Churchill met with the German naval attaché. Again he proposed a mutual stand-down. Admiral Alfred von Tirpitz advised the attaché to report the conversation briefly, implying that Churchill feared Britain would lose superiority. Thus informed, the Kaiser remained obdurate.11
Churchill remained persistent in his attempts at peace. He knew that if Britain unilaterally slowed naval production, the Germans would interpret it as a sign of weakness. On July 22nd he delivered his own naval estimates to the House of Commons. He proposed increasing capital ship construction to maintain a sixty percent superiority in battleships. He also publicly called for a "Naval Holiday"—an Anglo-German moratorium on battleship construction for 1913. Cancelling her three scheduled battleships would save Germany £6-7 million. Moreover, "we should not begin our ships…. This then is the position which we take up—that the Germans will be no gainers over us so far as naval power is concerned by any increases they may make, and no losers, on the basis I have laid down, by any diminution."12
The Naval Holiday, the first ever proposed, was designed to bring Germany to the table. Churchill asked nothing to put the Germans at a greater disadvantage. However, he rejected peace at all costs as the highest end, and remained dedicated to the Britain's continued security. Again, Kaiser Wilhelm steadfastly refused to entertain Churchill's proposal. Churchill reacted by withdrawing battleships from the Mediterranean to concentrate more vessels around the home islands.
Fleet dispositions
The subsequent need for a naval force in the Mediterranean created a natural rapprochement between France and Britain. Through back-channel diplomacy by Churchill and Grey, Britain had agreed to protect France's Channel coast. This allowed France to concentrate her fleet in the Mediterranean to protect Egypt and the Suez Canal. Since Churchill knew many Liberal colleagues were wary of entangling alliances, this de facto agreement was never formalized. Britain could maintain she had not entered into any alliance with France. But Churchill recognized that if Germany attacked France, Britain was "morally committed" to protecting her Channel coasts.13
Until July 1914, most Britons were preoccupied with the Irish Home Rule issue. On the 26th, Serbia rejected Austrian demands following the assassination of Archduke Franz Ferdinand, and the First World War was imminent. That same day on his own initiative, "Churchill issued a crucial order."14
The Royal Navy, gathered off the south coast for a fleet review, was due to disperse. Churchill decided "to make sure that the diplomatic situation did not get ahead of the naval situation, and that the Grand Fleet was at its war station before Germany could know whether or not we should be in the war, and therefore if possible before we had decided ourselves."15 Knowing that Britain might be caught unprepared, he ordered the fleet not to disperse. With Grey's approval he made this public, in the hope "of sobering the Central Powers and steadying Europe."16 Churchill's order was not premised on eagerness to fight, but rather a deterrent aimed at preserving peace.
Churchill's prudence
…was asserted two days later, when he sent fleet to its war station at Scapa Flow in Scotland. Here it was able effectively to protect the Home Islands and counter any move by the High Seas Fleet. Churchill understood the political repercussions: "I feared to bring this matter before the Cabinet, lest it should be mistakenly considered a provocative action likely to damage the chances of peace."17 Grey, and Asquith understood it was a precaution against a surprise torpedo or mine attack at the outbreak of war. If the fleet was trapped below the Straits of Dover, it could was vulnerable to U-boats or mines. Again he had foreseen potential German strategy and issued orders to counter it. Britain, he wrote, was "now in a position, whatever happened, to control events, and it was not easy to see how this advantage could be taken from us."18
Austria declared war on Serbia July 28th. In London, Churchill persuaded the Cabinet to issue a "Warning Telegram." This decreed a "precautionary period" in which the government could undertake emergency measures to prepare the country for war. Work intensified on battleships already under construction. This, Churchill wrote, "ensured the greatest possible superiority in the early months, and would give us time to see what kind of war it was and how it went, before dealing with more distant contingencies."19
Clearly, Churchill was capable of acting decisively. He also had the patience to withhold decision until he knew all he could about developments and contingencies.
Cabinet divisions
The Cabinet dithered over their commitment to France. Their disagreements, writes Barbara Tuchman, "derived from the Boer War, between Liberal Imperialists represented by Asquith, Grey, Haldane, and Churchill, and 'Little Englanders,' represented by all the rest."20 The latter were led by John Morley, a friend of Churchill's, in government since Gladstone's era. Morley and his friends viewed France's elimination as a great power with no concern. They were also wary of allying with Russia. Behind the Channel, with the Royal Navy standing guard, they thought Britain could remain aloof.
The "Little Englanders" saw Britain as an island; Churchill saw Britain as an island next to a continent. Churchill thought Morley's views shortsighted. He shared Grey's reasoning that "If Germany dominated the Continent…we should be isolated."21 He understood the need for a balance of power, the traditional British strategy that had been ignored since the 1870s. The Kaiser was a would-be Napoleon. Churchill saw that, and was acting to stop it.
On August 1st, Churchill asked the Cabinet's permission to call out the Fleet Reserves. It refused. That evening, dining at the Admiralty, he learned that Germany had declared war on Russia. He immediately walked across Horse Guards Parade to 10 Downing Street. There he informed Asquith. Notwithstanding the Cabinet decision, he intended "to mobilize the fleet and take full personal responsibility to the Cabinet the next morning."22 Churchill admitted he had no legal authority. However, his prudent action reassured France that Britain would honor her commitment to keep the German fleet out of the English Channel.
The First World War
On August 2nd, Germany demanded that Belgium allow its army to pass through or be occupied. This irrefutable display of German aggression unified most of the Cabinet. It ratified Churchill's decision, although Morley and John Burns shortly resigned. Churchill also ordered Admiral Sir John Jellicoe to take command of the Grand Fleet from the aging George Callaghan. This aroused protest from Parliament, the newspapers, and the naval officers themselves. But Churchill and his First Sea Lord, Prince Louis of Battenberg, were "doubtful as to Sir George Callaghan's health [and] it was no time to consider individuals."23 Jellicoe led the fleet at the Battle of Jutland, maintaining the blockade of Germany through her eventual defeat. Churchill's foresight, his decisions to call out the Reserves and put Jellicoe in command, were all confirmed by events.
Patrick Buchanan's assessment that Churchill abetted the coming of war is incorrect. Until Europe was engulfed by the First World War, he did everything he could to avert it. He had feared a European war since 1901, when he warned Parliament: It would "only end in the ruin of the vanquished and the scarcely less fatal commercial dislocation and exhaustion of the conquerors."24
* * *
Churchill understood that war in Europe would wreck the balance of power, possibly leading to socialist or fascist revolutions. He knew it would severely tax Britain's economic and military might, endangering the Empire abroad and social reform at home. Wilhelm II had none of Churchill's prudence. Swayed by dreams of a German imperium, he denied Churchill's attempts to end the naval rivalry he himself began. When his intention to attack Belgium and France became clear, Churchill knew Britain needed to act swiftly and decisively, not stand idly by. In Tuchman's glowing estimation, "he was the only British minister to have a perfectly clear conviction of Britain should do and to act upon it without hesitation."25 He was, in short, a statesman.
The author
Joshua Waechter graduated from Hillsdale College in 2020 with a Bachelor of Arts in History. While attending Hillsdale, he interned at The Heritage Foundation's B. Kenneth Simon Center for Principles and Politics and at the White House Speechwriting Office. He is also a graduate of the Hertog Foundation's Political Studies Program and the First Liberty Fellowship. He has continued his association with First Liberty Institute, and currently conducts research and writing for them as an independent contractor. This autumn he pursues an M.Phil. in History at Oxford University (St. Anne's College). He resides in San Antonio, Texas.
Bibliography
Aristotle. Nicomachean Ethics. Edited and translated by Joe Sachs. Indianapolis: Focus, 2002.
Patrick Buchanan, Patrick. Churchill, Hitler, and the "Unnecessary War": How Britain Lost Its Empire and the West Lost the World. New York: Crown Forum, 2009.
Winston S. Churchill, The World Crisis. Vol. 1, 1911-1914. New York: Charles Scribner's Sons, 1923.
Martin Gilbert, The First World War. New York: Henry Holt, 1994.
Martin Gilbert, Churchill: A Life. New York: Henry Holt, 1991.
Barbara Tuchman, The Guns of August. New York: Presidio Press, 1962.
Endnotes
1 Lord Morley, speaking of Churchill in August 1914. A condottiere was a commander of an Italian mercenary company during the late Middle Ages and Renaissance. Barbara Tuchman, The Guns of August (New York: Random House, 1962), 112.
2 Aristotle, Nicomachean Ethics, Bk. 6, Ch. 5, ed. and trans. Joe Sachs (Indianapolis: Focus, 2002), 106.
3 Ibid., 107.
4 Patrick Buchanan, Churchill, Hitler, and the "Unnecessary War": How Britain Lost Its Empire and the West Lost the World (New York: Crown Forum, 2009), 64.
5 Ibid., 68.
6 Ibid., 67-68.
7 Tuchman, The Guns of August, 61.
8 Ibid., 62.
9 Winston Churchill, The World Crisis, vol. 1, 1911-1914 (New York: Charles Scribner's Sons, 1923), 94.
10 Ibid., 100.
11 Martin Gilbert, The First World War (New York: Henry Holt, 1994), 9.
12 Churchill, World Crisis I, 109.
13 Ibid., 201.
14 Tuchman, The Guns of August, 110.
15 Churchill, World Crisis I, 200.
16 Ibid., 199.
17  Ibid., 212.
18 Ibid., 213.
19 Ibid., 208-09.
20 Tuchman, The Guns of August, 108.
21 Ibid.
22 Churchill, World Crisis I,  217.
23 Ibid.
24 Gilbert, The First World War, 3.
25 Tuchman, The Guns of August, 110.
Futher reading
Max E. Hertwig, "Churchill's Try for Peace: The 'Kingly Conference'"
Richard M. Langworth, "Did Churchill Really Want World War I?"
Churchill Project Articles
Stay In Touch With Us
Subscribe now and receive weekly newsletters with educational materials, new courses, interesting posts, popular books, and much more!