Articles

Did Churchill Really Want World War I?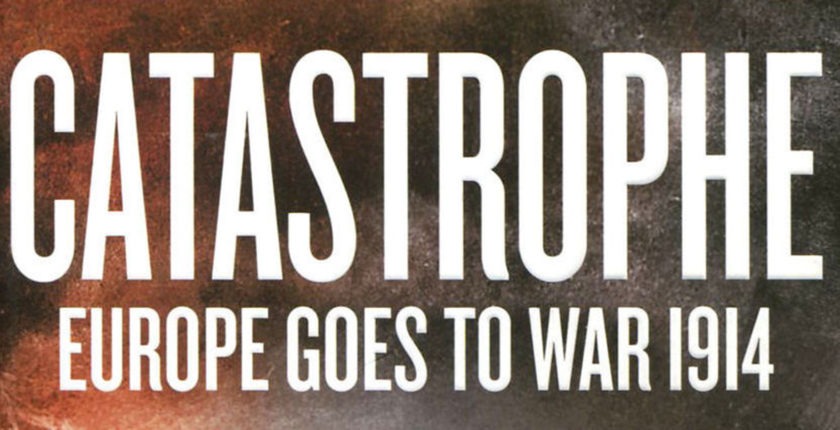 "Here's a good book on the opening of World War I," a friend said, handing me Max Hastings' Catastrophe 1914: Europe Goes to War (2013). "He's not very nice about Churchill, though."
Right on both counts. Max Hastings is a fine historian. Catastrophe 1914 is a rich and suspenseful account of how and why the Great War of 1914-18 happened. It documents each fateful step, each wrong assumption and bad decision by Europe's leaders, interleaving the experiences of ordinary Europeans, on the seemingly inevitable road to Armageddon.
The book begins with the murder of Archduke Franz Ferdinand on June 28, 1914, and ends in December, with touching scenes of the "Christmas Truce," as opposing soldiers sing hymns and exchange gifts before resuming carnage the day after. I am reading it with appreciation, and recommend it to anyone—while profoundly disagreeing with its portrait of Winston Churchill.
Throughout the fatal summer of 1914, Churchill is depicted as adamant for war, "bent upon belligerence even before the issue of [Germany marching through] Belgium emerged" (102).
Was he? Perhaps not!
"Winston…has got on all his war-paint, is longing for a sea-fight," Prime Minister H.H. Asquith is quoted on August 4th. "The whole thing fills me with sadness." Asquith's deficiencies as a war leader are well documented in this book, but let us take a deeper look at what Churchill actually believed.
On 29 July, we are told, "Churchill suggested, absurdly, that participation [in the war] need not cost much: 'Together we can carry a wide social policy…The naval war will be cheap.'" (85)
"Absurdly" is a word that can be applied only in hindsight. The naval war was cheap—comparatively. And as late as August 1914, it was by no means certain that Britain would send its paltry army to fight on the ground.
Britain was a "sea animal," Churchill, said, and thus visualized a "naval war." The French and Russian armies, it was then thought, would face Germany and Austria-Hungary in two fronts on the ground.
That things didn't work out that way is only known in retrospect—but that British leaders thought so at the time is documented by the book as early as page 37: "The 1913 Army Estimates made no mention whatsoever of a possible British ground role in a European conflict."
Three pages after Churchill's "absurd" suggestion of a naval war, we read of General Sir John French (who would later command the British Expeditionary Force) being summoned to Downing Street on August 3rd. French was told "there was still no question of Britain sending an army to the continent" (88).
On the same date Britain warned Germany to stay out of Belgium. (Germany's refusal to do so was the proximate cause of Britain declaring war.) Hastings writes: "Because such vestigial delusions persisted in government, no minister would authorise immediate dispatch of an army to the continent."
They may well have been vestigial delusions, but as late as August 3rd, as the book says, nobody in the government would propose otherwise. Why then was Churchill's suggestion of a naval war absurd? It is only absurd based on what we know now: Belgium and France were invaded, France asked for help on the ground, and help was duly sent—ultimately from America as well as Britain in a worldwide conflagration.
* * * * *
Churchill is also the victim of partial quotes, which I am surprised to find in so  scholarly a book. In the commentary on July 28, 1914, for example: "Churchill adopted a shamelessly cynical view….'if war was inevitable this was by far the most favourable opportunity and the only one that would bring France, Russia and ourselves together'" (72).
That remark is not from 1914. It is from a 1925 letter from Churchill to Lord Beaverbrook, commenting on a draft of Beaverbrook's war memoirs—but Hastings leaves out the rest:
"But I should not like that put in a way that would suggest I wished for war and was glad when the decisive steps were taken. I was only glad that they were taken in circumstances so favourable." 1
Deleting this qualifying part of Churchill's words casts him in an entirely different position than the one he actually took. From it we can see that Churchill, even as early as 1925, anticipated his views would be distorted.
On the same page is another shamelessly cynical partial quote, from Churchill to his wife on July 28, 1914: "Everything tends towards catastrophe, & collapse. I am interested, geared-up & happy." Again we are shown Churchill as a wild man, as he is called a few pages later (97).
Yet again the rest of that quotation is missing:
"Is it not horrible to be built like that? The preparations have a hideous fascination for me. I pray to God to forgive me for such fearful moods of levity. Yet I would do my best for peace, and nothing would induce me wrongfully to strike the blow." 2
* * * * *
Catrasrophe 1914 tells us: "It is unlikely that any course of action adopted by Asquith's government could have averted a European war in 1914" (39). It offers convincing evidence that this is so.
But Churchill hated and feared war—in 1914, in 1939. Surely he should get some credit for trying to prevent it, through his proposals for a "naval holiday" with Germany (repeatedly ridiculed by Kaiser Wilhelm and his naval chief, von Tirpitz)—or his last-ditch hope for a "conference of sovereigns" to settle the quarrel and prevent hostilities? 3
Judgments on history are all too easy in hindsight. Manfred Weidhorn has suggested that if Hitler had been assassinated in 1938 he would have gone down as the restorer of German greatness. If in 1941, the inevitable result of his policies in 1942-45 would have left loyal Nazis pining, "Ach, if only der Fuehrer were still alive."
I suppose that if Churchill had been killed on the Western Front, where he went to fight in 1916, we would still have these inaccurate views of his attitude toward war, spread about by everyone from pot-stirrers to serious and admirable historians. I am sorry about that.
---
1 Martin Gilbert, ed., Winston S. Churchill, document volume 11, The Exchequer Years 1922-1929 (Hillsdale, Michigan: Hillsdale College Press, 2009), 560.
2 Martin Gilbert, ed., Winston S. Churchill, document volume 5, At the Admiralty 1911-1914 (Hillsdale, Michigan: Hillsdale College Press, 2007), 1989.
3 Max E. Hertwig, "1914: Churchill's Try for Peace."
Churchill Project Articles
Stay In Touch With Us
Subscribe now and receive weekly newsletters with educational materials, new courses, interesting posts, popular books, and much more!