Articles

Winston Churchill and the Armenian Genocide, 1914-23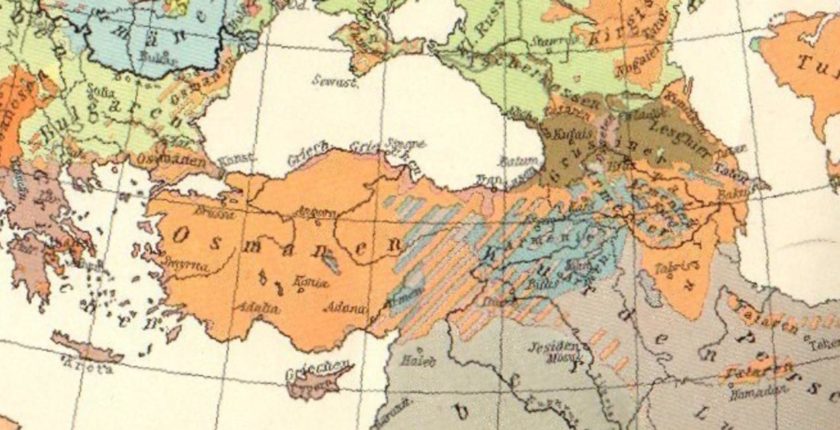 German ethnographic map of Asia Minor and the Caucasus, 1914, showing areas of Armenian settlement in blue. (Wikimedia Commons, public domain)
---
The age-long misfortunes of the Armenian race have arisen mainly from the physical structure of their home. Upon the lofty tableland of Armenia, stretching across the base of the Asia Minor Peninsula, are imposed a series of mountain ranges having a general direction east and west. The valleys between these mountains have from time immemorial been the pathways of every invasion or counter-attack between Asia Minor in the west and Persia and Central Asia in the east…. After the rise of Russia to power the struggle for possession of the Armenian regions, as containing the natural frontiers of their own domains, [it] was continued by Russia, Persia and the Ottoman Empire. —Winston S. Churchill, The Aftermath (1929)
The Armenian Tragedy
For nine years after the outbreak of war in 1914, Turkish governments conducted systemic genocide among the Armenian people. It was not the first assault on those who had inhabited their lands for millennia. In 1908, Armenians rejoiced as the Young Turk revolution deposed Sultan Abdul Hamid II and installed a constitutional monarchy.1 Their relief was shortlived. In 1909 a counter-coup aimed at the new government managed also to kill up to 30,000 Armenians in the Adana Vilayet.
The First World War brought further atrocities. When the Czar's forces threw back Enver Pasha's assault on Transcaucasia, some Armenians supported the Russians. The Ottomans said they were "traitors, saboteurs, spies, conspirators, vermin and infidels." This incitement led directly to what its victims and their descendants describe as the Armenian holocaust.2
For years the deadly comb swept back and forth through Armenian communities. Deportations to outlying parts of the Ottoman Empire began in May 1915. Armenian property was seized, men were murdered, woman and children rounded up. In the slave markets of Syria and Mesopotamia, women were sold, violated by Turkish soldiers, or left to die. Twenty-five concentration camps were set up within Turkey proper. Through 1923, between one and one and one-half million Armenians died. In America, Theodore Roosevelt described the almost daily reports of murders as "the greatest crime of the war."3 Up to then, he had a point. Hitler's assault on the Jews had yet to come. To paraphrase Churchill, Armenians suffered the greatest and bloodiest of all the great mass-slaughters which till then there was record.
"The moral sense of Liberal Britain"
The young Churchill was aware of Armenian suffering. In 1894-96, Abdul Hamid's Hamidian massacres killed between 100,000 and 300,000. "Whatever happens," he wrote his mother, "it is evident that we pose as champions of humanity in general and of Armenians in particular alone and unassisted. But that is after all entirely in accordance with precedent."4 The "precedent" was Prime Minister Gladstone's outrage over an earlier pogrom in the 1870s. Speaking in 1946, Churchill recalled how "Mr. Gladstone stirred the moral sense of Liberal Britain."5
During the Second Battle of Ypres in Spring 1915, the horror of German poison gas broke upon a shocked world. It is well established that Churchill supported use of deadly gasses only after they were used by the enemy. Ypres was the tipping point. By October, reports of Armenian massacres, shootings and deportations were mounting, while at Gallipoli, few Allied prisoners were alive. Grimly, Churchill addressed the War Cabinet:
I trust that the unreasonable prejudice against the use by us of gas upon the Turks will now cease. The massacres by the Turks of Armenians and the fact that practically no British prisoners have been taken on the [Gallipoli] Peninsula, though there are many thousands of missing, should surely remove all false sentiment on this point, indulged in as it is only at the expense of our own men.6
After the war, the Treaty of Sèvres guaranteed an autonomous Armenian state, though Armenians continued to suffer outside its borders. Churchill described "massacring uncounted thousands of helpless Armenians, men, women, and children together, whole districts blotted out in one administrative holocaust—these were beyond human redress."7
Peace to end peace
"It seemed inconceivable," Churchill wrote, that the victors would not make their will effective" against "Armenia's persecutors and tyrants." In March 1920, they offered a mandate (trusteeship) to shepherd Armenian independence. No power would take it, nor would the League of Nations. "Unsupported by men or money," Churchill believed, the League declined "promptly and with prudence."8 It was thought that U.S. President Woodrow Wilson might take a mandate "if left to himself." But Wilson's international predilections were blocked by an isolationist Congress.9
Other aspects of the Paris Peace Conference boded ill for Armenia. The victors, Churchill wrote, understood Turkey's "cold-blooded and malignant" behavior. "The ghastly fate of the Armenians has yet to be recorded." At the same time, the victors' attitude "towards Turkey was so harsh that Right had now changed sides." Defeat in war was one thing. The "destruction and death of the Turkish nation" were things no Turk could countenance. "Loaded with follies, stained with crimes, rotted with misgovernment, shattered by battle…the Turk was still alive."10
Churchill's attitude toward Turkey eased after he became War Secretary in January 1919. He found British forces stretched thin as the armies receded during demobilization. "There were seeds of trouble everywhere," he warned the Cabinet in August. Withdrawal from the Caucasus "would be the signal for a general massacre of the Armenians." On the other hand, he wished to remove British troops from Turkey. They would be better employed keeping the peace in other parts of the old Ottoman Empire.11
Repercussions and Republic
Churchill's instinctive sympathy for the Armenians was soon tested. In September 1919 Sir Henry Wilson, Chief of the Imperial General Staff, warned him of trouble in the Caucasus:
The Armenians, feeling that we were their friends, have murdered every Turk man, woman and child they have been able to lay their hands on, and not only murdered them, but have practiced the most devilish horrors such as peeling unfortunate people alive. That such brutes as these should be saved from the vengeance of the Turks is an affair which I personally think is not our business but which the Americans or some other philanthropists might with advantage take on. 12
While sharing Wilson's horror, Churchill was thinking of the much broader travails Armenians had been through. "We must not," he replied, "make difficulties in small things and must facilitate any bona fide effort to stabilise the Armenian situation." 13
The First Republic of Armenia, declared at Yerevan in May 1918, lasted only two years, Churchill wrote:
In September 1920, by collusion between the Bolsheviks and Turks, Yerevan was delivered to the Turkish Nationalists; and as in Cilicia, another extensive massacre of Armenians accompanied the military operations. Even the hope that a small autonomous Armenian province might eventually be established in Cilicia under French protection was destroyed. In October France, by the Agreement of Angora, undertook to evacuate Cilicia completely. In the Treaty of Lausanne, which registered the final peace between Turkey and the Great Powers, history will search in vain for the word "Armenia."14
Hope and tragedy, 1920-23
Ever the seeker of  just outcomes, Churchill's eye fell on Mustafa Kemal Atatürk. Churchill saw in him the potential for a democratic Turkish state. Soldier, revolutionary, founding father and first president of the Republic, he was "a Captain who with all that is learned of him, ranks with the four or five outstanding figures of the cataclysm."15
Churchill strongly backed Atatürk. "By regaining our influence over the Turks," he said, "we should be able to do something to save the Armenians…."16 In 1921, Turkish forces opposing the Greeks threatened to march on British garrison at Chanak. Churchill urged "a friendly peace." (This is incidentally the opposite of that bellicose attitude his critics say he habitually adopted.) Hostilities with Britain were avoided. In 1923-24, Atatürk signed the Treaty of Lausanne, which established the borders of modern Turkey.
Although Lausanne marked the end of Armenian pogroms, the country's short-lived independence ended quickly. The Red Army advanced unopposed into Armenia in November 1920, proclaiming a Soviet Republic. Allied policy, and the paralysis of President Wilson, had thrown together two natural enemies, the Turks and Russians. The result, Churchill declared, was "a series of tragedies":
The fruits of the Allied victory over Turkey have been squandered. The Republics of the Caucasus, Georgia and Azerbaijan have been conquered and enslaved by the Bolsheviks; the Armenians have been destroyed by the Turks. Throughout the whole of Asia Minor the Christians have been massacred or expelled; and these vast regions, so full of history, and but a little while ago so full of hope and promise for the future, have sunk beneath the tides of barbarism.17
"The ire of simple and chivalrous men and women"
Finally in 1991, seven decades after the Bolshevik invasion, Armenia seceded from the Soviet Union and regained her independence. Could things have been better, sooner? Yes, Churchill thought, but with great difficulty:
The Armenian people emerged from the Great War scattered, extirpated in many districts, and reduced through massacre, losses of war and enforced deportations adopted as an easy system of killing, by at least a third. Out of a community of about two and a half millions, three-quarters of a million men, women and children had perished. But surely this was the end.
The earlier miseries and massacres of the Armenians have been made familiar to the British people, and indeed to the Liberal world, by the fame and eloquence of Mr. Gladstone. Opinions about them differed, one school dwelling upon their sufferings and the other upon their failings. But at any rate in contrast to the general indifference with which the fortunes of Eastern and Middle-Eastern peoples were followed by the Western democracies, the Armenians and their tribulations were well known throughout England and the United States. This field of interest was lighted by the lamps of religion, philanthropy and politics. Atrocities perpetrated upon Armenians stirred the ire of simple and chivalrous men and women spread widely about the English-speaking world.18
Appendix: Churchill on Armenia
Limitations of Air Power: House of Commons, 12 February 1919
My right hon. Friend [Lloyd George] complained, among other things, that we had not foreseen the need of acting with the Air Force sufficiently to save the Armenians, and that we could have saved many thousands of Armenian lives if we had taken steps to act with the Air Force. I am a great advocate of the use of the Air Force in many parts of the world, but a less promising theatre of action for its activities could hardly have been selected.
The great difficulty of the Armenian problem is the fact that the Turkish and Armenian populations are so largely intermingled, and it is the massacres which arise from their close juxtaposition and intermingling that are the cause of our difficulties. Does anyone suppose it would help us in a case of that kind if our seaplanes could journey 500 miles from the Bosporus to Armenia, or 200 miles to Marash, in Silesia, which is not, by the way, in our control at all, and then drop bombs on the towns and villages and the countryside in which Armenians and Turks are dwelling together? How that would benefit the Armenians or save thousands of lives, the experts I have consulted—not wishing to put my own opinion forward—are utterly at a loss to conceive.19
Armenian Refugees: House of Commons, 15 December 1920
These refugees are charged on Army funds, and we have never ceased, week after week, and month after month, to urge that they should otherwise be disposed of. It was hoped they might be induced to move from Batum [Batumi, Georgia] to their own country before the winter set in, but, unhappily, the disturbed conditions which prevailed there led to their turning back after they had gone some distance, and, although we had encouraged them to proceed by the gift of field-pieces and other munitions, they are still upon our hands in a very helpless condition.
[An Hon. Member: "How many of them?"] There are about 16,000. There is another batch of about 10,000 Armenians gathered at Basra [Iraq]. It was hoped to send them back to Armenia, and shipping had been arranged for, but the unhappy state of things in Armenia rendered that course quite impracticable. There they are. It is perfectly easy to resent their being there, but it is not quite so easy to see what next step is to be taken, when you have these starving women and children on your hands.20
Note
The author thanks Howard Kaloogian of the Hillsdale College Development Department, whose queries about Churchill's views on Armenia inspired this essay.
Further reading
See Churchill's lengthy account of Armenia's unfortunate geographic situation, partially quoted at the top of this article, in The Aftermath, Chapter XVIII.
Endnotes
1 Gregory S. Gordon, Atrocity Speech Law: Foundation, Fragmentation, Fruition (Oxford: Oxford University Press, 2017), 34-35.
2 Ibid., 35-36.
3 Theodore Roosevelt, Letters and Speeches (New York: Library of America, 2004), 736. See also Ruth Rosen, "The Hidden Holocaust," San Francisco Chronicle, 15 December 2003.
4 Winston S. Churchill to Lady Randolph Churchill, 30 September 1895, in Martin Gilbert, ed., The Churchill Documents, vol. 1, Youth (Hillsdale, Mich.: Hillsdale College Press, 2006), 587.
5 Churchill, "India," House of Commons, 12 September 1946, in Robert Rhodes James, ed., Winston S. Churchill: His Complete Speeches 1897-1963, 7 vols. (New York: Bowker, 1974), VII, 7412-13.
6 Churchill, War Committee Notes, 20 October 1915, in Martin Gilbert, ed., The Churchill Documents, vol. 7, The Escaped Scapegoat May 1915-December 1921 (Hillsdale College Press, 2008), 1230.
7 Churchill, The World Crisis, vol. 4, The Aftermath (London: Thornton Butterworth 1929), 98.
8 Ibid, 407.
9 Arthur Balfour (British delegation, Paris) to WSC, 17 August 1919 in in Martin Gilbert, ed., The Churchill Documents, vol. 9, Disruption and Chaos July 1919-March 1921 (Hillsdale College Press, 2008), 808.
10 Churchill, The Aftermath, 157, 368-69.
11 Disruption and Chaos, 806.
12 Sir Henry Wilson to WSC, 2 September 1919, Ibid., 836-37.
13 WSC to Sir Henry Wilson, 6 September 1919, Ibid., 841-42.
14 Churchill, The Aftermath., 404.
15 Ibid., 368.
16 Cabinet Memorandum, 23 November 1920, Disruption and Chaos, 1249.
17 Churchill, "The Dangers Ahead in Europe," Weekly Dispatch, 15 June 1924, in The Collected Essays of Sir Winston Churchill (London: Library of Imperial History, 1975, 4 vols., I, 241.
18 Churchill, The Aftermath, 404.
19 Rhodes James, Complete Speeches, III, 2966-67.
20 Ibid., III, 3043.
Churchill Project Articles
Stay In Touch With Us
Subscribe now and receive weekly newsletters with educational materials, new courses, interesting posts, popular books, and much more!