Articles

Churchill and the Presidents: Woodrow Wilson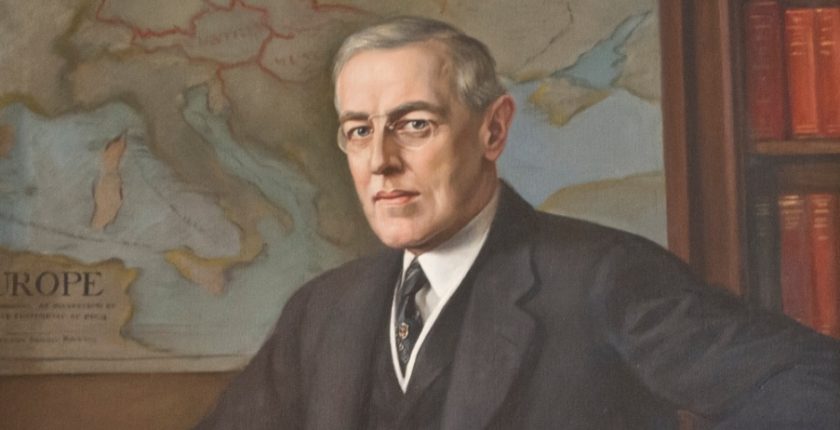 Churchill interacted with eleven U.S. presidents—as many as the Queen. He did not meet all of them, as she has; but you can trace their influence on his thought and principles as you read.
Woodrow Wilson (4 March 1913 – 4 March 1921)
Woodrow Wilson was the kind of president we Americans elect from time to time, out of idealism or sentiment or wishful thinking, who proves inexperienced or unqualified—who fails, as Churchill put it, to "rise to the level of events." Biographer Arthur Link described Wilson as "a virtuoso and a spellbinder during a time when the American people admired oratory above all other political skills." But he was a party, not a national, leader.
"In all his strength and in all his weakness," Churchill wrote, "in his nobility and in his foibles, he was, in spite of his long academic record and brief governorship, an unknown, an unmeasured quantity to the mighty people who made him their ruler…."
Wilson had had just two years' experience in government. He came to office promising vast change. With strong majorities in Congress, he enacted the most radical agenda up to that time: the Federal Reserve Act, the Federal Trade Commission, the Clayton Antitrust Act, the Farm Loan Act and, not least, the federal income tax.
When war had come in 1914, Wilson could not commingle the interests of liberty with his anti-war sentiments. The sinking of the Lusitania and 128 Americans, by a German submarine in 1915, failed to move him. Britain had been conveying arms on the ship; to progressives like Wilson the British were no better than the Germans. But two years later, Germany's declaration of unrestricted submarine warfare forced his hand. Churchill thought Wilson had misread American attitudes which, if not bellicose, were certainly sympathetic toward the Allies:
"He underestimated the volume and undervalued the quality of the American feeling in favour of the Allies," Churchill wrote. "Not until he was actually delivering his famous war message to Congress…did he move forward with confidence and conviction; not until then did he restate the cause of the Allies in terms unsurpassed by any of their own statesmen; not until then did he reveal to the American people…how their own lives and material interests were at stake."
Wilson's task would have been easier, Churchill added, if he had understood "where in the European struggle Right lay. Events like the German march through Belgium, or the sinking of the Lusitania, had a meaning which was apparent to friend and foe. They both proclaimed the intention to use force without any limit of forbearance to an absolute conclusion."
But Wilson's mind was woefully rigid. When the other party regained a majority in Congress, he refused to negotiate or even seriously to talk to them. Ultimately he lost his mandate and set the scene for what he wished most to avoid. He won the Nobel Peace Prize. And he lost the peace.
Professor Justin Lyons offers a detailed discussion of Churchill's critique of Wilson, which I will not repeat here. You have only to read it. The United States had been Johnny-Come-Lately to the Allied war effort, Dr. Lyons explains; yet its president expected now to define the peace.
At Versailles, Wilson was horrified by the secret wartime treaties between the European Allies—"the corruption of the old world laid bare," as he saw it. Churchill begged to differ: those treaties, he wrote, were "simply convulsive gestures of self-preservation." If America had entered the war sooner, Churchill said, "her statesman could have played their part in deciding these matters and her strength would have made some actions taken in desperation unnecessary."
Churchill was also critical of Wilson domestically. The President lacked a quality Churchill prized highly: the ability to build consensus. Wilson did not bring representatives of the other party with him to Paris. When he returned home, to sell them on American involvement in the world, his disdain for them was such that he failed to cultivate unity. In 1919, by a vote far short of the required two-thirds majority, the Senate for the first time in history rejected a treaty—and the League of Nations with it.
Professor Lyons describes the 28th President with words all presidents should shrink from deserving: Wilson's devotion to his idea "led him to scorn those who would question it in any way, dismissing their concerns in noble-sounding but vague phrases tinged with moral superiority." When Churchill's own greatest test came," Justin notes, he "was careful to cast himself as a national, not a party leader."
Of course, Wilson's scorn of the opposition was repaid in kind by them. Yet he was president of ALL the people. They represented only their constituencies, and great presidents find ways to rise above party strife. But let us leave Woodrow Wilson with Churchill's own words from The World Crisis:
The spacious philanthropy which he exhaled upon Europe stopped quite sharply at the coasts of his own country.…His gaze was fixed with equal earnestness upon the destiny of mankind and the fortunes of his party candidates. Peace and goodwill among all nations abroad, but no truck with the Republican Party at home. That was his ticket and that was his ruin, and the ruin of much else as well. It is difficult for a man to do great things if he tries to combine a lambent charity embracing the whole world with the sharper forms of populist party strife.
Churchill Project Articles
Stay In Touch With Us
Subscribe now and receive weekly newsletters with educational materials, new courses, interesting posts, popular books, and much more!