Articles

The Importance of Churchill for Today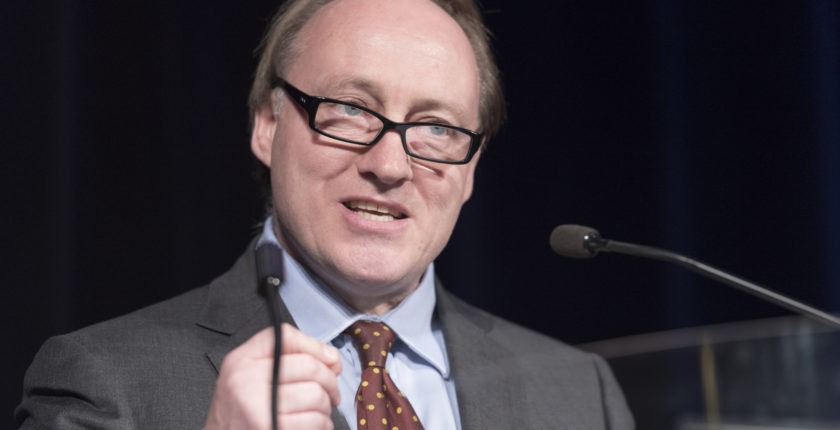 Andrew Roberts addresses the Hillsdale National Leadership Seminar on the enduring legacy and relevance of Sir Winston Churchill.
---
Transcript
Ladies and gentlemen, it's a great honor to be invited to address you, and thank you very much indeed Dr. Arnn for those tremendously kind words. And it's so wonderful to see quite so many people here as well. I once gave a speech at the Sevenoaks Literary Festival in Kent where fewer people turned up than there were oaks.
When Larry Arnn invited me to speak about the importance of Winston Churchill today, it was six months ago, and I don't think even he could have spotted his own prescience. Because in the last week or two weeks in fact, Winston Churchill has been turned into a political football in my country.
John McDonnell, who has always prided himself on his Marxism Leninism, accused Winston Churchill of being a villain. And one can imagine therefore the response, quite a, very pleased to say most of it negative.
Unfortunately, some people, including Mayor Sadiq Khan of London, generally come out highly critical of Churchill. The week before that we had a twenty-four-year-old green MP from the Scottish Parliament call Winston Churchill a war-criminal and a warmonger. Why anybody was expecting any sense from a twenty-four-year-old Green member of the Scottish Parliament I'm not sure, but nonetheless.
And in your country, a little over two months ago, the astronaut Scott Kelly, who is of course the UN ambassador to space—only the United Nations, ladies and gentlemen, would want to have an ambassador to somewhere that has no people and no government—said that Churchill was also a "racist warmonger." He didn't bother to educate himself. He didn't bother to read any books about Churchill or to learn the truth at all. He just came out with that remark. I really do feel that the space he ought to concentrate in is the one between his ears [Laughter].
Churchill's Case
So, I think it's worthwhile to remind ourselves why Winston Churchill does in fact still have contemporary relevance today. Why he is important today. And it's not because of the actual battles that he fought in British domestic politics. Frankly, what happened in the Tonypandy riots, with the Black and Tans, the Gold Standard, or the Abdication crisis, or even the Dardanelles expedition. Those are a hundred years old. They are all in the past. They are all long dead and buried.
The reason that he still matters today is because of the truths that he told. Because of the leadership that he showed. Because of the personality that he was. And above all, because of the foresight that he showed. The qualities that we still need in leaders just as much today as ever we have in the past. Because of the eloquence that he used to make people listen to him who didn't want to and who didn't agree with him. And because of the moral, and indeed the physical courage that he showed as well.
These are qualities, ladies and gentlemen. Of course Churchill himself said of courage that it was rightly esteemed the first of all the qualities because it guarantees all the others. And these are the qualities therefore that we have every right still, in a democracy, to look for in our leaders—which therefore are just as important as ever they were before, and perhaps more important now today than ever before.
Walking with Destiny
I'd like to take you back to the evening of Friday the tenth of May, 1940, when Winston Churchill was made Prime Minister by King George VI at Buckingham Palace. It was the the same day that Adolf Hitler had unleashed Blitzkrieg on the West, invading Holland and Belgium and Luxembourg. Shortly afterwards of course he invaded France. Of ohat day Winston Churchill famously wrote in his first volume The Gathering Storm of his his war memoirs: "I felt as if I were walking with destiny and that all my past life had been but a preparation for this hour and for this trial."
This was so true: all of his past life. The speeches that now cover 8000 pages. The jobs that he had: First Lord of the Admiralty of course before and during the First World War and in the Second World War. Being Chancellor of the Exchequer and Home Secretary. Being Minister of Munitions in charge of 2.5 million people in the munitions' factories. These were indeed a preparation for his hour and his trial.
But what I also try to do in my book is to look at the beginning part of that sentence. The bit about walking with destiny. Because there too you see something which is important for Churchill and the way that we should look at him today. Because it is impossible to understand Churchill, ladies and gentlemen, unless you understand that he also had this sense, this driving sense of personal destiny.
Prescience
He was sixteen years old when he told his best friend at Harrow (Winston Churchill was almost entirely self-educated, owing to the fact that he had to be because he went to Harrow [Laughter]) that there were going to be terrible struggles, great upheavals in his life, in both of their lives, in the life of the nation, and that he was going to be called upon to save England and to save London. Everything that happened to him after that, all the close brushes with death that he had, the many close brushes with death, underpin this sense of personal destiny.
He was born two months prematurely, a close brush with death in Victorian England. Then he was stabbed at the age of ten years old in the stomach by a school friend (clearly not a very close friend [Laughter]). He nearly died at the age of eleven of pneumonia. On which occasion by the way the doctors administered brandy to the eleven-year-old, both orally and rectally. Which you would have thought might have put you off brandy for life but didn't in Winston Churchill's case. He was only a little bit older when he survived a near drowning on Lake Geneva. Next he survived a house fire that burnt down the stately home that he was sleeping in at 3 o clock in the morning. He was involved in two plane crashes, three car crashes.
On the front of my book there is the wonderful Yousuf Karsh photograph of him in 1941, and you could see this huge scar down the center of his head and his forehead. And that came as a result of him trying to cross Fifth Avenue in New York and, being an Englishman, looking in the wrong direction. Those, by the way, ladies and gentlemen, are only his peacetime close brushes with death.
Near Misses
In wartime he also took part in the greatest cavalry charge of the British Empire at the battle of Omdurman. No fewer than 25% of his regiment, the 21st Lancers, were either killed or wounded. The following year his armored train was attacked by the Boers in the South African War. On that occasion 34% of his unit were killed or wounded. Two months later he escaped from a prisoner of war camp and crossed 300 miles of enemy territory. At one point he hid down a mine shaft, and when the candle gutted out, he could feel rats scurrying over his face.
In the First World War he entered No Man's Land no fewer than thirty times. Now he didn't need to. He was lieutenant colonel of the 6th Battalion of the Royal Scots Fusiliers. He could have stayed back at battalion headquarters if he'd wanted to. But he didn't, because he didn't believe that he should ever ask anybody in his regiment to do anything he wasn't willing personally to do himself. So he got so close to the German trenches he could actually hear them speaking,
And then on one occasion he left his dugout on the front line. Five minutes after he left it a German Whizbang high explosive came and decapitated everybody in the dugout. On that occasion, he felt as if he could hear the beating of invisible wings over him. Invisible wings obviously taking care of him, ensuring that he was going to survive in order to save London and to save England. When you look theologically at his belief in the Almighty—He did believe in the Almighty)—it seemed primarily the duty of the Almighty to take care of Winston Churchill [Laughter].
Calmness Amid the Storms
What this gave him, what this extraordinary sense of personal destiny gave him, was a calmness. An amazing calmness in the greatest and most terrifying, most perilous moments of my country's history. And he was able to make jokes.
In the House of Commons he was being attacked during a confidence motion, so theoretically the entire government was at stake. He made a joke when on the complete useless A-22 tank. He said that when the defects and the teething troubles of the A-22 tank were apparent to all, it was appropriately rechristened the "Churchill." The key word in that of course is "appropriately," because Winston Churchill knew that he had teething troubles and defects. He had got so many things wrong. He got women's suffrage wrong. He got the Gold Standard wrong. He got the Abdication crisis wrong. Primarily of course he got the Dardanelles expedition wrong.
Lessons Drawn from Disaster
It was brilliant concept. An absolutely brilliant idea to get the Royal Navy from the eastern Mediterranean, through the Dardanelles Straits, into the sea of Marmara. Anchor it off Istanbul (then called Constantinople), and by the threat of shelling to take the Ottoman Empire out of the Central Powers in the First World War. Had it come off, ladies and gentlemen, it would have been one of the greatest coups in the history of warfare. As it happened, because of its implementation—not by him but by the admirals; he was back in London—we actually lost, six ships on that day, 18 March 1915.
And then it was they doubled down on the defeat as it were and undertook a huge invasion, amphibious assault on the Gallipoli peninsula on the western side of the strait, which was ultimately over the next eight months to cost the allies 147,000 killed and wounded. This was entirely blamed on Winston Churchill even though he was not the only person in favor of it. But he was certainly the primary scapegoat of it. People shouted at him, "What about the Dardanelles?" well into the 1930s.
But one of the wonderful things about Winston Churchill, and one of the reasons that he is so relevant still today, is that he learned from his mistakes. The lesson he learned from the Dardanelles was never to overrule the chiefs of staff during the Second World War. If all three agreed on something, he did not overrule them, though he had every constitutional right to do so. He was the Minister of Defence as well as Prime Minister. So you have therefore, a politician who learns from his mistakes.
Parents
He didn't have an early, an easy childhood. His father was the aloof, disdainful, mercurial, but brilliant Chancellor of the Exchequer. Lord Randolph Churchill never spotted any brilliance in his son and was harsh to him. In my book are letters he wrote to his son that no father should ever write to any son. And yet, Winston Churchill, especially when his father died at the ago of forty-five when Churchill was twenty, adored his father. He wrote his father's two volume biography, and named his son Randolph. Quoting his father endlessly in speeches, he sought out his father's friends. He adopted his father's political views, the Tory Democracy of Benjamin Disraeli.
In 1947 he actually believed that he met his father's ghost, and they talked. Yet in the course of their long conversation he never let on to his father that he'd been instrumental in helping win the Second World War. So, you can see in that a sense that Winston Churchill's career was bound up with attempting to impress the shade of his long-dead father.
His mother, born of course in Brooklyn, was almost un-American in the way that she showed no interest in her son. In the first six months of 1884, when Churchill was nine, she only saw him for about six and one-half hours. There too Churchill refused to allow that to be a debilitating factor in his life. Just like his father, he loved his mother. He wrote in My Early Life, his autobiography, that "she shone for me like the Evening Star. I loved her dearly—but at a distance."
Regency Figure
He was almost broke all his life. This was partly his own fault of course. Partly because his parents were spendthrifts. But also because he was easily satisfied, as his great friend, F.E. Smith, said, "with the best of everything." In his seventies, the first moment in his life that he ever made any money, the first thing he did was to buy the first of thirty-seven race horses. He put his jockeys into his father's racing colours. The key thing to remember I think in all of this is that you should never see Churchill as the buttoned-up Victorian aristocrat of his age and class and background.
He was not that. He was instead a throwback to an earlier era. He was a regency figure, a romantic figure. Somebody who was willing to wear his heart on his sleeve. In the course of the Second World War there were no fewer than fifty times when he burst into tears in public. I sometimes think that if Theresa May—who by the way has every right to burst into tears [Laughter]—were to do so, how that would affect us. But with Churchill, people didn't mind because they recognized that he was a different kind of figure. A true regency figure.
I don't believe for a moment he was a depressive, as has been made out. He chaired the Defence Committee of the War Cabinet no fewer than a thousand times during the Second World War. Depression is a debilitating illness. But the only time he ever used the phrase "Black Dog" was in July 1911 when he was writing to his wife Clementine. That phrase was used by Edwardian matrons and governesses to explain their ill-tempered children. I don't believe that he had that, or indeed, manic depression. Or, as I've seen in some biographies, bi-polar disease.
On Alcohol
Neither do I think that he was an alcoholic. He certainly drank an enormous amount, there's no doubt about that. But he had this iron constitution for alcohol. Only once in the whole 2194 days of the Second World War was Churchill drunk. It was in a meeting that went on until 3 o'clock in the morning of 7 March 1944., On that occasion what they did was just hold the meeting again the next morning, pretending that the last one hadn't happened. His friend C.P. Snow said of Churchill that Winston Churchill couldn't have been an alcoholic, no alcoholic could have drunk that much [Laughter].
Churchill used to invite people to chat or to come and see the library and the study and the drawing room. They'd get to the drawing room at the end and Churchill would invite his guests to have a drank. There was a wonderful moment when two American Mormons were invited to have a drink. One of them said: "Strong drink rageth and stingeth like a serpent." And Winston Churchill replied, "I've long been looking for a drink like that" [Laughter].
Leadership and Prescience
So how was it, how was it, ladies and gentlemen, that he was the person—and this goes back again to the kind of leadership that is just as relevant today—that he was able to show such extraordinary foresight? Not just foresight before the Second World War, which we all know, to spot Hitler and the Nazis for what they were. But also before the First World War. He was able to spot Prussian militarism for the danger it posed. And also, after the Second World War, in his great "Iron Curtain" speech in Fulton Missouri in March 1946, he warned the world against Stalin and the threats of Soviet imperialism to Eastern Europe. I think it comes very much from three things. Especially with regard to Hitler and the Nazis.
The first was that he was a philo-Semite. He liked Jews. He admired them for their contribution to the ethics of Western Civilization. He'd grown up with them. His father had liked Jews. He represented them in one of his constituencies. He therefore had an early warning system that was not vouchsafed to many of the other people of his age and class and background on the Conservative benches, many of whom were anti-Semitic.
* * *
The second thing was that he was a historian. One of the reasons that I'm proud to be a historian was that Winston Churchill was one. And he was able to put the threat made by the Nazis and Hitler into the large continuum of British history. The danger, the hegemonistic threat to the balance of power in Europe, was something that we had seen before, and he knew that.
We'd seen it with Philip the second of Spain and the Spanish Armada. We'd seen it with Louis XIV of France and the War of Austrian Succession, which of course his own great ancestor, John Churchill First Duke of Marlborough, had been instrumental in defeating. We'd seen it with Napoleon, who he admired for his ambition and sense of destiny, but who he also appreciated posed an hegemonistic threat. And then of course the Kaiser, who he fought himself, and then Hitler.
* * *
And the third thing, ladies and gentlemen, is that he had seen fanaticism in his life. He had come up close and personal fanaticism on the northwest frontier of India and in the Sudan. Which was, of course, religious Islamic fundamentalist fanaticism, but was the same as the religious fanaticism of the Nazis in many ways. That was not something that had ever affected people like the Prime Ministers of the 1930s, Ramsay MacDonald and Stanley Baldwin and Neville Chamberlain.
And so, you have these three things coming together and allowing Winston Churchill to have this extraordinary prescience. Because he had this prescience, this background and self-belief and his destiny, he was able to ignore opinion polls, to not hire a spin doctor or a speechwriter in his life, to take no notice of focus groups.
So actually, what you got from Winston Churchill you knew you had straight from him. On top of all these things was the ability to learn from his mistakes, extraordinary physical courage, moral courage. He was shouted down in the House of Commons, nearly had his seat taken away from him by the Conservative Party after the Munich agreement. He was lambasted, attacked and ridiculed by the press. Yet he did not change his message. His message that we needed to rearm, especially in the air. And that kind of leadership, ladies and gentlemen, needed only one more thing in order to make it unbelievably powerful, and that was of course his eloquence.
Quality of Oratory
He got his eloquence by hard work, by practice. By reading Macauley and Gibbon, and knowing Shakespeare back to front. In a marvelous moment in the Second World War he has a competition with Field Marshall Smuts about who knows Shakespeare the more. After about a quarter of an hour Smuts has to give up. And then a little bit later on he realizes that actually Churchill was making it up [Laughter]. Can you imagine trying to make up iambic pentameters? It was because of the extraordinary work that he had put into it. When his brother officers were relaxing in the heat of the sun in India  in the late 1890s, he was reading, reading, reading. He managed therefore to create phrases that will live as long as our tongue survives.
He was once asked during the war by his private secretary how it was, what were the tricks of the trade. What were the techniques to create these extraordinary morale boosting speeches? He said, well, there are four things.
* * *
The first was that each sentence needs to convey one idea and one idea only. Don't be bogged down with sub-clauses and so on. It was what he called that "noble thing," the English sentence. The second was to keep sentences and words as short as possible. You're not attempting to show off that you know a long word. Use the right word, and it's often the shorter word. Third, he said, try to use Anglo-Saxon words, Old English words—words the English-Speaking Peoples feel comfortable with and know instinctively, because they have been using them for a thousand years.
Look at the peroration, that last paragraph, of the great "Fight on the Beaches" speech of 4 June 1940, when he told the British people what they were going to do when the paratroopers started landing, when the ships started landing in southern England. And said they were going to fight on the beaches and the landing grounds and in the fields and the streets and fight with growing confidence in the air, and that never surrender. When you look at that paragraph, of 141 words, all but two of them are in Old English. They come from the dictionary of Old English. The only two exceptions being the word "confidence," which comes from the Latin, and "surrender," which comes from the French [Laughter].
You did ask an Englishman here ladies and gentlemen.
Courage and Endurance
To conclude, he a man of extraordinary physical courage. That didn't stop in the Second World War either. Winston Churchill traveled 110,000 miles outside the United Kingdom as prime minister. And think of that travel. It was often in unpressurized cabins. He was in his early seventies, very often within the radius of the Luftwaffe. When he came back from the United States on one occasion, his plane was struck by lightning. Had the instrumentation gone down, so would he have.
When he took ships it was across U-boat infested oceans. Think of the sheer courage of that. And of course it was necessary because he was the glue that kept the Big Three together. President Roosevelt was profoundly disabled. He was able to leave the American continent three times during the war. Marshal Stalin did not enjoy flying, was a bit scared of flying. He only left the Soviet Union once before Germany surrendered. And so, the war took Winston Churchill to visit Moscow twice, to Washington four times, to Quebec twice, and so on—Cairo, Casablanca. The sheer amount of time that he spent traveling showed tremendous guts on his part.
And of course, he was ill. He had a minor heart flutter in the White House when he was staying for three weeks after Pearl Harbor. He had several bouts of pneumonia. On one occasion, in May 1943 in Carthage, a doctor came to him and asked him for some blood for a testing. Churchill said "yes, you can take some from my ear or my finger. And I also have an almost infinite expanse of arse" [Laughter].
So, there you have, just to conclude, a man of extraordinary courage, physical and moral. A man of the capacity of foresight that in my view makes all of the other mistakes trivial, who learned from his mistakes. And then on top of everything else, that eloquence. As a result therefore, ladies and gentlemen, you have somebody who was able to go beyond even what he had predicted and prescribed for himself as a 16-year-old schoolboy. Because he was not just able to save London and England. He also saved civilization itself.
Questions and Answers
Q: "Thank you very much for your speech, I enjoyed it. I didn't read your book, I downloaded it audibly and listened to it."
Roberts: "That's much better by the way."
Q: "Your narrator is very good, and I liked the voice that he had for Winston itself so you could tell who it was."
Roberts: "I'll tell the actor, that's very kind."
Q: "So, there are all kinds of questions and I have a little tiny one on Halifax. In May 1940, he said he didn't want to be Prime Minister, but then there's a theory that he really wanted Churchill to take it because he knew he would succeed him. Is there any proof of that?"
Roberts: "I go in a great deal of detail deliberately in this book because there are so many different sources about this and they don't all agree. I think that Winston Churchill's own memory of this—where he gets the day wrong and the time wrong and says the Premiership falls into his lap through a long silence that he claims took place—just doesn't ring true for me at all.
"Some of the other, sources make it a little bit more clear that what Churchill actually did, at 4:30 in the afternoon on Thursday, 9 May 1940, was what he had always done in his career, which was to ask for the office that he took. He knew the crisis. He'd been waiting for this forty years anyway. He'd wanted the Premiership all his life and this was going to be his great moment. So the idea that he sat back and let it fall into his lap just doesn't ring true to me at all.
"I think he demanded it. He had every right to because he was the only person who had been proved right about Adolf Hitler over the previous ten years. Lord Halifax and certainly David Marggeson, somebody else in the room ,who was the Chief Whip, and Neville Chamberlain himself of course, had all been proved wrong. And so, I'd be interested to hear what you and other readers feel about my Chapter 19, which for me is really the key one. I think that that's what happened."
Q: "One of the paragraphs in your early chapters said English imperialism in India was wrong. Then you said Churchill believed that England had brought railroads, an uncorrupt judicial system, an administration that ended sutti. You had a paragraph of things that Churchill thought were good for India. And then at the end of that paragraph you said, but of course imperialism was bad. I thought that was satire—was that your point or not?"
Roberts: "There really ought to be a special font for irony. Next Question [Laughter]."
Q: "There was a whimsical story I heard when Churchill visited the White House, and I'd like you to confirm it. Mr. Churchill had a habit at times of not wearing a stitch of clothing, and the President walked in on him, and without skipping a beat he said: 'The Prime Minister of Great Britain has nothing to hide from the President of the United States.' Would you confirm or deny that?"
Roberts: "Absolutely confirm it, it comes from Patrick Kinna, who was one of Churchill's secretaries, and it's very much in the canon. Yes, it did happen."
Q: "When he was turned out of office, how did he handle it? We've heard it was war weariness on the part of the British people, who turned to socialism. But how long was he in a funk, or did he immediately snap out of it?"
Roberts: "Winston Churchill was never in a funk about anything. He snapped out of it immediately. The defeat in the 1945 general election 26 July came as a surprise to him because he had been treated by huge crowds with great enthusiasm all the way through the general election, especially in the Midlands and in the North. He had a terrible shock on that day. If there had been a presidential system, he would undoubtedly have won that election. But of course, we have a Parliamentary one, and he was only one person, one name on 650 ballots.
"The Conservative Party was going to be punished for appeasement. Many people also did want what they thought of as the New Jerusalem of socialism. The welfare state, the National Health Service—all the things that they thought were going to come an awful lot cheaper than they ultimately did. When Clementine, Churchill's wife, said to him on that day that it might be a blessing in disguise, Winston Churchill replied, 'it seems quite effectively disguised.'
"The question has to be asked whether or not it was a blessing in disguise. Because ultimately, Churchill was exhausted by the end of the war. The kind of things he would have needed to have dealt with, with regard to austerity and the end of Empire and so on, were not things that he was excited or interested about. He was able to recharge his batteries over the following six years. He went on painting holidays to Lake Como and France and Marrakesh and elsewhere. By the end of it he was able to come back and win the 1951 general election which, considering the massive defeat that he'd experienced in 1945, was an extraordinary achievement. So maybe actually Clementine was right, and it was indeed a blessing in disguise. Although not for the British people I hasten to add. Because we've still got the National Health Service to this day, and it is an appalling incubus."
Q: "Considering the environment we find ourselves in today with all the talking heads willing to give their insight and wisdom, including former presidents, knowing Churchill as well as you do, what do you think he would say to Donald Trump and his battle against his own party, the entrenched deep state, and those people who aren't supportive of him?"
Roberts: "Mary Soames, Churchill's daughter, always used to say to me and others, never assume that you know what Papa would have said under any circumstances, especially what happened after his death. I think it would have been very difficult with Churchill in modern day politics, not least because he smoked 160,000 cigars and drank a good deal, and did other things that would have worked against him as a modernday politician. And that's as a British politician, let alone an American one. Nonetheless, I think he was very, very good at using the latest technology. I think he'd have been brilliant on Twitter for example [Laughter]. He was so good, many of his great ripostes would have fitted in perfectly to 280 characters or fewer. One time when he was giving a speech, someone shouted 'Rot!' at him, and he replied, 'I'd like to thank the honorable member for telling us what's in his mind' [Laughter]. That certainly would have fitted in to 280 characters."
Q: "Churchill, Franklin Roosevelt, and many other great leaders have come from the higher echelons of society, privileged in their upbringing. Of course, we have the dichotomy of Abraham Lincoln who came from the lowest level. What do you think is the inspiration or the cause of such leadership? It's obviously not based on upbringing. It must be based on some other elements that makes them great."
Roberts: "That's a very good question. Certainly not upbringing, or indeed social class. Winston Churchill was an aristocrat. He was born in a palace, and not just any old palace, but a palace the royals envy. He was the grandson of a duke. And he had this sense of noblesse oblige. Now today I'm afraid he would be attacked as having a sense of entitlement. But actually, the kind of entitlement that he had was the best possible kind. The idea that you had privileges in life, but it was your duty to spend your life returning to the people the energies that you had in your existence. It was something tremendously powerful, not just in British politics but of course he extended it also to the Empire. He believed that that was a sacred trust that needed to take the lives and the energies of millions of Britons.
"I think therefore there is something very modern, if it could be properly harnessed, in that kind of attitude towards life. It doesn't in any way have to come from any particular class whatsoever. But I do think it would be a shame if we were to basically cut out from politics anyone who's had a privileged upbringing because of this ghastly sense of envy. Envy is the most barren of all the vices and it's something that socialism builds on and sucks out. It makes people feel that just because somebody's had a privileged background, they have nothing to contribute. Yet the great renowned men, and women of history have not come from any particular social class at all. So I think I'm with you in what I suspect is your question. I think it's a terrible new idea, of somebody being so entitled that they can't contribute to society. Of course they can, and they must."
Q: "Did Churchill have friends? Did he live a lonely life, as busy as it was?"
Roberts: "He had lots of friends, great friends. He was a man who had a special talent, indeed, I would argue a genius, for friendship. When one looks at the relationships that he had with people like Professor Lindemann or F.E. Smith or Brendan Bracken or most of the members of the club that he set up of his friends called "The Other Club," one realizes that he was a man who had a tremendous capacity for friendship.
"This came from several areas. First of all, his wonderful sense of humor, which was gigantic. Also, his belief in sticking by his friends, even if it hurt him politically. He was willing, so long as they behaved honorably of course, to put up with any amount of bad behavior from his friends, frankly. There's a rule in The Other Club which states that 'nothing in the rules of the Club shall interfere with the rancour and asperity of party politics.' He was able to make friends from outside his own political party, which was very lucky considering he changed his party twice, famously saying, 'Anyone can rat, but it takes a certain ingenuity to re-rat.'
"I don't believe he was lonely for a moment. Partly because of his friends, and partly also because of his wife Clementine, who was his rock. He was fascinated of course by politics and could always pick up the feint of anybody he wanted to. He was a man who was capable on his own. That was a good thing because he wrote, as Larry Arnn said, the best part of fifty books, 980 articles. He was somebody who needed to be on his own in order to work. He was capable of being alone but not lonely, and I think that's one of the great attributes in life."
Q: "After World War II we saw the sense of Englishness and the duties of Englishmen decline. We saw the Empire decline. Was that a material thing, a cultural thing, or a lack of leadership that someone like Churchill might have been able to change had he been a younger man? Or was it just the sunset of an empire after an exhausting series of World Wars?"
Roberts: "I think it was very much the last of those, although culturally of course socialism did suck the life blood out of the Empire as well, because the Attlee government wanted to be rid of India. Nonetheless, by the end of the Second World War—maybe we could have survived one World War, but two within a quarter of a century?—it was asking too much of anyone. And yet, if a great empire, in which at one stage had covered about a fifth of the world's land surface, was ever going to decline and die, as ours did, in what better, more noble cause could it possibly die than in the defeat of Nazism? If it had to go, that was the way to go. An honorable way to go I think."
"Ladies and Gentlemen, just one Churchill gag that I'd like to tell you. My favorite Churchill gag always changes. There are about 200 jokes in this book, so obviously they change from time to time. But the one that I particularly love at the moment is the time when his private secretary came to him in the 1950s and told him that their cook had been made pregnant as the result of a nocturnal assignation with a man in the street in Verona. Winston Churchill immediately replied, 'Obviously not one of the Two Gentlemen' [Laughter]."
Churchill Project Articles
Stay In Touch With Us
Subscribe now and receive weekly newsletters with educational materials, new courses, interesting posts, popular books, and much more!