Articles

Great Contemporaries: Lord Attlee on "The Churchill I Knew," Part 1
Featured Image: Wartime colleagues (Hansard society).
---
Introduction
Clement Attlee was Churchill's loyal opposition when it was expected that politicians could disagree without being disloyal. The reader may decide how prevalent that mindset is today.
 Although he started political life as a Conservative, Attlee soon became a socialist. When nearing the end of World War II the Labour Party won a general election, he replaced Churchill as prime minister. He was Churchill's deputy during the war, part of all the great wartime decisions. In Churchill's absence, it was Attlee who in 1945 gave the order to firebomb Dresden. Churchill was long condemned for that, although the request had come from the Russians.
Attlee's government provided a high level of employment but also led to Britain's extended malaise after World War II. He has his own acts to answer for at the bar of history, but affection and respect marked his relationship with Churchill. Confronted by the fictitious insults he was supposed to have leveled at Attlee, Churchill would respond that "Clem" had gallantly served his country, and would hear no word against him.
 Part 1 of the Attlee tribute deals with Churchill character, his faults and virtues as Attlee saw them, a rare glimpse of Churchill by an intimate insider during the greatest war in history. Of course they are colored by Attlee's politics. It would take a very devout socialist to assert, as Attlee did, that Churchill would have been happy living in a feudal society.
With it all, though, Attlee was filled with admiration, and an old, still valid virtue: collegiality. We could do with such relationships today between Democrats and Republicans, Laborites and Conservatives. One lives in hope. —Richard M. Langworth
Lord Attlee on Churchill, Part 1: Character
Churchill, I consider, was the greatest leader in war this country has ever known. Not the greatest warrior. As a strategist, he was not in the same class as Cromwell, and if he had ever commanded armies in the field I doubt if he would ever have been a Marlborough. But a war leader must be much more than a warrior, and do much more than make war. Above all he must stand like a beacon for his country's will to win. And give it constant voice, and translate it into action.
I rate him supreme as Britain's leader in war because he was able to solve the problem that democratic countries in total war find crucial and may find fatal: relations between the civil and military leaders. Lloyd George had an instinct that told him when the generals were doing anything wrong, but he did not have the military knowledge to tell the generals what was right. Churchill did. He did not overrule the generals. But he always had chapter and verse with which to meet their protests and to lead them to a positive course of his own.
Much more often, however, he compelled their respect as an ex-soldier who had fought with weapons in his hand, who had conceived high strategy and knew the inside of military problems at all levels. And if sometimes he did what they wanted instead of what he wanted to do himself, everybody always knew who was the boss. He knew his stuff. And the generals knew it.
Lessons of the Dardanelles
In the whole of the First World War there had been only one brilliant strategical idea—and that was Winston's: the Dardanelles. It was the one attempt to get away from the mutual slogging match in the mud and blood of Western Europe, and make an imaginative strategic flanking movement that might cripple the enemy with one blow. I thought he was right at the time. The Germans were very sensitive to an attack on them in the Near East. If the direction of the war had not been in the hands of such a vacillating man as Kitchener, and if the campaign had not been entrusted to incompetent men whom Kitchener had appointed, Winston's scheme would have worked.
History said that he was wrong for two decades simply because the Tories of his day would not believe anything good of him. But in the Second World War it was the same imaginative outflanking movement, the left hook or the right, that set the stamp of Britain's overall strategy. This was the stamp of Winston himself.
In my view, he was a greater leader in war than Chatham because he personally made more impact on the men who fought. He had the capacity for being a symbol, a figure that meant something to the individual fighting man. As a public figure he was much more attractive, and therefore more influential, than the younger Pitt, and he set the impress of a single mind—essential when a fight is on—much more effectively on his colleagues and subordinates.
Winston's concrete contribution to the war effort, namely the setting up of the intra-governmental machine that dealt with the war, was most important. Winston, on becoming Prime Minister, also became Minister of Defence. Within the Cabinet he formed a Defence Committee which, of course, he dominated in his twin capacity as Prime Minister and Minister of Defence. The committee had a nucleus of permanent members: myself as deputy chairman, the Service Ministers and the three Chiefs of Staff. Other Ministers attended as required.
The Prime Minister also frequently conferred with the three Chiefs of Staff on detailed matters. In addition, from time to time, larger meetings were called for a specific purpose, e.g. to deal with the submarine menace. Here all kinds of people, scientists as well as military, brought their contributions to the common pool to help solve the problem of the Battle of the Atlantic.
Given Winston's knowledge of military men, his own military experience and flair, his personal dynamism, and the sweeping powers that any Prime Minister in wartime can have if he chooses to use them, the deadly problem of civilians-versus-generals in wartime was solved. Everybody involved should get some credit for this. But Winston's role has only to be described for its overriding importance to be clear.
War leadership
If somebody asked me what exactly Winston did to win the war, I would say, "Talk about it." In the Cabinet he talked about practically nothing else. After about 1942, when he and the Chief of Staff concentrated on the running of the war, and left John Anderson and myself to deal with domestic affairs, if Winston couldn't talk about the war he would rather not talk at all. The only part of home affairs he was interested in were those which bore upon the war effort. He took no interest in the famous White Paper on postwar Britain. Indeed, we had some difficulty in persuading him to read it.
Now and again he would pick up some document on home affairs in the Cabinet, take up one of the memoranda on top, or pounce on one of the minutes written half-way through it, and ask some question in the tone of a man who had read the whole thing through several times, and discovered the critical weakness in it, and was now going to hold a grand inquest.
"What about this?" he would say, glowering around the room. Sometimes we would have to point out to him that the passage he quoted was followed by its refutation and was not a recommendation. If he was in the mood, quite unabashed, he would try another. Or again, he might ignore our observation, and hold forth for ten or fifteen minutes about something that no longer existed.
We used to let him get it off his chest, and not interrupt—indeed, it was extremely difficult to interrupt him because not only had he no intention of stopping, but frequently he had no intention of listening. His monologues sometimes went on for very long periods indeed.
Much has been written about the way he would send out memoranda on small points of detail, which gave generals out in the field the impression, until they came to know better, that he had grasped every detail of what they were doing—and not doing. "What are we doing about the tents for signalers on Salisbury Plain?" is the kind of flash that would go out, much to the consternation of the unfortunate recipient. It frequently created a lot of confusion, because once Winston had decided to find out what was happening about those tents the whole war effort was held up until somebody had told him.
Very often the only thing that Winston knew about an operation was the point of detail he had covered in his memorandum. Some of the generals out in the field thought that Winston was like Big Brother in Orwell's 1984, looking down on them from the wall the whole time. Now and again somebody would tumble to it that this was a trick, and, realising that Winston could not possibly know about every operation in detail, take advantage of the fact. Here Winston's colossal luck or guardian angel often intervened. For this operation would sometimes turn out to be one of the many that Winston knew from A to Z. There would be hell to pay.
Oversight and understanding
What Winston really did, in my view, was to keep us all on our toes. He did very little work in the Cabinet. Churchill's Cabinets, frankly, were not good for business, but they were great fun. He kept us on our toes partly by just being Winston, and partly because he was always throwing out ideas. Some of them were not very good, and some of them were downright dangerous. But they kept coming, and they kept one going, and a lot of them were excellent.
In my view, the best were those that came out of his gift of immediate compassion for people who were suffering. I remember him coming back from a quick visit to a south country town just after it had been fearfully bombed. Winston had been much struck by the sight of a little home and shop, all exposed by the walls being blown down. He described it, with tears in his eyes. "We've got to do something about that damage now" he said. Within twenty-four hours officials were working on a scheme that speedily developed into the War Damage Commission.
My relations with him in Cabinet always seemed to me to be very good. He talked to me extremely frankly—more frankly, I suspect, than he talked to some of his Conservative colleagues. He did not have much use for those who had supported Neville Chamberlain. He never took it out on them, he was too good-natured and, anyway, he had too high a regard for political loyalty. What he did do, however, was to get most of these Chamberlainites at as great a distance from himself as he could, and he did it very nicely. Halifax went to the United States; Sam Hoare to Spain; Malcolm MacDonald to Canada; Harlech to South Africa; and Swinton to West Africa.
Winston and I sometimes, but not often, had a blazing row. I remember one on India, but he was quite all right next morning and indeed accepted my view. He was always smoking a cigar in the Cabinet room, and now and again he would give me one. Whether it was because at that moment I had said something he particularly approved of, or because he could no longer stand the smell of my pipe, I have never discovered. I never thought of asking him.
The only thing that Winston had against me was that I was a socialist. He used to complain about this quite bitterly at times, but I told him there was nothing he could do about it. Whenever we got on to the subject of planning for postwar Britain, Winston was ill at ease. He always groused about my being a socialist. Whenever a Cabinet committee put up a paper to him on anything not military or naval, he was inclined to suspect a socialist plot. Even wartime schemes for controls and rationing used to irritate him. We could never get him to understand that these were as essential to a Conservative country at war as to a socialist one.
"Old Man River"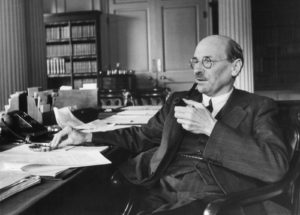 He became increasingly suspicious about the possibility of the socialists putting something over on him. He thought the socialists were cleverer than the Tories, anyway, and this naturally only increased his apprehensions. So whenever he got wind that a report or a memorandum on some thing outside his ken was coming up, he would get somebody to spy out the land so that he could prepare an onslaught on our "machinations". Winston used to describe this artlessly, as "getting a second, highly qualified and objective opinion on the issue." In fact, what he wanted was a hatchet job.
The first man he singled out as his hatchet-man was Frederick Lindemann, Lord Cherwell, whom we called Old Man River. Half the time, poor old Cherwell would not know half the facts that the Cabinet sub-committee had been working on. He and Winston would then put their heads together, without anybody else around, of course, and concoct some reason for not doing anything, based mainly on Winston's prejudices and supported by Old Man River's ignorance. Those Conservatives who knew the facts of the matter were usually united with us in thinking that the thing ought to be done. This only made Winston the more recalcitrant.
I got a little tired of this. One day I said to Winston: "If you value Cherwell's opinion, why not put him on the appropriate committee? This will save a lot of time." Winston thought this was a capital idea. So Cherwell came on to the committee. To do him justice, as soon as he was given full access to the facts, Cherwell saw things very much as we did, and he was honest enough to report back in this sense to Winston. Winston was obviously annoyed. He gave up Cherwell as hopeless for his purpose and looked around for another hatchet-man. This time it was Beaverbrook, who, though keen enough, was not very effective. And by the time he had learned enough to be a saboteur, the war was over and we had won the election.
Impatience and judgment
If Winston's greatest virtue was his compassion, his greatest weakness was his impatience. He never understood that a certain time was always bound to elapse between when you ask for something to be done and when it can be effected. He worked people terribly hard, and was inconsiderate. On the whole, he did not vent his impatience on people in bursts of temper or in bullying. But, as Alanbrooke has reported in his Diaries, he kept people working impossible hours in order that he should not have to contain himself, or defer anything that he had become enthusiastic about.
Another thing about him that I did not care for was that he was not generous in praising his subordinates. He was especially inconsiderate, I thought, to those whom he did not regard as his own discoveries and protégés. John Anderson and Ernest Bevin, for instance, should have been given the honour for a great many things that have been credited to Churchill. And Winston was to blame for this. It wasn't that he was mean; he just did not seem to think that it mattered that other people had worked hard, and that the idea that had produced the success had come from somebody else.
I think this was an effect of Winston's egotism. So far as the running of the country was concerned, he always thought of himself as the only person who really mattered. He had what you might call the "heroic" conception of government. Everything must be done by, and through, the big national leader. The hero of the finest hour. Seeing and hearing from anybody else did not matter in the least, he thought, and this led to confusion. So far as government was concerned, Winston was not a natural democrat. He was an autocrat.
He was also a poor judge of men, and he made some curious appointments. He was always liable to take a good man from a job he was doing well and give him something to do for which he was quite unsuitable. One time he had the bright idea of making Sir John Anderson Viceroy of India. I was appalled at the prospect, so was Field-Marshal Smuts. John Anderson would have made a magnificent Viceroy, but at that time he knew more about the war as it affected the civilian population of Britain than any man alive. It would have been a mistake to send him to India. We stopped that one.
Winston made some good appointments, too. Many a statesman would make better appointments sometimes if he was braver about them. Winston never had a tremor in selecting a man for a job—though he hated sacking people—and considerations of party would not stop him. I remember the appointment of William Temple in 1942 as Archbishop of Canterbury. Somebody asked Winston why he had made a socialist Archbishop of Canterbury. "Because," he said, "he was the only half-crown article in a sixpenny-halfpenny bazaar."
Oratory and writings
 I've said before that Churchill was not a great parliamentarian, mainly, of course, because he was too impatient to master the procedures. He was not even a great House of Commons debater in the way that Lloyd George and Birkenhead were. His speeches were magnificent rhetorical performances, but they were too stately, too pompous, too elaborate to be ideal House of Commons stuff. It was the occasions that gave the speeches their historic quality.
I heard so many of these speeches in preparation that perhaps I am not the best judge of them. He would walk up and down the room, throwing out remarks. "I'll go to them and tell them," he would say, and out would come some brilliant phrases to be worked later into a speech. In my view his best speeches were those which described historical moments—a victory, such as Alamein, or a defeat, such as Dunkirk. Those speeches are unique.
So far as Churchill the historian is concerned, I have always admired his prose much more than his content. It seems to me that somebody would get a curious idea of what has been going on in this country for the last 2,000 years if they had to get it all from Winston. He leaves too much of the important stuff out.
Humanity and compassion
Churchill was great not only as a leader but also as a human being. For the range of his qualities as a man one would have to go back to the Renaissance. That is the period which is his spiritual niche. His range of interests and curiosities was so vast that they seemed more those of a child than a grown man. Indeed, the idea of a child comes to mind when one considers many things about him. His naughtiness for example, and his short-term sulkiness, which were soon followed by complete oblivion of who or what it was that had upset him.
If there was one thing that marked him off from the comparable figures in history, it was his characteristic way of standing back and looking at himself—and his country—as he believed history would. He was always, in effect, asking himself, "How will I look if I do this or that?" And "What must Britain do now so that the verdict of history will be favourable?" All he cared about, in Britain's history, of course, were the moments when Britain was great. He was always looking around for "finest hours," and if one was not immediately available, his impulse was to manufacture one.
His greatest virtue, his compassion, has never properly been appreciated. It was his compassion, coupled to his energy, that made him so "dynamic." Cruelty and injustice revolted him. His will to fight them took him in many directions, not all of them wise, and not all of them to my liking; but I never questioned that profound fund of humanity, benevolence, love, call it what you like, in his character which made his hatred of cruelty the steering-gear of his great life.
I remember the tears pouring down his cheeks one day before the war in the House of Commons, when he was telling me what was being done to the Jews in Germany—not to individual Jewish friends of his, but to the Jews as a group. Criticism of him for thinking too much in terms of nations and masses and not enough in terms of individual human beings is frequently misplaced.
I do not believe that he became a lieutenant of Lloyd George and a pioneer of the Welfare State through political opportunism. He was an opportunist, certainly. But he cared about his fellow men. You only had to bring home to him an instance of cruelty and injustice, and he would respond to it. When his feelings were moved, he acted. Few men I have met in public life were less prone than Churchill to paying mere lip-service to a humanitarian cause.
He was so eclectic in his attitude to party that sometimes I used to wonder what he would be like in the Labour Movement. I could imagine the zest with which he would churn out phrases about "Capitalists grinding the faces of the poor." So far as language went he would have put Marx and Lenin in the shade. However, he would never have become a socialist even if he had joined the Labour Party. A socialist must regard it as essential to bring about certain forms and institutions, and eliminate others—though I do not believe that a socialist should have a final view of what society should be. I am enough of a Hegelian to believe that all being is becoming.
Winston, however, took society as he found it. He wanted to alter it only by removing cruelty and injustice and promoting generosity and understanding. Men like me would not tolerate a feudal society, even if everybody seemed reasonably content in it—for us, there would be too much degradation of human nature on the bottom rungs. But Winston would not have minded being in a feudal society.
His views on society are very difficult to sum up. He was rather like a layer-cake. One layer was certainly seventeenth century. The eighteenth century in him is obvious. There was the nineteenth century, and a large slice, of course, of the twentieth century: and another, curious, layer which may possibly have been the twenty-first.
"A most generous enemy"
The way Winston flung himself into whatever cause he was supporting at the moment was unique. It made most impression, of course, on the side he had just deserted. People used to wonder how he could do it. I think it was because he was too honest to pretend to feel shame when he did not. He changed horses for the same reason that a huntsman does: to keep up with the hounds, not to chase a different quarry. And energy came into it. Even if he had wanted to go easy on arriving in the new camp, and have a breather, so to speak, before starting to bash his late friends, his zest in putting everything he had into what he was doing would not have let him.
Winston was a most generous enemy, perhaps the most magnanimous of his generation. He had great pity for the loser, and he was the last man to hit somebody when he was down. Getting him down he regarded as the greatest of fun, but having done it, he wanted to pick him up again.
In the First World War, even before it was over, he was one of the first to talk sympathetically about the Germans, not only as a group of individuals, but as a nation. It was the same in the Second World War. He always made a distinction between the people and its leaders. And it is worth while noting that when he took a very tough line against the Bolsheviks in the First World War, he had nothing against the Russian people.
He enjoyed his revenge, however. He enjoyed the double revenge which his rise to greatness exacted from the Conservative Party. They had broken his father—and had tried to break the son. Winston and his father were revenged. But Churchill's revenges, I think, never came from a vein of sadism. They came from a profound feeling for poetic justice.
His egotism, of course, was monumental. "Of course I am an egotist," he said to me in the Cabinet room one day. "Where do you get if you aren't?" Chatham said in his great hour, "I know I can save this country, and I know that nobody else can." That was Winston, too. But not only did he believe in his own destiny: he believed in the destiny of Britain. His courage in the darkest hours was partly due to having the nerves of a rhinoceros, but partly due to a conviction that Britain could not lose.
He has spoken of himself as merely the lion's roar and undoubtedly he would not have been able to roar so well if the spirit had not been there in the country. But he called it out. When some men describe their love of their country I find it rather embarrassing. But when Churchill spoke of Britain he always struck a chord in me.
He was rather insular about Britain, of course. He talked a good deal about the Commonwealth, and nobody understood its importance better than he did. But Britain-England—really was his limit so far as feeling went. This may be why his judgment on Commonwealth affairs was often bad—notably on India.
Continued…
Churchill Project Articles
Stay In Touch With Us
Subscribe now and receive weekly newsletters with educational materials, new courses, interesting posts, popular books, and much more!