Articles

"The Art of the Possible": Churchill, South Africa, and Apartheid (1)
Boer General Christiaan de Wet signing the Treaty of Vereeniging, ending the Second Boer War, Melrose House, Pretoria, 31 May 1902. (From a 1920 postcard, public domain.)
---
Part 1
A reader refers us to "Apartheid: Made in Britain," by Richard Dowden, a journalist specializing in African affairs.[1] He argues that "Churchill, Rhodes and Smuts caused black South Africans to lose their rights." Mr. Dowden is experienced in his field, and his account is factual, but not dispositive. There is much more to say about Churchill's effort to achieve justice in South Africa.
The First and Second Boer Wars, and the deeds of Rhodes and Smuts, are well known. Our focus is on Churchill and South Africa, 1902-09. Did he ease the way for its future segregation (Apartheid)? Could he have produced a fairer outcome? Part 2 will cover 1910 and beyond.
When the Boers surrendered, Britons were as weary if war in Africa as Americans are today over Afghanistan. The quarrel between Boer and Briton seemed interminable, so both British political parties fought the 1906 election promising a peaceful South Africa.
The new Parliament, with its huge Liberal majority, opened in February. Churchill, now Under-Secretary for the Colonies, guided colonial affairs in the House of Commons. (His chief, the 9th Earl of Elgin, sat in the Lords.) Churchill declared Britain's goal in South Africa: "We hope to build upon the reconciliation and not upon the rivalry of races."[2] It was a tall order.
Churchill and the Boers
Early on, Churchill's views about African natives marked him as a dangerous radical. In 1899, he went to South Africa as a war correspondent. Captured near Chieveley, thence traveling by rail to his prison in Pretoria, he harangued Boer guard who mocked Britain's racial policies:
Well, is it right that a dirty Kaffir should walk on the pavement—without a pass too? That's what they do in your British Colonies. Brother! Equal! Ugh! Free! Not a bit. We know how to treat Kaffirs…. Educate a Kaffir! Ah, that's you English all over. No, no, old chappie. We educate 'em with a stick. Treat 'em with humanity and consideration—I like that. They were put here by the God Almighty to work for us. We'll stand no damned nonsense from them…. Insist on their proper treatment will you! Ah, that's what we're going to see about now. We'll settle whether you English are to interfere with us before this war is over.
Churchill then reported his own view of this exchange:
Probing at random I had touched a very sensitive nerve. [Boers held an] abiding fear and hatred of the movement that seeks to place the native on a level with the white man. British government is associated in the Boer farmer's mind with violent social revolution. Black is to be proclaimed the same as white….The dominant race is to be deprived of their superiority; nor is a tigress robbed of her cubs more furious than is the Boer at this prospect.[3]
Literacy vs. skin color
In 1907, Churchill made a tour of British East Africa. "Certainly the degree of civilization to which the natives of Uganda have attained is very wonderful," he wrote. "More than 200,000 can read and write, and they seem a most peaceful and industrious people."[4] In qualifying to vote, his son Randolph suggested, literacy was more important than skin color: "It has only been in much later times that it has been thought desirable and profitable to accord the franchise to people who cannot read or write. And it is too early yet to say whether a democracy of illiterates will prosper."[5]
From the East Africa Protectorate (later Kenya) Churchill wrote the King: "There can be no question of our handing over this beautiful Protectorate upon which we have spent so much, with its 4 or 5 millions of Your Majesty's native subjects, to the control of the first few thousand white men who happen to arrive in the country."[6] Hearing of reprisals in Zululand, he queried an official: Were "improper methods" used "to punish natives or obtain evidence?"[7]
South Africa: spinning top of diversity
Though Churchill respected Boer agronomy and fighting prowess, South Africa posed a knotty problem for the peacemaker. Natives outnumbered Boers and British by five to one. Cape Colony contained significant numbers of "Cape Coloureds" and Jews. The latter by 1906 were agitating for their own colony. Churchill politely demurred, citing "differences of opinion among the Jews themselves." He did admit "profound sympathy both for the aspirations of the Jewish race and for their recent terrible sufferings."[8]
There were also Indians, on whose behalf Mohandas Gandhi was prominent. Years later, Gandhi remembered: "I have got a good recollection of Mr. Churchill when he was in the Colonial Office and somehow or other since then I have held the opinion that I can always rely on his sympathy and goodwill."[9] We may note that Gandhi was not campaigning on behalf of African blacks.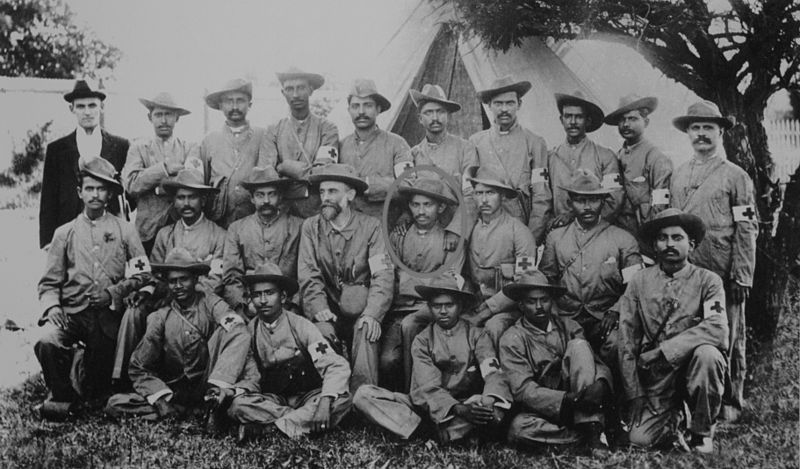 Churchill favored a generous settlement with the Boers. A war-weary public agreed. A friend wrote him: "[I]f we could incorporate these Boers into the Empire, we should be doing a vast deal more for the future of our race and language, than by assimilating a million Johannesburg Jews…. At present we are trying to make the Boers come in and lick the boots of the Johannesburghers whom they thoroughly despise."[10]
South Africa was quite different from other British African territories. So many peoples, many of whom cordially deplored each other, suggests the enormity of Churchill's task. Yet he was certain of the right tactic. Make the Boers "one of the foundations of our position in South Africa." Then "we shall be building upon the rock."[11]
"Caution in the direction of change"
Pro-native, Churchill was on the "radical wing" of the Liberal Party, but even that wing had its prejudices. South Africa's "large coloured population," he said, "should enjoin greater caution in the direction of political change." He favored "party government…upon racial lines. It is so at the Cape." In the British Cape Colony, qualified whites and blacks could vote.[12]
Nothing more united South African whites, Churchill declared, than politicizing native Africans. In the war it was "a nameless crime on either side to set the black man on his fellow foe." Racial difficulties also existed in the United States, he noted, where the black population was one in eight. In South Africa it was five in six. He also distinguished between aboriginal natives and "the immemorial civilisation of India and China."[13]
Yet Churchill recognized Britain's responsibility. "We will endeavour…to advance the principle of equal rights of civilized men irrespective of colour. We will not—at least I will pledge myself—hesitate to speak out when necessary if any plain case of cruelty of exploitation of the native for the sordid profit of the white man can be proved." He further promised "a proper status for our Indian fellow subjects." He demanded "good, well-watered land" for natives to "dwell secluded and at peace."[14] Examples of the latter were three British protectorates administered by native chiefs: Bechuanaland, Basutoland and Swaziland. Britain resisted periodic attempts by South Africa to annex these territories. In the 1960s they became the independent nations of Botswana, Lesotho and Eswatini.
"Terminological inexactitude"
Churchill had also to address the problem of Chinese coolies, indentured workers in the Rand goldmines. Each contracted to work three years, without their families, and strictly confined to worksites. In 1902-05, under Transvaal Governor Lord Milner, they were frequently flogged. The Liberals campaigned in 1906 against what they called "Chinese slavery." Churchill abjured the term, since they were paid wages, were not bought or sold, and free to return home. He famously quipped this could not be called slavery "without some risk of terminological inexactitude."[15]
The Liberal government tabled a motion to censure Milner for ill treatment of the Chinese. Milner responded by denouncing the Liberals, particularly their haste to grant self-government to the Boer-dominated Transvaal. Churchill deflected the censure motion but condemned "the flogging of Chinese coolies in breach of the law."[16]
Churchill's contentions on behalf of the Chinese brought him into conflict with leading Conservatives like Balfour and Joseph Chamberlain. Milner's moderate successor, Lord Selborne, understood Churchill's position. The Boers were simply bemused. Jan Smuts remarked that Winston's "pity for the Chinese-flogging Milner is no less Olympian than that for the benighted radical who thought the Chinese indentures partook of the nature of slavery."[17]
Ultimately, white and native labor gradually replaced the coolies, and a vexatious problem vanished. The greater challenge was: who would run the Boer colonies in the future?
The Transvaal constitution
Throughout 1906, Churchill pressed for Responsible Government in the Transvaal and Orange Free State. He also denounced Natal courts' treatment of blacks: "Mere attorneys rather than capable men of character and position [handle] the gravest issues in native affairs." But Parliament would not intervene, and Churchill had to accept Natal's "freedom to conduct the operations in its own way…."[18]
Elgin and Churchill hoped the Boer territories would allow native governing councils, as in the British protectorates. But both agreed that "harsh laws are sometimes better than no laws at all." Without Boer collaboration there would be "more injustice and tyranny on the natives." Elgin said the native question "is no doubt a difficult one…but it will certainly have to be faced…. No doubt, some day, not in our time…political rights may, probably must, be reached." Forcing this prematurely would "prejudice the just expectations of natives." The right time was when "the two races stand more on an equal footing."[19]
Churchill insisted that "our responsibility to the native races remains a real one." The Union of South Africa, he hoped, would finally place "treatment of native races upon a broad and secure platform…."[20]
The Transvaal received its constitution in December 1906, and elected a sixty-nine-seat parliament in February. Churchill and the Liberals thought a Boer majority a "quite impossible happening." They were wrong. The Boer Het Volk Party won a majority of five, and Churchill's only consolation was that his friend Louis Botha became prime minister. In December, the Orangia Unie (Orange Union) took twenty-nine of thirty-eight seats in the Orange Free State. Hopes of qualified blacks being allowed to vote in those colonies faded. Yet no one believed this was worth reopening the Boer War.
Pros and cons
Prime Minister Sir Henry Campbell-Bannerman congratulated Churchill over the Transvaal constitution: It was, he said, was "the finest and noblest work of the British power in recent times."[21] Randolph Churchill praised "the urgency and assiduity of his work, the cogency of his arguments, his mastery of the task."[22]
But Campbell-Bannerman was writing in 1907, Randolph Churchill in 1967. That was then but this is now. In 2014, Christopher Beckvold wrote:
The British Government was partly responsible for Apartheid and…Churchill was just as responsible as a member of the Government. His section of the Government, the Colonial Office, was responsible for the beginnings of Apartheid…when it granted Responsible Government to the Transvaal. Apartheid has not been associated with Churchill because historians do not want to slander a great man.[23]
Not exactly. Richard Dowden's "Apartheid: Made in Britain" appeared twenty years before Mr. Beckvold's thesis.
Let us add up the score. From his first encounter with South Africa in 1899, Churchill stood up for native rights. That was an uncommon thing among Victorian Englishmen. After the Boer War, he publicly and privately emphasized fair play for black Africans. In Parliament he promoted "good, well-watered land" for native cultures. Without Boer cooperation, nothing could be done. Churchill hoped, vainly, that the Boer colonies might merge into a more liberal union. Yet as late as 1954, as we shall see, he refused South Africa's annexation of the British protectorates. One of them is now among Africa's most prosperous countries.
"The Art of the Possible"
It is quite true, as Mr. Dowden wrote in 1994, that Churchill's policies in 1906-07 abetted Boer power. That power waxed with the Union of South Africa in 1910 and the election of Louis Botha as its first prime minister. So under later National Party governments, the black vote in the Cape and Natal gradually withered. So did Churchill's hopes for more moderate evolution. But as Bismarck had said, "Politics is the art of the possible."
Mr. Dowden ended his 1994 article with "half a cheer" for Churchill's chief, Secretary of State for the Colonies Lord Elgin. In 1906, he wrote, Elgin hoped "that Afrikaners would, 'in some time to come' see the good sense of granting 'reasonable representation to the natives.' I suppose you could say his wish has come true—at last."
In 1907, Elgin wrote Churchill: "…so long as the Native is excluded from the political rights possessed by the white man, he is better left under a personal rule…. I am not satisfied that a compromise is impossible."[24] Churchill, who favored just such an arrangement, replied suggesting a principle: "I would not do anything for them without a sufficient return for the benefit of the native."[25]
Perhaps we might offer half a cheer to Winston Churchill, too.
Endnotes
1. Apartheid: made in Britain: Richard Dowden explains how Churchill, Rhodes and Smuts caused black South Africans to lose their rights," The Independent, 18 April 1994,
2. Randolph S. Churchill (hereinafter RSC), Winston S. Churchill, vol. 2, Young Statesman 1901-1914 (Hillsdale, Mich.: Hillsdale College Press, 2007), 145.
3. The conversation between WSC and his guard is in Winston S. Churchill, London to Ladysmith via Pretoria (London: Longmans Green 1900, 133-36.
4. WSC to his mother, 23 November 1907 in Randolph S. Churchill, ed. The Churchill Documents, vol 4, Minister of the Crown 1907-1911 (Hillsdale College Press, 2007), 706-07.
5. Randolph S. Churchill, Young Statesman, 163. Randolph shared his father's sympathies. Incensed when asked to state his race on entering South Africa in 1960, he wrote "coloured," claiming descent from Pocahontas, and gaily burned his press card before affronted immigration officials.
6. Randolph S. Churchill, Documents, vol. 4, 750.
7. Ibid., 496.
8. WSC to Dr. J. Dulberg, 2 January 1906, in Randolph S. Churchill, ed., The Churchill Documents, vol. 3, Early Years in Politics 1901-1907 (Hillsdale College Press, 2007), 495-96.
9. Martin Gilbert, Winston S. Churchill, vol. 5, Prophet of Truth 1922-1929 (Hillsdale College Press, 2009), 622.
10. Sir Ian Hamilton to WSC, 20 January 1902, in Gilbert, Documents vol. 3, 116.
* * *
11. WSC to Sir Ian Hamilton, 25 June 1902, ibid., 147.
12. WSC, Cabinet Memorandum, January 1906, ibid., 499.
13. House of Commons, 28 February 1906, in RSC, Young Statesman, 163-64.
14. Ibid.
15. Richard M. Langworth, Churchill by Himself (London: Ebury Press, 2008), 45.
16. House of Commons, 21 March 1906, in RSC, Young Statesman, 177.
17. RSC, Young Statesman, 186.
18. WSC to Sir Walter Hely-Hutchinson, 19 May 1906, in Gilbert, Documents vol. 4, 544.
19. Ronald Hyam, Elgin and Churchill at the Colonial Office 1905-1908 (New York: St. Martin's Press, 1968), 373-79.
20. WSC to W.T. Stead, 31 October 1906, ibid., 596.
21. RSC, Young Statesman, 165.
22. Ibid., 193.
23. Christopher H. Beckvold, "The Transvaal Constitution and Responsible Government," Master's Thesis, University of Massachusetts Boston, August 2014, https://bit.ly/3fpNyW8 Accessed 5 May 2020.
24. Elgin to WSC, 25 September 1907, in RSC, Documents, vol. 4, 681. See also Hyam, Elgin and Churchill, 163-64, 373-78.
25. WSC to Elgin, 4 October 1907, ibid., 685.
Churchill Project Articles
Stay In Touch With Us
Subscribe now and receive weekly newsletters with educational materials, new courses, interesting posts, popular books, and much more!