Articles

Great Contemporaries: Philip Sassoon – A Friend at the End of an Era
Above: Sir Philip Sassoon by John Singer Sargent, 1923, bequeathed by Sassoon to the Tate Gallery. (Wikimedia Commons, public domain)
The good and the great
Sir Philip Albert Gustave David Sassoon GBE, CMB was an aviator, art collector and politician. In Parliament he served twice as Under-Secretary of State for Air. A wealthy and prominent social host, Sassoon welcomed many well-known guests. He entertained them at Port Lympne, Kent, on the Channel coast; and Trent Park in Hertfordshire. Sassoon also owned a London mansion on Park Lane. Among his guests were Queen Mary; King Edward VIII and Mrs. Simpson, and King George VI with Princesses Margaret and Elizabeth. The arts were represented by George Bernard Shaw, Kenneth Clark, Noël Coward, Fred Astaire and Charlie Chaplin. Political guests included David Lloyd George, Anthony Eden, Lawrence of Arabia and Winston and Clementine Churchill.
Philip, born 1888, was descended from the Baghdadi Jewish Sassoon family and the Rothschilds. His mother, Lady Aline Caroline de Sassoon, was the daughter of Gustave Samuel de Rothschild. His father Edward, 2nd Baronet, ran David Sassoon & Co, a trading company selling precious metals, silks, spices, wool, wheat and cotton. Siegfried Sassoon, one of the leading poets of the First World War, was Philip's second cousin.
Philip attended Eton and Christ Church, Oxford, where he read Modern History. He was one of only twenty-five Jewish undergraduates among some 3000. While still at Oxford, Sassoon joined the Royal East Kent Yeomanry, the reservist regiment for his father's parliamentary constituency of Hythe, Kent. Sassoon was commissioned a second lieutenant.
Sassoon and Churchill
Before the First World War, Churchill had been a guest of Ettie, Lady Desborough, a close friend of Lady Sassoon. After Edward Sassoon died in 1912, Philip became one of the wealthiest young men in England. He succeeded his father as a Conservative/Unionist MP for Hythe. Only twenty-three, he was nicknamed "the baby of the House." At the time, Churchill was First Lord of the Admiralty
With war in 1914, Sassoon, received mobilization orders. By 1915 he was a staff officer at British headquarters in France. There he served Field Marshal Sir John French, Commander-in-Chief of the British Expeditionary Force. Since understanding between British and French commanders was essential, Sassoon was in his element. His family and political connections, and command of French, made him ideal to serve on French's staff, wrote Damian Collins.1 In December, when General Sir Douglas Haig succeeded French, he invited Sassoon to serve as his private secretary.
Winston Churchill, meanwhile, had left the government, scapegoated over the Gallipoli operations, and joined his regiment at the front. January 1916 found him at Haig's HQ, hoping to be given command of a brigade. "I saw Haig yesterday," Churchill wrote his wife. "He was very polite & friendly: but listless & careworn. GHQ is a desert now—only Philip sits like a wakeful spaniel outside the door."2 Sassoon was similarly nonplussed: "Winston is hanging about here but Sir D.H. refuses to give him a Brigade until he has had a battalion several months. It wouldn't be fair to the others and besides does he deserve anything? I think not, certainly not anything good."3 Churchill received the lesser appointment, commanding the 6th Battalion Royal Scots Fusiliers.
Friendship established
Sassoon was given permission to return home to campaign and was reelected to Parliament. On 1 March 1919, he was demobilized. He had been at GHQ for more than three years and an army officer over four. Again he took up his seat in the House of Commons. On 9 January 1919, Churchill was appointed Secretary of State for War and Air, two separate ministries. In 1920, Sassoon became made Parliamentary Private Secretary to Lloyd George. As PPS, one of his duties was to track events and opinion at Westminster. Now under the same political roof, their friendship ripened. They also both enjoyed playing polo.
In the years that followed, Sassoon and his sister Sybil were among Winston's and Clementine's close friends. In 1920, Sassoon introduced them to a young architect, Philip Tilden, who was developing his Port Lympne estate. Churchill was looking for a country house, and ultimately bought Chartwell in 1922. Tilden was hired to design the extensive alterations.
Sassoon hankered for ministerial office, and in early 1921 asked Churchill to recommend him to Lloyd George. WSC was now Secretary of State for the Colonies. "I promised to mention Philip Sassoon to you," he wrote the Prime Minister. "You can judge better than anyone else. Personally I should like to see him given an opportunity and I think he would do well."4 Sassoon was not, however, offered a ministerial post. Lloyd George probably thought he was more important to him as an extremely adept PPS. Sassoon was knighted in 1923.
"A jolly troupe"
In 1919 Sir Philip bought his first airplane, an Avro 504K. Through 1939 his private planes landed at an airfield beside Trent Park. Churchill himself took flying lessons, and nearly accumulated enough hours to earn his wings. After several crashes and pleas from his wife and friends, Churchill ceased piloting.
Both avidly supported development of the Royal Air Force. In 1924 the new Prime Minister Stanley Baldwin invited Sir Philip to be Under-Secretary of State for Air under Sir Samuel Hoare. Now Chancellor of the Exchequer, Churchill congratulated him: "You will be well placed at Lympne to watch developments and inspect various [air] stations. In fact I think you must have built your house there upon a prophetic inspiration."5 Sassoon replied heartily:
Thank you for all you did on my behalf. It was very kind of you and I am certain I owe my job a great deal to your efforts on my behalf. You know that I am grateful. Nothing could suit me better than being here as I love the work and consider myself extremely lucky to be working under such a nice fellow as Sam. It is marvelous that you should be at the Exchequer, that we should all be together. It is a jolly troupe and I hope will prove a successful one. I am looking forward to having Clemmie to stay with me this week. À bientôt Winston and again thank you for everything. What a good friend you have been to me all my life.6
On 28 September 1928, Sassoon traveled 17,000 miles, inspecting air stations in Egypt, Sudan, Transjordan, Iraq, India and Malta. Churchill welcomed him back on WSC's 54th birthday, November 30th. He left office 1929, but returned to the post again in 1931-37.
Artists and paintings
Philip Sassoon was a connoisseur of paintings and owned a notable collection. His painter friends included Sargent and Orpen, whose 1916 painting of Churchill was a favorite of Clementine. Their daughter Mary explained Sassoon's influence. Her father "painted many pictures of both his houses and gardens. Winston was always fascinated by water and the problems of capturing it, and many of his coastal scenes and seascapes were painted at Lympne. With his large and varied collection, Sir Philip was able to be of help in this way too, and Winston studied and copied quite a number of his friend's pictures.7 One of the paintings that Sassoon lent Churchill to copy was Sargent's "Ruined Cathedral, Arras."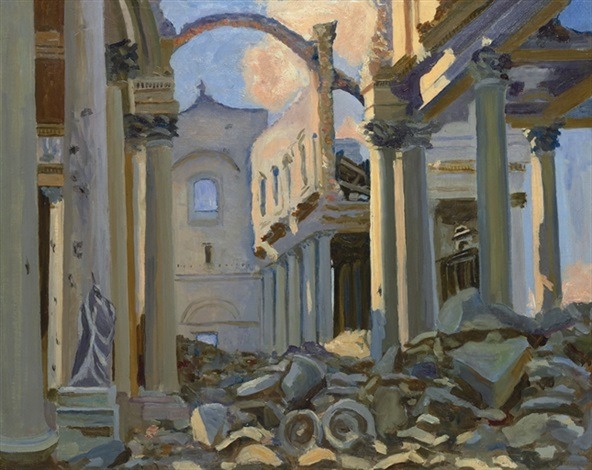 Churchill painted more than twenty pictures at Port Lympne or Trent Park. Once at Lympne, Churchill was observed painting the view across Romney Marsh to the sea. A fellow guest, the Romanian princess Marthe Bibesco, remembered: "He was completely absorbed…painting that great expanse of marshland…. Four sketches were drying in the sun, propped up against the feet of the easel. He was now slashing the fifth canvas, almost throwing the paint on; he was sighing, almost out of breath with the effort of expressing his feelings."8
One Christmas, Sassoon gave Churchill a a painting by John Lewis Brown (1829-1890), depicting two cavalry officers on horseback. Churchill had admired it at Trent Park. "I am sending it to you with my best [underlined four times] wishes, in the hope that you may find a corner for it at Chartwell," Sassoon wrote.9 Still there today, the painting hangs in Churchill's study.
Art and the air
Sassoon was a trustee of the Tate Gallery and Wallace Collection. He was also chairman of trustees at the National Gallery in 1933-35. Anthony Eden, a fellow trustee, fondly remembered the time "when Sassoon was our chairman and Kenneth Clark our director."10 Like the Churchills, the Edens were often Sassoon's guests. "Phillip was a wonderful host and impresario," Eden recalled:
His gift was to get people together who wanted to see each other than efface himself. The resulting performance was his pleasure. He once told me that he got all the news worth hearing that way without the trouble of reading what the press had to say. He was a rich man who liked to spend his money making his friends happy around him. There was a touch of the Arabian Nights in the wonder of his entertainments. He was kindly and unselfish, asking nothing for himself…. As First Commissioner of Works [1937-39] he proved a most intelligent and imaginative holder of that office.11
In 1931, Sassoon was reappointed Under-Secretary of State for Air. In 1934, about embark on an inspection trip, he received a telegram from Churchill: "Every good wish dear Philip for a safe and prosperous journey. What wonderful things you will see."12 Sassoon travelled by RAF flying boat to Malta, Cairo and Baghdad, reaching Singapore on 10 October. He returned through Kuala Lumpur, Rangoon, Calcutta, Jodhpur, Peshawar and Karachi. Sassoon he landed back home at Croydon on 29 October 1934.
Germany: a difference among friends
In Parliament on Tuesday, 19 March 1935, Churchill raised the issue of Germany's growing air strength. He presented a string of precise figures, adding: "At the end of the year, when we were to have had 50 percent superiority over Germany, they will be at least three and four times as strong as we."13 Churchill wanted the RAF to redouble its expansion. Sassoon replied on behalf of Baldwin. It was incredible, he said, to think the Luftwaffe could mount a serious challenge to the RAF.
"To what extent Sassoon's reply was based on duplicity—Baldwin's duplicity or Sassoon's—and to what degree on ignorance by either or both, is matter for speculation," wrote William Manchester. Sassoon said: "I do not think I can follow [Churchill] into a morass of figures which must be, after all, very largely conjectural. He added that the RAF would be strengthened by over forty squadrons in the next four years. He admitted that during the past four months "the situation has deteriorated. There has been a great acceleration…in the manufacture of aircraft in Germany." Nevertheless Britain would still have a margin—"I do not say a margin of 50 percent"—by the end of 1935.14 Churchill's sources vehemently disagreed, and in the end he was proven right.
On 3 June 1939, aged only 50, Philip Sassoon died from influenza in London. (Click here for news report.) His friend James Hawtrey RAF, of the 601 Squadron Sassoon had commanded, flew over Trent Park, scattering his ashes. He was, like Lawrence, a companion Churchill would miss in the great battle to come.
Vanished times
A glimpse of Sassoon's glittering era came in a 1958 letter to the Queen Mother. It was written by Robert Boothby, Churchill's private secretary in WSC's Exchequer years. Boothby recalled a visit to Trent Park in the Thirties. It was, he wrote, "perhaps the most remarkable week-end of my life." Waking 6am, Boothby watched
horse-drawn carts coming up the Avenue, filled with potted flowers of all kinds in full bloom, from Covent Garden, including lilies for the border around the swimming pool…. After lunch the Duke of York and I played a round of golf on the Home Course and I shall never forget his delight when he holed a long putt on the 17th green to beat me by 2 to 1.
When we got back we went for a flight over the grounds in Philip's private aeroplane. And then, when we went into tea we found, amongst others, Bernard Shaw arguing with Winston Churchill over the tea-cups, Rex Whistler painting in the corner, Osbert Sitwell and Malcolm Bullock laughing in another corner, Kenneth Clark holding forth about pictures, and heaven knows who else.
When we went up to change—into black tie—for dinner; there was a cocktail and a carnation on every dressing-table. And dinner was served by a large fat butler whose name I forget, and six white-coated footmen. After dinner we watched a magnificent firework display on the lake. And finally Richard Tauber sang to us under the stars on the Terrace outside the house.
Today, it all seems like the dream of another world, now gone for ever. And so it is.15
Winston Churchill would have agreed. At Chartwell, his paintings done at Port Lympne and Trent Park hang in silent remembrance of those times.
Endnotes
1 Damian Collins, Charmed Life: The Phenomenal World of Phillip Sassoon (London: William Collins, 2017), 37.
2 Winston S. Churchill to Clementine Churchill, 1 January 1916, in Martin Gilbert, ed., The Churchill Documents, vol. 7, The Escaped Scapegoat May 1915-December 1916 (Hillsdale College Press, 2008), 1351.
3 Philip Sassoon to H.A. Gwynne, editor of the Morning Post, in Collins, Charmed Life, 47-48.
4 WSC to David Lloyd George, 30 January 1921 (Churchill Papers). Ibid., 117.
5 Ibid.,170.
6 Ibid., 170-71.
7 Mary Soames, Winston Churchill, His Life as a Painter: A Memoir by his Daughter (London: William Collins, 1990), 48.
8 Ibid., 106.
9 Collins, Charmed Life, 171.
10 Anthony Eden, Facing the Dictators (London, Cassell, 1962 ), 130.
11  Ibid., 187.
12 Martin Gilbert, ed., The Churchill Documents, vol. 12, The Wilderness Years 1929-1935 (Hillsdale College Press, 2009), 874.
13 William Manchester, The Last Lion: Winston Spencer Churchill, vol. 2, Alone 1932-1940 (New York: Little Brown and Company, 1988), 138.
14 Ibid.
15 Robert Rhodes James, Robert Boothby: A Portrait of Churchill's Ally (New York: Viking, 1991), 449.
The author
Mr. Glueckstein travels widely in search of Churchill and writes from his home in King's Park, New York
Churchill Project Articles
Stay In Touch With Us
Subscribe now and receive weekly newsletters with educational materials, new courses, interesting posts, popular books, and much more!