Articles

Scaling Everest: Robert Hardy on Playing Churchill (Part 1)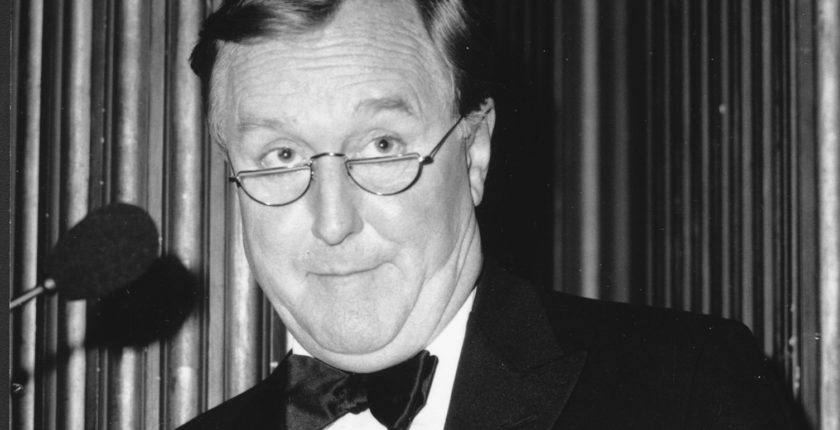 ---
Timothy Sydney Robert Hardy, who played Winston Churchill a dozen times on stage or in film, left this world in August 2017. He first spoke publicly of his role as Churchill at the Reform Club, London, on 4 September 1987. We publish those remarks in memory of a dear friend and a great actor. Copyright © the Estate of Robert Hardy, reprinted by kind permission of the executors, Justine Hardy and Neil Nisbet-Robertson.
Robert Hardy:
My father looked rather like Neville Chamberlain—indeed was on occasion mistaken for him. He once had his attaché case rifled on a train by someone who was determined to discover all he could of the Prime Minister's secrets. In spite of that my father admired Winston Churchill through his years in the wilderness, and the crying of his lone voice.
Perhaps at once I ought to crave your indulgence if I do not always refer to "Sir Winston," and even if I sound over-familiar occasionally and speak simply of "Winston." It is in no way an assumption of familiarity. It is, rather, the affectionate appellation by the first name, commonly used for monarchs and heroes of legend.
To return to my father and to the days before the war, you will readily understand how I grew up. Winston Churchill was a familiar and admired figure in my youthful mind. Then came the war and the glorious good sense that overcame our nation in choosing Churchill as Captain General.
The Churchill persona
At school, day by day, one scanned the papers for his words and his thoughts. One sat silent, thrilled and fearful by the wireless, and heard the inimitable voice. (I say this both to exculpate myself for past short­comings, and to reassure those who might fear an onset of mimicry).
Like the whole nation, we listened to our leader and to our friend, expressing the fears, the horrors, the triumphs, the defeats, and above all the determinations of that epic time. I say friend partic­ularly, because in that voice of Churchill's, quite apart from the ring, the cadence, the grandeur, there is always to me a great simplic­ity, an openness, sometimes almost a nursery quality of intimacy which draws you to him.
I suppose I have listened to that voice as much as almost anyone. It was my "way in" (if indeed I ever can be said to have entered at all). I've always wondered how differently he sounded—to his children, to his intimate friends, to the farm people at Chartwell? I asked Lady Soames about that. She replied that she really didn't think there was any difference between his private and his public voice.
I was surprised, but gradually realised that the simplicity, the clarity of his speech, of his writing, accounted both for its power and its friendliness. There is pomp when it is called for, but never pomposity. There is always that clear construction of language which only profound understanding and experience in the language can achieve.
Ferdinand Fairfax decides
The day of his death marked the end of my father's generation. It was the generation which had fought and survived—at what cost?—two world wars. I wept that day as I had never wept before—nor have I since. It was not only that the glory had departed; it was also that I felt we were now in the hands of the people who had turned on Churchill in the moment of victory.
As soon as it appeared, I bought for my son the large collection in a big black box of Churchill's speeches. It proved a good investment. It sat in my house on a day when the telephone rang. It was a very fine film director, Ferdinand Fairfax. "Is that Robert Hardy?" He told me that he was going to do a Churchill television series.
Fascinated, I plied him with questions, obviously including who was going to play Winston. I remember saying, "I hope you'll get Anthony Hopkins." Fairfax replied: "No, he's too young," "Well, who?" "We're not sure yet."
So I at once undertook to provide a double list of actors for him. One column represented those who could look like Churchill. The other, appearances apart, listed those who might have a reasonable stab at representing him.
A week later the telephone rang again. Fairfax said, "Thank you for your list, and your interest." I asked if he'd decided yet. He said yes, they'd all decided. "Who?" I asked. "Robert Hardy," he said, "although you weren't on your list."
Escape plans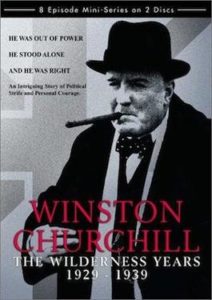 At that point I fell into a panic and started a tactic of evasion which, purposeful as it was, eventually failed. Incidentally, it is an ambition of mine one day to direct Mr. Hopkins as Winston Churchill. He has the right vocal register, the right physique. He shares with his late countryman, my friend Richard Burton, a kind of glamour in his personality which is right for Churchill.
Richard, in spite of the dreadful things he used to say about Churchill, was able to deploy this to great effect. When Richard played Winston Churchill in the first film version of "The Gathering Storm," I played von Ribbentrop. My brother-in-law told me that before the war he had shot with Ribbentrop in Scotland. Forever afterwards he regretted that he had not aimed both barrels at the ambassador instead of at the birds.
Scaling Everest
My panic was genuine. I felt I had no qualifications whatever to attempt a Titan. Thoughts of the friendliness in Churchill's voice fled. Robert Hardy was to climb Everest in everyday clothes with an Ord­nance Map.
You may wonder after such protestations why I agreed to make the attempt at all. The answer to that is twofold. As we know, if Everest presents itself, someone will try and climb it. And then, I thought, "If I don't do it, someone else will and they might be worse."
Then various pieces of good fortune came my way. First, the enterprise postponed itself. The project required several months for preparation. Second, I was taken down to Chartwell and while there I met its longtime administrator, Grace Hamblin. Third, through a mutual acquaintance I came across Sir Winston's nephew, John Spencer-Churchill. Churchill said of the victory at Alamein, "a bright gleam has caught the helmets of our soldiers…" Powerful columns were marching to my relief, though their helmets were yet uncaught by any gleam.
I met Chartwell and Grace Hamblin on the same day. They were a good match. It's not certain that the events in a screenplay should play out in the very places where they truly happened. Of course in some cases they didn't happen at all. I remember vividly talking to Lady Soames before screening the first episode. She was naturally apprehensive and said, "One must remember it is only a play." Should plays be set in reality? I'm not sure. But I would very reluctantly have forgone the weeks that I spent there.
Conjuring a presence
It was an investigation, conducted for me by Grace Hamblin. She must have hated the idea of an actor trying to "do" Winston. Yet she showed nothing but kindness, acute observa­tion, brilliant memory, affection, and great under­standing of my position. Grace gradually conjured up for me a presence. As it became more manifest, I felt I could recognise and even approach it. But to represent that presence was another matter.
Johnny Churchill helped me. He told hilarious stories, with riotous imitations of his uncle. Through him Sir Winston's humanity and approachability emerged from the forbidding and the unattainable. Physically, he was Churchillian, massive across the shoulders, a broad-chested man, but with delicate limbs.
Herein lay one of the great difficulties: the hands. My hands are capable but by no means delicate. Churchill's were long fingered, beautiful. What could I do? Fairfax offered a rather sparse collection of old newsreel footage. Remember we were dealing with the period 1929-39, before the time when Winston's every appearance was dogged by the media. He also found a 1932 press conference filmed in New York after Churchill's accident with the motorcar. I ran that piece many times. The almost tentative use of his fingertips on the edge of the table in front of him fascinated me. If I used my hands delicately, I thought, I might give the impression of hands very different from my own. I determined to study that, and also the possibility of narrowing my hands in front of the camera.
But there was a very great deal else to think about. I listened to records and to tapes, including one or two very early ones, and I listened to anyone who would talk about him. And of course I read—like an undergraduate faced with finals.
Churchill Project Articles
Stay In Touch With Us
Subscribe now and receive weekly newsletters with educational materials, new courses, interesting posts, popular books, and much more!