Articles

"Raucous Caucus Clamour": Winston Churchill on the Referendum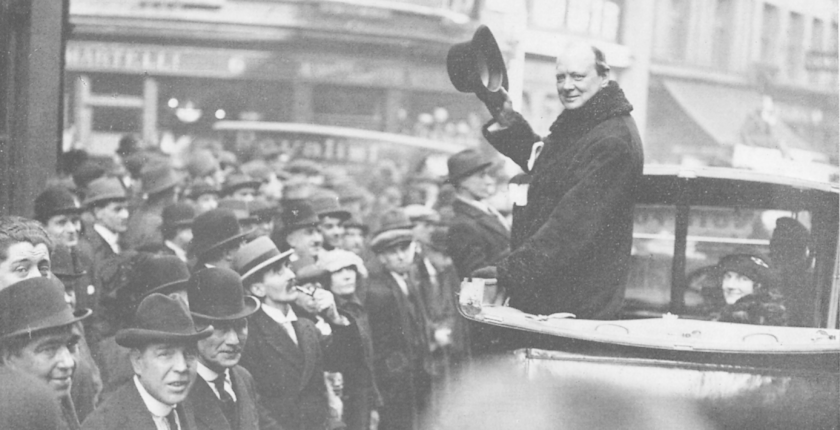 Churchill (campaigning in London, 19 March 1924) in the third of three defeats, 1922-24. He roared back in 1924 and was soon pursuing House of Lords Reform again—this time hoping for a referendum. (From Prophet of Truth 1922-1939, Hillsdale College Press, 2009)
---
Representation vs. Referendum
Western democracy typically features representative not direct democracies. Churchill described the latter as "government by talking…. Responsible representatives," he said, operate "with a degree of refinement, seriousness, and substance which cannot possibly be equalled or rivalled in any public meeting or in all the raucous caucus clamour of popular elections." 1 Elections exist "for the sake of the House of Commons," not the other way round. 2
In contrast to representative government is the referendum: direct popular decision-making, frequently employed in Switzerland. Churchill did not oppose a referendum on questions of cosmic importance. He deprecated it as a substitute for ordinary legislation. His experience is not without modern relevance. In 2016 Britain held a referendum over its membership of the European Union. In 2014, a Scottish referendum maintained Scotland in the UK. Did Churchill ever favor such "raucous caucus clamour" over representative democracy?
"'Trust the people' was a consistent Churchillian cry, wrote the historian Kevin Theakston in his excellent study, Winston Churchill and the British Constitution:
The arguments of principle against referring political questions to the electorate for direct decision by a general ballot were, on the whole, compelling ones for him. "We believe in democracy acting through representative institutions," as he insisted in February 1911…. Members of Parliament are representatives, and not delegates. We believe that Governments are the guides as well as the servants of the Nation." 3
1903: Free Trade
Churchill first heard the call for a referendum over protective tariffs. Britain had long been a free-trade nation, but in 1903 a leading Conservative, Joseph Chamberlain, called for "Fair Trade." This would maintain Empire Free Trade but apply tariffs to goods from elsewhere. Conservative Prime Minister Arthur Balfour resisted Chamberlain's call for a referendum on the question. Churchill, a free-trader, agreed: "I myself am not in favour of sudden constitutional changes like the referendum." 4
Seven years later in a close election, Balfour reversed himself and spoke with approval of a referendum on tariffs. Churchill, now a Liberal,  joined Balfour's call, determined to preserve Free Trade. But he voiced reservations, referring to the German origin of tariffs and the Swiss use of the referendum:
I do not care how [tariff reform] is killed so long as it is killed. I welcome every new barrier in its path and every new danger which menaces its existence…. although I do not think that a referendum would be a good way of governing this country and Empire…I do not think it at all inappropriate that a tariff plan made in Germany should be destroyed by a referendum plan which has been made in Switzerland. And so I welcome Mr. Balfour's offer and pledge. 5
1907: Reforming the Lords
Churchill's change of party from Conservatives to Liberals in 1904 proved timely. Two years later the Liberals swept into power on a reform campaign, including curbing the power of the unelected House of Lords—particularly to veto a budget. The controversy lasted until 1911. "It was an uncompromising performance," writes Theakston. Churchill "denounced the House of Lords as 'one-sided, hereditary, unpurged, unrepresentative, irresponsible, absentee.' The Lords were the Conservative Party's 'obedient henchmen… not a national institution, but a party dodge', the instrument of 'aristocratic and plutocratic domination.'" 6
By 1909 the stand-off was intense. "One day we are told that it is the intention of the Government to seek a dissolution of Parliament before the Budget reaches the House of Lords—in other words, to kill the child to save its life," Churchill said. "The next day we are told the Government have decided to have a referendum—that is to say, they will ask everybody in the country to send them a postcard…." 7
"Bludgeon of Apathy"
The Liberals went to the country in the election of 1910 determined, Churchill said, to end the Lords' budget veto and limit their ability to delay other bills to two years. "I am not in favour of a referendum," Churchill declared, but he wanted "proper provisions for securing the supremacy of the House of Commons." 8 The election left the Liberals with a bare majority. Churchill still opposed a referendum, but now began to acknowledge situations when it might prove useful:
Referendum procedure on constitutional questions would be unfair to the smaller nationalities, unless it were limited to questions affecting the United Kingdom equally as a whole…. It is not fair to submit questions like Home Rule and Welsh Disestablishment to referendum, because tho [sic] they excite passionate interest in Ireland or Wales, they might not stir seriously one way or the other the English electorate. A referendum in such circumstances would be no less than a bludgeon of apathy to stun a sincere & vehement local demand.' 9
Churchill supported a referendum on "Constitutional questions of general import… Monarchy, the relations between the two Houses, the basis of the franchise." 10
Liberal reform of the House of Lords crept through a divided Commons. By March a referendum on Lords policy was losing favor. It always seemed to him, Churchill wrote to the King, "that this strange device so full of menace to the interest of property and good government could ever bear the pressure of sustained Parliamentary scrutiny." 11
A month later the Commons rejected a referendum on the Lords with a majority of 122. "On ordinary matters of general politics," Churchill wrote the King, "it would lead to complete irresponsibility in both members and ministers. A referendum is not compatible with an effective second chamber, to which indeed it is an alternative." 12 The Parliament Act finally passed in August. In 1949, the time the Lords could delay a bill was reduced to a year.
Historian Paul Addison observes that there was "deliberate irony" in Churchill's endorsement of referenda for particular purposes: "I think there is a large class of measures dealing with the redress of great inequalities of property in this country," WSC said, "particularly of property in land, on which a referendum might very effectively be used." (See "Henry George and Churchill's The People's Rights.") Still, Churchill deplored referenda "as a continuous element in government. The stable foundations of Parliament would be replaced by 'a tossing sea of frenzied electioneering [and] the worst forms of Jacobinism, Caesarism, and Anarchy…" 13
1911: Votes for Women
Churchill had a mixed record on the Female Suffrage issue, though he usually supported it, as noted elsewhere. During 1910 he included the franchise as an issue worthy of a referendum. In November 1911 he lobbied for a Suffrage referendum, though he thought votes for women "would be smashed."
In 1913 Lord Curzon warned Churchill that if a suffrage referendum were held and rejected, it would make suffragette demonstrators more violent. Here Theakston is critical: "Churchill's alarmist arguments and his cynical referendum proposal do suggest that the suffrage campaigners were right to regard him as an enemy." 14 Perhaps—perhaps not. Churchill had named the franchise as a valid referendum issue for some time. No one can say he was inconsistent.
1912: Ulster & Irish Home Rule
In 1910, Churchill reluctantly supported a referendum supporting free-trade, but in the very same speech he adamantly resisted one on Irish Home Rule. The first issue was national, the second local. A popular vote over trade was entirely different from Home Rule: "We think it a bad and vicious system for a country to adopt…. it is altogether out of harmony with Parliamentary government and is destructive of Parliamentary responsibility." 15
The greatest Home Rule debate involved Northern Ireland (Ulster)—Protestant and opposed to what it saw as "Rome Rule" by a Dublin parliament. Churchill and Lloyd George argued for Ulster's exclusion from Home Rule pending a final decision in five years. They were overruled, and the government's Bill dealt with Ireland as a whole. 16
With the coming of World War I in August 1914, Home Rule was set aside. After the war Churchill would play an important role in the Irish Treaty, creating an Irish Free State while leaving Ulster in the UK. An Ulster decision to join the Irish Free State never occurred. It was far better to leave good enough alone. So it was, and still is today.
1921: Rhodesia and South Africa
When Churchill became Colonial Secretary in February 1921, he was faced with a dispute over "Greater South Africa." The British South Africa Company, which had administered Rhodesia since 1889, was about to hand over to local government. Argument arose over what that government should be. Jan Smuts, later Churchill's close friend, wished South Africa to incorporate Rhodesia into the Union. Rhodesians led by Sir Charles Coghlan demanded Responsible Government (self-government).
Churchill accepted a commission's recommendation to hold a referendum on the question. In September, he allowed Smuts to declare the terms by which Rhodesia would join South Africa. Churchill said a referendum was his "personal wish." It was duly held, but nearly 60% of white Rhodesians voted against the Union. 17 Northern Rhodesia became independent Zambia in 1964. The south became independent Zimbabwe in 1980.
1925: Lords again
Churchill's views on the referendum followed a pattern. He supported it for big decisions, resisted it as a substitute for regular function of government—including, in 1911, reforming the Lords. Now came to an apparent inconsistency. When the Lords issue rose again in 1925, Churchill backed a referendum. But it was more than an Act of Parliament.
Reformers wanted complete transformation of the upper chamber. From an assembly of hereditary and life peers, they proposed one of "notables" chosen periodically by a select committee representing "the national will." Notables would be drawn from a list of 1200 peers, Privy Councillors and "persons who had filled certain important public or municipal offices." The new assembly, Churchill said, would retain "the form and much of the substance of the present House of Lords," while offering "that constitutional equality which the Parties of the Left demand." 18
In America, differences between the bicameral legislature are resolved by conference committees. Churchill thought the new House of Lords should settle its differences with the Commons by a referendum. The opposition Labour Party preferred frequent general elections. Churchill said these were "highly detrimental to the interests of the public. No one could impugn the democratic character of the referendum, which had been found to work well in countries which had adopted it." 19
This indeed sounded like a change of heart. Lord Birkenhead, then Secretary of State for India, had his doubts. "The public were tenacious of methods in which they had been bred and the referendum might well prove a two-edged weapon," he said. Though Churchill's reform went nowhere, it did emphasize an important distinction. The 1911 Parliament Act had merely adjusted the Lords' powers. 20 The 1925 proposal would have transformed British government.
1930: Tariffs on food
In the May 1929 election the Conservatives were thrown out and Labour formed a minority government. For the Tories it was a blessing in disguise: the October stock market crash heralded a worldwide depression. Labour was soon forced to form a national government with the other parties. Then, rather quickly, the former Tory prime minister Stanley Baldwin rose to lead the coalition. In 1935 Baldwin and the Tories swept back to power with a huge majority.
Anticipating that future Tory government, Baldwin in 1930 committed his party to a referendum over tariffs on food imports. Baldwin, Kevin Theakston writes, was "using the idea of a referendum as a lifeboat to get out of a tight spot, keep some room for manoeuvre, and neutralize a difficult and divisive issue." 21 Baldwin did not directly propose food tariffs. But he did promise to summon a conference on the question. If the conference agreed to tax foreign food imports, Baldwin said he would ask for referendum.
Churchill, Paul Addison recorded, "was delighted by the formula." 22 In March 1930 he declared that if the proposed conference
gave British manufactures effective and substantial entry into the Canadian and Australian home markets, and if as a part of that arrangement duties on foreign food were required, the Conservative Government of that day would not hesitate to submit the whole scheme in its entirety, on a special referendum…. The electors would, therefore, remain complete masters of the situation. 23
For Churchill, this was an extraordinary departure, both from free-trade and his opposition to referenda as substitutes for legislation. Churchill later defended his reversals as the product of the grim economic situation.
1945: Postponing the election
With the defeat of Germany in May 1945, a general election seemed inevitable. Yet the wartime coalition unanimously favored processing the Japanese war. Churchill had always favored coalitions in times of peril, and the peril was not over. He duly wrote the Labour and Liberal leaders:
It would give me great relief if you and your friends were found resolved to carry on with us until a decisive victory has been gained over Japan. In the meanwhile we would together do our utmost to implement the proposals for social security and full employment…. If you should decide to stand on with us, all united together, until the Japanese surrender is compelled, let us discuss means of taking the nation's opinion—for example, a referendum—on the issue whether in these conditions the life of this Parliament should be further prolonged. 24
The Liberals' Archibald Sinclair had reservations. A referendum, he said, was "an innovation in constitutional practice which has more than once been considered in times of political crisis, and rejected for reasons which cannot lightly be set aside." 25 Labour's Clement Attlee was even more scathing. The referendum, he said, was "alien to all our traditions," and most recently "the instrument of Nazism and Fascism." 26
Attlee's problem was the lopsided Conservative majority in the House of Commons, present since 1935. An election, he knew, would give Labour a far greater say in things. To Churchill, the war took priority. He felt obliged to try to continue the successful coalition. He failed, and lost the July 1945 election.
1945: Scottish devolution
Also in 1945, Churchill rejected a referendum on a Scottish parliament: "Scotsmen would make a wrong decision if they tried to separate their fortunes from ours," he later said. But after he left office, Theakston observes, "he took up a populist stance, seizing the chance to 'play the Scottish card.'" 27
That is true, but rather unfair. Theakston himself quoted Churchill as saying that a referendum on Scottish devolution might excite passion in Scotland but "not stir seriously" in England, where most voters lived. 28 Still, Churchill had stated his support for local government since 1905, when he said:
No party in the future would refuse to consider the delegation of administrative and legislative functions to provincial or national boards in the four parts of the Kingdom, and the handing over to them of large slices and blocks of business which could not properly be dealt with at Westminster. 29
1948: Death penalty
When Parliament narrowly voted to remove the death penalty, Churchill supported a referendum over the question. Whether that was consistent with his previous views depends on how seriously one considers capital punishment. Nevertheless, he minced no words. The postwar Parliament, he said, was
the most unrepresentative and incapable that has ruled Britain in modern times. If you want to see public opinion, look at what happened about the death penalty. Seventy-five percent at least of the population is against the opinion expressed by a majority of twenty-five incapable and irresponsible members of Parliament… the people should be allowed to express their own views and not irresponsible votes in the House of Commons. 30
Those remarks have a modern ring. His words about the unrepresentative Parliament of 1948 might well apply to the one of 2016, when a referendum saw a majority voting to leave the European Union and most Members of Parliament determined to remain. As Mark Twain is reputed to have said, but perhaps didn't: History doesn't repeat, but sometimes it rhymes.
Churchill's consistency
In representative government, Churchill thought the referendum must be rare. Only eleven times in his long career was there a call for one. Only six times did he support it.
He certainly thought a referendum would terminate any government that didn't win it. "The reversal," he maintained, "would destroy the whole credentials of the Government and would render a General Election necessary." 31
The 2016 Brexit referendum had that effect. After years of wrangling, an election (2019) was the only solution.
At times Churchill seemed inconsistent. Over Lords reform in 1911, he denounced referenda as "constitutionally subversive." Over Lords reform in 1925 he said: "No one could impugn the democratic character of the referendum"—overlooking the fact, Theakston wrote, that he'd said just that in 1911. But this conclusion is too pat. In 1925, a referendum would have resolved differences between the House of  Commons and a greatly reformed, far more representative House of Lords. That was not the case in 1911.
Churchill's favored mode of government was representative democracy. "When he supported the referendum," Theakston concludes, "it was largely as a tactical device in a particular situation rather than as a serious general instrument of democratic reform." 32
Again this is too pat a conclusion. Certainly Churchill approved of referenda for "the redress of great inequalities" 33 Great inequalities were implicit in the issues of tariffs, votes for women, Rhodesia, the death penalty, and postponing an election in 1945. Seen in this light, Churchill's views of the referendum seem remarkably consistent.
When Churchill favored and opposed referenda
1903: Free-trade: Opposed (though he reversed himself in 1911)
1907: Lords Reform: Opposed
1911: Parliament Act: Opposed
1911: Votes for Women: In favor
1912: Home Rule for Ireland: Opposed
1921: Rhodesia South Africa Union: In favor
1925: Lords Reform: In favor*
1930: Tariffs on foreign food: In favor
1945: Postponing the election: In favor
1945: Scottish Devolution: Opposed
1948: Death Penalty: In favor
*Both to restructure the House of Lords and to resolve differences between Lords and Commons
Endnotes
1 Winston S. Churchill (herein after WSC), Coal Trade Benevolent Association Dinner, Guildhall, London, 13 November 1923, in Robert Rhodes James, ed., Winston S. Churchill: His Complete Speeches 1897-1963 (hereinafter CS), 8 vols. (New York: Bowker, 1974) IV, 3395.
2 WSC, Conservative Party Conference, Margate, 10 October 1953, CS VIII, 8499.
3 Kevin Theakston, Winston Churchill and the British Constitution (London: Politicos, 2004), 123.
4 WSC, Chelsea Town Hall, London, 10 December 1903, CS I, 235.
5 WSC, Election Address, Chester, 3 December 1910, CS II, 1651.
6 Theakston, Constitution, 29.
7 WSC, Abernathy, 6 October 1909, CS II, 1335.
8 WSC, Election Address, Dundee, 16 January 1910, CS II, 1445.
9 Theakston, Constitution, 125-26.
10 Ibid.
* * *
11 WSC to King George V, 11 March 1911, The Churchill Documents, Vol. 4, Minister of the Crown 1907-1911 (Hillsdale College Press, 2007), 1061.
12 WSC to the King, 11 April 1911, ibid., 1071.
13 Paul Addison, Churchill on the Home Front (London: Jonathan Cape, 1992), 106.
14 Theakston, Constitution, 107.
15 WSC, Election Address, Chester, 3 December 1910, CS II, 1651.
16 Theakston, Constitution, 80.
* * *
17 Ronald Hyam, "Churchill and the British Empire," in Robert Blake and W. Roger Lewis, Churchill: A Major New Assessment of His Life in Peace and War (New York: Norton, 1993), 178-79.
18 WSC, House of Lords Reform Committee Minutes, 27 November 1923, The Churchill Documents, Vol. 11, The Exchequer Years 1922-1929 (Hillsdale College Press, 2009), 576-77.
19 Minutes, House of Lords Reform Committee, 16 October 1925, The Churchill Documents, Vol. 11, 559.
20 Ibid.
21 Theakston, Constitution, 120.
22 Addison, Churchill on the Home Front, 296.
23 WSC, "The Economic Situation," Harlow, 26 March 1930, CS V, 4731.
24 WSC, Triumph and Tragedy (London: Cassell, 1954), 515.16.
25 Ian Hunter, ed., Winston and Archie: The Letters of Winston Churchill and Archibald Sinclair (London: Politicos, 2008), 420.
26 Theakston, Constitution, 130.
27 Ibid., 90.
28 Theakston, Constitution, 125-26.
29 WSC, House of Commons, 20 February 1905, in Richard M. Langworth, ed., Churchill by Himself: In His Own Words (New York: Rosetta Books, 2013), 385
30 WSC, Unionist Meeting, Perth, 28 May 1948, CS VII, 7665.
31 WSC, House of Commons, 11 May 1911, CS II, 1798.
32 Theakston, Constitution, 129-30.
33 WSC, House of Commons, 22 February 1911, CS II, 1699.
Churchill Project Articles
Stay In Touch With Us
Subscribe now and receive weekly newsletters with educational materials, new courses, interesting posts, popular books, and much more!