Articles

Did Churchill order the Little Ships to rescue the soldiers at Dunkirk?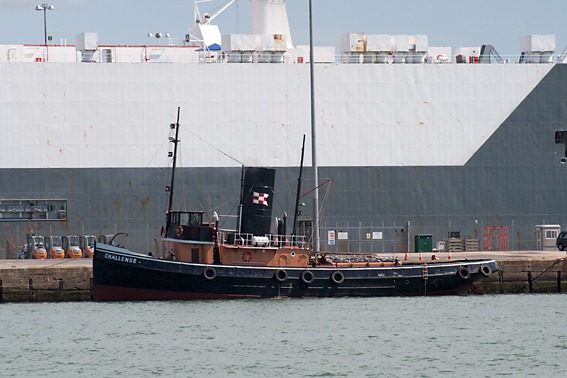 ---
Little Ships : The Challenge, a tug boat that was part of the Dunkirk evacuation and is now a member of the Dunkirk Little Ships Restoration Trust. (Wikimedia Commons)

---
The "Little Ships"
Q: Churchill allegedly ordered a civilian fleet of Little Ships to evacuate the British Expeditionary Force from Dunkirk. Is there documentary evidence of his order?
A: The man just had Themistoclean foresight. It was not a broadcast appeal to the nation. Nothing so vague as that for Churchill. It was, rather, a specific order to the Admiralty on 20 May 1940. The Admiralty enlisted the Small Vessels Pool. Private owners registered their craft with the Pool for the mission and received routes and charts.
Some critics stated (about the movie "Dunkirk") that most of the small boat owners wouldn't have gone if they weren't paid — drawing a snort from Andrew Roberts. Owners of course received compensation for their losses. To many, losing a boat meant losing a living.
Churchill was also responsible for bringing Admiral Bertram Ramsay out of retirement. Ramsay directed the operation from Dover. He and his team devised the three rescue routes (captains chose depending on darkness vs daylight, speed of their vessels, danger from U-boats, etc.). They also buoyed approaches to Dunkirk, directed Captain Tennant the on-scene commander, and produced a thousand charts. Without Ramsay's group it would have been a much different story.
Evidence
Walter Lord (of Titanic fame) in The Miracle of Dunkirk (1982):
"Private W.B.A. Gaze, driver with an ordnance repair unit, looked out to sea [on May 27] from Malo-les-Bains and saw nothing. No ships at all, except a shattered French destroyer (81)….[On May 30] Lt. Ian Cox, HMS Malcolm, could hardly believe his eyes. There, coming over the horizon toward him, was a mass of dots that filled the sea." (This is a great book with much first-person testimony.)
In Troubled Waters, Nigel Sharp discusses the Small Vessels Pool, which was probably in existence before Churchill gave the order. Admiralty appeals on the BBC greatly added to its workload.
Walter Lord (p40) the Admiralty first called for wooden-hulled vessels to counter the magnetic mine threat on 14 May. Replies flooded the Small Vessels Pool offices on May 17th:
"This same day Winston Churchill for the first time began thinking of the possibility of evacuation. No one was more offensive minded [but] every contingency had to be faced, and his visit to Paris on the 16th was a sobering experience. Now he asked Neville Chamberlain… to study 'the problems which would arise if it were necessary to withdraw the British Expeditionary Force from France…."
Martin Gilbert quotes this in BV6, 357. He also provides the text of Churchill's first contemplating a possible evacuation, in volume 15 of The Churchill Documents, p. 68:
Churchill to Neville Chamberlain, 17 May 1940:
I am very much obliged to you for undertaking to examine tonight the consequences of the withdrawal of the French Government from Paris or the fall of that city, as well as the problems which would arise if it were necessary to withdraw the British Expeditionary Force from France, either along its communications or by the Belgian and Channel ports…. I am myself seeing the military authorities at 6.30.
20 May…
​Three days later at the War Cabinet, Churchill made his "little ships" request  to the Admiralty (The Churchill Documents, Volume 15, 96).​
The burdens on Churchill that evening were as great as any he had faced. They were highlighted immediately after the broadcast by his decision, taken after anguished consultation with Air Chief Marshal Sir Edgar Ludlow-Hewitt, Commander-in-Chief of Bomber Command, not to send any more bombers to fight in the air above France, despite urgent French appeals for more; every bomber in Britain might soon be needed to try to beat off a German invasion of Britain itself. That same night…Churchill asked the Admiralty to assemble 'a large number of small vessels in readiness to proceed to ports and inlets on the French coast'.
War Cabinet: minutes (Cabinet papers, 65/7), 20 May 1940:
The First Lord of the Admiralty added that Havre had been subjected to intense air attack. Many fires had been started in the town and the docks had been seriously damaged. All traffic on the river between Rouen and the coast was held up owing to magnetic mines. The Prime Minister thought that as a precautionary measure the Admiralty should assemble a large number of small vessels in readiness to proceed to ports and inlets on the French coast.
Churchill Project Articles
Stay In Touch With Us
Subscribe now and receive weekly newsletters with educational materials, new courses, interesting posts, popular books, and much more!