Articles

"Surely Churchill Said That?" The Expanding Lexicon of the Fake Quote
By

Carlos Benito Marìn

|

August 26, 2021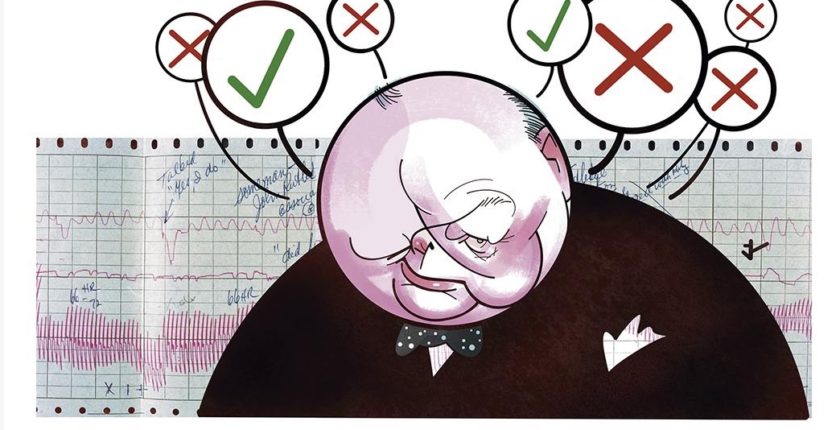 ---
The company of greatness
"Winston Churchill once said that the greatness a man has achieved should not be measured by what he has actually said, but by what others believe him capable of saying." Eeeerrrr…. No, of course, the British Prime Minister and Nobel Laureate for Literature never claimed such nonsense. But putting his name in front of a quote gives it a more solemn, more imposing, more definitive appearance.
Politicians and their speechwriters are excited to sneak Churchill in somewhere, for that puts the speaker in the intimate company of greatness. It is as if the Specter of Winston will pause for a moment on the stage to embrace his willful colleague and smoke a cigar with him.
In addition, they have the advantage that the content of the quote is adaptable to practically any intervention. After all, we can choose between all the things that Churchill said and wrote (many and often brilliant) and all those that have been attributed to him (also very abundant and—be careful—many are very well crafted). Or we can link his name to any other maxim that we have heard and enrich the corpus.
Leading the field
Winston Churchill has become something of the king of fake quotes—a phenomenon the Internet has pushed to the extreme. Before, apocryphal phrases jumped from book to book, in a kind of chain that persisted or deepened into the error. But today they fly free on the web, multiplied in memes that combine them with some beautiful or shocking photo.
"Churchill said 'a lie will gallop through half the world before the truth has time to put on its britches.'" No, in reality he never said that either, although it has become one of his "greatest hits." Nor are two supposed aspirational phrases really his: "Success is not final, failure is not fatal: what counts is the courage to continue." And: "If you're going through hell, keep going."
Nigel Rees's First Law
The British writer and radio host Nigel Rees is a renowned gnomologist (as quote experts are called) who coined in the 1980s the concept of  "Churchillian Drift." That is the process by which any ingenious or revealing aphorism that occurs to a public figure ends up attributed to someone more relevant in the same field.
Rees also promulgated his First Law of Quotation: When in doubt, attribute George Bernard Shaw, the swift-tongued, smashing Irish playwright. GBS, says Rees, is another global star of the apocryphal quote: "Shaw, Churchill, Oscar Wilde, Abraham Lincoln and Mark Twain have been fixed in the popular mind as practically the only sources of sharp, quotable phrases. It is alarming the way in which almost any statement that is not obviously linked to another creator will one day end up being attributed to one of these five."
Rees also admits that, for phrases of non-Anglo-Saxon origin, it is convenient to use Goethe. In recent decades, Einstein and Gandhi have joined this powerful team with great impetus. Rees also ironizes about quoters who leave themselves a clever out: "I think it was X who said…"
Why Churchill?
By virtue of what has Sir Winston become the most emblematic figure of this curious drift? "He said so much, and he said it so well, that people often link his name to some maxim because they think he 'should' have said it," responds Richard Langworth of the Hillsdale College Churchill Project. This scholar has become a popular arbiter, reliable to decide what he did and did not say. (In Spain, the Platform publishing house has published his book El ingenio de Churchill.)
Langworth dives into the Churchill Project's constantly growing digital archive, an overwhelming canon of eighty million words. These range from Churchill's books, articles and speeches to his private letters and the texts of biographers and memoirists. He also maintains an up-to-date online catalogue of Churchill quotes which have no attribution.
Fake Quote Catalogue
A brief sample:
"If two people agree on everything, one of them is unnecessary…. Courage is what it takes to get up and speak; courage is also what it takes to sit back and listen…. Diplomacy is the art of telling people to go to hell so that they will ask you the way…. God created France for its beauty and the French to compensate…. The Opposition occupies the benches opposite, but the enemy sits behind you…. The fascists of the future will be the anti-fascists…. I'd rather argue against a hundred idiots than have one of them agree with me…. Don't worry about avoiding temptation: as you grow older she will avoid you…. The hardest things for a man are to climb a wall that leans towards him and kiss a girl who leans away from him…. Do not trust any statistics you did not fake yourself."
All of these are hung on Churchill and he said none of them. Of course, WSC might have pronounced a quote made earlier by someone else. For example: "There are a lot of lies circulating around the world, and the worst thing is that half of them are true." Churchill said this in 1906 but credited it to "a witty Irishman."
Occasionally in character
Sometimes, the attributed quote fits without conflict in Churchill's thought. Such is the case for "those who do not know the past are condemned to repeat it," which is so often brought up.
In other cases, however, the false quote is inconsistent with the character's ideas. "One of the worst, and one of the longest, completely disfigures Churchill's attitude about America's involvement in the First World War," Langworth says. "Another, which attracts the most attention on my blogsite, is the phrase in which he supposedly refers to the Indian leaders as 'rascals, rogues and freebooters.' Also, most all the racist insults attributed to him simply do not exist."
This last point has gained relevance in recent years, when statues of Churchill have been smeared with graffiti calling him a racist—a definition Langworth denies after studying it in depth: "Compared to that of most of his contemporaries, Churchill's language was among the least offensive. The point is, Churchill is the most documented and cited political figure of the 20th century. If we had all of our words so widely spread, including what others think we said, would we stand up to scrutiny?"
The scholar, incidentally, also rejects the widespread idea of Churchill as an unrepentant drunkard: "It is true that he drank a lot, but especially at meals, since the glass he carried around (what his private secretary baptized "Scotch-flavored mouthwash") was heavily watered."
Favorite fakes
What is the apocryphal Churchill quote our two scholars like the most? Nigel Rees elegantly excuses himself: "I really can't pick a favorite because I disapprove of all of them."
Richard Langworth enters the rag decisively: "My favorite appeared in many books, including one of mine, until the Churchill Archives discovered that it was not genuine."
This one is about a meeting of stars in this unique universe: a supposed exchange of messages between Winston Churchill and George Bernard Shaw. Though long accepted as true, both men denied the story as a pure lie, no matter how sad or poignant it may be. Shaw even threatened to sue anyone who attributed it to him in print.
Allegedly, Shaw wrote Churchill: "Here are two tickets for my premiere. Come and bring a friend, if you have one." And Churchill replies: "Impossible to be present at the first performance. Will attend the second, if there is one." Despite their denials, it is very much in character for both.
On drink
Two dialogues about drinking are attributed to Churchill in compilations of witty ripostes. In one, the aristocrat and parliamentarian Nancy Astor exclaims: "Winston, if I were married to you, I'd put poison in your coffee." And he responds: "Nancy, my dear, if I were married to you, I would drink it."
Sir Martin Gilbert, Churchill's official biographer, concluded that the protagonist was actually another Conservative politician, F.E. Smith, a much more inveterate drinker. But the Yale Book of Quotations tracked a virtually identical give and take to a joke in the Chicago Tribune years earlier. "Verdict: F.E. Smith breathed new life into an old idea."
The other, more openly misogynistic, proved genuine. The Labour MP Bessie Braddock encounters a tottering Churchill leaving the House of Commons. "Winston," she says, "you are drunk, and what's more, you are disgustingly drunk. And he responds: "Bessie, my dear, you are ugly, and what's more, you are disgustingly ugly. But tomorrow I'll be sober and you will still be disgustingly ugly."
Sir Winston's daughter Lady Soames always questioned this story, but a bodyguard confirmed it to Langworth. He recalled that Churchill was emerging from a long debate and was not drunk, just exhausted. Stung by Braddock's accusation, he fired the ungentlemanly response. In any case, the reply occurred because Churchill had a striking memory. He was a fan of W.C. Fields, and adapted it from a line in a 1934 Fields film—where the epithet used was not "ugly" but "crazy."
Author and artist
Carlos Benito Marìn writes for Diario El Correo in Bilbao, Spain, where his article first appeared in Spanish as "¿Seguro que eso lo dijo Churchill?" It is reprinted here, together with the cartoon by Joaquìn Aldeguer, by kind permission of the author and artist.
Churchill Project Articles
Stay In Touch With Us
Subscribe now and receive weekly newsletters with educational materials, new courses, interesting posts, popular books, and much more!