Articles

"Churchill's Phoney War" – by Graham T. Clews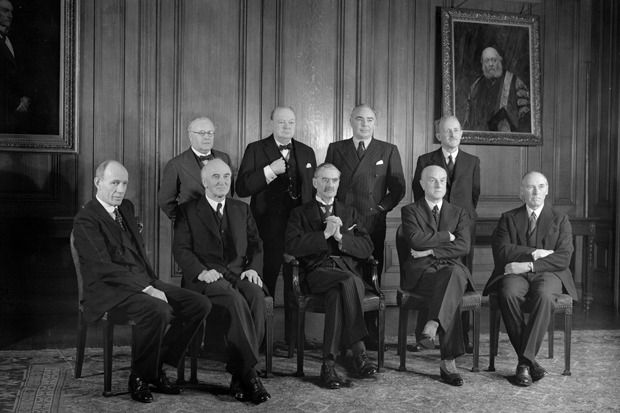 ---
"All behind you, Neville"
Graham T. Clews, Churchill's Phoney War: A Study in Folly and Frustration. Annapolis: United States Naval Institute Press, 2019, 360 pages, $44.95.
Graham Clews's first book was Churchill's Dilemma: The Real Story Behind the Origins of the 1915 Dardanelles Campaign (2010). There he argued that the Dardanelles Campaign was secondary to an amphibious landing in the Baltic. His second book, based upon his doctoral dissertation, replete with documentation in the form of endnotes, a select bibliography, and useful maps and photographs, also takes a novel approach.
The period between Hitler's 1939 invasion of Poland and his May 1940 assault in the west receives relatively scant attention. At the time it was called "The Phoney War," a term coined by the isolationist American Senator William Borah. Again Clews offers a novel theory. Churchill's ambition in Neville Chamberlain's war cabinet was not to replace Chamberlain. Rather, his goal was taking the fight rapidly to Germany—and it was frustrated by circumstances.
Unlike John Charmley in Churchill: The End of Glory (1993), Clews does not try to rehabilitate Chamberlain. Instead he concentrates on Churchill's performance as loyal Chamberlain supporter. Clews even questions Churchill's famous remark that all his past life had been but a preparation for the premiership. He knew he did not have the Cabinet support to become leader, Clews writes. So instead of trying to unseat Chamberlain, he applied his war-making talents to defeating the enemy.
Reluctant allies
At Chamberlain's invitation, Churchill returned to government as First Lord of the Admiralty when war began on 3 September 1939. It had been nearly twenty-five years since he last headed Britain's most vital military asset. In 1915, accused of poor judgment and egotism during the failed Dardanelles Campaign, Churchill had resigned,. This time he resolved to demonstrate that he could be a team player. Thus he did not meet expectations of detractors, who thought he would try to push Chamberlain out. Neither did he fulfil the great hopes of his supporters. He brought much needed vitality, but it was not always well directed. And Churchill found it difficult to square his aspirations with practicality.
Chamberlain did not constrain Churchill as much as did their very reluctant French ally. In March 1940, Chamberlain promoted Churchill to chair the Military Coordination Committee (MCC), advising on military strategy. He was forced to go along with Allied policy against mass bombing. This, the Allies believed, would not only kill civilians but risk public opinion, especially within the United States.
Churchill was the driving force behind the only real offensive ideas the Allies had. This included mining German waterways such as the Rhine, and intervening in the Baltic— especially at the Norwegian port of Narvik where Swedish iron ore, vital to the German war effort, was shipped. French reluctance prevented the mining operation, while the Norwegian campaign was a failure. Churchill and his First Sea Lord Sir Dudley Pound were in charge, but Chamberlain took the blame. The failure in Norway contributed to his fall from office.
The naval problem
Clews criticizes Churchill for being somewhat reluctant to adopt the convoy system to protect British merchant shipping. Churchill also overstated the number of the U-boats destroyed by the Royal Navy. Clews does not fault Churchill for underestimating German air power, a charge often frequently flung at him, but for underestimating the power of his own Fleet Air Arm—both carrier- and land-based. The Air Arm later proved its worth when Churchill was Prime Minister.
Clews offers an innovative investigation of old material that is neither hagiographic nor polemic. His book is an objective reinterpretation of the events and motivations that brought Churchill to power. He is critical of historian Stephen Roskill, who blamed Churchill for obsessing over the German capital ships rather than preparing for the Norway campaign. According to Clews, Pound was more responsible for that, and Churchill deferred to Pound too often. This was the beginning of Churchill's growing disillusion with Pound. (In failing health, the Admiral resigned in 1943 and died soon thereafter.)
Clews effectively argues…
…that Churchill was right to focus on taking the offensive. His focus, says Clews, was "This War," rather than the "Next War" (with Japan). Churchill hoped the effective use of naval power would defeat Germany in the short term and deter Italy and Japan further on. But he was constrained—not only by Pound but by the political-military straight jacket of the Anglo-French alliance. In his war memoirs Churchill described the Phoney War ruefully: "On the one side endless discussions about trivial points, no decisions taken, or if taken rescinded, and the rule 'don't be unkind to the enemy; you will only make him angry.'" He referred to French war strategy as "Don't hurt them, Dear."
After France fell in June 1940, the peril was greater, but so was Britain's freedom of action. In time came war-winning alliances with Russia and the United States. Chamberlain did not fall because Churchill was a rival, Clews declares. He fell because members of opposition Labour and Liberal parties would not serve under him in coalition. They, and many Conservatives, wanted a leader with the vigor and temperament for a war of survival. It was increasingly obvious who that should be. With Churchill as war leader, Clews concludes, the "path was clearer, his task was simpler if much more formidable. The man finally met the moment, and this gave him his finest hour."
While discouragingly overpriced, Clews's book is a useful contribution to World War II scholarship. It should be read in conjunction with Anthony Dix, The Norway Campaign and the Rise of Churchill 1940 (2014).
The author
Mr. Shepherd is the University Archivist and Head of Special Collections at The Catholic University of America in Washington, D.C. He is also creator, editor, and a writer for the blog The Archivist's Nook.
Churchill Project Articles
Stay In Touch With Us
Subscribe now and receive weekly newsletters with educational materials, new courses, interesting posts, popular books, and much more!