Articles

"Shall We All Commit Suicide?": Churchill's Scientific Imagination – Part 1
By

PAUL K. ALKON

|

October 24, 2020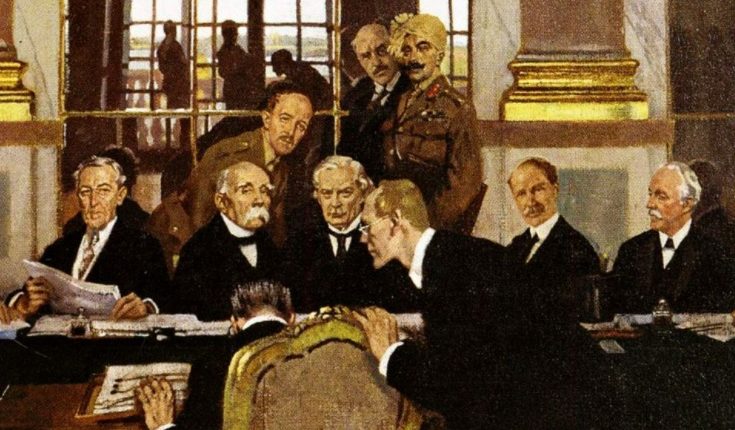 ---
In memoriam
Paul K. Alkon (1935-2020) was a Leo S. Bing Professor of English Literature at the University of Southern California, beginning in 1980. A specialist in 18th and 19th century French literature and science fiction, he was a leading exponent of Churchill's literary flights of fancy. His book, Winston Churchill's Imagination, teaches us of Churchill's engagement his own imagination outside of the political sphere. Its chapters cover Lawrence of Arabia, Charlie Chaplin and Churchill's film-writing endeavors, Churchill's alternative history from Marlborough to The American Civil War, and his "last testament in the realm of imagination," The Dream. Dr. Alkon's eloquence and unique point of view will be greatly missed. This article, first published in 1997, is reprinted in his memory by kind courtesy of his wife Ellen.
Part 1: Science and its consequences
Much has been written about Churchill's long and important involvement with science. As First Lord of the Admiralty in 1911, he presided over advances in warship armament, speed, and endurance. He himself describes these in a very technical chapter of The World Crisis ironically entitled "The Romance of Design." 1 Historians have noted other influential activities involving science. Churchill influenced military aviation, tank development, and chemical warfare during the First World War. In the Second, he influenced radar, rockets, Asdic (sonar) and atomic research in what he fancifully called "The Wizard War." 2 He shared a singular friendship with his scientific mentor, Professor Lindemann. After the war he supported establishing Churchill College Cambridge as a center for the study of science. Churchill insisted in one of his last speeches that Britain's future depended on the continuing mastery of science. 3
Far less remarked is the core of imagination in Churchill's relationship with science and its technological consequences. Phrases like "Wizard War" and "Romance of Design" are telling clues to how scientific possibility stirred his imagination and intellect. Imaginative engagement with science was one of Churchill's fundamental traits.
It is this feature of his mind and writing that allows us to understand his remarkable flexibility. Churchill faced staggering changes he as he moved to the Atomic age from his origins as a Victorian cavalry officer. His entire curriculum at Sandhurst, as he ruefully noted afterwards, consisted of "Tactics, Fortification…Mapmaking, Military Law…Military Administration…Drill, Gymnastics and Riding." 4 But Churchill on his own went far beyond this education for Colonel Blimphood.
"Shall We All Commit Suicide?"
Early on, Churchill's imagination grasped the social and military implications of 20th century science. Without that grasp the Second World War, and with it human history, would have taken a far different course. And that, as he warned, could have plunged our planet into disaster: "a new Dark Age made more sinister, and perhaps more protracted, by the lights of perverted science." 5
The young Winston did not cling (as some claim) to Victorian dreams of progress achieved by the march of science. He was quicker than his contemporaries to discard the underlying Enlightenment equation of reason, science, and Utopia.
A key text is "Shall We All Commit Suicide?" first published in the September, 1924 number of Nash's Pall Mall. Later that year it appeared as a separate pamphlet (omitting "All" from the title) by the Eilert Printing Company in New York. In 1929 it was adapted within the conclusion of The Aftermath, fourth volume in Churchill's The World Crisis. Churchill thought enough of it to include it in his 1932 essay collection, Thoughts and Adventures. In 1948 he quotes it early in The Gathering Storm, first volume of The Second World War.
Churchill begins "Shall We All Commit Suicide?" with an irritating truth, not universally acknowledged. "The Story of the human race is War. Except for brief and precarious interludes, there has never been peace in the world; and before history began, murderous strife was universal and unending." He meliorates this Hobbesian vision of human relationships only to the extent of remarking that "up to the present time the means of destruction at the disposal of man have not kept pace with his ferocity." 6
"A bomb no bigger than an orange"
Churchill devotes the rest of the essay to explaining why, thanks mostly to "Science on the Side of War," humanity confronts for the first time the possibility of annihilation: "It was not until the dawn of the twentieth century of the Christian era that War really began to enter into its kingdom as the potential destroyer of the  human race."
After glancing at the First World War's new machinery of death, and providing a miniature alternate history by explaining how much more devastating the campaigns of 1919 would have been had the Armistice not intervened to prevent deployment of improved weapons—a subject of a chapter, "The Unfought Campaign," in The World Crisis 7—Churchill then speculates about the future of explosives:
Have we reached the end? Has Science turned its last page on them? May there not be methods of using explosive energy incomparably more intense than anything heretofore discovered? Might not a bomb no bigger than an orange be found to possess a secret power to destroy a whole block of buildings—nay to concentrate the force of a thousand tons of cordite and blast a township at a stroke? Could not explosives even of the existing type be guided automatically in flying machines by wireless or other rays, without a human pilot, in ceaseless procession on a hostile city, arsenal, camp, or dockyard?
Churchill dwells with equal prescience on future chemical and bacteriological weapons, and on social conditions likely to foster them. Their use, he adds, makes the disasters of the Great War "but a pale preliminary." He winds up, not very hopefully, by suggesting a remedy. Apocalypse can only be averted by strengthening the League of Nations, which "raises feebly but faithfully its standards of sanity and hope."
Imagination in statesmanship
Churchill's imagination stands out in "Shall We All Commit Suicide?" He also invites the reader's imagination—of future science and alternate pasts. Both are staples of science fiction. Both recur in Churchill's writing frequently enough to be characteristic features of his style. (His only free-standing alternate history is "If Lee Had Not Won the Battle of Gettysburg." This, however, is a classic of its genre.) 8
Most of Churchill's alternate histories are embedded in his texts. Sometimes they run several pages, sometimes in compressed form as in the "new Dark age" in his "Finest Hour" speech. A notable alternate, in The Aftermath, imagines how Britain would have fared had Germany won the First World War. 9 In The World Crisis his imagination conceives of a much shorter war, had only the Gallipoli campaign been fought aggressively. Suppose, he asks, tanks been initially deployed en masse, rather than dribbled onto the battlefield in small numbers? In Churchill's hands, as in much science fiction, alternate pasts are sometimes used not only to identify what he calls in The Aftermath "turning points" or "hinges of Fate" (pages 390, 466) and to suggest what depended on them, but as invitations to think about Utopian or dystopian futures.
The Wellsian vision
Churchill's chapter on "The Unfought Campaign" of 1919 is in a decidedly dystopian mode. It culminates in a horrific Wellsian vision of an offensive that never was but might yet be, in Churchill's imagination. He invites his readers to imagine it:
My mind amid a vivid life of movement and activity always rested on one picture of the future: 10,000 fighting tanks, large and small, specially adapted to the ground they had to travers, moving forward simultaneously behind the artillery barrage on fronts of assault aggregating 300 or 400 kilometres; behind them, working with them, British, French and American infantry; and behind these again, 10,000 caterpillar vehicles unarmed and unarmoured, but each carrying forward across country, over fields and trenches, all the food, ammunition, kit and supplies of every kind which one platoon would require, while the roads remained clear and free for the advance of artillery and reserves." 10
This "picture of the future," Churchill writes, obsessed him while serving as Munitions Minister in 1918. It stands as a prophetic warning. Everything in it and more might yet take place in the reader's future. Only real peace, established by political settlements better than the Paris Peace conference, could prevent it.
A Utopian vision
The crux of The Aftermath is Churchill's blistering critique of Woodrow Wilson and other "peacemakers" at Paris. They succeeded only in aggravating conflicts that would lead to another world war. As a prelude, Churchill indulges in a Utopian alternate history, presented in the venerable form of an "Armistice dream."
Wilson, Clemenceau, and Lloyd George, instead of delaying as they actually did, meet promptly after Armistice Day 1918. They fashion an "instrument of world-order… armed with the new weapons of science." A new "International Air Force" recruits pilot aces from the late war. They constitute (Wilson says enthusiastically) "the new nobility." Clemenceau says they will revive '"the old orders of chivalry like the Knights Templars and the Knights of Malta to guard civilization against barbarism.'"
Churchill ends this vision with an account of the dreamer—himself—awakening to dismal reality. "The spell broke. The illusion of power vanished. I awoke from my Armistice dream, and we all found ourselves in the rough, dark, sour and chilly waters in which we are swimming still." 11
Churchill's vision of a nobility of the air enforcing the peace displays imagination more Wellsian than Wells. Still one thinks of Wells's The War in the Air (1908), and especially of The World Set Free (1914) with its aircraft, atomic bombs, and reconstitution of society after Armageddon.
To read Churchill's "Armistice Dream" is to understand the Utopian impulse underlying his eloquent tribute in 1940 to "The Few." They were the young airmen, "going forth every morn to guard their native land and all that we stand for… of whom it may be said that 'Every morn brought forth a noble chance / And every chance brought forth a noble knight.'" 12
Endnotes
1 Winston S. Churchill. The World Crisis, vol. 1, 1911-1914 (New York: Scribner, 1924), 125-48.
2 Churchill, The Second World War, vol. 2, Their Finest Hour (Boston, Houghton Mifflin, 1949; reprinted 1985), 337-52.
3 See Earl of Birkenhead, The Professor and the Prime Minister (Boston: Houghton Mifflin, 1962); Thomas Wilson, Churchill and the Prof (London: Cassell, 1995). On Churchill's speech at Churchill College see Martin Gilbert, Never Despair 1945-1965 (Hillsdale, Mich.: Hillsdale College Press, 2013), 1302-03.
4 Churchill, My Early Life (London: Thornton Butterworth, 1930), 57.
5 Churchill, "Their Finest Hour," speech of 18 June 1940), in Blood, Sweat, and Tears (New York: Putnam, 1941), 314.Churchill, Shall We Commit Suicide? (New York: Eilert, 1924; reprinted, Hopkinton, N.H.: International Churchill Societies, 1994), 3.
6 The word "All" was absent in the Eilert title.   "Shall We All Commit Suicide?" is the title of all other printings. He evidently preferred the slightly longer and much more arresting title.

7 Churchill, The World Crisis, vol. 3 1916-1918, Part II (New York: Scribner, 1927), 193-217.
8 See Paul K. Alkon, "Alternate History and Postmodern Temporality," in Time, Literature and the Arts: Essays in Honor of Samuel L. Macey, ed. Thomas R. Cleary, English Literary Studies Monograph Series, no. 61 (Victoria: University of Victoria, 1994), 65-85.
9 Churchill, The World Crisis, vol. 4, The Aftermath 1918-1928 (New York: Scribner, 1929), 221-22.
10 Churchill, World Crisis, vol. 3, II, 217.
11 Churchill, The Aftermath, 7-12.
12 Churchill, "Dunkirk," speech of 4 June 1940, in Blood, Sweat, and Tears, 293.
Churchill Project Articles
Stay In Touch With Us
Subscribe now and receive weekly newsletters with educational materials, new courses, interesting posts, popular books, and much more!