Articles

Churchill's Character: Hardiness, Resilience and Personal Toughness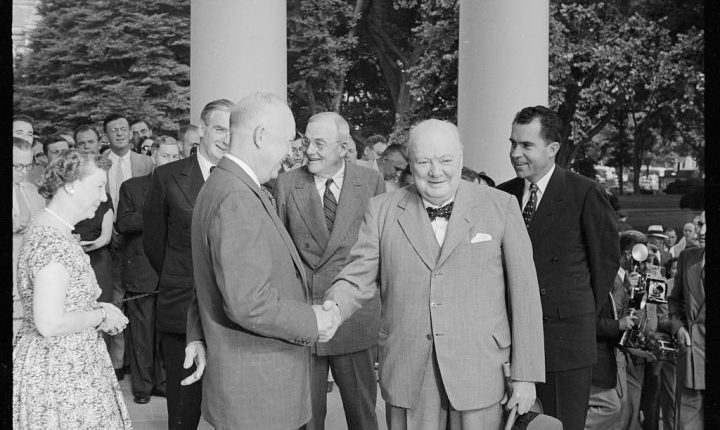 Above: Nearing 80, Churchill arrives for a visit to Washington, 25 June 1954. L-R: Mamie Eisenhower, British Foreign Secretary Anthony Eden, President Eisenhower, U.S. Secretary of State John Foster Dulles, Vice President Richard Nixon.
---
Speaking of Britain and its Empire in 1941, Winston Churchill said: "We have not journeyed all this way across the centuries, across the oceans, across the mountains, across the prairies, because we are made of sugar candy."1 A few weeks earlier he had advised the boys at Harrow School: "Never give in—never, never, never, never—in nothing, great or small, large or petty—never give in except to convictions of honour and good sense. Never yield to force; never yield to the apparently overwhelming might of the enemy."2 The image he conveyed is one of hardiness and personal toughness, and it galvanized his countrymen. Yet we rarely give thought to where he found the hardiness and resilience he conveyed.
At sixty-five—an age much older then than it is now—Churchill became leader in a seemingly hopeless war with Nazi Germany. At times he found himself fatigued with the stress of it—yet somehow he found the inner strength to soldier on. We rightly admire his ability to hold fast and never despair. But what were his sources of physical resilience, mental hardiness and spiritual strength?
Great figures have personal trials and tribulations like everybody else. We sometimes overlook this. It seems that they have magical powers or special insight into coping with stress. With Churchill, we may imagine that he was immune from things that wear down ordinary people. He was not. But he did develop strengths in his formative years which he was able to build upon in great crises. This forged a physical resilience and mental hardiness, the sinews of a personal toughness, which stood him in good stead throughout the Second World War and beyond.
Sources of Hardiness and Resilience
His physical and mental characteristics formed a subtle interplay that shaped Churchill's personality and response to challenges. Still, these are components of many a healthy person. We each develop responses to life's stress and, unless devastated, we usually rebound. Our effectiveness comes from both genetic makeup and acquired capacity to cope. How "nature and nurture" combine to form human response mechanisms remains the subject of speculation and controversy.
Churchill's upbringing certainly seemed to him a valuable and stern preparation for the challenges ahead. He revealed his own identification with this early experience in his life of his illustrious ancestor, the First Duke of Marlborough: "It is said that famous men are usually the product of unhappy childhood. The stern compression of circumstances, the twinges of adversity, the spur of slights and taunts in early years, are needed to evoke that ruthless fixity of purpose and tenacious mother wit without which great actions are seldom accomplished."3
personality and temperament. Through her he learned to find sources of internal fortitude, coping with the studied indifference of his aloof father. This he thought was essential. "Solitary trees, if they grow at all, grow strong," he wrote, "and a boy deprived of a father's care often develops, if he escape the perils of youth, an independence and vigour of thought which may restore in after life the heavy loss of early days."
4
The Ultimate Challenge
The first quarter century of his life saw numerous illnesses and accidents, none of which were serious enough to incapacitate or handicap him. His first premiership, 1940 to 1945, was a significant transition period. Braced by the battle, his hardiness waxed. He appeared to be not only indomitable, but also apparently indefatigable. He had reached an age when most persons retire, when physiologically, their vital forces begin to decline.
Yet Churchill tackled the greatest task of his life, the most fearful and intense war in history, with verve and zest. He maintained a work schedule which would exhausted an ordinary man. Indeed he wore out some of his colleagues and contemporaries. He may have suffered a heart attack during those years, and had three bouts of pneumonia which in earlier days would have permanently disabled if not killed him. It didn't matter. After recovery from each bout of pneumonia, he maintained a grueling work schedule with few periods of rest and relaxation apart from his regular afternoon nap.
* * *
Churchill by then had conquered any predisposition to melancholia with a personality that found comfort in a loving and supportive family. His daughters Sarah and Mary were joys to him; his wife Clementine was his rock. Partly, he maintained his hardiness by taking life in stride, finding equanimity in laughter and good fun, which contributed to his overall health and longevity. He did not take himself too seriously, often poking fun at both friends and enemies. His daughter Mary, Lady Soames, who spent a lot of time with him during the war, said of his tenacity and endurance: "Papa had this enormous quality of never despairing."5
Of course, Churchill was not the only war leader who had to bear up under great duress. When, in early 1945, he met Stalin and Roosevelt at Yalta, he was as feisty as ever, no doubt invigorated by another "meeting at the summit."6 Alas Roosevelt was "the sick man at the table," as his critics said. And by virtue of being the only head of state, FDR always presided. Even Churchill's staff noticed the President's failing health. "He sat looking straight ahead with his mouth open, as if he were not taking things in," wrote Churchill's doctor. "Everyone was shocked by his appearance."7 Churchill might not have been at his best at Yalta, but he was able to discern the flow of events and predict the likely outcome, while remaining unable to influence a better result.
Great Climacterics and Their Memory
Appearances can of course be deceptive. Churchill was always stirred by some momentous event or, very late in life, by the memories of it. Yet despite his towering image, from a medical standpoint he was as human as any of us. If he had been merely ordinary, his medical history would be of little interest to anyone except his doctors—assuming that as an ordinary man he would have had the luxury of a personal physician.
His habits of cigars and alcohol were certainly those of many who lived shorter lives, perhaps lacking the stimulus that again and again made Churchill rise to the occasion. (Asked at 76 why he never exercised—which is not quite accurate—he cracked: "I get my exercise serving as pall-bearer to my many friends who exercised all their lives.")8
At the sunset of his life he was less buoyant. Yet there can be little or no doubt about his essential physical resilience and mental hardiness. There are many lessons to be learned from his tenacious spirit and determination. The biggest is to react as he did to challenges. His would have felled many a lesser man. The truly great do not wilt when faced with such odds. They revel in it, they strike out against it. Thus Churchill struck out at tyranny. His record, and the memory of it, invigorated him, and he fought on.
Self-analysis
The writer in him ultimately captured the essence of his hardiness: "The more serious physical wounds are often surprisingly endurable at the moment they are received," he wrote. "There is an interval of uncertain length before sensation is renewed. The shock numbs but does not paralyze, the wound bleeds but does not smart. So it is with the great reverses of life."9
Churchill buoyed himself up by a sense of fatalism: "Live dangerously; take things as they come; dread naught, all will be well."10 In 1945, as he landed in France after D-Day, Field Marshal Alan Brooke thought that sustained him more than anything: "I knew that he longed to get into the most exposed position possible. I honestly believe that he would really have liked to be killed on the front at this moment of success. He had often told me that the way to die is to pass out fighting when your blood is up and you feel nothing."11
Endnotes
1 Speech to the Canadian Parliament, Ottawa, 30 December 1941 in Richard M. Langworth, ed., Churchill by Himself (London: Ebury Press, 2012, New York: Rosetta Books, 2016), 8.
2 Speech at Harrow School, 29 October 1941, in Churchill by Himself, 23.
3 Winston S. Churchill, Marlborough: His Life and Times, 2 vols. (London: Harrap, 1947), I, 33
4  Churchill by Himself, 510.
5 Martin Gilbert, In Search of Churchill: A Historian's Journey (London: HarperCollins, 1994), 209.
6 Churchill's term for plenary meetings between top leaders, beginning at Teheran in 1943. Churchill by Himself, 311.
7 Lord Moran, Winston Churchill: The Struggle for Survival, 1940-1945 (London: Constable, 1966), 218.
8 Churchill by Himself, 522.
9  Winston S. Churchill, The World Crisis, Vol. 2, 1915 (London: Thornton Butterworth, 1923), 371.
10  Churchill by Himself, 20.
11 Andrew Roberts, Churchill: Walking with Destiny (London: Allen Lane, 2018), 867.
The Author
Dr. Mather is archivist-historian of the Churchill Society of Tennessee, and has spent many years researching Churchill's medical history.
Churchill Project Articles
Stay In Touch With Us
Subscribe now and receive weekly newsletters with educational materials, new courses, interesting posts, popular books, and much more!