Articles

Churchill on South African Prison Camps, and Other Selective Quoting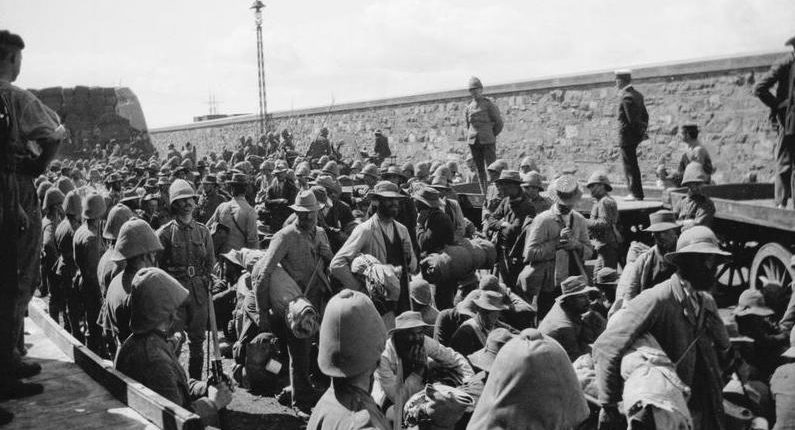 ---
1. Same old, same old…
An Indian blogger writes:
I've noticed that the same accusations about Winston Churchill are repeated over and over. It appears many recycled by writers who just take them on trust. Take for example a new anti-Churchill article which I think needs a thorough debunking. In fairness to the author, it is not all bad; she concedes for instance that Churchill wanted to use tear gas in Iraq, not poison gas. But there are some things that stand out as seriously misinformed.
For example, the article claims inter alia that (1) Churchill admired Hitler in the 1930s. (2) Churchill's decisions were guided less by intellectual consistency than mere romantic intuition. (3) Churchill's convictions about the "Aryan race" troubled a lot of people in the interwar period and were why Churchill was unpopular in the 1930s. Aren't these exaggerated, or just wrong? I was planning on taking apart this article myself but on second thought it seems I should bring it to your attention.
The answers…
We can't respond to every ahistorical attack on Churchill; we would simply end up repeating ourselves. But we can certainly supply links to what has already been written. Feel free to quote from these articles in your own work.
(1) The notion that Churchill "admired" Hitler in the 1930s stems from inadequate reading and understanding or what he said and when. Churchill approved of Germany's revival after the Great War, and as a politician was careful not to condemn a whole people; but on Hitler he was right from the beginning. For the first of three articles on this, click here.
(2) I'm not sure what is meant by decisions guided by "romantic intuition." Churchill was certainly guided by a deep understanding of history. In Marlborough, his greatest biography, one can see all the great war speeches developing. See Andrew Roberts, "Marlborough."
(3) "The Aryan stock is bound to triumph" (remarked by young Winston when he was 26) is a favorite bogeyman among his critics. He certainly said those words, but he was not predicting a triumph by the British. He was referring instead to the likely outcome of a Russia-China dispute, now 120 years ago.
2. "Defending" Boer War prison camps
Our correspondent continues:
Many allegations seem to derive from Johann Hari's review of Churchill's Empire, now over a decade old, in The New York Times. Hari claims that Churchill defended the British prison camps set up in the Boer War as causing the "minimum of suffering."
Hari wrote: "The young Churchill charged through imperial atrocities, defending each in turn. When the first concentration camps were built in South Africa, he said they produced 'the minimum of suffering' possible. At least 115,000 people were swept into them and 14,000 died, but he wrote only of his 'irritation that kaffirs should be allowed to fire on white men.' Later, he boasted of his experiences. 'That was before war degenerated,' he said. 'It was great fun galloping about.'"1
Churchill's "minimal suffering" remark apparently stems from his letter to The Times (London) on 25 June 1901. At almost the same time, Emily Hobhouse returned from a fact-finding trip to South Africa. Meeting the leader of the opposition, Sir Henry Campbell Bannerman, she told of appalling conditions in the 'concentration camps.' At that point, it seems to have become a big scandal in Britain.
I've found nothing in the Churchill Archives flagging Boer War concentration camps. I don't want to say that Churchill never defended the concentration camps, or the conditions in them, if in fact he did. I believe the government at first denied Hobhouse's claims. It wasn't of course until later, after the Fawcett Commission made its report, that the appalling conditions were confirmed beyond any reasonable doubt.
What Churchill really said…
To quote Professor Warren Kimball, "'Concentration Camps' as a term for anything but the Nazis' work is 'politically' incorrect and should stay that way." In any case, having read Churchill's letter to The Times, I cannot imagine what the critics are talking about. His letter is reproduced in full below. Readers may judge for themselves.
Churchill does not defend inhumane conditions in the British camps. In fact he condemns them. The "civilized combatant," he writes, "is obliged, at peril of being classed a savage, to avoid unnecessary cruelty to his enemy."
His letter mainly criticizes Campbell-Bannerman and Lord Crewe for blaming the government, while excusing the military, for cruelty in the camps. Nevertheless, Churchill allows for the possibility that both may be at fault. The government indeed appointed the Fawcett Commission, which found that Emily Hobhouse's description of the camps was accurate.
The phrase about natives firing on white men is not from this letter but from a 1900 letter to Colonial Secretary Joseph Chamberlain. Churchill was commenting on Boer troops being hardened by facing non-whites in the war. After all, he also said, "we have done without the whole of the magnificent Indian army for the sake of a White man's War…'" This suggests quite a different attitude than the one Hari implies.
Emily Hobhouse
Churchill's 1901 letter does not mention Emily Hobhouse. He did, however, write favorably of her more than half a century later, when he knew the full story:
Blockhouses were built along the railway lines; fences were driven across the countryside; then more blockhouses were built along the fences. Movement within the enclosures thus created became impossible for even the most heroic commandos. Then, area by area, every man, woman, and child was swept into concentration camps. Such methods could only be justified by the fact that most of the commandos fought in plain clothes, and could only be subdued by wholesale imprisonment, together with the families who gave them succour.
Nothing, not even the incapacity of the military authorities when charged with the novel and distasteful task of herding large bodies of civilians into captivity, could justify the conditions in the camps themselves. By February 1902 more than 20,000 of the prisoners, or nearly one in every six, had died, mostly of disease. At first the authorities denied that anything was wrong, or that any alleviation was possible, but at length an Englishwoman, Miss Emily Hobhouse, exposed and proclaimed the terrible facts. [Italics added.] Campbell-Bannerman, soon to be Prime Minister, but at this time in Opposition, denounced the camps as "methods of barbarism." Chamberlain removed them from military control; conditions thereupon speedily improved, and at last, on March 23, 1902, the Boers sued for peace.2
The truth
Churchill was always horrified at inhumane treatment of civilians or prisoners, from Kitchener's in the Sudan to Britain's in South Africa to the Germans' in the 1940s. There are scores of quotations showing this. In 1920 after the Amritsar Massacre in India he declared:
What I mean by frightfulness is the inflicting of great slaughter or massacre upon a particular crowd of people, with the intention of terrorising not merely the rest of the crowd, but the whole district or the whole country.…Frightfulness is not a remedy known to the British pharmacopoeia.…3
On the Holocaust he was as censorious as anyone who ever lived:
There is no doubt that this is probably the greatest and most horrible crime ever committed in the whole history of the world, and it has been done by scientific machinery by nominally civilised men in the name of a great State and one of the leading races of Europe. It is quite clear that all concerned in this crime who may fall into our hands, including the people who only obeyed orders by carrying out the butcheries, should be put to death after their association with the murders has been proved.4
During the Boer War, Churchill certainly was sympathetic to the Boers, as he was to most brave enemies. including the Indian Pashtuns and the Sudanese Dervishes while "galloping about." He also knew that in dealing with South Africa, Britain was walking on eggshells. Every British action had to be based on the art of the possible, not on fantasy.5 It is, I fear, fantasy that drives such warped historical visions as this one.
Addendum: Churchill to The Times, 25 June 1901
Sir, In his rejoinder to Lord Hugh Cecil, Lord Crewe deals chiefly with two questions. First, if the war in South Africa is being prosecuted by "methods of barbarism," as Sir Henry Campbell-Bannerman contends, are the generals responsible or only the Government? Now, a military commander has nothing to say to the policy which leads to a war, nor to the conditions which it may be thought desirable to exact before peace is restored. But for the methods by which that war is waged he is certainly responsible equally with the Government at home.
If the methods are of the general's own choosing, the balance of responsibility, if any exist, rests with him. No one can relieve him of it; for no authority can justify an inhuman act. And the contention that the soldier is absolved of any portion of his responsibility for the methods by which warfare is conducted would be extremely mischievous were it not altogether absurd. The ethics of slaughter are naturally obscure; but one clear principle cannot be overlooked; and the civilized combatant is obliged, at peril of being classed a savage, to avoid unnecessary cruelty to his enemy. Unless there has been unnecessary cruelty, whatever the suffering, there can be no barbarity. If there has been unnecessary cruelty, all who are in any way responsible for it are infected with the taint of inhumanity.
***
When, therefore, Sir Henry Campbell-Bannerman speaks of  "methods of barbarism," his charge applies to generals abroad not less than to Ministers at home. When he declines to press his charge against the generals, it is evident that either his logic or his courage is at fault; and when Lord Crewe, hastening to succour his leader, informs us that "public opinion will not burden Lord Kitchener, but will lay heavy responsibility upon the Government," he merely affords a rare and pleasing example of party loyalty in the Liberal ranks.
The second question which Lord Crewe raises, but which he does not answer, is of much more importance. Is the policy of concentrating the civil inhabitants barbarous? As Lord Hugh Cecil pointed out, the privations of the women and children in the refugee camps are nothing in comparison to those endured by the civil inhabitants of a fortified town during a siege. Nevertheless, as the death-rate shows, they have undoubtedly been severe.
"The essential fact," says Lord Crewe, "is not in a distinction between fortifications and no fortifications, but between the results involved by active resistance on the one hand, and passive submission on the other." As a matter of fact, the resistance of a hardy population scattered over a vast region and continually supplying the enemy's army with food and information is plainly more formidable than the resistance—if it can be called resistance—of the unhappy inhabitants of an invested town. In the former case the non-combatants undoubtedly prolong the operations; in the other, by eating up the food of the garrison, they terminate them.
***
It is difficult to understand why Lord Crewe calls the former condition "passive submission" and the latter "active resistance." His expressions would be better chosen if their application were reversed. But, putting all this aside, I would venture to observe that "the essential fact" lies neither in the question of fortifications nor in that of resistance, but in the actual suffering inflicted on helpless human beings. If women and children are dying of disease and want, whether they have offered technical resistance or not is a minor consideration.
The supreme question is—Was there any alternative action by which this suffering might have been diminished without impeding the military operations? Lord Crewe is silent. He does not tell us—others, less careful of their words than he, do not tell us—whether they would have faced the alternative to the concentration camps. Would they have refused to accept any responsibility for the Boer women and children left in the devastated districts? Would they have said that their case was primarily a matter for the Boer generals to consider? Would they, having trampled the crops—the enemy's commissariat—or destroyed the houses—often his magazines—have left the women sitting hungry amid the ruins? The mind revolts from such ideas; and so we come to concentration camps, honestly believing that upon the whole they involve the minimum of suffering to the unfortunate people for whom we have made ourselves responsible.
I am, Sir, Yours faithfully
WINSTON S. CHURCHILL6
Endnotes
1 Johann Hari, "The Two Churchills," The New York Times, 12 August 2020, accessed 10 July 2021.
2 Winston S. Churchill, A History of the English-Speaking Peoples, vol. 4, The Great Democracies (New York: Dodd Mead), 382-84.
3 WSC, House of Commons, 8 June 1920, in Richard M. Langworth, ed., Churchill in His Own Words (New York: Rosetta Books, 2016), 443.
4 WSC to Anthony Eden, 11 July 1944, in Martin Gilbert, Winston S. Churchill, vol. 7, Road to Victory 1942-1945 (Hillsdale, Mich.: Hillsdale College Press, 2013) 847.
5 Andrew Roberts and Zewditu Gebreyohanes, "'The Racial Consequences of Mr. Churchill': A Review," Hillsdale College Churchill Project, 2021; Richard M. Langworth, "The Art of the Possible: Churchill, South Africa and Apartheid (1)," Hillsdale College Churchill Project, 2020, accessed 10 July 2021.
6 Randolph S. Churchill, ed., The Churchill Documents, vol. 3, Early Years in Politics 1901-1907 (Hillsdale College Press, 2007), 74-75.
Churchill Project Articles
Stay In Touch With Us
Subscribe now and receive weekly newsletters with educational materials, new courses, interesting posts, popular books, and much more!