Articles

"Americans Will Always Do the Right Thing…"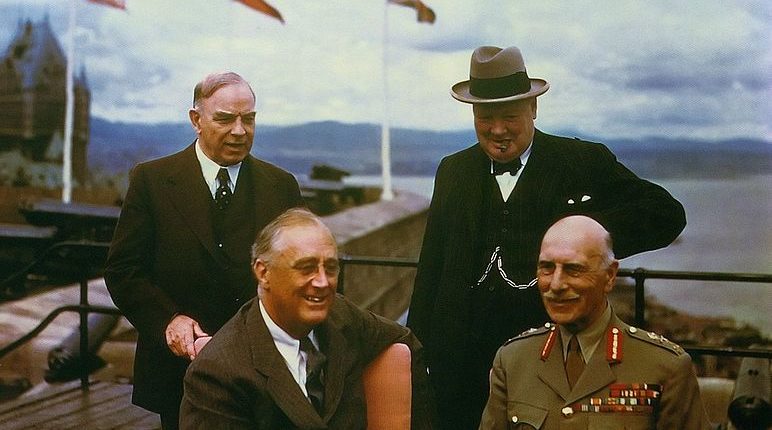 ---
Q: On October 13 on Fox News, Brit Hume cited a variation of a supposed Churchill remark: "Americans can always be trusted to do the right thing, once all other possibilities have been exhausted." It is not really very complimentary to Americans. I thought it was unChurchill-like. Did he actually say it? —R.M., via email.
---
A: It is undocumented. That is, we have been unable to discover it in any transcript, memoir, or published or private writings, speech, or correspondence. This is not to say that Churchill didn't have that sentiment from time to time. Many would not see it as anti-American, but as a plain expression by a friend. As has been said, "A friend is someone who knows all about you, but likes you."
The Churchill Documents record Churchill's first—and as it proved lasting—impressions of Americans. From New York in November 1895, just short of his 21st birthday, he wrote to his mother: "What an extraordinary people the Americans are! Their hospitality is a revelation to me and they make you feel at home and at ease in a way that I have never before experienced." To his brother he wrote: "This is a very great country my dear Jack. Not pretty or romantic but great and utilitarian. There seems to be no such thing as reverence or tradition. Everything is eminently practical and things are judged from a matter of fact standpoint."
Early Critiques
Churchill was not an uncritical lover. Though his best-known early criticism of Americans was "toilet paper too thin, newspapers too fat!," he had harsh words (almost always in private) for certain U.S. institutions and leaders. A prominent historian recently asserted that Churchill "could never quite make up his mind whether America was Britain's friend or Britain's enemy," which is an unfounded claim. To understand Churchill is to appreciate and accept his belief in Anglo-American friendship. That never wavered, however often he disagreed with U.S. actions or policies.
Churchill was appalled, for example, over President Wilson's naiveté at the 1919 Versailles peace conference. In the 1920s, he railed over President Coolidge's insistence that Britain repay every debt from World War I, which had cost Britain fourteen combat deaths for every one American. But during visits in 1929 and 1931, Churchill became impressed with the vastness, energy and potential of what he called his "mother's land." He wrote witty articles on his travels, with titles like "What I Saw and Heard in America" and "Land of Corn and Lobsters", concluding that the potential of Americans was unmatched in the world.
Forging the Special Relationship
As World War II loomed, Churchill found a natural ally in Franklin Roosevelt, whose New Deal he had criticized in a prewar essay, but whose clear-sightedness regarding Hitler suggested a potential ally. In 1933, long before he and Roosevelt became friends, Churchill entertained James Roosevelt at Chartwell, saying: "I wish to be prime minister and in close and daily communication with the president of the United States." Churchill then sketched a pound and dollar sign intertwined. "Pray bear this to your father from me," he told James.
"Tell him this must be the currency of the future…the sterling dollar." He met FDR in August 1941, when they jointly issued the Atlantic Charter communiqué and began an epic partnership. After the war, visiting Roosevelt's grave in Hyde Park, Churchill turned away, eyes brimming, and someone heard him sigh softly, "Lord, how I loved that man."
Reading The Churchill Documents, particularly during the World War II years, we realize how much Churchill's faith was put to the test. He chafed over Americans staying out of World War II until attacked at Pearl Harbor. He was depressed over Roosevelt's apparent "tilt" toward Stalin at the 1943 Teheran Conference. As we proofread Hillsdale's Churchill volumes on 1943-44, we see the development of their arguments over where to press the attack on Germany. It was a fraught question, and there were good arguments on both sides.
It was not so much that Churchill opposed Operation Overlord, the invasion of Normandy, which he had hoped and planned for since 1940. It was, rather, the diversion of troops and materiel from the Italian theater to Operation Dragoon, the invasion of the South of France, in August 1944 that troubled him. This, the British military chiefs told him, diminished operations in Italy which Churchill thought had been agreed at Teheran. (It is during one of these protracted disputes that he was said to have uttered the crack about Americans doing the right thing in the end.)
In 1946, out of power but not powerless, Churchill was back in America to deliver the "Sinews of Peace" speech, at President Truman's invitation, in Fulton, Missouri. It heralded the advent of the Cold War. As prime minister again in 1951, the hydrogen bomb now aborning, he worked ceaselessly for an Anglo-American "settlement" with the Soviets. He was frustrated by President Eisenhower, who was adamant that the Russians hadn't changed. Retired when the Suez Crisis threatened to wreck the relationship in 1956, Churchill wrote sadly to the President: "I do believe, with unfaltering conviction, that the theme of the Anglo-American alliance is more important today than at any time since the war." His greatest disappointment in old age, after the failure to ensure a lasting peace, was that relations with the Americans had never fully developed as he had wished.
Robert Pilpel, author of Churchill in America, nicely summarizes the feelings born a century and more ago, when an impressionable young Englishman sailed into New York: "A life which before 1895 seemed destined to yield a narrow range of skimpy achievements became from 1895 onwards a life of glorious epitomes and stunning vindications….Credit whatever you will, but do not doubt that Winston's exposure to his mother's homeland struck a spark in his spirit. And it was this spark that illuminated the long and arduous road that would take him through triumphs and tragedies to his rendezvous with greatness."
---
Featured Image: "Greatest of Friends": Canadian Prime Minister Mackenzie King, Roosevelt, Churchill, and Canadian Governor-General The Earl of Athlone, Quadrant Conference, The Citadel, Quebec, August 1943. (Imperial War Museum, Wikimedia Commons)
---
Further Reading
Warren F. Kimball, "Churchill and the Presidents: Franklin Roosevelt"
Churchill Project Articles
Stay In Touch With Us
Subscribe now and receive weekly newsletters with educational materials, new courses, interesting posts, popular books, and much more!