Articles

Churchill and the Presidents: Calvin Coolidge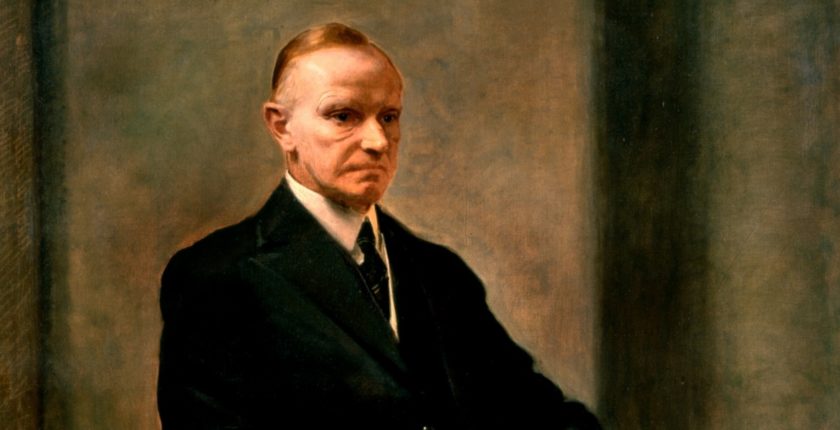 Churchill interacted with eleven U.S. presidents—as many as the Queen. He did not meet all of them, as she has; but you can trace their influence on his thought and principles as you read.
Calvin Coolidge (2 August 1923 – 4 March 1929)
Seated next to President Coolidge at a White House dinner, a woman is alleged to have told him she had made a bet that she could get at least three words of conversation from the notoriously taciturn "Silent Cal." The President supposedly replied: "You lose."
Such a president was not likely to hit it off with the voluble Churchill, who disagreed as vehemently with this conservative Republican as he had with the liberal Democrat Wilson. Now Churchill's focus was on Britain's war debt, which Coolidge insisted be repaid—while the U.S. made loans to Germany, trying to shore up the shaky Weimar Republic.
Churchill wrote that this was "a severe and improvident condition for both borrower and lender. 'They hired the money, didn't they?' said President Coolidge. This laconic statement was true, but not exhaustive," Churchill wrote: "transfer of goods and services…are not only just but beneficial. Payments which are only the arbitrary, artificial transmission across the exchange of such very large sums as arise in war finance cannot fail to derange the whole process of world economy."
By 1928 the argument had become acute, and Coolidge, who could be long-winded when he wanted to be, found his voice: "It is sometimes represented that we made a profit out of the war," he declared. "Nothing could be further from the truth." The war had cost America "half her national wealth….No citizen of the United States needs to make any apology to anybody anywhere for not having done our duty to the cause of world liberty." Toward Europe "we have accepted settlements of obligations, not in accordance with what was due, but in accordance with the merciful principle of what the debtors could pay."
"My blood boiled at Coolidge's proclamation," Churchill wrote his wife. "Why can't they let us alone? They have exacted every penny owing from Europe; they say they are not going to help; surely they might leave us to manage our own affairs."
To the British cabinet Churchill was even more censorious: Coolidge, he wrote, had "the view-point of a New England backwoodsman. The crudity and amateurish character of this utterance is likely to offer his successor an opportunity for doing something different….Mr. Coolidge will soon sink back into the obscurity from which only accident extracted him."
Coolidge did nothing to improve his standing in Britain by calling for another naval conference in 1927, then announcing a massive naval expansion. "Winston talked very freely about the USA," wrote a visitor to Chartwell. "He thinks they are arrogant, fundamentally hostile to us, and that they wish to dominate world politics. He thinks their 'Big Navy' talk is a bluff which we ought to call. He considers we ought to say firmly that we must decide for ourselves how large a navy we require, and that America must do the same."
Coolidge's naval program seemed again to threaten British relations, John Charmley wrote. Vice-Admiral Sir Francis Bridgeman privately characterized American policy "as wanting to 'get a good election cry for Coolidge by saying they had not only made a further peace move, but also twisted the British Lion's tail by making him reduce his cruiser strength.'"
But historian Peter Calvocoressi disagreed: "Such was the seriousness of the rift and exchange of recriminations that only the exercise of considerable efforts by President Coolidge and Prime Minister Baldwin halted the downhill slide of Anglo-American relations, by snatching the issues from the hands of the feuding naval experts and rebuilding political common sense."
And Bridgeman was wrong about Coolidge's personal agenda. In August 1927, the President shocked Americans by announcing, in the midst of a soaring economy: "I do not choose to run." Good, said a still-unmollified Churchill: "His successor has the advantage of starting with the American attitude to Europe at its very worst, and it is hardly in human nature that he should not try to strike a different note and achieve solutions beyond his predecessor's scope."
In the event, more ominous developments than naval rivalries were soon to envelope Coolidge's successor, and Winston Churchill with him.
Churchill Project Articles
Stay In Touch With Us
Subscribe now and receive weekly newsletters with educational materials, new courses, interesting posts, popular books, and much more!