Articles

Was Churchill a White Supremacist?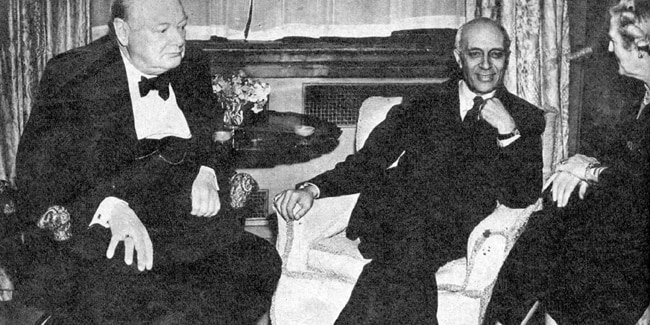 The Churchills with Jawaharlal Nehru. Just before retiring as PM, Sir Winston wrote Nehru: "It seems to me that you might be able to do what no other human being could in giving India the lead, at least in the realm of thought, throughout Asia, with the freedom and dignity of the individual…"
---
Churchill as white supremacist
Beginning ten years ago, with a flawed account of the 1943 Bengal Famine, and fanned by a small cadre of influential writers, Churchill has been slandered with the label of white supremacist. A colleague to whom I often turn for wisdom has a thoughtful judgment on this and other dubious accusations. "In a controversial time, an understanding of Churchill is very difficult to achieve. That is because the life of Churchill is an important thing. And every important thing is highly controversial today."
Cordell Hull, Franklin Roosevelt's Secretary of State, wrote in his memoirs: "A lie will gallop halfway round the world before the truth has time to pull its breeches on." The lies are certainly galloping about Sir Winston Churchill. The charge of racism is now routinely believed, even on certain campuses, which are supposed to be dedicated to independent thought and the search for truth.
1. Western Reserve University
A reader writes: "I'm interested in your response to this quote from a piece in the Washington Post": The author was a Western Reserve University history professor:
In my World War II class recently, I had my students pore through the speeches and letters of British Prime Minister Winston Churchill from the years around the war's start in 1939, searching for his basis for opposing the Nazis. They found Churchill wanted to stand up to the Nazis' expansionism, fight their anti-democracy posture and resist what he called (but largely left undefined) their anti-Christianity. What he did not do, however, was call for the destruction of the essence of Nazism: race supremacy…. [Like President Roosevelt,] he never framed his opposition to Germany as a rejection of race hierarchy or race nationalism…. The Allied leadership did not fight the war over fascist race-nationalism…. What if that principle had been, through the greatest global struggle of humankind, woven into our social DNA?
Several things are wrong with this statement. First is the implied sin of omission: Churchill didn't attack white supremacy (which was not a common term in 1939). Ergo, he must have shared Hitler's racial attitudes. But the statement is wrong on its face: Churchill constantly referred to Nazi "race hierarchy or race nationalism," far more than Roosevelt, from the early 1930s through his war memoirs in 1948-54.
Churchill on Nazi racism
Western Reserve students were asked to research "the years around the war's start in 1939"—a very narrow corridor. Churchill had excoriated Hitler and his creed since 1930. So brief a period—dominated as it was by battle, defeat, and the threat of national extinction—is unlikely to produce learned remarks on Nazi "race superiority" from a prime minister.
Moreover, the assignment suggests a narrow understanding of Nazism. Far worse than white supremacy, Hitler preached the mastery of the herrenvolk over everybody—including most whites living in Europe. One has only to read Mein Kampf to comprehend that.
Both Jews and Nazis were of the white race, but Jews were excluded from Hitler's plan for a Thousand Year Reich. As indeed were the French, Slavs, Balts—all of them white, but all of them untermenschen.  Churchill saw this and called it what it was, even before Hitler came to power.
In 1932, in an abortive attempt to get him to meet Hitler, Churchill told the Führer's press secretary: "Why should you be against a man because of his birth? How can any man help how he is born?" When this was reported to him, Hitler declined to meet his future adversary.
In 1935 Hitler wrote Lord Rothermere, saying that until 1914 the "two Germanic peoples" had spent 500 years without conflict. Why should they quarrel now? Britain, said Hitler, had "opened a great part of the world to the white race." Germany's "cultural and economic activities for the welfare and the greatness of this old Continent are difficult to estimate." Germany and Britain, Hitler argued, were destined to walk together. Rothermere showed the letter to Churchill, who rejected it out of hand.
In 1938 Churchill said Britain could never be friends with a regime "which cheers its onward course by a barbarous paganism, which vaunts the spirit of aggression and conquest, which derives strength and perverted pleasure from persecution…"
"Christian civilization"
Contrary again to the professor's statement, Churchill did not leave "anti-Christianity undefined." He often referred to the enemies of "Christian civilization." By that he did not mean to exclude Jews, Hindus, Buddhists or Muslims. He meant those words in a much broader sense. They stood, he believed, for universal principles. They are embodied in the Ten Commandments, the Sermon on the Mount, the Golden Rule, charity, forgiveness, magnanimity.
Today, of course, if anyone refers to "Christian civilization," a thousand Thought Police will proclaim their excommunication from the Church of the Politically Correct. Surely Churchill would be mystified by this—as indeed would the Jews, Hindus, Buddhists and Muslims of his time, who wholeheartedly endorsed what he said, and fought the war with him.
Churchill: a curious racist
Those who call Churchill a racist will have to explain to me why he harangued his Boer captors in 1899 defending equal rights for native Africans. His jailer asked: "…is it right that a dirty Kaffir should walk on the pavement?… That's what they do in your British Colonies." Churchill called this the root of Boer discontent: "British government is associated in the Boer farmer's mind with violent social revolution. Black is to be proclaimed the same as white…. nor is a tigress robbed of her cubs more furious than is the Boer at this prospect."
Why as Colonial Undersecretary in 1906 did Churchill earn Gandhi's praise for supporting equality for the Indian minority in South Africa? (Gandhi's campaign pointedly excluded native Africans.) Why in 1935, hosting Gandhi's friend Ghanshyam Das Birla, did he say, "Mr. Gandhi has gone very high in my esteem since he stood up for the Untouchables"?
Why in 1943 did he say to India's representative on the War Cabinet that "the old idea that the Indian was in any way inferior to the white man must go." Specificially he added:  "We must all be pals together. I want to see a great shining India, of which we can be as proud as we are of a great Canada or a great Australia." **
Why in 1955 did he befriend Jawaharlal Nehru, with whom he renewed the "shining" analogy? "I told him he should be the light of Asia, to show all those millions how they can shine out, instead of accepting the darkness of Communism."
These are not the remarks of a white racist, but a man who exalted above all, despite a Victorian imperialist upbringing, the rule of law under a just constitution—inspired in India's case by Britain's. Churchill didn't have to say those things; many were not even said in public. In each instance, he had a choice, and chose the good. "…even the smallest events are vital," he wrote in 1923. "It is these which should be studied and pondered over; for in them is revealed the profound significance of human choice and the sublime responsibility of men."
** Duff Hart-Davis, ed., King's Counsellor: Abdication and War: the Diaries of Sir Alan Lascelles (London: Weidenfeld & Nicolson, 2006), 173.
In 1939…
…opposing the flagrantly anti-Semitic Palestine White Paper, Churchill said: "We are now asked to submit—and this is what rankles most with me—to an agitation which is fed with foreign money and ceaselessly inflamed by Nazi and by Fascist propaganda."
That was said "around the war's start," but apparently Western Reserve's students overlooked it. How far into the war did they look? Evidently not to 14 November 1941, when Churchill wrote to The Jewish Chronicle:
None has suffered more cruelly than the Jew the unspeakable evils wrought on the bodies and spirits of men by Hitler and his vile regime. The Jew bore the brunt of the Nazis' first onslaught upon the citadels of freedom and human dignity. He has borne and continued to bear a burden that might have seemed to be beyond endurance. He has not allowed it to break his spirit; he has never lost the will to resist. Assuredly in the day of victory the Jew's sufferings and his part in the struggle will not be forgotten. Once again, at the appointed time, he will see vindicated those principles of righteousness which it was the glory of his fathers to proclaim to the world.
Given Churchill's record, can anyone really believe he did not comprehend Hitler's "race-nationalism" as something to be opposed?
2. Trinity College
Another instance of this ingrained campus mindset involves Trinity College in Hartford, Connecticut. It a small liberal arts institution founded in 1822, one of the "Little Harvards." The events seem a little odd for a college named Trinity. Brittany Slaughter of Liberty University reports in The College Fix:
…the student government at Trinity College recently rejected a request for official recognition from the students' Churchill Club to support discussions on themes underpinning Western Civilization. The club is named after Winston Churchill…. supporters declare the Churchill Club's existence on campus marginalizes them and makes them feel unsafe and that it supports white supremacy and ethnocentricity.
Forty faculty members endorsed the student government, but Trinity President Joanne Berger-Sweeney declined to act. It was not out of any declared love of Western civilization or Winston Churchill. She merely argued that the Club had already been approved by the Office of Student Activities, Involvement and Leadership.
Not good enough. On April 29th, fifty students stormed the administration building, shouting that allowing a Churchill Club condones white supremacy. President Berger-Sweeney issued a statement. Again, it was no unequivocal defense of Western civilization or the Prime Minister who saved it. She merely said: "I denounce white supremacy, and all that it represents in society today. I denounce racism and discrimination against historically and traditionally marginalized groups and I offer those members of our community my strongest support, recognition, and affirmation." Safe words. Just declare that you agree with everybody.
"Everybody was a racist then"
"Expert knowledge, however indispensable, is no substitute for a generous and comprehending outlook upon the human story with all its sadness and with all its unquenchable hope," Churchill said at Fulton in 1946. Both are needed. Let us consider Churchill's words with "expert knowledge and generous understanding."
The rote response by his defenders to isolated remarks deemed racist today is that everybody thought that way then. This is not good enough.
Of course, on occasion, Churchill said such things. He also expressed quite opposite ideas, as in the quotes noted above. I referred this question to a Churchill scholar deeply schooled in Churchill's thought: was Churchill just typical of his time? "He was not. To say he was 'a man of his time,' or that 'everyone back then was racist,' is to miss the singular feature….
The singular feature
You can quote Abraham Lincoln, and most of America's founders, in the same sense. That is not the remarkable thing. The remarkable thing is not that any of them, or Churchill, had the standard view of questions like race. The remarkable thing is that Lincoln, for the slaves, and Churchill, for the Empire, believed that people of all colors should enjoy the same rights, and that it was the mission of their country to protect those rights.
We spend a lot of time arguing that Churchill was remarkable. Then when something comes along that we do not like, we excuse it or explain it as typical of the age. I do not think Churchill was typical of the age on this question.
Another thing to remember was that Lincoln and Churchill were political men. Also, they were democratic men. They needed, and thought it was right that they needed, the votes of a majority. If they lived in an age of prejudice (and every age is that) then of course they would be careful how they offended those prejudices.
The abject ignorance that governs knee-jerk disparagement of respected figures of the past is very routine nowadays. The students and teachers at these two institutions need to think more deeply. They might consider exactly why such figures are still broadly admired.
Churchill Project Articles
Stay In Touch With Us
Subscribe now and receive weekly newsletters with educational materials, new courses, interesting posts, popular books, and much more!