Articles

America, Britain, Mossaddeq, and the Iranian Counter-Coup, 1953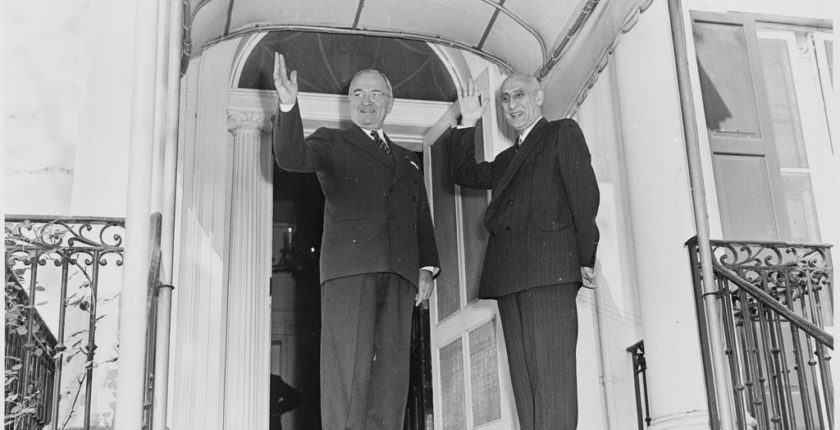 In happier times: President Harry S Truman and Prime Minister Mossaddeq, 23 October 1951. On this visit, Mossaddeq laid a wreath on the tomb of the Unknown Soldier at Arlington. (U.S. Government, Wikimedia Commons, public domain)
---
Mossaddeq's Premiership
August 19th marks the 67th anniversary of what is remembered as the 1953 Central Intelligence Agency-orchestrated coup in Iran. Over the decades, the CIA and MI6 (Britain's Secret Intelligence Service) have been regarded as the villains of the story. In 2000, Secretary of State Madeleine Albright apologized to Iran for overthrowing the democratic government of Prime Minister Mohammad Mossaddeq. (A current documentary states that an "unwitting" MI6 colluded in murdering a pro-government police chief. Actually, he was kidnapped, but then antagonized a soldier, who shot him without orders.)
This is, however, an inaccurate picture. It is true that Mossaddeq's ascendance to the premiership, on 28 April 1951, was initially democratic. To solidify his power, however, he called another round of elections. (He had succeeded Hossein Ala', who had resigned in the middle of the parliamentary term.) According to historian Ervand Abrahamian, "[r]ealizing that the opposition would take the vast majority of the provincial seats, Mosaddeq stopped the voting as soon as seventy-nine deputies—just enough to form a parliamentary quorum—had been elected."1
"Limitless supplies of oil"
On 1 May, Mossaddeq's new government nationalized Iran's oil, previously under British control. This led to turmoil, deteriorating economic conditions, and rise of political violence.2 On the one hand, the British were exerting international pressure to prevent oil purchases from Iran. On the other hand, Iran lacked the capacity of large-scale oil production.
When Mossaddeq came to power, Churchill was still in opposition. His shadow cabinet discussed Mossaddeq's nationalization on 27 June 1951. The main acquisition was Anglo-Persian Oil Company's oil wells and refinery at Abadan. Churchill himself had contracted for that British resource in 1914, but his concern now was the Soviet Union. "Limitless supplies of oil," he telegraphed Truman on 29 June, "would remove the greatest deterrent upon a major Russian aggression." Churchill showed his telegram to Labour Foreign Secretary, Herbert Morrison, who approved and thought it helpful.
Churchill returned to office in October 1951 and unproductive negotiations with Iran continued. To British distress, Mossaddeq began negotiating with the U.S. government for an way to resume large-scale oil exports. Mossaddeq reached an agreement with the Assistant Secretary of State, George McGhee. Royal Dutch Shell would produce Iran's oil and split the profits in half.3 Then, suddenly, Mossaddeq reneged. "Returning to Iran empty-handed," he told McGhee, I return in a much stronger position than if I returned with an agreement which I would have to sell to the fanatics."4
Back in Teheran
And he was empowered to do, Mossaddeq dissolved the Iranian Senate. Later, he called for a referendum to dissolve the Majlis, or lower house, as well.5 He had been warned that the assembly would grant Shah Mohammad Reza Pahlavi the right to replace him. He had made the same point previously in a letter to the Shah.6
Recently released State Department cables show that Mossaddeq's authoritarian turn concerned the United States. The U.S. Embassy's counselor, Gordon H. Mattison, sent a warning to Washington. If Mossaddeq "succeeds confirming dissolution Majlis through referendum as now seems probable establishment dictatorship will be complete with little remaining of outward democratic forms. Prime Minister will then be in position destroy remaining opposition leaving him in unchallenged and absolute control."7
Nevertheless, Mossaddeq went ahead. He believed that the Shah did "not have the guts" to replace him. His initiative, under questionable voting circumstances, won with 99 percent of the vote. At that point, Mossaddeq began to rule by decree.8
The Shah, however, did have the guts to replace him—and did so. On 15 August 1953 he issued orders removing Mossaddeq and appointing General Fazlollah Zahedi as prime minister. Nematollah Nassiri, an army colonel, brought a copy of the royal order to Mossaddeq.9
Mossaddeq's coup
Here is where the actual coup took place. Although the Shah's order was legal by his own admission, Mossaddeq refused it, and arrested Nassiri.10 He then encouraged an uprising by nationalists, Islamists, and communists against the Shah, who left Iran out of concern for his safety.11
As of 18 August, the United States had given up on reinstatement of the Shah. So indeed had the Shah himself. He was in Rome, reaching out to American friends to find him a new future. (What that was is not clear, but the memoirs of his consort, Shabanu Soraya, show they considered returning to Iran impossible.)
The CIA station chief in Iran was Kermit Roosevelt Jr., a grandson of Theodore Roosevelt. He agreed to support Mossaddeq's ouster only after reading the Shah's order. Zahedi, in hiding north of Teheran, provided him with a copy. Roosevelt wanted to be sure that removing Mossaddeq was not illegal conduct.12 But like the rest of the government, Roosevelt had given up, thinking the coup a done deal.
The counter-coup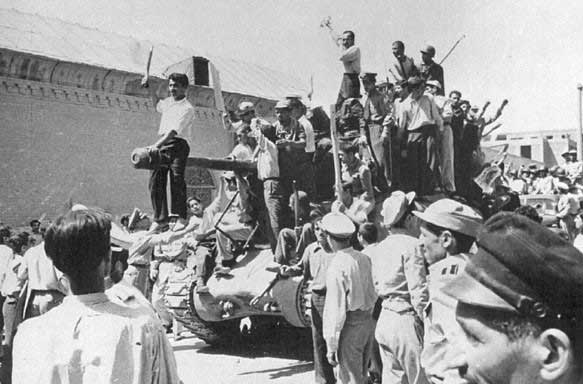 There followed a popular uprising in support of the Shah. It caught everybody, including the monarch and the U.S. government, by surprise.13 The first protests began among pro-Shah merchants in the bazaar, but quickly gathered supporters. Mossaddeq sent security guards to repress the protests, but the guards refused to use violence against the people.14
Following these pro-Shah demonstrations, the CIA reconsidered reinstating the monarch.15 State Department cables show that the U.S. clandestine operation mainly involved directing ongoing protests on the national radio. With the support of protestors, Zahedi succeeded in reading the Shah's order for Mossaddeq's dismissal on the radio. It  exposed Mossaddeq's illegal actions in office.16 The countercoup had succeeded. The king returned to Iran and resumed his reign.
In the aftermath, Churchill met Kermit Roosevelt Jr. in London "Young man," he said, "if I had been a few years younger, I would have liked nothing better than to have served under your command in this great venture."17 Aside from support of the counter-coup, however, Churchill's involvement was minor. Norman Rose noted: "No gunboats were sent to the Persian Gulf, though Churchill noted with delight [Mossadeq's] overthrow."18
America's mistake
Upon hearing the news that the people had risen in his defense, Mohammad Reza told his wife, "I knew they loved me…. Before I was merely a hereditary monarch but today I have really been elected by my people."19 Accordingly, the Shah moved to solidify his power. He liberalized Iranian society and economy, but took a severe turn against the politicians. His secret police, the SAVAK, was hated and feared. Allowing his autocratic rule in fear of communism was a major mistake. It was one of two key factors which led to the 1979 Iranian revolution.
The other factor was the Shah's "White Revolution." Purchasing lands from landlords, he distributed them to the peasants who had been working on them.20 They, however, were unfamiliar with farming, and agri-business, and with their failures, poverty and unemployment grew. Gradually they sold their lands and moved to the cities.
Women's suffrage, also well-intended, backfired. A young and little-known cleric in Qom strongly objected to this liberal reform. Conservative Iranians were attracted to that cleric, Ruhollah Khomeini. In essence, the White Revolution created both dissatisfaction and Khomeini. The cleric eventually went into exile in Turkey and then Iraq. Arrested twice, with credibility of a persecuted dissident, he managed to expand his base of support from abroad.
In cities orthodox villagers for the first time saw the progressive side of their country. It disgusted them. The Shah, they thought, had gone too far: women in sun dresses, men and women drinking together, couples showing public affection. These and other manifestations of a growing secularized society led to broadspread discontent. The orthodox became radicalized and called for Islamic rule. In 1979, they achieved it.
Retrospect
Nearly seven decades later, Americans still blame themselves for what happened in Iran in 1953. In fact, America's role was not supporting Mossaddeq's removal. No liberal democrat, he really ruled as an autocratic demagogue. Americans were right to fear him, for his aim was to diminish freedom. They should, however, have imposed the same powerful pressure on the Shah to further liberalize Iran's politics and evolve toward a constitutional democracy. Occasionally there were efforts to curb his excesses, but they were strong enough only to encourage his fundamentalist foes.
America's failure to push for a peaceful transition to a liberal state, combined with the Shah's authoritarianism and too rapid modernizations, made the revolution of 1979 inevitable. Nevertheless, what the U.S. did in the summer of 1953 was justified on legal and moral grounds.
The author
Mr. Khatiri grew up in Iran and is seeking political asylum in the United States. He is an MA Candidate and Ambassador Andreas Baum Fellow, Strategic Studies Department, Johns Hopkins University, The Paul H. Nitze School of Advanced International Studies (SAIS). He is involved with the Iranian pro-democracy opposition community. For more of his writings see his website, shaykhatiri.com, and his social media accounts, @shaykhatiri.
Endnotes
N.B. Mossaddeq's surname is also spelled Mossadeq, Mosaddiq, Mossadegh, Mossaddeq, Mosadeck, or Musaddiq. For consistency, we adopt the author's spelling in notes below.
1 Ervand Abrahamian, Iran Between Two Revolutions (Princeton, N.J.: Princeton University Press, 1982), 269.
2 Wolfgang Kressin, "Prime Minister Mossaddeq and Ayatullah Kashani fom Unity to Enmity: As Viewed from the American Embassy in Tehran, June 1950-August 1953" (University of Texas at Austin, May 1991), Chapter 4.
3 Michael Axworthy, A History of Iran: Empire of the Mind (New York: Basic Books, 2010), 464-66.
4 Ibid, 466.
5 Kennett Lovespecial, "Iran Crisis Grows, Aiding Mossaddeq; Vote to Dissolve Parliament Next Tuesday is Indicated.  More Deputies Quit," The New York Times, 16 July 1953.
6 Abbas Milani, The Shah (New York: St. Martin's Griffin, 2012), 185.
7 Gordon H. Mattison, "244. Telegram From the Embassy in Iran to the Department of State," Department of State's Office of Historian, 17 July 1953.
8 Milani, 184.
9 Axworthy, 236.
10 Milani, 180.
11 Milani, 189.
12 James Risen, "Secrets of History: The C.I.A. in Iran—A Special Report: How a Plot Convulsed Iran in '53 (and in '79)," The New York Times, 16 April 2000.
13 Ibid.
14 Loy W. Henderson, "Telegram From the Embassy in Iran to the Department of State," Department of State's Office of Historian, 20 August 1953.
15 Risen, "Secrets of History."
16 Ibid.
17 Churchill, focused on a settlement with the Soviets, took limited interest in foreign adventures. But "cloaks and daggers," wrote Anthony Adamthwaite, roused his enthusiasm. John W. Young, The Foreign Policy of Churchill's Peacetime Administration, 1951-1955 (London: Pinter, 1989), 16.
18 Norman Rose, Churchill: The Unruly Giant (New York: Free Press, 1995, 336.
19 Princess Soraya, Palace of Solitude (London: Quartet Books, 1992), passim.
20 Axworthy, 246.
Churchill Project Articles
Stay In Touch With Us
Subscribe now and receive weekly newsletters with educational materials, new courses, interesting posts, popular books, and much more!