Articles

Churchillisms: "Leave the Past to History" (which He will Write)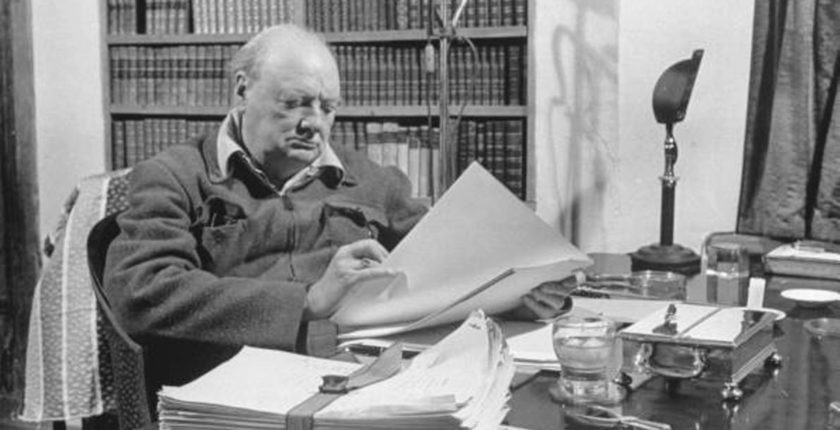 .Above: Reviewing proofs of The Second World War, 1947. Churchill preferred his proofs to be hole-punched and held together by "Treasury tags." "Klop," his hole-punch, lies ready, alongside his usual very weak whisky-and-water. (N.R. Farbman publicity photo for Houghton Mifflin's first edition of The Gathering Storm, 1949; The National Trust, Chartwell)
Q: "History…"
Malcolm MacDonald (son of Prime Minister Ramsay MacDonald) records a confrontation with then-Prime Minister Stanley Baldwin. "History will say the Rt. Hon. Gentleman is wrong in this matter," Churchill says. "I know it will, for I shall write that history." What was the date? Didn't he say this frequently?
---
A: "…and its writing"
We do not have the date, and cannot find the exact words in Hansard Online—perhaps because they were an interjection not recorded in the Parliamentary transcript. It is true that Churchill used variations of this expression often from the 1930s (when he was writing Marlborough and A History of the English-Speaking Peoples) through the 1940s (when he was writing his memoirs of the Second World War).
David Reynolds' In Command of History: Churchill Fighting and Writing the Second World War (London: Allen Lane, 2004) has the quote at page 39, which he attributes to MacDonald, but provides a different ending: "I know it will, because I shall write that history."
Reynolds also notes "a similar line to Stalin in January 1944, after a vigorous exchange of telegrams about whether Britain could have secured a separate peace [with Hitler] in 1940. 'I agree that we had better leave the past to history,' he wrote in a draft reply. 'But remember if I live long enough I may be one of the historians.'"
Richard Langworth, in Churchill in His Own Words (London: Ebury Press, 2012, 64) has yet another variation, from the House of Commons, 23 January 1948. Churchill was delivering a long and contentious speech criticizing the Labour government in foreign affairs. Vastly outnumbered by Labour, he was interrupted repeatedly by cat-calls from the opposite benches. Undismayed, Churchill quoted foreign secretary Ernest Bevin.  "The Conservative Party carries a terrible load of responsibility for the muddle which led to the war."
"These former controversies"
It wasn't just the Conservatives, Churchill told them. "In case at any forthcoming General Election there may be an attempt to revive these former controversies, we are taking steps to have little booklets prepared recording the utterances at different moments, of all the principal figures involved in those baffling times. For my part, I consider that it will be found much better by all Parties to leave the past to history, especially as I propose to write that history myself."
The House relaxed and members from both sides laughed—but not for long, and soon the heated interruptions resumed. This is what Churchill called "the cut and parry" of Commons debate, something we rarely see in other famous assemblies.
In the event, Churchill was careful to say that his World War II memoirs were not history. He preferred to call them "a contribution to history."
As he told Sir William Deakin, who assisted him in research: "This is my case."
Churchill Project Articles
Stay In Touch With Us
Subscribe now and receive weekly newsletters with educational materials, new courses, interesting posts, popular books, and much more!