Articles

Social Reform in a Changing World: Churchill's Battle with Socialism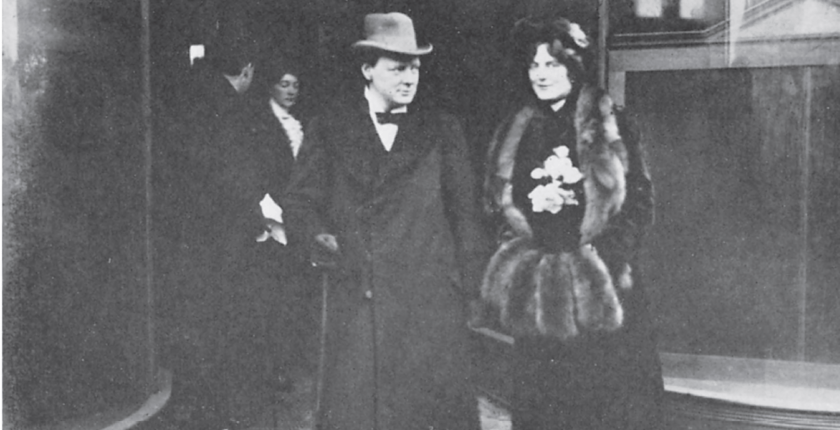 Churchill and Clementine visit the first labor exchange, Whitechapel, 1910. (Hillsdale College Press)
---
Churchill understood that, "rule[ing] over free people is nobler and accompanied to a greater extent by virtue than ruling in the spirit of a master."1 Virtue by choice is greater than virtue by force. The Labour Party, founded in 1900, wished to rule Britain in the spirit of a Master through the introduction of socialist ideals and policies. Churchill fought to preserve liberty by giving his Liberal Party a platform of social reform competing with that of the Labour Party.
He did this through social policy. His reforms aimed to enhance the system under which Britons enjoyed freedom. They aimed to promote the humanity of the individual, as well as natural market mechanisms. The reform was "patient, the progress was steady," and developed through existing political machinery.2 The socialist system, by contrast, required people to "be dehumanized in order to make one [group] their godlike [masters]."3 The fundamental difference between Churchill's social reform and a centrally planned, socialist regime was the treatment of labor. Churchill sought to maintain the human element of human capital.
Churchill's social reform aimed to govern free persons more effectively. The principles behind Liberal unemployment insurance, labor exchanges, and education reforms were individual choice and natural market functions.
Unemployment insurance
Speaking on the National Insurance Act to the House of Commons in 1911, Churchill laid out the rationale of the Liberal Party's (and his) unemployment proposals. In economic downturns, cyclical market fluctuations—such as building trades, mechanical engineering, foundries, vehicle manufacturing, and sawmills—were "subject to an almost total cessation of orders."4 This often stopped their production cold, resulting in rapid industry-wide unemployment.
The Liberal Party believed the pinch in these industries to be so acute and widespread that privately organized wage spreading devices such as unions could not arise. Unionization faced cost efficiencies that increased with the number of people helping to "supply" this organization. This means that as more and more workers join the organization, the costs and risks become sufficiently dispersed that individual benefit can be realized. In the cyclical industries targeted Churchill, the upfront cost is so high that workers never take advantage of these increasing cost efficiencies. As a solution, Churchill proposed government subsidization of mandatory collective action which reduced the upfront costs sufficiently to spur unionization and help individuals realize the added benefit of the collective action.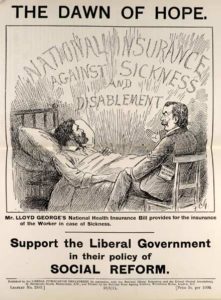 ***
This involved "[t]ripartite contribution whereby workmen, employers and the State all pay to a central fund."5 Encouraging saving within these industries, the Liberals hoped to protect against future periods of unpredictable cyclical lows. The three-way contribution incentivized both employers and the workmen to look after the fund's "maintenance and thrifty administration."6
Though the contributions would necessarily be mandatory, the Act tried to preserve both individual choice and private property. An individual's contribution was, in theory, the money that individual took out in a later time of need. In effect, the government was acting as a bank. Since each withdrawal would deplete available capital, individuals would need to exercise prudence in their withdrawals.
There are certainly familiar elements today in Churchill's now-century-old proposal. It arose in response to an increasingly interwoven global economy. In helping laborers guard against the bad years by saving for the good, Churchill hoped, government could alleviate the "wholly disproportionate"7 misfortunes of a changing era. Because of the increased urban demographic and the ever-expanding division of labor, individuals were increasingly dependent on wages for survival. The increasing dependence on wages of the commercial British economy correlated to a shrinking margin of error for even the most industrious working-class families. Everyone was at risk. By increasing this margin of error, the Liberal Party aimed to help, "prevent disaster to [the] thrifty."8
Labor exchanges
Churchill and the Liberal Party also moved to create a national and modern market system for labor. This social reform did not try to create new labor; instead, it organized the existing labor supply. The Labour Exchanges Act of 1909 set up labor exchanges throughout the country. They served as a solution to the problems of imperfect information and immobility within the labor market.
The targeted demographic was the relatively immobile, low skilled laborer. On their own, workers needing to provide for their families tended not to seek positions better suited to their skills. The result was an immobile labor supply. Employment was dependent upon chance—the jobs available within a community. Few Britons then had the means to travel in search of work.
Churchill and his Party believed that increasing the quality or quantity of the nation's resources increased its production potential. A mobile labor force contributes to labor quantity by employing more of the unemployed. It also increases the workforce's quality, helping the population find jobs to which they are most aptly suited, without forcing them to choose between occupation and family. By boosting worker mobility, the productivity of the country grows, and the well-being of the worker increases.
Education  
Learning sat high on Churchill's list of social reforms throughout his career. His 1908 speech, "Social Policy," argues for raising the skills of the labor market through state subsidized education. A more educated workforce leads to a greater "productivity and healthy energy of the British labour."9 Nearly thirty years later he was still preaching this: "Education, state propelled, offered its ladder to ability of all kinds, from the humblest cottage, from the most gloomy slum, to climb up by merit, if merit there were, to captaincy," 10 resulting in a greater freedom of choice as to how British people lived their lives. 
To Churchill, improving education was not needed simply to increase the productivity of human capital. Education also enabled people to "handle the scientific apparatus necessary for pre-eminence in peace or survival in war."11
Fifty Years Hence, Churchill's 1931 essay, extrapolated, with surprising accuracy, what future scientific advancement would bring. He foresaw exponential advancement, but, without "an equal growth of Mercy, Pity, Peace and Love." This science "may destroy all that makes human life majestic and tolerable." After all, he continued, "this material progress in itself so splendid, does not meet any of the real needs of the human race."
The needs of the soul
It is the needs of the soul that Churchill invokes: to strive towards the good, the true, the beautiful. For this reason, Churchill believes no one, "who can take advantage of a higher education should be denied his chance."12 For this reason he hoped education would "become broader and more liberal."13 "All wisdom is not new wisdom, and the past should be studied if the future is to be successfully encountered."14
Through education, Churchill strove to elevate the individual. Using labor exchanges, he strove to promote natural market functions. Through unemployment insurance, he paired the virtue of thrift with an encouragement of personal responsibility to strengthen the individual and curb the effects of uncontrollable misfortune. Churchill recognized an end; he saw a means and he pursued it.
Contrasting socialism
Churchill considered socialism, by nature, a completely different beast from his programs of social reform. Socialism does not exalt the individual. It attempts to rule its subjects in the spirit of a master. Though not the first nor last socialist, Karl Marx and his theories provide an excellent starting point for analysis because of their general familiarity and the widespread attempts of implementation.
Among many things, Marx was known for his Labor Theory of Value. This argued that the total value of any good is based on the amount of labor expended in its production.15 Marx pioneered the "scientific" theory of socialism, but to accomplish this he needed something to aggregate: hours of labor. In Marx's theory, prices of goods are determined by hours of labor input, making it to appear merely objective fact. Conversely, the marginal revolution in economics posited that prices are in fact determined subjectively. They emerge from individual choices, and estimations of the usefulness goods have in the future. 
Free choice vs. objective measurement
Free choice, according to subjective valuation, allows for self-generating order to unfold through the price system. Looking to the future, successful producers must consider consumer desire.
Churchill understood the concepts laid out later in Ludwig von Mises' famous economic treatise, Human Action. Markets, von Mises wrote, become a system of accountability formed through "individuals cooperating under the division of labor."16 These markets continually adjust to "value judgements of individuals." As a result, "their actions are directed by these judgements."17
But Marx argued for weighing value through objective measurements rather than subjective opinions. Hypothetically, in his system, this eliminates the necessity for markets. On its face, a system of "social cooperation under the division of labor"18 sounds appealing and plausible. "Planning" starts to crowd out individual choice. The state is modeled after a factory, allocating inputs and distribution of goods according to empirical data.19 The factors of production are transferred from private to collective ownership. That is socialism. The state owns all land, labor and capital.
The human side of capital
 "Only fools believe that they know all, but there are many," Hayek wrote. 20 The problems that arise from state control of production and allocation are well documented in recent history. In arguing his social reform alternative Churchill knew that the fool would not be swayed by reason or data. So he took a different tactic in his arguments against socialism. Rather than simply declaring socialism "impossible," Churchill appeals to the individual in showing socialism's effect on humanity as a whole.
Fifty Years Hence plays with the assumption that perfect efficiency can be reached, whether by central planning or competitive mechanisms. Churchill's essay then investigates the relationship between power and virtue. For society to avoid being consumed by power­, he writes, virtue must grow with it in direct proportion to the temporal dangers power poses. These dangers arise when mankind can no longer control his own progress; when progress instead starts to control it. Humanity becomes no different from its inanimate capital counterparts. Mankind loses the ability to strive towards those things which are noble and good.
Churchill's fear of socialism stems from the relationship between control and socialist treatment of the individual. "Capital" is fundamentally different from human capital, or labor. As defined by von Mises, "capital is the sum of the money equivalent of all assets minus the sum of the money equivalent of all liabilities as dedicated at a definite date to the conduct of the operations of a definite business."21 Simply put, monetary value (determined by prices) is anything that creates economic value— minus anything that detracts from economic value. Economic value is the subjective determination of potential for exchange.
Capital does not choose
Capital is generally limited to material goods—inanimate objects, like machines. It is subject to Newton's first law of motion: it remains at work or rest unless directed otherwise. Capital does not choose, von Mises continues: "…the employment of the physiological functions and manifestations of human life as a means is called labor."22 Labor is a way for human beings to further their economic goals. People do not labor for labor's sake. They labor for survival, security, or a "host of scientific and artistic accomplishments."23 Each individual has different capacities for labor, and different skills. Everyone internally values labor and leisure differently. Their preferences determine when, how, and why they work.
Churchill's social reform draws on von Mises, who differentiated labor from production. Socialist regimes cannot make this distinction because individual choice is obliterated by the elimination of markets. Institutions based on preserving the individual allow people to be the judge of their own ends, and their value. Collectivism strives towards some undefined, "public" good or welfare. As a result, the relative valuation of both means and the ends are the community's responsibility. Mises takes this argument a step further.
"It is customary nowadays to speak of  "social engineering." Like planning, this term is a synonym for dictatorship and totalitarian tyranny. The idea is to treat human beings in the same way in which the engineer treats the stuff out of which he builds bridges, roads, and machines. The social engineer's will is to be substituted for the will of the various people he plans to use for the construction of his utopia."24
Social reform vs. socialism
Churchill's social reform ideas reflected von Mises's rejection of socialism. Under socialism, Churchill said, individuals become pawns, "prostrate in the hands of the government. They would be reduced at once to state slaves, moved hither and thither like cattle…."25
Under socialism, Churchill declared, inequalities are products of choice rather than of fortune.26 Socialism can only succeed in "leveling down".27 It standardizes, it makes the individual into a "function." It reduces the individual from human to a "white ant."28 The individual becomes part of a system of "graduated punishments" in contrast to the individualist system of freedom and liberty. Only the latter "offers an infinitely graduated and infinitely varied system of rewards for genius, for enterprise, for thrift."29
The challenge of Labour
Churchill's social reform policies were, in part, a response to emerging socialist ideas. At the turn of the century, these were manifested by the Labour Party, and had powerful direction. Socialism was enticing, Churchill wrote, because it had "a plan and a gospel."30 The Fabian socialist Sydney Webb asserted that "individual liberty evokes no enthusiasm."31 Even the great conservative economist James M. Buchanan might agree with that. Webb continues that capitalism's
reliance on "freedom of contract" and "supply and demand with its corresponding voluntaryism" [sic.] in religion and philanthropy, now seems to work out disastrously for the masses, who are too poor to have what the economists call an "effective demand" for even the minimum conditions of physical and mental health necessary to national well-being. Of all this the rising generations of voters became deadly tired, and Liberalism [of the Liberal Party] collapsed in consequence.32
* * * 
The burgeoning Labour Party in early 1900s manifested the peoples' desire for change. Churchill recognized this mounting insecurity and discontent, and the need to fix it.33 At the same time, he worried about the lengths to which the people would go to fix it.34
"Insecurity paralyzes," Mill wrote, but only when " no energy of mankind" can offer "tolerable means of self-protection."35 And government oppression has "a more baneful effect on the springs of national prosperity, than almost any degree of lawlessness…."36 Oppression has two sources: managerial power, exercised by  those on top toward those at the bottom. Or parental power: sacrificing our liberties by relinquishing our responsibilities to those at the top.37 By 1920, the Soviet Union was testing the managerial sort of power. In 2020, we seem to be testing the latter source. Churchill fought to prevent people's insecurities which lead them toward the parental sort.
The Churchill alternative
Sometimes in life, individuals through no fault of their own cannot provide for themselves. Often, society can afford to alleviate these misfortunes.38 This may be wise or unwise in [any] particular instance, Friedrich A. Hayek wrote, but they "do not conflict with liberal principles so long as they are intended to be permanent and are not used to favor or harm particular people."39
In Churchill's social reform, liberty and a social safety net could exist side by side. When they do, nations can still prosper. But prudence demands a safety net that preserves freedom which also effectively addresses the problem. "Organization is one of the most powerful means that human reason can em­ploy," Hayek continued. So long as it "is im­bedded in a free sphere and [can adjust] itself to cir­cumstances not taken into account…."40
* * *  
Churchill stayed his course throughout his political career. He continually emphasized the importance of keeping Britain a free and liberal society. "Freedom is their lifeblood," he said of the people.41 Collective action must only be taken in the spirit of the individual. This was a fundamental characteristic of the social reform Churchill helped to implement. In principle, his reforms directly opposed socialism. It is an irony of history that Marxism, intended to liberate the worker from the "greed" of capitalism, planted the roots for the system which most effectively reduces the laborer from human to capital.
Endnotes and Further Reading
1 Aristotle, The Politics, translated by Lord Carnes (Chicago: University of Chicago Press, 1984), 221.
2 Winston S. Churchill, "Social Policy" (23 January 1908), in Robert Rhodes James, ed., Winston S. Churchill: His Complete Speeches 1897-1963, 8 vols. (New York: Bowker, 1974) I, 887.
3 Ludwig von Mises, Human Action: A Treatise on Economics. (Auburn: Ludwig von Mises Institute, 2008), 152.
4 Churchill, "National Insurance Bill" (25 May 1911), in Complete Speeches, II, 1811.
5 Churchill, "Great Events of Our Time VI: Chief factors in Our Social Revolution" (News of the World, 4 July 1937), reprinted in Michael Wolff, ed., The Collected Essays of Sir Winston Churchill, 4 vols. (London: Library of Imperial History, 1975), IV, 389.
6 Churchill, "National Insurance Bill," Complete Speeches, II, 1815.
7 Ibid., 1820.
8 Churchill, Winston S., "Abuse of the 'Dole': Fallacies of the Live Register" (1930), The Daily Telegraph, 194.
9 Churchill, "Social Policy" (1908), Complete Speeches I, 887.
10 Churchill, "Social Revolution" (1937), Collected Essays IV, 388.
11 Churchill, "Post-War Planning" (1943), Complete Speeches VII, 6761.
12 Ibid., 6762.
13 Ibid.
14 Ibid.
15 Charles Steele, "Socialism," Lecture Notes, 28 March 2019. Hillsdale College, Hillsdale, Michigan.
* * *
16 Ludwig von Mises, Human Action: A Treatise on Economics, 258.
17 Ludwig von Mises, Human Action: A Treatise on Economics , 258-259.
18 Ludwig von Mises, Human Action: A Treatise on Economics, 259.
19 Charles Steele, "Socialism."
20  Hayek, Friedrich A., The Constitution of Liberty. Edited by Ronald Hamowy. 1960. Reprint, Chicago: University of Chicago Press, 2011, 130.
21 Ludwig von Mises, Human Action: A Treatise on Economics, 261.
22 Ludwig von Mises, Human Action: A Treatise on Economics, 131.
23 Ibid., 155.
24 Ibid., 113.
25 Churchill, "British Policy at Home and Abroad" (8 April 1922), Complete Speeches IV, 3006.
26 Michael Clark, "Planning and the Rule of Law," Lecture Notes for Hayek's The Road to Serfdom. Hillsdale College, Hillsdale, Michigan. Date?
27 Churchill, "Woodford Adoption Meeting" (28 January 1950), Complete Speeches VII, 7913.
28 Churchill, "Mass Effects in Modern Life," in Thoughts and Adventures: Churchill Reflects on Spies, Cartoons, Flying and the Future, 269-282. Edited by James W. Mueller with Paul H. Courtenay and Alana C. Barton (Wilmington: Intercollegiate Institute Books, 2009), 272-73.
29 Churchill, "British Policy at Home and Abroad" (1922), Complete Speeches VII 3006-3007.
30 Churchill, "Fifty Years Hence," in Thoughts and Adventures, 293.
* * *
31 James M. Buchanan, James M., "The Soul of Classical Liberalism," in The Independent Review, Summer 2000, 111-19.
32 Sidney Webb, "Twentieth Century Politics," A lecture to the Fabian Society, 8 November 1901.
33 Churchill, "The Chicago Scandals," (P.T.O. 16 & 23 June 1906, reprinted in Collected Essays IV, 16-25.
34 Churchill, unpublished review Seebohm Rowntree's Poverty: A Study of Town Life (1901) in Randolph S. Churchill, ed., The Churchill Documents, vol. 3, Early Years in Politics 1901-1907 (Hillsdale, Mich.: Hillsdale College Press, 2007), 106-11.
35 Peter J. Boettke, quoting John Stuart Mill, Principles of Political Economy, 1848, in "Liberty vs Power in Economic Policy in the 20th and 21st Centuries," Journal of Private Enterprise, Special Issue, Spring 2007, 15.
36 Ibid.
37 James M. Buchanan, "Afraid to be Free: Dependency as Desideratum," in Public Choice (2005) 124: 19-31.
38 Friedrich A. Hayek, The Constitution of Liberty (Chicago: University of Chicago Press, 2011) 54-56.
39 Friedrich A. Hayek, The Road to Serfdom, edited by Bruce Caldwell, 1944 (reprint, Chicago: University of Chicago Press, 2010), 118.
40 Hayek, "The Case for Freedom," 1960 (reprinted from The Constitution of Liberty, Chicago: University of Chicago Press, 1960.
41 Churchill, "Post-War Planning" (1943), Complete Speeches VII, 6761.
The Author
Julia Wacker is a senior at Hillsdale College. She is majoring in economics and minoring in Spanish and mathematics. In 2017, she was admitted into the Winston Churchill Fellowship Program. As a Churchill Fellow, Julia has contributed to publication of The Churchill Documents, met with visiting Churchill scholars, and enrolled in the course "Statesmanship of Winston Churchill", taught by Hillsdale College President Larry P. Arnn.
Churchill Project Articles
Stay In Touch With Us
Subscribe now and receive weekly newsletters with educational materials, new courses, interesting posts, popular books, and much more!