Articles

Great Contemporaries: Brendan Bracken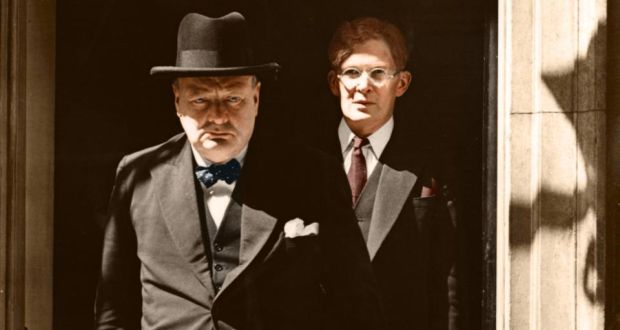 ---
There was no more enigmatic figure in Churchill's life than Brendan Bracken, who cloaked his birth and upbringing with mystery while hinting broadly that he was the great man's illegitimate son. It is well-authenticated that close friendship, not errant fatherhood, encompassed their relationship. But Churchill, with characteristic impishness, apparently never gave the direct lie to Bracken's implied claim. This annoyed Churchill's wife and peeved his son, Randolph, who spoke satirically of  "my brother, the bastard." To quell the noisome rumor Churchill quipped: "I have looked the matter up, but the dates don't coincide."
The truth, far from hidden these days, is that Bracken was born at Templemore, Ireland, on 11 February, 1901. The third child of Hannah and Joseph Bracken, he enjoyed a comfortable childhood. At school, Bracken was a nuisance and a truant. A family council resulted in a decision to ship him off to Australia. There, it was hoped, he would make good under the vigilant supervision of a distant relative.
On the rise
Bracken proved too slippery for the relative to keep a firm grip on him. On his own initiative, he wormed his way into a post on a small newspaper. He supplemented his income with private tutoring. He succeeded in accumulating sufficient funds to sail home and set up his own bank account. Eventually he turned up at a well-known public school, Sedbergh, a notch below Harrow, Churchill's old school. Sedbergh had ample status, and suited Bracken's shrewd plan to use it as a launching-pad for his career.
With unprecedented gall, Bracken flaunted an open checkbook and persuaded the head master to admit him as a student. He posed as an Australian orphan, and took a few years off his age to qualify for entrance. Examination papers were the next obstacle. His answers showed abundant brainpower, and banished any lingering reservations from the head master's mind.
Personal encounter
By the time I encountered him, he was a formidable figure in corridors of power and London financial circles. We met in the House of Commons shortly after the Second World War. I had completed my own war service and started work as a parliamentary journalist. He had served Churchill magnificently in the role of trusted friend and confidant. Britain also had cause to be grateful to him for his ruthless efficiency as wartime Minister of Information.
The Labour Party came to power in July 1945. Bracken's arch opponent was the Minister of Health, Aneurin Bevan, a fiery Welshman. Bevan was steering the National Health Bill, the first large-scale national heath service, through morning committee meetings.
London boasted three evening papers in those days, but they left committee reports to the Press Association. This was the domestic news agency, which I had joined. I wrote "running reports." A copy boy would come in every five minutes or so, collect what I had written, and phone it to the agency. Bracken would thrust at Bevan, jolting him in a tough fight over every clause in the Bill. Bracken's technique was a superbly phrased attack in time to catch new editions of the evening papers. This ensured him headlines, especially in the Evening Standard, owned by Lord Beaverbrook, an intimate friend of his and Churchill's.
One morning as I hurried to the committee, Bracken caught up with me and complimented me on my coverage. No journalist worth his salt likes to feel exploited, particularly by a politician. So I said: "You have a great knack of talking in headlines just in time to catch every edition." He roared with laughter and produced a pocket diary. He flaunted a page on which he had written the edition times of all the London papers. Smiling ruefully, I said: "I didn't imagine that you were relying solely on chance." "No," he replied, "it's a trick I learned early on from Churchill."
Did he? For Bracken the line between fact and fiction was often so finely drawn as to be non-existent. I strongly suspect that since he was a first-rate journalist, the list was his own idea. His notoriously inventive mind was probably throbbing away at full force when we rubbed shoulders in the Commons. Perhaps he also showed the list to other journalists. However, I have never met a fellow scribe who mentioned this.
It was common talk in the Press Association that in the Thirties Churchill phoned to demand heavy coverage when he was about to attack Hitler's policies. Churchill was then in the political wilderness, and it does seem probable that he did this. But I have not confirmed it to my entire satisfaction.
Bracken died of cancer in 1958 at the age of 57. Churchill reacted sorrowfully to the news of his death. Although Bracken was not his son, he mourned for him with a father's grief.
Bracken: A Postscript
We have a memorable glimpse of Brendan Bracken on 11 May 1940, Churchill's first full day in office. One of the first axes fell on Chamberlain's toady Sir Horace Wilson, a civil servant promoted far above his station. He was an arch appeaser, both indirectly (as an adviser) and directly (as an emissary to Hitler).
With his usual courtesy, Churchill told Wilson that he would be obliged if he left Ten Downing Street by 1pm. Wilson characteristically took this as a "negotiable demand" and toddled off to lunch. Returning, he found Bracken and Randolph Churchill seated on his office sofa, smoking huge cigars and glaring at him. No word was exchanged. Wilson turned and fled. Later he sent for his effects, and was never seen at Number Ten again.
During the war, Bracken enabled Evelyn Waugh to obtain leave so that he could write Brideshead Revisited. Waugh unkindly wrote Bracken into the story as Rex Motram, a boorish, money-grubbing exploiter of the colonies. That was typical of Waugh, but undeserved. As Lord Beaverbrook said: "To know Bracken was to like him; those who didn't know him did not like him."
The Bracken biographies (below) may be viewed in similar light. Boyle's Poor Dear Brendan is the more showy and brash, Lysaght's Brendan Bracken the deeper and more revealing. Each book had only one press run, and both are sadly scarce. They should be read with reference to each other. Despite their different approaches, both authors captured that quality of Bracken which stood out: his abiding loyalty to Churchill.
***
In the dark days of the 1930s, Churchill stood almost alone, warning of Germany. One of the few Members of Parliament who consistently stood with him was Brendan Bracken. Capping that record of loyalty, Bracken proved an efficient Minister of Information when Churchill finally reached the top. In the Financial Times, The Economist and History Today, he developed three great journals. He willed most of his estate to Sedbergh and to Churchill College.
After the war Bracken seemed to burn out like a fallen meteor, contemplating a future with, alas, all too accurate a vision. He said of Keynes: "He will be best remembered as the man who made inflation respectable." He said of himself: "I shall die young and be forgotten."
We should not forget Brendan Bracken. He did not always get along with Randolph Churchill, but Randolph wrote his finest tribute. It was applicable in many ways to Randolph himself:
"He has died before his time, and despite the promise of his spectacular youth, he never achieved the summit in any field. Yet he was greatly loved and esteemed. He performed unnumbered acts of kindness for every sort and condition of his fellow humans. And I rather think that someone will 'sound the trumpet for him at the other side.' Despite the many ups and downs I had with him over thirty-five years, I have no hesitation or lack of breath in this valedictory fanfare: 'You were always on the good side: you loved truth and honour: you hated cruelty and injustice: fare thee well, my gifted, true and many-sided friend.'" —Richard M. Langworth
Further Reading
Bracken, not unlike another famous British figure, Matthew Arnold, believed he could stride across the public stage, yet subscribe to the Epicurean dictum, "Hide Thy Life." He would often disappear for a couple of days at a time, much to the distraction of his staff. He arranged to have all his papers burned when he died, leaving a formidable task to his biographers. But two excellent books deal entertainingly with the interplay of light and shade on his curious career. Boyle's treatment is robust, but Charles Lysaght takes us nearer to Bracken's real character. Herewith, excerpts from contemporary reviews….
"Lord, boss and bully"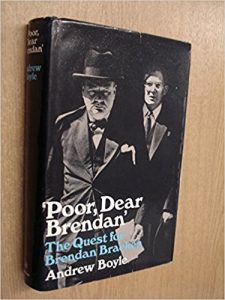 Poor, Dear Brendan: The Quest for Brendan Bracken, by Andrew Boyle (London: Hutchinson, 1974). From a review by George Gale.
When I first heard the words "poor, dear Brendan," I at once thought of Brendan Behan, an Irishman with many faults who could nevertheless be sensibly described as poor and dear. When I discovered the subject to be Brendan Bracken, lord, boss and bully, I found myself both surprised and shocked. I discovered that it was Churchill who thus apostrophized Brendan Bracken, upon learning of his brave and cancerous death. Big tears, Andrew Boyle tells us, welled in Churchill's old eyes.
The difference between the two was partly accidental, partly of stature and partly of birth: and in all categories Churchill excelled, being the luckier, the bigger and the better born. So Churchill could say, "Poor, dear Brendan." I doubt if anyone else could, with any show of truthfulness. To me, Bracken emerges from this excellent biography as a very distasteful fellow indeed.
I found myself wondering whether Boyle ever realised how ugly is the picture he has painted so well, and how unconvincing are the passages referring to Bracken's "kindliness and basic gentleness underlying his tempestuous energy and infectious good humour." These engaging characteristics, it seems to me, were sometimes plastered on the top, like icing.
He was the least substantial of the "three Bs" who buzzed around Churchill. There was an oddness here, however, for whereas clearly Birkenhead and Beaverbrook were people in their own right, who on earth was Bracken? What is not mysterious is his swift success, first editing English Life. Then he started up The Banker and, by 1928, took over The Economist and The Financial News. In 1945 he merged the latter into today's Financial Times.
He tried unsuccessfully to persuade Lady Pamela Smith (later Lady Hartwell) and then Penelope Dudley Ward (daughter of the Prince of Wales's intimate friend before Mrs. Simpson arrived) to take him seriously enough for marriage, but they would not and he thereafter put the thought of marriage away.
"Everything important was real"
Brendan Bracken, by Charles Edward Lysaght (London: Allen Lane, 1979). From a review by A.J.P. Taylor.                                                                                                                               
When Bracken was Minister of Information during the war, a journalist told him, "Everything about you is phony. Even your hair, which looks like a wig, isn't." Unwittingly the journalist got Bracken just right. He liked to pretend he was a sham, whereas in everything important he was real. Bracken welcomed the myth that he was Churchill's son and Churchill flattered him in return by saying, "I only wish he were."
Stanley Baldwin, showing an unexpected familiarity with Indian phrases, described him as "Winston's faithful chela." This is what gave Bracken his place in history, a minor but still an important one. We have already had a lively and informative biography by Andrew Boyle. Lysaght is perhaps less lively, but he has much more information about Bracken's family, private correspondence from the Churchill archives, and a great deal more about Bracken's achievements as a financier and newspaper proprietor.
Indeed, while Bracken pretended to be insignificant, he was in reality a significant and creative figure. He made The Financial Times the best quality daily and The Economist the best weekly. He inspired the creation of Bracken House, at that time the only first-class building erected in the City of London since the war. Historians owe him a great debt for his initiative in launching History Today. This was evidence of his love for and deep knowledge of history.
In politics too Bracken pretended to be a fraud where he was in fact real. He assured the electors of Paddington that he was a graduate of Oxford, which was completely untrue. But he knew more history than most graduates and was indeed among the most cultivated men of his time.
Above all Bracken was great fun. He found appropriate names for everyone. Baldwin was "the ironmonger," Neville Chamberlain "the coroner." Eden was "Robert Taylor," or "the film star at the Foreign Office." He described Harrow, Churchill's old school, as "that bloody old Borstal of yours." Only Churchill himself was exempt from Bracken's darts. His description of Aneurin Bevan, enjoying Beaverbrook's champagne, is of classic quality: "You Bollinger Bolshevik, you ritzy Robespierre, you lounge-lizard Lenin! Look at you swilling Max's champagne and calling yourself a socialist." Bevan listened to this tirade with delight.
As wartime Minister of Information, Bracken was outstanding. He was the only such Minister to actually hand out information instead of trying to suppress it. More thanks are due to Bracken than to anyone for preserving a free press in Britain throughout the war. In politics, Bracken had the reputation of being a wild man. He certainly was often lured by Churchill into wild courses, as over India. But his views on financial matters during the 1930s were more sensible than those of the Treasury or the Bank of England. And his information about Germany was better than that of the Foreign Office or the Chiefs of Staff.
The author
Mr. Robbins (1915-2009), of Victoria, British Columbia, was director of the School of Journalism and Communications, University of Regina. Earlier he was director of the Canadian Broadcasting Corporation's National Television News. Before his death he kindly left me his writings on Churchill, some published, some not. This essay is one. I have not read anything that better captures Brendan Bracken. —Richard Langworth
Churchill Project Articles
Stay In Touch With Us
Subscribe now and receive weekly newsletters with educational materials, new courses, interesting posts, popular books, and much more!