Articles

Poor, Dear Randolph: An Appreciation of Churchill's Son
---
Remembering Randolph
He combined two qualities: generous loyalty to those he loved, and an acid tongue and pen for those he didn't. Most of the latter, I tend to think, richly deserved what they got. Randolph Churchill's public persona was based on the latter quality. In the mid-1950s, surgery revealed that a tumor on his lung was benign. His friend Evelyn Waugh burst into the bar at White's Club: "They've cut out the only part of Randolph that isn't malignant!"
Overriding his two leading qualities was a sense of despair over missed opportunities. He failed to get into Parliament, except in 1940-45 when he held an uncontested seat. His wish to write his father's biography was long delayed. When "The Great Work" finally came his way in 1960, Randolph devoted himself to it. He knew by then that he had wrecked his body, that the process of disintegration was far advanced.
He achieved nearly 5000 pages on his father's early life—captivating pages as perhaps only Randolph could write them. His doctor told him that any more hard liquor would kill him in six months. He stopped cold, but cirrhosis is not a reversible disease. At his death in June 1968 the doctor didn't what cause to state. "With Randolph," he exclaimed, "the answer is everything. He's worn out every organ in his body at the same time." Poor, dear Randolph.
Breaking Bad
In youth Randolph was spoiled by his father, who held up his famous cigar for silence whenever Randolph held forth. Worse, he learned to drink, and drink hard, in the company of famous cronies like F.E. Smith, Lord Birkenhead. The outspoken, sarcastic and often boorish result of that upbringing alienated his mother, and their relations were generally frosty. Clementine lived for Winston, and caring for Winston was full-time work. Once she reprimanded Randolph for taking a fancy to an older woman. He shot back, "I don't care, I need her. She's maternal and you're not." What few appreciated, his cousin Anita Leslie wrote, was "Randolph's craving for affection. He had to hide his sensitivity, not realizing either that others could be as sensitive as he."
He never entered Parliament through a contested election. Before World War II, he insisted on battling official Conservative candidates, splitting the vote and giving a seat to Labour. Tory resentment at Winston's prewar role as gadfly was tempered by his wartime leadership, though it never really vanished. With Randolph they had no reason to hide their dislike, and after the war they never forgot.
Randolph betimes was unwilling to put up with local committee humbug. That prevented him from gaining the longed-for safe seat where he could fight at his father's side. It was a great loss, because his debating skills were even sharper than Sir Winston's.
He had all his father's qualities, including absolute fearlessness. During the war he nagged for a combat assignment. Finally he talked his way into Fitzroy Maclean's British mission to Tito's partisans. He parachuted into Nazi-occupied Yugoslavia, where his exploits earned him a recommendation for the Military Cross. He had to be satisfied with the MBE. Those in authority dared not be generous for fear of being accused of partiality.
Amid these storms
With his prewar good looks and affections, Randolph had many lady loves. He almost married Kay Halle, the Washington socialite. She loved him always, but never doubted her decision to refuse him. His marriages to Pamela Digby, later Harriman, and to June Osborne later, were striking failures. None of his lady friends could really handle him, but those who understood him, like Natalie Bevan in his later years, were indispensable to Randolph, as he to them.
With women he was absolutely sincere. Mme. Odette Pol-Roger resisted his advances, saying jokingly that he needed to lose "Un peu pres douze kilos." Randolph beetled home, dieted hard, and obtained a weighing machine ticket to prove he'd lost 14 kg. With this he raced back to France and accosted her in her garden, Anita Leslie wrote. "He snatched her up and proceeded to carry her into the house looking for her bedroom….Madame escaped with difficulty and Randolph was very hangdog. The Pol-Roger family dined out on this story for many a year."
He despised injustice. Landing once in Johannesburg, Randolph was incensed by an immigration form asking him to state his race, an important matter in Apartheid days. "Damned cheek!," he exclaimed, and began writing furiously, embellishing the family myth that Indian blood ran in their veins:
"Race: human. But if, as I imagine is the case, the object of this enquiry is to determine whether I have coloured blood in my veins, I am most happy to be able to inform you that I do, indeed, so have. This is derived from one of my most revered ancestors, the Indian Princess Pocahontas, of whom you may not have heard, but who was married to a Jamestown settler named John Rolfe."
Personal remembrance
My brief encounter with Randolph Churchill came almost at the end of his life. I had founded the Churchill Study Unit, devoted to collectors of Churchill commemorative stamps. I wrote to him at Stour, the Suffolk home he loved, asking if he could help identify some of the postal images. He replied instantly. "I regret to record I know nothing about stamps, but I shall be pleased to assist in any way."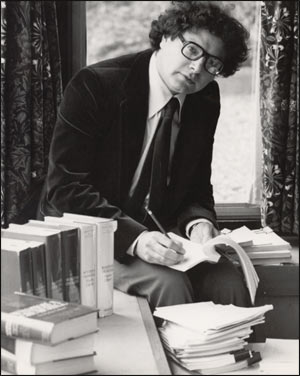 Sir Martin Gilbert was then one of his "Young Gentleman" assistants. Later, he told me he remembered my letter's arrival and Randolph's interest. It was a very small gesture. He didn't even have to answer. Alas, two weeks later he was dead. The encounter began a lifetime friendship with Sir Martin, who was always devoted to Randolph as his mentor.
Someone said that Randolph's main feature was "generosity rather than honesty." I am sure this is wrong. He was both. Writing the biography, Sir Martin recalled, Randolph would constantly tell his Young Gentlemen: "I am interested only in the truth."
That same honesty brought him constant disputes with those less interested in truth, often ending in court. He won most of them. No one can say that honesty wasn't one of his great qualities.
"We will not stand any rot."
His generosity was illustrated in 1961 when the Minister of War, John Profumo, resigned in a sex scandal. Britain's tabloids pounced. "The Profumos were to all intents and purposes besieged in their own home," Sir Martin wrote. "In strictest secrecy [Randolph] offered Stour as a sanctuary."
Randolph's instructions, headed "Operation Sanctuary," explained how to look after "OGs" (Our Guests), who would arrive unobserved. "Admission of the Press to the house or garden would be denied." If reporters broke in, the police would be summoned, "during which time OGs will retire upstairs. We will not stand any rot."
Sir Martin considered Randolph's gesture "one of real affection and goodness. I knew that, as a young MP, Profumo had been one of the Conservative Members who voted against Neville Chamberlain on 8 May 1940, making possible Churchill's premiership two days later."
Of course it frequently went the other way, Martin remembered. One evening the guest was Donald McLachlan, onetime sub-editor of The Times. It was "an act of faith" at Stour to denounce that newspaper for hiding the truth about Nazi Germany. At dinner, McLachlan revealed inadvertently that it was he who had cut the Times's Berlin despatches, not realizing Randolph regarded this as a mortal sin.
Alarmed, Sir Martin looked at Randolph: "Suddenly he turned towards the table, brandishing the carving knife, shaking and trembling, and exploded with a bellow of fury: 'S—s like you should have been shot by my father in 1940.' The stress on the words 's—s' and 'shot' was fearsome to hear. Then he lunged towards the editor, who had to dodge round the table, until Randolph hurled the carving knife on to the floor and strode out of the room. We never saw him again that night. In the morning McLachlan left the house."
Stour-side
In 2009, hosting a Churchill Tour of England, we visited Stour by kind invitation of its owners. Sir Martin joined us, returning for the first time since Randolph had died. Tears streaming down his face, he relived his memories. "Gone, alas, like our youth, too soon."
One sees life at Stour as almost quintessentially English-country-house. The furnishings are traditional, comfortable, a bit frowzy at the edges. Captain Boycott, the spoiled pug, repeatedly relieves himself on the sofa. Lady Diana Cooper, magnificently gowned, who occupies that sofa of an evening, sniffs vaguely at the cushions. Randolph provides guests with his best—"a notable soup"— though he himself has lost interest in eating.
The gardens are lovingly tended—sometimes too lovingly. (Over-enthusiastic, Randolph once applied so much fertilizer that the grass turned black.) The garden strong room is stacked high with Churchill's archive. Here Randolph directs searchers for the truth, leaving the key in the door and the visitor alone.
His enemies condemned him for his blunt insensitivity and egotism. Every great man who ever lived was at times insensitive, blunt and egotistic. Their greatness was that they gave far more than they took for themselves. By this measure Randolph Churchill was great. Those who knew him best missed him the most. His epithet might be the words he wrote of his father's friend, Brendan Bracken:
"Despite the ups and downs I had with him over 35 years, I have no hesitation or lack of breath in this valedictory fanfare: 'You were always on the good side. You loved truth and honour. You hated cruelty and injustice. Fare thee well, my gifted, true and many-sided friend.'"
Author's note
I wrote this piece over thirty years ago in a review of Anita Leslie's Cousin Randolph. A friend of Randolph Churchill reminded me of it. He thinks it captures Sir Winston's son. Thus I republish it, with some additions, for the judgment or clemency of readers.
Click here for more on Randolph Churchill, including links to books about him, notes on writing the Official Biography, and further observations by Sir Martin Gilbert.
Churchill Project Articles
Stay In Touch With Us
Subscribe now and receive weekly newsletters with educational materials, new courses, interesting posts, popular books, and much more!