Articles

Bismarck: "Now Lay Me Alongside of the Enemy"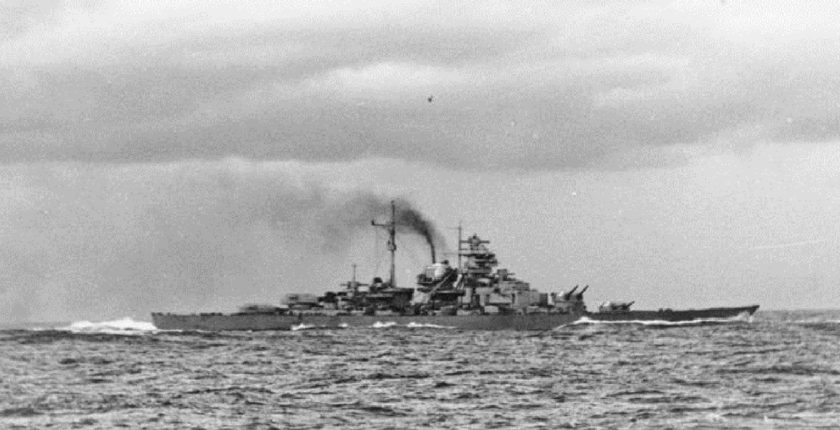 ---
On hunting Bismarck, Hitler's most feared battleship, A.L. Rowse eloquently quotes not only Churchill, but the 18th century hero Admiral Hawke. Churchill told Rowse: "We had to get the Bismarck: the nation expected it. One admiral said his ship hadn't enough oil to get to the spot and back again. I sent the telegram, 'You get there and we'll tow you back.' Perhaps only an historian like Rowse would have recalled Admiral Hawke's famous reply to the pilot warning him of rocks and reefs before the victorious 1759 Battle of Quiberon Bay: 'Master pilot, you have done your duty—now lay me alongside of the enemy.'" Is there confirmation that Churchill sent this message to ships pursuing the Bismarck—and was it a wise strategy?  —J.A., Picton, New Zealand
---
Such a message (not in those precise words) was sent, to Admiral John Tovey, aboard HMS King George V, commanding British pursuit of Bismarck after the Battle of the Denmark Strait (24 May 1941). There Bismarck sank HMS Hood and badly damaged HMS Prince of Wales, which made smoke and disengaged. Our thanks to Paul Courtenay for this reference from Churchill's third volume of World War II memoirs, The Grand Alliance (London: Cassell, 1950, 282):
Fuel was a grave anxiety, and Admiral Tovey had decided  that unless the Bismarck's speed could be greatly reduced  he would have to abandon the chase at midnight. I suggested to the First Sea Lord, and he signalled accordingly, that he should be towed home if necessary, but by then it was known that the Bismarck was actually steaming in the wrong direction. Her main armament was uninjured, and Admiral Tovey had decided to bring her to battle in the morning [of May 27th]."
Indeed there was controversy over the order, most likely because a towed battleship would have been a target for German U-boats. Admiral Stephen Roskill criticized the idea in his Churchill and the Admirals (1977):
In May 1941 Tovey's fleet, and many other ships, were involved in the dramatic pursuit of the Bismarck​….​When it seemed that Tovey's two battleships (King George V and Rodney) might be forced to break off the pursuit because of shortage of fuel he [Churchill] came up with one of the most extraordinary signals of the war—"Bismarck must be sunk at all costs and if to do this it is necessary for King George V to remain on the scene she must do so even if it subsequently means towing King George V." It should be noted that, although this signal was sent by [First Sea Lord Dudley] Pound, Churchill himself admits that he originated it which shows how the former sometimes acted as mouthpiece for the latter. After Tovey had returned to harbour Pound apologized to him for the despatch of this signal; but he surely should not have allowed it to be sent.
We should note the difference of interpretation: Churchill says he "suggested" the order to Pound; Roskill says Churchill originated it. Both may be right, depending on how one defines "originate."
We asked for comment by naval historian Christopher Bell (author of Churchill and Sea Power), who writes:
I've always assumed Roskill's version to be accurate, although he was very anti-Churchill by the time he wrote his book. He tended to put a negative spin on most things and, on at least one occasion, misleadingly edited a document to put Churchill in a bad light. Yet few naval historians tend to criticize anyone citing Roskill as a source. The idea of towing King George V home if necessary was unconventional, to be sure, but given the importance of destroying Bismarck I wouldn't say Churchill was necessarily wrong—provided the battleship had a strong destroyer escort against submarines.
Further reading:
A.L. Rowse, "'There was Once a Man': A Visit to Chartwell, 1955."
Christopher Bell, Churchill and Sea Power (2012). The latest, most thorough and balanced study of this topic.
Vice-Admiral Sir Peter Gretton, Churchill and the Royal Navy (1968). A positive account of Churchill at the Admiralty and in other naval affairs through World War II, regarded by some as too uncritical.
Richard Hough, Former Naval Person: Churchill and the War at Sea, aka The Greatest Crusade: Roosevelt, Churchill and Naval Wars (1986). A mostly favorable survey to be read alongside Roskill, below.
Stephen Roskill, Churchill and the Admirals (1977). A well-known critical account to be read alongside the more positive works noted here.
Churchill Project Articles
Stay In Touch With Us
Subscribe now and receive weekly newsletters with educational materials, new courses, interesting posts, popular books, and much more!