Articles

Hitler's "Tet Offensive": Churchill and the Austrian Anschluss, 1938
By

RICHARD M. LANGWORTH

|

November 5, 2020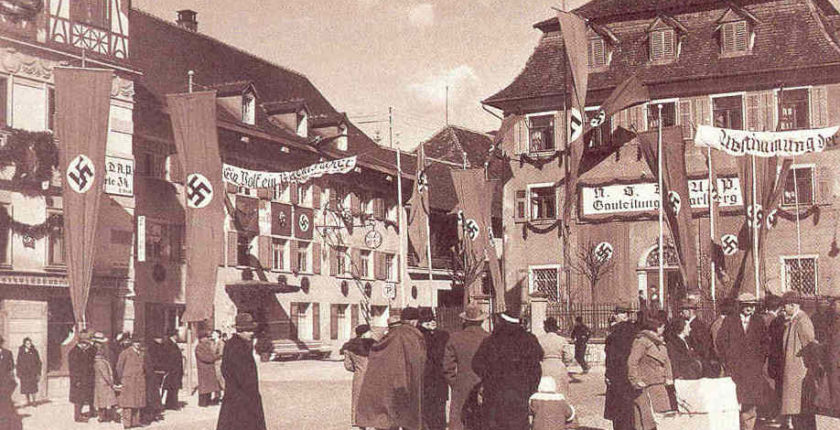 ---
Austria and the Reich
"Don't believe that anyone in the world will hinder me in my decisions! Italy? I am quite clear with Mussolini; with Italy I am on the closest possible terms. England? England will not lift a finger for Austria. And France? Well, two years ago we marched into the Rhineland with a handful of battalions. At that moment I risked a great deal. If France had marched then we should have been forced to withdraw…. But for France it is now too late!" —Adolf Hitler to Kurt von Schuschnigg, 12 February 1938, a month before Anschluss.
Churchill never denied Germany's grievances over penalizing clauses in the Versailles Treaty, but he misunderstood how Austrians felt. There is little doubt that most Austrians wanted Anschluss—union with Germany—from the time of Versailles on.1 Churchill did not accept this, and he was wrong. He was not wrong, however, about resistance.
The vast sprawl of Austria-Hungary was dismembered at Versailles. Even the Austrian Tyrol and Trieste had gone to Italy, the Italians claiming they afforded security. Breaking up the Hapsburg Empire was a priority; the victorious powers wanted a small, independent Austria. To have merged Austria with Germany would have left a larger, more populous nation than in the Kaiser's time.2
Toward Anschluss
On 23 March 1931, without informing the League of Nations, Austria and Weimar Germany concluded a customs union, causing protests, but no action, by France and Britain. Churchill immediately grasped the implications:
Beneath the Customs Union lurks the "Anschluss"….France with her dwindling but well-armed population sees the solid German block of 70 millions producing far more than twice her number of military males each year. [If Germany were to annex Austria] Czechoslovakia will not only have the indigestible morsel in its interior, but will be surrounded on three sides by other Germans.3
A purely economic union, Churchill considered, might deprive "the much more dangerous Hitler movement of its mainspring." On this thin strand, the isolationist Hearst press in America entitled his article, "Austro-German Union Would Aid World Peace Says Winston Churchill."4
Churchill consistently maintained that Hitler would recoil if confronted with firm resistance. When Austrian Nazis attempted a coup in July 1934, the Vienna government defeated it, arresting the plotters. The Anglo-French took no particular notice, but Hitler temporarily halted his propaganda campaign for union. Austrian Nazis, for the time being, ended their campaign of murders and bombings.5
"Reasonable, straightforward and comprehensive…"
In May 1935 Hitler declared that he had no evil intent toward anyone. The Reich had guaranteed French borders, he said, including Alsace-Lorraine. Germany "neither intends nor wishes to interfere in the internal affairs of Austria, to annex Austria, or to conclude an Anschluss." The Times editor Geoffrey Dawson called Hitler's speech "reasonable, straightforward and comprehensive…. [It] may fairly constitute the basis of a complete settlement with Germany." As he wrote, Nazi street gangs were again active in Vienna.6
A few hours after his speech Hitler took less public actions: the Ministry of Defense became the Ministry of War under commander-in-chief Werner von Blomberg. Hermann Goering was sent to head the Luftwaffe, Erich Raeder the Navy. "The tempo of the Reich's martial music was accelerando," wrote William Manchester. "Had The Times known of this, Dawson's enthusiasm might have been tempered, but there can be little doubt that the paper's course would have remained unaltered."7 Ten months later Hitler marched into the Rhineland.
Germany approaches Churchill
In early 1937, with Hitler's approval, his ambassador to Britain von Ribbentrop invited Churchill to the German Embassy. He said he wanted to explain why the Reich was no threat to Britain. It is a mystery why Hitler approved his meeting with the Englishman he had refused to see in 1932, who was still politically powerless. But British hard-liners had begun to crystallize around Churchill, so muting him seemed worth trying.
Leading Churchill to a large wall map, Ribbentrop showed him Hitler's desiderata. Adding Poland, Ukraine and Byelorussia, a "Greater German Reich" would span 760,000 square miles. (Germany was then 182,000, Britain 89,000.) The return of former German colonies was desirable, but "not cardinal." In exchange for British acquiescence, "Germany would stand guard for the British Empire in all its greatness and extent."
Had Churchill been the diehard imperialist as portrayed by modern media, one might expect he'd have gone along. Instead he said Britain would "never disinterest herself in the fortunes of the Continent." Ribbentrop "turned abruptly away." He then said, "In that case, war is inevitable. There is no way out. The Führer is resolved. Nothing will stop him and nothing will stop us…." Churchill with his vast memory recalled his reply:
When you talk of war, you must not underrate England. She is a curious country, and few foreigners can understand her mind. Do not judge by the attitude of the present Administration. Once a great cause is presented to the people, all kinds of unexpected actions might be taken by this very Government and by the British nation… If you plunge us all into another Great War she will bring the whole world against you, like last time.8
Case Otto 
Hitler's preparations for Anschluss, "Case Otto," were completed by 1938, when Ribbentrop became foreign minister. On February 12th, Austrian Chancellor Kurt von Schuschnigg  was summoned to Berchtesgaden. There Hitler confronted him with threats of immediate invasion.9
Schuschnigg was no democrat. As head of the right-wing Fatherland Front he ruled by decree, with anti-Semitic leanings similar to Hitler's. Still, he was determined to preserve Austrian independence. Defying Hitler, he scheduled a plebiscite on March 13th, hoping to get a "no" vote by legalizing the outlawed socialists. Believing Austrian youth to be pro-Nazi, he also raised the voting age to 24.
He was not given the chance. Austrian Nazis seized control of the government on March 11th, cancelling the referendum.
Annexation
Nazi troops entered the country and Hitler formally annexed Austria on March 12th. In a plebiscite a month later, 99.7% supposedly voted "Ja."
Churchill argued that most Austrians opposed the Anschluss. He was unduly influenced by upper-class anti-Nazis.10  His cousin, Unity Mitford, told him that the only Austrians against union were aristocrats: "Anschluss with the Reich was the great wish of the entire German population of the Austro-Hungarian Empire, long before the war and long before Hitler was even born, though the English press would make one believe that it was the Führer who invented the idea."11
Unity Mitford was a Hitler sycophant, but in this case she was right. Yet from the standpoint of realpolitik, it mattered not what the Austrians wanted. The Anschluss was a clear violation of the Versailles Treaty. It could have been resisted, and resistance might have precluded much that followed.
Churchill's Prescriptions
At the plenary level, Anglo-French reaction was muted. Mussolini, as Hitler had predicted, said nothing. In Parliament Churchill recognized the implications:
Vienna is the center of all the communications of all the countries which formed the old Austro-Hungarian Empire, and of all the countries lying to the south-east of Europe. A long stretch of the Danube is now in German hands. This mastery of Vienna gives to Nazi Germany military and economic control of the whole of the communications of south-eastern Europe, by road, by river, and by rail….the three countries of the Little Entente may be called Powers of the second rank, but they are very vigorous States, and united they are a Great Power…. Rumania has the oil; Yugoslavia has the minerals and raw materials. Both have large armies; both are mainly supplied with munitions from Czechoslovakia.12
Only months later, Neville Chamberlain would refer to Czechoslovakia as "a far-away country…of which we know nothing." Churchill acknowledged this, but it didn't deter him: "To English ears, the name of Czechoslovakia sounds outlandish. No doubt they are only a small democratic State…." But their army was three times Britain's and a major munitions industry. Czechs were "a virile people; they have their treaty rights, they have a line of fortresses, and they have a strongly manifested will to live freely. Czechoslovakia is at this moment isolated, both in the economic and in the military sense."13
Churchill did not propose military action. What he wanted was to confront Hitler with a union of powers: "What is there ridiculous about collective security? The only thing that is ridiculous about it is that we have not got it."14
"Nothing that France or we could do…"
Churchill pressed on: "The hope of producing peace," he said, "is greater in 1938 than it would be in 1939, and far greater than in 1940." Further hesitation would "make war certain at a later date."15 But Prime Minister Chamberlain would have none of this:
…the plan of the "Grand Alliance," as Winston calls it, had occurred to me long before he mentioned it…. It is a very attractive idea [but] you have only to look at the map to see that nothing that France or we could do could possibly save Czechoslovakia from being overrun by the Germans, if they wanted to do it…. I have therefore abandoned any idea of giving guarantees to Czechoslovakia, or the French in connection with her obligations to that country.16
Basing so momentous decision on geography alone is incomprehensible. "In modern wars of great nations or alliances, particular areas are not defended only by local exertions," Churchill commented. "The whole vast balance of the war-front is involved. This is still more true of policy before war begins and while it may still be averted."17
A mobilized Royal Navy and French Army, together with either Austria's eighteen divisions and the Czech army dug in their border, might have given pause even to Hitler. He was acting, as he told Schuschnigg on 12 February, because he knew Britain and France would "not lift a finger."
Later Churchill reflected: "How erroneous Mr. Chamberlain's private and earnest reasoning appears when we cast our minds forward to the guarantee he was to give to Poland within a year, after all the strategic value of Czechoslovakia had been cast away, and Hitler's power and prestige had almost doubled!"18
"Nahezu katastrophal"
Another factor favored resistance: the Wehrmacht was experiencing a mechanical breakdown rate of up to 30%.19 This was not its only problem, as Alexander Lassner wrote:
Officers and men arrived late to their posts and were mis-assigned or simply untrained for their duties. Wagons and motorized vehicles were frequently missing, inadequate for their tasks or unusable. Indeed, the German VII Army Corps alone described its supplementary motorized vehicle situation as "nahezu katastrophal" (almost catastrophic), with approximately 2800 motorized vehicles which were either missing or unusable. Nor was the situation any better regarding horses, [then still] the prime mover of the Wehrmacht…. Poor discipline, lack of training, and outright incompetence worsened matters, as did mechanical breakdowns and lack of fuel… Divisions, regiments, and battalions were completely torn asunder; they ceased to be combat units.
Like some great malfunctioning clockwork, the Wehrmacht lurched and shuddered towards the Austrian capital. Only a few parts of it finally grated to a halt in the suburbs of Vienna one week later. Even this dismal performance was only possible due to vital and essential assistance rendered to the Wehrmacht by Austrian gas stations, and shipping and rail services. Without this help, Hitler's victory parade on the Ringstraße would have been conspicuously devoid of German troops and armor.
Nevertheless, as with the North Vietnamese Tet Offensive thirty years later, operational disaster does not equal military disaster. The Nazi propaganda machine, parts of which were busy running down German soldiers in their rush to get to Vienna on 12 and 13 March, would prove as successful as it had ever been.20
Hitler's "Tet Offensive"
Lassner's likening of the invasion to the Tet Offensive is a striking comparison. Just as in 1968, the invaders' unreadiness and lack of preparation went unseen. Just as ironically, observers reporting the facts on the scene were ignored, then papered over by enemy propaganda. Austria like Tet was a colossal military failure portrayed as a grand triumph. Even Churchill did not comment at the time on this extraordinary display of military incompetence. It might have made a difference a few months later. Later Churchill understood, and he wrote:
A triumphal entry into Vienna had been the Austrian Corporal's dream. Hitler himself, motoring through Linz, saw the traffic jam, and was infuriated…. He rated his generals, and they answered back. They reminded him of his refusal to listen to Fritsch and his warnings that Germany was not in a position to undertake the risk of a major conflict."21
The day before the Austrian Anschluss, Hermann Goering received the Czech Ambassador in Berlin: "I give you my word of honour," he said affably, "that Czechoslovakia has nothing to fear from the Reich."22
Thus they would go on, as Churchill earlier said, "in strange paradox, decided only to be undecided, resolved to be irresolute, adamant for drift, solid for fluidity, all-powerful to be impotent. So we go on preparing more months and years-precious, perhaps vital to the greatness of Britain-for the locusts to eat."23
Endnotes
1 John Charmley, Chamberlain and the Lost Peace, xii-xiii and correspondence with the author, 3 February 2015. Later plebiscites in the border provinces of Tyroland and Salzburg yielded majorities of 98% and 99% in favor of unification with Germany. See S.W. Gould, "Austrian Attitudes toward Anschluss: October 1918-September 1919," Journal of Modern History 22 (3): 220-31.
2 See for example James W. Muller, "The Aftermath of the Great War," in Churchill as Peacemaker (Cambridge: Cambridge University Press, 1997), 228-29. Muller described post-Versailles Austria as a "derelict state."
3 Martin Gilbert, Winston S. Churchill, vol. 5, The Prophet of Truth 1922-1939 (Hillsdale, Mich.: Hillsdale College Press, 2009), 408-09.
4 Richard M. Langworth, Churchill by Himself (London: Ebury House, 2008),
5 Richard Lamb, The Drift to War 1922-1939 (London: Bloomsbury, 1991), 103.
6 William Manchester, The Last Lion: Winston Spencer Churchill, v 2, Alone 1932-1940 (Boston: Little Brown, 1988), 141.
7 Ibid., 141-42. Werner von Blomberg (1878-1946). Commander in Chief of the German Army, 1935-38. An advocate of a cautious expansion, he was forced to resign on the eve of the Anschluss. Detained to testify at Nuremberg, he died of cancer.
8 Winston S. Churchill, The Gathering Storm (London: Cassell, 1948), 175-76.
9 Kurt von Schuschnigg (1897-1977). Head of the semi-fascist Fatherland Front from 1933, chancellor of Austria 1934. Imprisoned by Hitler after the Anschluss, liberated in 1945 and emigrated to the U.S. in 1948, becoming a political science professor.
***
10 See for example David Hindley-Smith, who wrote Churchill from Vienna on 18 March 1938, saying the Viennese were "in despair." Churchill forwarded this to Geoffrey Dawson, editor of The Times. On the contrary, Dawson replied, writing of "the extraordinarily complete emotional surrender of the Austrians….There is no doubt, I think, that the impression of jubilation was overwhelming." Martin Gilbert, The Churchill Documents, vol. 13, The Coming of War 1936-1939 (Hillsdale College Press, 2009), 949.
11 Unity Mitford to WSC, 5 March 1938, obid., 924-35. Mitford (1914-1948) led a sorry life in Berlin as a Hitler sycophant, attempting suicide when Britain declared war on Germany in 1939. Invalided back to Britain, she never came to terms with the Führer's downfall and died aged only 34.
12 Churchill, "The Annexation of Austria," House of Commons, 14 March 1948, in Robert Rhodes James, ed., Winston S. Churchill: His Complete Speeches 1897-1963, 8 vols. (New York: Bowker, 1974), VI, 5925.
13 Ibid., 5926.
14 Ibid., 5927.
15 Winston S. Churchill, "The Austrian Eye-Opener," Evening Standard, London, 18 March 1938.
16 Neville Chamberlain to his sister, 20 March 1938, in Keith Feiling, The Life of Neville Chamberlain (London: Macmillan, 1946), 348. Gilbert, Prophet of Truth, 923.
17 Churchill, Gathering Storm,
18 Ibid.
***
19 Bryan Perrett, German Light Panzers (London: Osprey, 1983), 35–37.
20 Alexander N. Lassner, "The Invasion of Austria in March 1938: Blitzkrieg or Pfusch?" in Günter Bishof & Anton Pelinka, eds., Contemporary Austrian Studies (Piscataway, N.J.: Transaction Publications, 2000), 447-87.
21 Churchill, Gathering Storm, 210-11. Werner von Fritsch (1880-1939). Member of the German High Command, dismissed with von Blomberg by Hitler before the Anschluss. Killed during the invasion of Poland in 1939.
22 Hermann Goering to Czech Ambassador Dr. Voytech Mastny, Berlin, 11 March 1938 in David Faber, Munich 1938(New York: Simon & Schuster, 2009), 137.
23 Churchill, "The Locust Years," House of Commons, 12 November 1936, Complete Speeches, VI, 5809.
Churchill Project Articles
Stay In Touch With Us
Subscribe now and receive weekly newsletters with educational materials, new courses, interesting posts, popular books, and much more!