Articles

"Churchill: The Wilderness Years": Meeting Hitler, 1932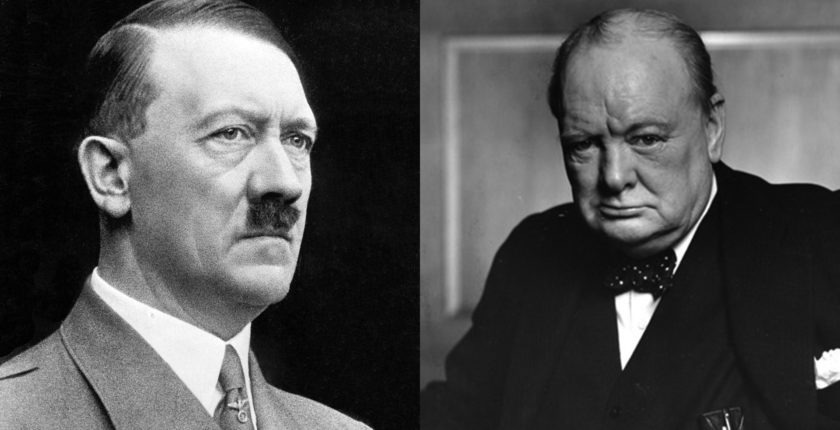 In "The Wilderness Years" television documentary (1981), actor Robert Hardy faithfully captures Martin Gilbert's image of Churchill in the Thirties: politically frustrated, less than effective as a father and a husband, worried over ominous developments in Germany—yet also enjoying his most productive decade as a writer and historian.
In October 2015, Hillsdale College's Center for Constructive Alternatives presented four key episodes from the famous "Wilderness Years" television drama featuring Robert Hardy as Winston Churchill during the momentous 1930s. Realizing we were risking taking these excerpts considerably out of context, we introduced each with a background discussion, and followed up with remarks by Robert Hardy himself.
---
From Episode 3, "In High Places," Munich, 1932
In Munich on 30 August 1932, six months before Hitler took power in Germany, Winston Churchill came as close as he ever would to meeting Hitler face to face, amid sobering scenes of marching, chanting brownshirts singing Die Horst Wessel Lied.
Churchill has been touring the Danubian battlefields of the First Duke of Marlborough, whose biography he is writing. He is accompanied by his wife Clementine (Sian Phillips), their son Randolph (Nigel Havers), their daughter Sarah (Chloe Salaman), and his close friend Frederick Lindemann, "The Prof" (played by David Swift). With them are Brigadier Packenham-Walsh, who is drafting maps for Marlborough, and his wife (whom Churchill calls "Mrs. P-W").
At the hotel they are met by Randolph's acquaintance and Hitler's foreign press secretary, Harvard-educated Ernst "Putzi" Hanfstaengl (played very accurately by Roger Bizley). Putzi hopes to introduce Churchill to his boss.
Writer-director Ferdinand Fairfax takes necessary liberties to shorten and dramatize what actually happened. Hitler (a very grim-looking Gunter Meisner) is shown in evening dress, apparently ready to sit down with the Churchills. But first, he watches furtively from a distance, and then balefully gazes through the restaurant window, catching the eye of the ever-curious Prof, who signals Hanfstaengl. Putzi tries to fetch Hitler to the table, but is furiously turned away.
Here is what really happened. Hanfstaengl left the restaurant in mid-meal in search of the Führer, whom he found near his Munich apartment. "Herr Hitler," he said, "don't you realise the Churchills are sitting in the restaurant?…They are expecting you for coffee and will think this a deliberate insult." Hitler said he was unshaven and had too much to do. "What on earth would I talk to him about?," he added. "They say he is a rabid Francophile. What part does Churchill play? He is in opposition and no one pays any attention to him." Hanfstaengl replied: "People say the same about you."
Fairfax neatly gets around all this with the brief, dramatic scene we see here. True to fact, Churchill makes his famous declaration about the dangers of anti-Semitism, not to Hitler, but to his press secretary.
Putzi Hanfstaengl is considered a reliable witness. Suave and westernized, he tried to exert a moderating influence over the Nazi leader, but fell out of favor in 1936. Suspecting he was marked for assassination by Goebbels, he hastily left Germany in 1937 and wound up in the United States, where he advised President Roosevelt on the Nazi regime. The anecdote is based on his 1957 book, Hitler: The Missing Years, and corroborates Churchill's version in his first volume of war memoirs, The Gathering Storm.
"Thus Hitler lost his only chance of meeting me," Churchill cutely wrote. In the film he says he would be glad to meet Hitler in London, but alas the Fuhrer…never quite got there! "Later on, when he was all-powerful," Churchill added, "I was to receive several invitations from him. But by that time a lot had happened, and I excused myself."
This episode begins with a poignant scene between Winston and Clementine which neatly defines their marriage—one of deep mutual devotion, but needing periods of separation from time to time, lest the high-strung Clemmie collapse from the pressure. Winston longs for a closer relationship; Clementine says he should have married Goonie (Lady Gwendolyne Bertie, his sister-in-law). She wishes he would be content with things as they are.
Continued in Part 2, "1935: The Threat from the Air."
Churchill Project Articles
Stay In Touch With Us
Subscribe now and receive weekly newsletters with educational materials, new courses, interesting posts, popular books, and much more!