Articles

"Winston's Island" – by Anthony Churchill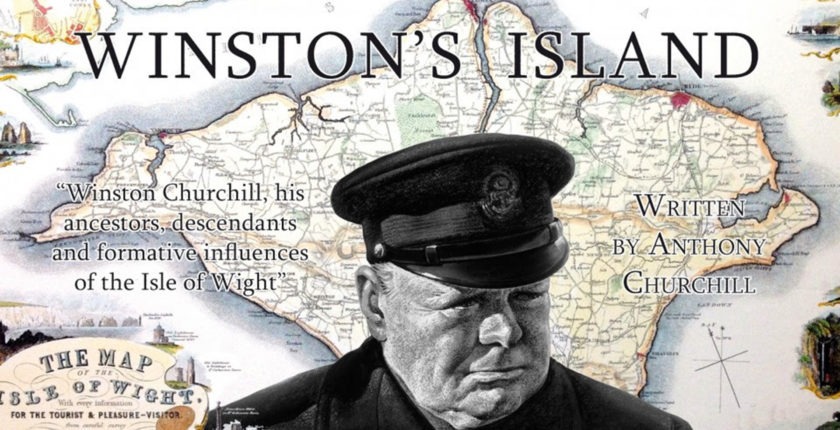 Anthony Churchill, Winston's Island. Chale, I.o.W.: Cross Publishing, 2015, 112 pages, $85 postpaid via Paypal from the publisher. Also available for £50 from Amazon UK.
---
HRH The Duke of Edinburgh has the first copy. The Duke of Marlborough has the second, and Sir Winston Churchill's great-grandson Randolph (who wrote the foreword) ordered eight as Christmas presents. You should have one, if you are a total-immersion Churchillian with a penchant for the extraordinary, for Winston's Island, the Isle of Wight, has its unique claim to a place in the saga.
Anthony Churchill (no relation) is a publisher and yachtsman from Ventnor, "where seas are splendidly rough or beautifully calm." He packs powerful credentials as a Renaissance man, having published titles such as Ski, Tennis and Subaqua Scene; defended the free market at Moscow University; founded a Cowes yacht race for handicapped and young people new to sailing; raced aboard all five of Sir Edward Heath's Morning Stars; hosted literary events involving Shakespeare, Burns, Elgar and Omar Khayyam; founded the Ventnor Piano Fund; and initiated the Whitbread (now Volvo) Round the World Yacht Race.
The author's yachting, publishing and historical interests combine with love of his island in this beautiful book. It is a landscape format production, measuring 9.5×13 inches, with large, full-color illustrations on heavy coated stock, set off by classic marbled endpapers and gilt page edges. The text combines rich images with a thorough documentation of the Isle of Wight's Churchill connections. It is not inexpensive, and likely a limited edition. Get one while you can.
Without the Isle there might not have been a Winston Churchill. For it was here, at the 1873 Cowes Regatta, that Lord Randolph Churchill met Jennie Jerome. Her father Leonard knew the place well; he had raced across the Atlantic to Cowes in 1866, and often visited. So did Sir Winston's great-grandfather, the Sixth Duke, whose sleek two-masted Wyvern raced the U.S. yacht America in an 1851 round-island contest that evolved into the America's Cup. He and the Seventh Duke were members of the island's Royal Yacht Squadron, owning three racing yachts and a steamboat. Beautiful sailing prints document this part of the story (16-21).
Anthony Churchill devotes many pages to Randolph's and Jennie's forty-eight hour courtship. It began on 12 August 1873 at a ball aboard HMS Ariadne, where they met and waltzed. It ended two days later at Rosetta Cottage, rented by the Jeromes, where Randolph proposed. Coincidentally, the author reveals that a few weeks before her own wedding to Winston in 1908, Clementine Hozier holidayed  at Nubia House, just above Rosetta Cottage (38).
Queen Victoria and Prince Albert loved the Isle, and built Osborne House, near Cowes, between 1845 and 1851. The photos brought back memories of my own visit, hosting a Churchill tour of the island years ago. Here the old Queen spent much time in seclusion following the death of her beloved consort in 1861. From grand to ordinary, we visited Ventnor, where young Winston holidayed with his nanny, Elizabeth Everest, at the home of her brother, several times from 1878.
The book locates four Ventnor houses associated with his or is mother's visits. Years ago, on that tour, I had the fun of bringing fifty people to Flint Cottage, the Everest home. The generous inhabitants not only laid on teah, but allowed us all to troop through to the back garden. Here we looked down from the cliffs, where young Winston had witnessed the three-master Eurydice founder with the loss of 364 souls (44-53).
Churchill visited again in the 1900s with his friend and island resident Jack Seely; they walked the shore and helped divert water from the "Churchill Chine." In 1910, a sympathetic Home Secretary, he visited Parkhurst Prison; in 1910 and 1912 he returned to campaign. His visits are documented, and we are shown a Churchill statue at Calbourne Museum, dedicated to Royal Marine commandos who trained there before the invasions of Italy and Normandy in World War II.
Quibblers might say the book strains to make some connections: "Churchill's Farm" near Yarmouth (8) could hold that name any reason; Yarmouth's George Hotel might have once hosted John Churchill First Duke of Marlborough (10); a Churchill painting of Menton, France is included because it resembles the Ventnor coastline (54). There are quite a lot of party photos, from the 140th anniversary of the Jennie-Randolph meeting; but one has the impression that the author included these for the guests' sakes. And after all—John Churchill was a Member of Parliament for Newtown (12); the Blenheim Pub does display him on its sign; and the island is just across the Channel from scenes of his victories at Oudernarde, Ramillies and Malplaquet in 1708-09.
The book ends with visits by today's Churchills, like Randolph, who unveiled a plaque marking his great-grandparents' meeting and raised Sir Winston's flag of Lord Warden of the Cinque Ports at the Royal Yacht Club. At the 140th anniversary dinner, Randolph Churchill spoke movingly on how brave Jennie was to meet and marry this stranger, the portent of a history she could not know: "In a day when everything is done by text and Twitter, it is lovely to celebrate a good old-fashioned romance by a young English aristocrat and a beautiful young American girl."
And kudos to the Shakespearean author for reading at that celebration certain lines from Henry V—not from Act IV, which Sir Winston loved, but from Act III, remindful of sterner days:
In peace there's nothing so becomes a man
As modest stillness and humility:
But when the blast of war blows in our ears,
Then imitate the action of the tiger;
Stiffen the sinews, summon up the blood,
Disguise fair nature with hard-favour'd rage;
Then lend the eye a terrible aspect;
Let pry through the portage of the head
Like the brass cannon; let the brow o'erwhelm it
As fearfully as doth a galled rock
O'erhang and jutty his confounded base,
Swill'd with the wild and wasteful ocean.
Now set the teeth and stretch the nostril wide,
Hold hard the breath and bend up every spirit
To his full height….
I see you stand like greyhounds in the slips,
Straining upon the start.
The game's afoot:
Follow your spirit, and upon this charge
Cry "God for Harry, England, and Saint George!"
Churchill Project Articles
Stay In Touch With Us
Subscribe now and receive weekly newsletters with educational materials, new courses, interesting posts, popular books, and much more!