Articles

Great Contemporaries: Orde Wingate – "A Man of the Highest Quality"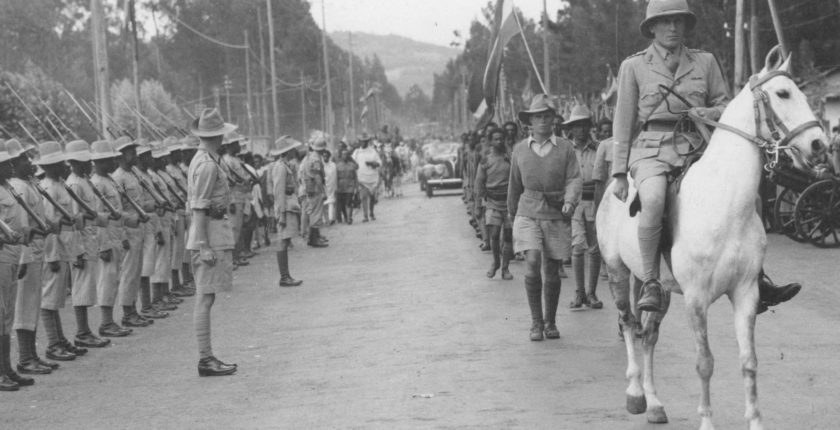 ---
Wingate the survivor
On 4 July 1941, in the midst of a malaria induced delirium, Major Orde Wingate tried to commit suicide in his room at the Continental Hotel, Cairo. He was dejected, depressed, overusing an anti-malarial drug, and physically and mentally exhausted after fighting in the East African Campaign. Amid the suffocating Egyptian heat, he twice stabbed himself in the neck with a hunting knife. The second wound cut his jugular vein and he fell unconscious to the floor. The thud of his fall, however, attracted attention and help quickly arrived. He recovered in hospital and went on to become one of the most controversial British generals of the Second World War.
Orde Charles Wingate was born on 26 February 1903 in India and raised in the dissenting sect of the Plymouth Brethren. Always a non-conformist, he was zealous, ambitious, puritan in spirit, rude and single-minded in pursuing his vision and beliefs. Such a man easily made enemies. Never hesitating to defy orthodox thinking, he persistently quarreled with superiors. He was famous for his peculiarities, including eating raw onions, receiving visitors naked, and slovenly dress. He was imbued with great self-confidence and energy and most of all possessed "a burning desire to fight."
After attending the Royal Military Academy, Woolwich—an unhappy experience where he was poorly treated by many fellow cadets—Wingate was commissioned in 1923. He spent the next five years with the Royal Artillery, his longest and almost only period of regular soldiering.
Sudan and Palestine
Having studied Arabic in the hope of overseas assignment, Wingate secured an appointment to the Sudan Defence Force. His cousin General Reginald Wingate, a former Governor-General of the Sudan, helped him win this assignment. Locally raised, the Defence Force comprised British officers and Sudanese troops. In 1936 he joined an intelligence post in Palestine, where an Arab revolt had broken out. To suppress the insurgency, Wingate proposed forming a new unit, the Special Night Squads (SNS), with British officers and NCOs, its ranks recruited from the Jewish community. In action the Force practiced flexibility and mobility. Archibald Wavell, the commanding general in Palestine, highly approved, and protected Wingate from more conventionally-minded British officers.
In Palestine, Wingate met Chaim Weizmann, David Ben-Gurion, and Moshe Dayan and became a passionate supporter of Zionism. Wounded while serving with SNS, Wingate was awarded the Distinguished Service Order. But he remained controversial, and after Wavell left the country he was shunted to a posting outside of Palestine.
At the start of the Second World War, Wingate was a brigade-major with a light anti-aircraft unit in Britain. Again Wavell rescued him from this obscure post. Following Italy's entry into the war, Wavell wanted to accelerate unrest in the highlands of Abyssinia (Ethiopia). He thought immediately of Wingate.
Wingate in East Africa
Arriving in Khartoum in November 1940, Wingate organized an irregular force to invade Abyssinia, accompanied by Emperor Haile Selassie. The brigade-sized formation, called Gideon Force, consisted of British officers with Sudanese regulars and Ethiopian levies. Launching its operations in February 1941, Gideon Force, "fought, maneuvered, and bluffed much larger enemy forces into retreat, defeat, and surrender." On 5 May 1941, mounted on a grey charger, Wingate led the reentry of Selassie into his capital, Addis Ababa. While Gideon Force received more publicity, conventional forces under Generals Platt and Cunningham largely defeated the Italians.
Wingate received a second Distinguished Service Order for the Abyssinian campaign, but as soon as it was over he was quickly sent back to Cairo. His strident support of Selassie was thought by some not in British interests. Ill, tired, worried about Selassie's independence, and fearing he would not receive proper credit for his Abyssinian exploits, Wingate made his suicide attempt. He was invalided back to Britain where he recovered from his wounds and convinced a medical board to classify him fit for service.
Burma and the Chindits
With the Japanese entry into the war Wavell, now theatre commander in India, again sent for his protégé. Wingate inspected  the situation in Burma, where the British were being summarily and embarrassingly evicted. Expanding on his experiences in Palestine and Abyssinia, Wingate proposed a tactic he called "long-range penetration." British forces would enter Burma through gaps in the Japanese lines and maneuver deep into the enemy rear, where they would cut supply and communication lines. In his concept these light, mobile troops moved quickly behind enemy lines, resupplied by Allied air units.
Always receptive to the unorthodox, Wavell gave Wingate the 77th Infantry Brigade, comprising a British and Gurkha battalion. With typical energy, he trained the formation in mobile tactics and reorganized it into eight self-contained columns. The Long-Range Penetration Groups were called "Chindits," after the mythical Burmese temple guardian.
In February 1943 the Chindits infiltrated Japanese lines in lightly occupied North Burma. Using surprise, mobility and air support they attacked enemy communications and cut the main railway at several points. Soon Wingate crossed the Irrawaddy River. The Japanese responded by concentrating their forces, so Wingate ordered his columns to disperse and filter back to British lines. Out of the 3000-strong force that went into Burma, 2182 returned. For the better part of three months, the Chindits had tied down the equivalent of two Japanese divisions. They fought many small actions and marched on average 1500 miles behind the enemy lines. Survivors returned with high morale, despite suffering malaria, dysentery, and malnutrition.
Wingate and Churchill
The Chindits had successfully destroyed the aura of the invincibility of the Japanese in Burma. Wingate received his third award of the Distinguished Service Order. Despite high casualties, they proved that British and Gurkha troops could operate behind enemy lines with additional lessons learned on air supply, signaling, using mules, evacuation of the wounded, and supply drop procedures. After repeated defeats at the hands of the Japanese, publicists seized upon Wingate's expedition as a victory and feat of great daring. It raised morale raiser for the British and their prime minister, Winston Churchill.
Wingate's report on Burma, like Churchill's report from the Sudan forty years before, included outspoken criticism of his superiors. The report was controversial and ruffled many feathers—but not Churchill's. Wingate sent a copy to Secretary of State for India Leo Amery in London. Amery, who admired him, passed the report to Churchill.
Churchill wrote the Chiefs of Staff Committee that Wingate was " a man of genius and audacity, and has rightly been discerned by all eyes as a figure above the ordinary level." Amid "the welter of inefficiency and lassitude" in Burma, Churchill thought, Wingate's achievement stood out. Seniority, Churchill said, must not "obstruct the advance of real personalities to their proper stations in war." He proposed to the chiefs that Wingate should receive command of the army in Burma. Churchill did not press this suggestion, but directed that Wingate should come home so that the prime minister could "have a look at him" before leaving for the Quebec Conference.
"A man of the highest quality"
On 4 August 1943, Wingate arrived in England, and went straight to General Sir Alan Brooke, the Chief of the Imperial General Staff. Brooke often criticized ideas he considered unrealistic. Wingate, however impressed impressed him. The young commander now wanted a second and larger expedition. Brooke did note that Wingate asked for "the cream of everything: the best men, the best NCOs, the best officers, the best equipment, and a large airlift."
With the Quebec Conference beckoning, Churchill invited Wingate to dine at 10 Downing Street. The young general impressed him:
We had not talked for half an hour before I felt myself in the presence of a man of the highest quality. He plunged at once into his theme of how the Japanese could be mastered in jungle warfare by long-range penetration groups landed by air behind the enemy lines. This interested me greatly. I wished to hear much more about it, and also to let him tell his tale to the Chiefs of Staff. I decided at once to take him with me on the voyage.
It was, however, already nine o'clock in the evening, and Churchill's train for the Clyde to board the Queen Mary would leave in just an hour. Having arrived after a three-day flight from India, Wingate had no clothes except those he was wearing. His wife Lorna, then in Scotland, did not even know he was back in Britain. The Prime Minister brushed these problems aside. His aides and the Scottish police located Lorna and rushed her to join the train at Edinburgh. Churchill commented that the Wingates "had a very happy voyage together. He  also "knew how much the President liked meeting young, heroic figures."
"I hope he will bite some of my other generals"
To Winston Churchill, Orde Wingate was as appealing a character as Lawrence of Arabia. His unorthodox daring appealed to the Prime Minister's vivid imagination. Like Lawrence, he did not hold Wingate's eccentricities or mixed reputation against him. Churchill's attitude was like that King George II, who said of another daring general, James Wolfe: "Mad, is he? Then I hope he will bite some of my other generals."
Quebec was a triumph for Wingate. His proposals won the support of President Roosevelt and the American chiefs of staff. They agreed to provide him with material support, offering the American Air Commandos for a new Chindit offensive in North Burma, to cut the lines facing General "Vinegar Joe" Stilwell.
***
Wingate returned to India as an acting major-general, commanding a corps-sized Special Force, supported by an air component and possessing the right of direct appeal to both Louis Mountbatten, the new Supreme Allied Commander in the theatre, and Churchill himself.
Despite a severe bout of illness, Wingate created, trained, and organized Special Force in a matter of months. As always, he hated complacency, inertia, and convention. He barged ahead and convinced himself—mostly unfairly—that any obstacle was a deliberate obstruction. Reputedly, he often threatened to tell Churchill of his difficulties. In preparing the second Chindit expedition, he displayed a single-minded determination and exhibited no regard for the disruptions caused to other military forces in the theatre, or the animosity he was creating among other generals. Jealous and embittered, many of these generals would take revenge on Wingate in their postwar recollections.
"In the guts of the enemy"
Special Force was based on the 70th Infantry Division, numbering 20,000 soldiers: British, Gurkha, and West African. Organized into six brigades with four battalions each, the formation included a large signals establishment. American Air Commandos, numbering nearly 400 aircraft, including six experimental helicopters, supported them.
Although the original long-range penetration concept was only in support of a major offensive, the second Chindit expedition had gained its own momentum. A complex air-land offensive began on 5 March 1944. It experienced early success. In only days, Wingate had 12,000 men, 2000 mules, anti-aircraft guns, field batteries and other equipment behind the enemy lines. "We are now," he declared, "in the guts of the enemy."
As the Chindits attacked Japanese supply and communication lines, and drew off Japanese divisions, Wingate became ever more optimistic. He was convinced that he could sever the supply lines of the Japanese 15th Army attacking the British at Imphal. He could take North Burma, he cabled Churchill, if he were given four more transport squadrons. Alas he underestimated the Japanese ability to concentrate forces to deal with airborne landings.
"Genius and destiny"
The expedition suffered a fatal setback three weeks after it began. After inspecting Chindit bases in Burma, Wingate boarded an American Mitchell bomber bound for India, late in the afternoon on 24 March 1944. The plane crashed into the forward side of a mountain in Burma and all aboard died. Chindit troops reached the site five days later and confirmed Wingate's death. Without him, the offensive faltered. Lacking his vision and resolve, Chindits fought as conventional troops, and kept in the field much longer than originally planned.
Orde Wingate was buried at the site of the crash in Burma, but in 1947 his body and that of eight others were exhumed for reburial at Arlington National Cemetery. His family did not support the reburial, implemented in accordance with an Anglo-American agreement for such situations. In Parliament on August 2nd, Churchill mourned Wingate's loss:
There was a man of genius who might well have become also a man of destiny. He has gone, but his spirit lives on in the long-range penetration groups, and has underlain all these intricate and daring air and military operations based on air transport and on air supply.
Wingate's only child, a son named Jonathan Orde, was born on 11 May 1944, less than two months after his father's death. The boy's godfathers were Chaim Weizmann and Haile Selassie.
The author
Dr. Tolppanen is Professor of Library Services, History Librarian and head of Circulation Services at Eastern Illinois University. He is the author of the definitive study, Churchill in North America, 1929.
Churchill Project Articles
Stay In Touch With Us
Subscribe now and receive weekly newsletters with educational materials, new courses, interesting posts, popular books, and much more!