Articles

The Making of "Their Finest Hour": Part III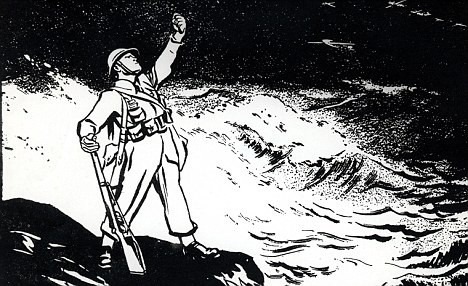 How Churchill Wrote His Best-Known Speech
18 June 1940
Delivery: "Cometh the Hour, Cometh the Man."
At 5pm Churchill rose to speak in the House of Commons. It was, quite by coincidence, the 125th anniversary of the victory at Waterloo. Reading the actual pages of his address, Finest Hour, the years roll away, we hear what the historian David Nichols called "those lisping Churchillian cadences rolling out—that unique delivery midway between poetry and prose."
His colleagues were not immediately sure how the speech had gone. Colville thought Churchill had spoken less well than on previous occasions, but that he had ended magnificently.
The Prime Minister returned to Downing Street and went to bed. It was a practice he had adopted years ago in order to squeeze a day and a half out of each day: Draw the blinds, don pajamas and an eyeshade, say "damn everybody," dive under the covers and sleep soundly for an hour. He would then awake refreshed and could last until three in the morning.
As he was dressing, Colville brought him a telegram from France. The Pétain government would not move to North Africa and continue the fight in exile. When he saw Colville coming, Churchill anticipated the message: "Another bloody country gone west, I'll bet."
At 9pm at the BBC, Churchill broadcast his words again. "It was too long and he sounded tired," Colville wrote. "Juliet [Henley, Clementine's cousin] said it was like listening to a bishop. He smoked a cigar the whole time he was broadcasting."
Harold Nicolson, Parliamentary Under-Secretary of State at the Ministry of Information, who heard both orations and thought the Commons version "magnificent," wrote to his wife, Vita Sackville-West: "…he hates the microphone, and when we bullied him into speaking he just sulked and read his House of Commons speech all over again….it sounded ghastly on the wireless."
The public took to Finest Hour in a way insiders didn't. The newspaperman Guy Eden was succinct: "I remember the thrill it caused, that call to battle."
The Oxford philosopher Isaiah Berlin explained why the speech reverberated. Churchill, he wrote, was neither "a sensitive lens, which absorbs and concentrates the sentiments of others," nor a politician who plays on public opinion. Instead he imposed his own will and determination, imbuing his countrymen "with such intensity that in the end they approached his ideal and began to see it as he saw them."
After this speech Churchill was held almost in reverence. People had never quite trusted him before. He had made his share of mistakes in World War I, fought against the labor unions and Gandhi, delivered scary speeches about the "Narzhees," and championed Edward VIII in the abdication crisis. In 1940 they accepted him only in extremis. And they would turn their backs on him soon enough: The war would not yet be over when they would vote overwhelmingly for his removal.
When it mattered, though, Churchill became, in the words of Roosevelt biographer Robert Sherwood, "the living symbol of their will to survive as a free people." After Churchill's June 18th speech, an old RAF flier said of the Germans: "We wanted them to come."
David Low, the cartoonist, published in the Evening Standard a drawing of a soldier resembling the Prime Minister, wearing a steel helmet, standing on the cliffs of Dover and shaking his fist at waves of bombers headed west from the burning continent. The caption was three words long: "Very well, alone!"
Churchill's daughter, Lady Soames, when asked for her recollections of the Finest Hour speech, was remarkably disarming. "My information is patchy; I wasn't with him much during the war. But you must remember, speeches were not special occasions for my family. We all knew it was part of Papa's trade, and he got on with it. It was all very routine."
__________
This article was originally written as an introduction to The Making of The Finest Hour, a book containing the speech (Delray Beach, Fla.: Levenger Press, 2006).
Churchill Project Articles
Stay In Touch With Us
Subscribe now and receive weekly newsletters with educational materials, new courses, interesting posts, popular books, and much more!